Hyreo was founded with the simple objective of making recruiting more transparent and less anxious for everyone involved.
At Hyreo, we see the opportunity to build cool technology that can make meaningful impact on the activities performed by every key stakeholder involved in recruiting, starting from the candidate. Everything we do at Hyreo is to make the candidate feel in control by providing timely support, information and ways to stay connected with their future employer. We believe that the recruiters should act more as talent relationship champions and not merely as agents looking to source profiles. This is made possible by using technology to aid the recruiter in performing numerous tasks related to finding, assessing and on-boarding talent. However it is to be noted that no element of technology can take away the human touch that is ever so much required in attracting and retaining top talent. Hyreo is an attempt to bring more smiles to everyone as continue to build better, bigger and stronger companies
Our young team believes in solving real life problems and creating measurable outcomes for our clients,
making their lives easier. Join us and be part of an exciting journey!
Arun Satyan
Co-Founder & CEO
Mahesh Raju
Co-Founder & CTO
Sreenath
VP - Product Delivery
Sebastian Thomas
Technology
Augustine Ajith
Technology
Rahul Jayakumar
UI Developer
Christine Bright
Business Analyst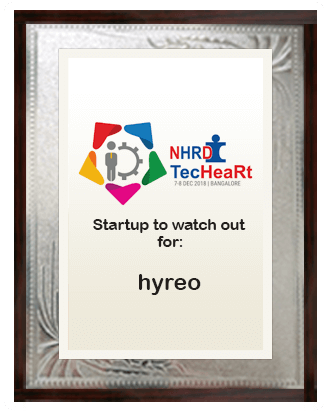 Hyreo emerges as the 'Startup to watch' for @ the
NHRD TecHeaRt 2018
30 minutes to spare ? We are excited to give you a quick demo !