Hyreo, the complete candidate engagement platform is built on the philosophy of creating a candidate centric recruiting model in this millennial era. This browser based candidate engagement platform with seamless integration on existing HRMS or Applicant Tracking System, focuses on creating a more engaging recruitment experience for candidates as well as helps enterprises build and nurture candidate relationships
With the current recruiting system being broken and existing with less focus on candidates, Hyreo comes in as that one stop solution for enterprises in running the recruitment process in a better way. Built by a bunch of talented and responsible engineers, we help candidates with real time support and communication throughout the recruiting cycle and also helps enterprises to get valuable insights for enhanced employer brand.
With some unique features and services, Hyreo ensures a better recruiting experience with least effort and high cost savings for recruiting teams. Hyreo helps enterprises to activate a candidate centric approach for predictability and enhanced talent brand.
Hyreo emerges as the 'Startup to watch' for (Runners-up) @ the NHRD TecHeaRt 2018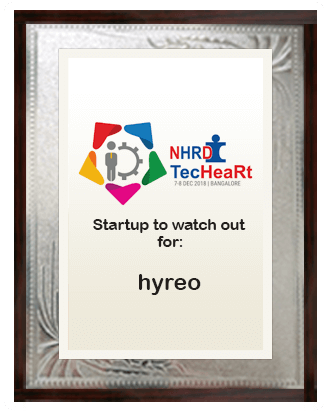 Our young team believes in solving real life problems and creating measurable outcomes for our clients,
making their lives easier. Join us and be part of an exciting journey!
Arun Satyan
Co-Founder & CEO
Mahesh Raju
Co-Founder & CTO
Utkarsh Joshi
Advisor - The HR Fund
Gautam Ghosh
Advisor - HR Tech
Sebastian Thomas
Technology
Rahul Jayakumar
UI Developer
Christine Bright
Business Analyst
Augustine Ajith
Technology
30 minutes to spare ? We are excited to give you a quick demo !