Talent acquisition teams know that HR is not just about hiring a new person. While recruitment tends to be the primary focus, it starts with identifying and then hiring the right talent. Finding the right talent, engaging with them, taking them through the right selection process, and then onboarding them are the broad steps within recruitment. 
While these steps can be done manually, it becomes time-consuming and also prone to mistakes. There are multiple tools to help with each step. Tools simplify the process. A good tool saves time, brings in efficiency, and increases productivity. 
Top 10 Productivity Tools 
Let us look at different tools that recruiters use: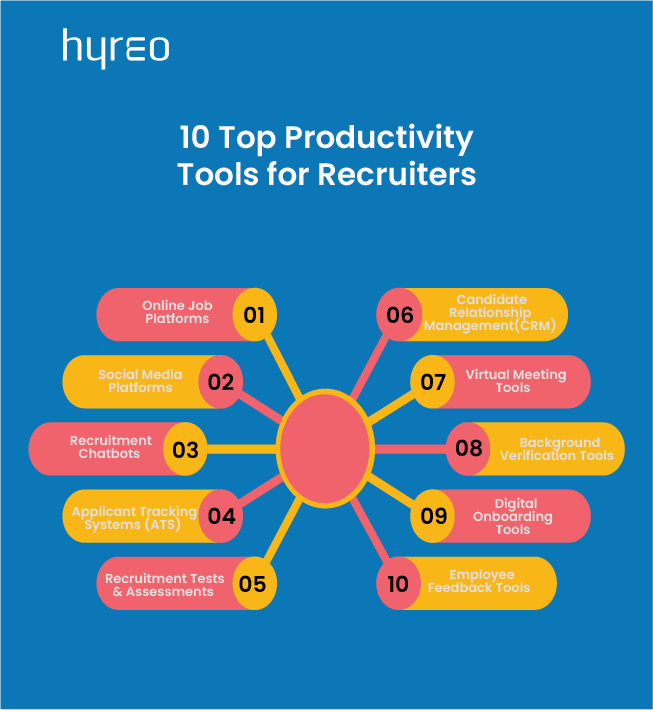 #1 Job portals 
Job Portals are live databases of resumes of candidates across different domains, industries, specialties, experience, and locations. Candidates upload their resumes on these job portals when they are on the lookout for a new opportunity. These portals are used during the sourcing stage of recruitment. 
During this stage, job portals help recruiters find the right candidates that fit their requirements. Shortlisting is done based on the relevance of the resumes and further conversations are held with the candidates.
Job portals like Indeed, Monster, Shine, GlassDoor, etc. are popular in the market. They offer limited free job postings with basic to no added features. The paid modules depend on the tenure of the package and the type of package you choose.
Features:
Facilitates the Sourcing stage of the recruitment process
Easy access to the huge database of interested candidates
Lower TAT to close a requisition
One-stop-shop for getting the right candidates for the job
Pricing: Job postings start at about Rs 400 per posting to Rs 2000
Access to the database starts at about Rs 15000 (15 days package with job postings)
#2 Social Media
Social media platforms like Linkedin are one of the most used platforms for hiring purposes. Linkedin is an employment-based professional social media platform that has the option of posting job requirements. Job Seekers post their resumes while recruiters post jobs on Linkedin. It is used extensively for professional networking. 
Linkedin has an option of listing your resume in a detailed format. It has options for seeking recommendations and capturing work-related achievements. These details are extremely useful for hiring purposes.
Features:
Used for sourcing good candidates
Huge database of active and passive job-seekers
Simple UI
Gives detailed information about the candidate
Can post resumes as a jobseeker and post jobs as a recruiter
Pricing: Available on request
#3 Chatbots
Chatbots are fast becoming a popular tool in the recruitment process. Chatbots help connect candidates with recruiters. They allow the candidates to ask questions/queries about the job during the application stage. The recruiters can resolve the queries and help the applicant make the crucial decision of application. 
Chatbots are also being extensively used to enhance candidate engagement, from the time they are formally offered until they are on-boarded as employees. Hyreo's post-offer candidate engagement solution elevates the candidate experience, improves the employer brand and enhances conversions. The solution simplifies the candidate journey from offer to onboarding with smart automation, conversational AI-based bots, predictive analytics, and customizable content management engine. 
Intercom and Freshdesk are some of the customer support software that includes a live chat feature.
Features:
Helps the applicant solve his/her queries before applying
Facilitates decision making
Promotes a transparent recruitment process
Expedites recruitment cycle by getting interested candidates
Pricing: Available on request
#4 ATS (Applicant Tracking System)
Every organization with a sizable headcount invests in ATS as it helps the recruiter track the progress of an applicant's resume on the tool. This tool eases the candidate application management process. It shows which stage the applicant's resume is at and what are the next steps required to complete the mandatory rounds as per company policy to hire him/her. ATS automates key processes like resume screening, feedback collection, recruitment workflow management, and communication between the stakeholders. 
Zoho Recruit, Bamboo HR, Workable, and Greenhouse are some of the ATS that are known in the market today. These tools cater to small to large-sized organizations. The tools are customizable and intuitive.
Features:
Track the progress of candidates' resume
Automates processes like screening, feedback, workflow, and communication
Helps manage volume effortlessly
Requires less manual effort, makes it less cumbersome and error-free
Reports can be pulled out as required
Pricing – Starts at Rs 1250 per month
#5 Tests and Assessments
An applicant has to go through one or many tests/Assessments to gauge his/her fitment in the organization. These assessments assess the technical, behavioral, emotional, and domain skills of the applicant. The assessments are designed by experts and are meant to help make the right hire. Depending on the industry, the recruiter uses assessment tools. Testing and assessment software tools are especially popular in technical fields such as computer science.
iMocha, Talview, Coderbyte, and Codility are some of the assessment tools that are used in the market.
Features:
Smart and Intuitive tools
Helps in making the right hiring decision
Checks culture fit, skill fitment, and behavioral fitment
Designed by experts
Less manual effort, automated tests, and outcomes
Reports and Analytics
Pricing: Available on request
#6 CRM (Candidate Relationship Management)
CRM tool is often used along with ATS. This tool is an answer to the organization and candidate relationship management. This tool helps manage and nurture their candidates – active, passive, and ex-employees. It helps build a strong database of candidates that can help fulfill open positions within the firm. 
Popular CRM tools Avature, Jibe, and Yello are effective irrespective of the size of the organization and the volume of hiring. They help engage with the candidates, and screen and process candidates at scale. 
Features:
Find, attract, nurture and manage candidates
Help in getting quick closures
Automated emails, screening, interview- scheduling, and management
Helps build a talent network
Pricing: Available on request
#7 Online meeting software/tools
These days most of the interviews are conducted online. Candidates across the locations are interviewed all the time. This requires good, sustainable online meeting software/tools that can facilitate the interviews. Google Meet and Teams are some of the most commonly used tools that are mobile-friendly. These tools are designed to have online video interviews and meetings. 
Features:
Saves traveling time and effort
Ease of usage with a user-friendly interface
Faster and quicker turnaround
Requires strong internet connectivity
Pricing: Starts at Rs 125 per month 
#8 Background Check tool
Background checks are a mandatory part of recruiting. Every candidate's information and documents are sent for a background check before they are hired by the company. These tools facilitate routine postal address checks of employment histories and criminal records. 
ADP, VICTIG, and SpringVerify are some of the most used Background check tools. They provide the best turnaround and help make the right hire.
Features:
Automation of manual processes facilitates quick closure
Documents need to be uploaded on the tool by the recruiter for verification
Stringent TATs
Hiring verified candidates
Good candidate experience
Pricing: Available on request
#9 Onboarding tool
Recruitment manages all the processes from Sourcing to Onboarding of candidates. Onboarding is one of the critical processes wherein candidate information, documents, forms, statutory requirements, and Orientation session is planned and carried out. 
A good onboarding process helps create the right employee experience. These tools facilitate the entire onboarding experience thus automating each process. 
Scribe, BambooHR, and Trello are some of the onboarding tools that offer a good and exhaustive yet time-saving onboarding experience to the employees
Features:
A good tool helps reduce the onboarding time
Automation helps manage the process well
Helps create the right experience for the new-joiner
Serves as a step-by-step guide to the onboarding process
Pricing:  Approx Rs 2000 per user per month 
#10 Feedback Tool
Recruitment is a key process. It is responsible for getting employees onboard. Every employee that joins the organization goes through the recruitment, onboarding, and orientation process as he/she joins. Feedback/Survey tool helps capture their feedback with their joining journey. This feedback is extremely critical to the recruiter to learn the process gaps and identify areas of improvement. 
Commonly used feedback/survey tools are SurveyMonkey and SurveySparrow. 
Features:
Option of anonymous feedback
Promotes continuous improvement for the recruiters
Effective feedback helps improve processes
Emphasizes good candidate experience 
Pricing: Starts at Rs 1999 per month
Wrap-up
Recruitment is a detailed and long process. All the steps within are time-consuming and require attention to detail. Automation has helped manage processes effectively and efficiently. 
The tools aid in bringing the best out of each step – Sourcing, Screening, Interviewing, Selection, and Onboarding. They save time, streamline processes, bring efficiency, and increase the productivity of the recruiters.
FAQs on Productivity tools for Recruiters 
What are productivity tools?
Any tool or software that helps increase the productivity of an individual or a unit is called a productivity tool.
Why do recruiters need productivity tools?
Recruitment is a detailed and long process. To streamline all the sub-processes, bring in efficiency, and save time, recruiters need productivity tools that will aid them in recruitment.
How to determine the right productivity tools for recruiters?
Several options in the market help you manage individual processes within recruitment. For Sourcing, Screening, or onboarding there are tools available. You may want to evaluate each of these as per your needs and budget.
How do you measure the productivity of a recruiter?
The productivity of a recruiter can be measured by his/her turnaround time to fill the position, cost per hire, offer acceptance rate and renege/backout rate.
How to increase a recruiter's productivity?
The right recruitment tool, managing time effectively, Understanding the reports and analytics well and good candidate management skills increase the recruiter's productivity and chances to convert the candidates.