Need for the best recruitment strategies in 2023 
There is an old saying: "You cannot teach an old dog new tricks." Do you think that's true? Though one cannot be sure about dogs, you can learn a new skill. This is applicable in recruiting and to recruiters as well. There are plentiful recruitment marketing strategies that will help you do just that!
How would you know which is the right one for your company? Before implementing any recruitment strategy, it is important to know why you need a strategy and the different types you can implement. 
What Is A Recruitment Marketing Strategy?
Recruitment marketing is the process of attracting, acquiring, and engaging candidates in the hiring process. It is no secret that companies are looking for talent to fill open positions with qualified candidates who want to work at their company.
Recruitment marketing helps you attract potential employees by creating content that resonates with your ideal candidate and then using it as an opportunity to reach out directly or indirectly via social media channels like LinkedIn or Facebook Groups.
Recruitment marketing strategies can be broken down into many categories. We will dive deeper into each of these categories below, but first, let us talk about why recruitment marketing is so important.
Why Do You Need A Recruitment Marketing Strategy?
It would help if you had a recruitment marketing strategy to attract the right talent. A recruitment marketing strategy is different from a traditional marketing strategy in that it is focused on attracting, retaining, and hiring the right people at the right time.
It may include some elements of traditional advertising tactics like advertising on social media or creating an email newsletter series. It also goes beyond these platforms by using other channels, such as billboards and posters (which are less likely to be seen by potential candidates).
This approach can help you get more leads for your company. Rather than just relying on generic messages that everyone will see regardless of whether they have any interest in what you have to offer!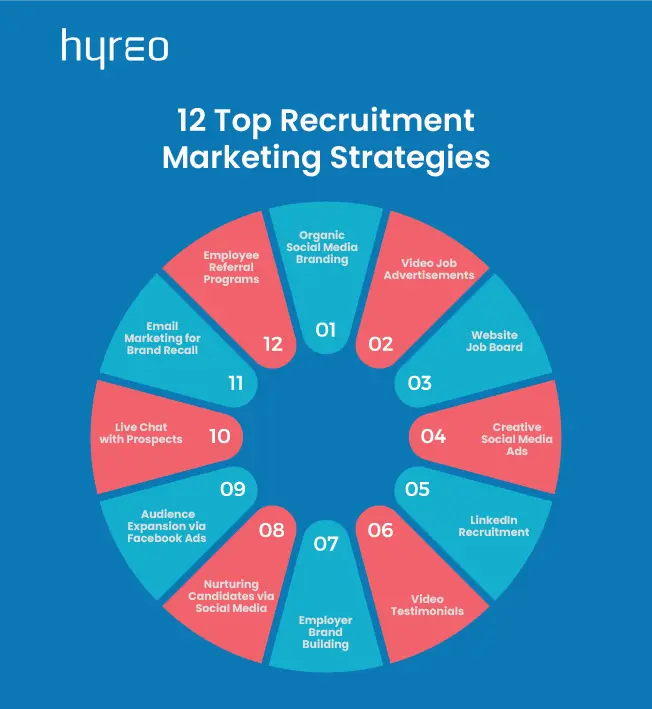 12 Recruitment Marketing Strategies
Companies today are looking for strategies to help them better recruit not just talent but keep their employees loyal. Here are 12 recruitment marketing strategies used by companies around the world:
#1 Showcase your brand organically on social media
Social media is a great way to showcase your brand organically. You can do this by sharing content that relates to the industry, posting job openings, and promoting them on your company's social media pages. 
This will help you get in front of more people who may be interested in applying for your jobs! Do not worry about posting too often or creating too many posts that are about jobs. 
This can make you look desperate and drive people away from your page. Instead, focus on posting relevant content that shows off your brand and the industry as a whole. 
A potential candidate who is currently in the process of a job search will be more interested in this type of content. This will also help you attract job seekers who are not actively looking for a new opportunity.
#2 Use video job ads
Video ads are a great way to reach potential candidates outside social media. You can create these simple things using tools like YouTube and Facebook Live. 
These videos can be used to announce your new jobs, allow a peek into your company culture, or highlight a specific position you are trying to fill. 
You can also use video ads on platforms like Instagram Stories and LinkedIn; these are significantly less expensive than traditional advertising!
#3 Create a job board on your website
You can create a job board on your website and post it as an advertisement. This will help you get in front of more people who may be interested in applying for a position with your company! 
You can also post the job board on social media, including on LinkedIn and Twitter. This will help you get in front of people actively looking for jobs that may be interested in your open positions as articulated by the job advertisement. 
#4 Use social media ads to reach new audiences
As mentioned earlier, social media is a great way to advertise at scale. You can use this platform to target specific demographics, locations, or interests to reach people who may be interested in your jobs. 
You can use social media ads to promote your company and build a brand! Do not worry about spending too much money on social media ads. You can get started for a minimal monthly investment and scale up from there.
#5 Use LinkedIn as a recruiting tool
If you are looking for high-level talent, then using LinkedIn is a great way to get in front of them. You can create job postings, post about current openings on your company's page, and send messages directly to candidates through this platform. 
LinkedIn is a great way to connect with candidates and build a brand. You can also use this platform to reach out to people in your industry and get connected with like-minded professionals.
#6 Use video testimonials
Video employee testimonials are one of the best ways to showcase how excellent your company really is. 
They help prospective candidates understand what it is like to work for you, which makes them more likely to apply. You can use video testimonials on your social media posts, resume, and even during interviews. 
You can also use video testimonials on LinkedIn and your website. The best part about video testimonials is that they are easy to create. All you have to do is ask past employees for their honest feedback and record it on camera with a smartphone or DSLR.
#7 Develop a strong employer brand
Investing in the development of your employer brand can help you find top talent and improve employee retention rates. You should have a solid understanding of what makes your company unique and share this with others through job postings, social media ads, and other marketing materials. 
Do ensure that you are not only highlighting your company's strengths but also its weaknesses. This is especially important if you need a better reputation in the marketplace, especially as a trustworthy brand. For example, if your company has been sued or has negative reviews on sites like Glassdoor, Indeed etc., while most organizations prefer to talk only about the accolades received from the industry, you can acknowledge the accusation and transparently provide information on how it is being tackled and corrected, with frequent updates via the various social media channels. 
Employer brand ambassadors can also help you attract top talent by sharing your company's story on social media and other platforms. This can be done through blogging, creating videos, and other forms of content marketing.
#8 Use social media to build relationships with candidates
Using social media to connect with potential employees can help you find the right fit for your company. Suppose a potential candidate is interested in what you have to offer. 
In that case, they will likely follow you on LinkedIn and Twitter so that they can receive updates about new opportunities that arise. 
The candidate journey is complex, and social media is an effective way to connect with the right people. Your recruiting pipeline will be more substantial if you have a strong presence on social media.
#9 Reach a new audience with Facebook advertising
Facebook advertising is one of the most effective ways to reach a new audience. You can target specific demographics and locations and increase your chances of getting seen by boosting your post or ad. This will also help you make sure that your message reaches the right people. 
Candidate personas are an essential part of any recruitment strategy, and Facebook advertising can help you reach a new audience. 
For example, suppose you have a candidate persona for a front-end developer in London, and you want to reach them on Facebook. In that case, you can use demographic targeting to ensure that your ad reaches people who fit the description.
#10 Engage with prospective employees via live chat
Live chat is one of the best ways to engage with prospective employees. You can answer any questions that they may have about your company or open positions, and you will also be able to learn more about their interests and qualifications. 
Suppose a candidate is interested in what you have to offer. In that case, they will likely follow you on LinkedIn and Twitter to receive updates about new opportunities.
#11 Employ email marketing for top of the mind brand recall 
In order to keep your brand top of mind, you need to send out regular email marketing campaigns. This can be as simple as sending a weekly newsletter with new job openings and company updates. 
You should also send out newsletters whenever there is an event that you want employees to know about (i.e., special gatherings, new product launches). 
You can also send out a survey every few months to get feedback from employees. This will help you understand what they like about your company and how you can improve in the future.
#12 Develop an employee referral program
If you want to hire the best people, you should make it easy for your current employees to refer their friends. You can do this by creating an employee referral program where employees get a bonus if they successfully refer someone who gets hired. 
This will help attract top talent and increase employee engagement. It can also help you retain employees because they will feel appreciated. 
An example of a good referral program is the Starbucks employee referral program, which gives employees $500 when they refer someone who gets hired. The new employee also receives a $500 bonus on their joining.
Wrap Up
A good recruitment strategy is essential if you want to hire talent employees. To be successful you may need to use multiple strategies. It is best to choose the one that will fit the ethos of the company, while meeting your needs. 
FAQs on Recruitment Marketing
What are the types of recruitment?
There are three main types of recruitment: passive, active, and targeted. Passive recruitment is when you wait for candidates to come to you—for example, by posting a job ad on the internet or in newspapers. 
Active recruitment involves reaching out to people directly and encouraging them to apply for your open positions. Targeted recruitment is when you actively search for candidates who meet specific criteria (i.e., someone with five years of experience as an accountant).
What is strategy development in the recruitment process?
Strategy development is a key component of recruitment, particularly for larger organizations. The strategy defines your company's goals and objectives and guides how to achieve them. 
A well-defined strategy lets you decide which applicants are a good fit for your open positions. It also helps to hire managers to understand what they should be looking for in candidates so they can determine whether or not they meet the criteria set forth by their superiors.
How do you create a recruitment strategy?
The first step in creating a recruitment strategy is determining your goal. Do you want to fill a specific position? Are you looking for someone who can help with growth? How many people do you need, and what are their qualifications? 
Once you have these answers, it will be easier to decide where candidates should come from (e.g., internal vs. external). There is a difference between recruiting to fill a specific position and recruiting for a role that may still need to be created. 
For example, if you are looking for someone to take over your social media account, hiring from within would be more efficient than looking externally. 
On the other hand, if you are hiring for a new position—such as an inbound marketing manager or salesperson—you may have to go outside your organization to find qualified candidates.
What are the strategic issues in recruitment?
One of the recruitment's most important strategic issues is creating a diverse workforce. It is essential to have people from various backgrounds because it will help you better understand your customers and because it can be difficult to find qualified candidates if they all come from similar backgrounds. 
Remember that this issue can be fundamental when you are hiring for a high-level position. It is not enough to have qualified candidates; they should also be diverse. 
This is one reason why many companies have diversity committees that work with human resources to create hiring practices that reflect the company's values and promote fairness in the workplace.