People are the ultimate asset for an organization, and buying the right HR tools is critical for their management and efficiency. An HRMS solution comprises a suite of solutions that HR can use to manage daily HR processes such as hiring, onboarding, and payroll of its people. 
For any organization, choosing the right HRMS solution can be tasking, given the extent of complexity and unique nature distinct for every company.  People management is a priority today for small businesses, and HRMS solutions automate, streamline, and optimize these management processes.  
HRMS solutions are a long-term commitment for small organizations and companies. They require expensive and time-consuming implementation and, therefore, should be selected with great know-how, research, and comparison. Only after proper due diligence and the involvement of stakeholders should a selection be made and implemented. 
Let's dig deeper and discuss the criteria for selecting the best HRMS solutions for small businesses and the best solutions available for small businesses to explore.   
How can you compare the Best HR Management Software (HRMS) for Your Small Business? 
"Features and functionality aren't much help because most products are mature and do the same things. The issue is which products do a killer job of solving your most complicated, messed-up functions or process pain points." 
~Brian Sommer, president of the TechVentive consultancy
Given the number of HRMS solutions available in the market, searching for the best solution for small businesses is no less than finding a needle in a haystack. HR should compare solutions and match them with the current and future needs of the organization.  
Few things to keep in mind while choosing an HRMS solution for your small business: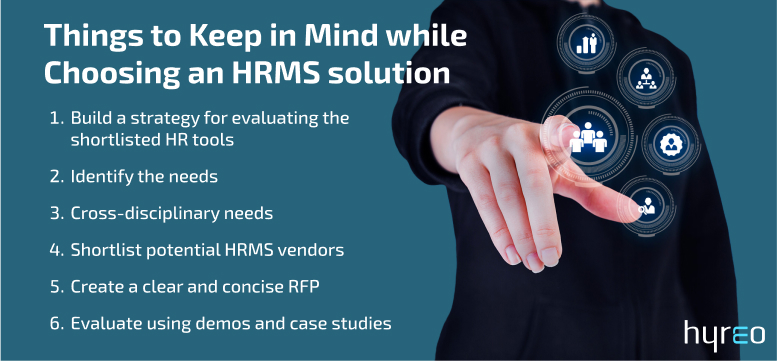 #1 Build a strategy for evaluating the shortlisted HR tools
While doing so, measure the capability of each tool based on the workforce challenges, needs, and goals of your organization. Look beyond the key features and functionalities, as most possess a set of common features and functions.   
#2 Identify the needs 
Clearly identify the needs for which the organization requires the HRMS solution. These requirements and needs may include criteria like the technology stack and its integration with the HRMS solution, compliance needs, ease of use, etc. 
#3 Cross-disciplinary needs 
HRMS solutions should serve the cross-disciplinary needs of all departments within an organization. As such, form a buying team with members from HR, IT, finance, and other departments who will be using the software.  
#4 Shortlist potential HRMS vendors
Employ multiple sources, such as research, peer reviews, reports, client testimonials, etc., to generate a list of 5 to 10 options for HRMS vendors.  
#5 Create a clear and concise RFP
RFP or request for proposal should include information about your organization, its workforce strength, timeline, submission rules, etc. A questionnaire for the vendor in the RFP could be useful criteria to evaluate multiple HRMS vendors against each other. 
#6 Evaluate using demos and case studies
Demos can give a true-blue picture of the actual working of an HRMS system. The scouting team can ask the vendor to build demos based on the use cases from your company. 
Other than demos, studying previous case studies demonstrating how the vendor overcame a particular adoption challenge for a client could give insight into the vendor's track record. The HR can also ask the vendor for referring clients to get your questions answered directly.     
The managers can employ multiple criteria and data points to gauge the worth of each against the other. Some criteria that can be used to evaluate one HRMS solution against the other include: 
Clean and User-friendly interface
Usability 
Integrations with existing solutions 
Value for money 
Compliance
Security
Timeline
Free trial 
Customer support 
Key Features to look for in the Best HR Management Software (HRMS) for Your Small Business 
Transitioning from excel sheets and tedious paperwork to a full-fledged HRMS solution can be transformational and enlightening for many small businesses. HRMS solutions help small businesses with core HR functions like recruiting, payroll, onboarding, performance tracking, and employee training and development. 
By doing so, these solutions help these businesses improve employee performance, productivity, and satisfaction. These solutions also provide useful insights and performance indicators to make your small business more profitable. Some key features to look out for in an HRMS system are 
#1 Payroll management 
To help you manage the payroll process, including compensation and benefits. 
#2 Employee management 
To help your company manage and forecast workload, attendance, leaves, and benefits. The solution must contain a self-service portal for employees. 
#3 Performance tracking 
To gauge employee work and productivity, reward top performers, and use the gathered insights to improve processes. 
#4 Talent management 
To streamline the company's recruitment needs, like tracking applicants, hiring, maintaining a candidate database, and onboarding.      
Top 5 Best HR Management Software (HRMS) for Your Small Business 
#1 Paycor 
Paycor is a powerful HCM solution with an intuitive self-service portal for employees. Its HRMS solution lets organizations capture employee data, manage payroll and tax compliance, and hire new employees. Its payroll system manages employee attendance, keeps track of employee hours, and automates tax calculation and withholding.  
Salient Features 
Automates payroll, tax, and other compliance at the federal, state, and local levels. 
Useful tools include a compliance calendar, an onboarding checklist, and a document library. 
Tracks employee compensation history and compares it to market rates.
Handles HR tasks such as maintaining employee records and payroll reports, and managing invoices.  
Provides regular reports, both standard and customized, and data analytics.  
Fully compliant with employment laws.
| | |
| --- | --- |
| Pros  | Cons  |
| Provides a secure and optimized environment  | Doesn't include 1-on-1 classroom training   |
| A self-help portal for employee benefits management  | Inefficient online self-support portal  |
| Intuitive user interface  | Confusing insurance settings  |
| Provision to set up automatic payments  |   |
| Helps offset the cost of training new employees |   |
| Dedicated customer support  |   |
| Easily integrates with third-party HRM apps.  |   |
Pricing 
Paycor HRMS solution is available at $199/month. 
#2 Rippling
Rippling HRMS solution allows small businesses to run their HR, IT, and finance functions in an integrated single space. The software also integrates various HR processes spread across the organization and streamlines them for smooth workflows. 
Salient Features
Tracks, organizes, and provides instant access to critical employee data, job profiles, transfers, benefits, and promotions.  
Allows pay calculation and benefit plan administration 
Manages direct deposit, salary revisions, and payroll tracking. 
Streamlines communication between HR
Efficient leave and attendance management 
Prebuilt and custom reports to improve performance management 
| | |
| --- | --- |
| Pros  | Cons  |
| User-friendly and easy-to-navigate interface  | Limited reporting capabilities |
| Added security with features like 2FA | Glitches in integration with third-party apps |
| Simple-to-follow and easy-to-use tools like the timesheet, PTO requests, etc.  | Clunky and hard-to-navigate organizational structure functionality  |
| Manages and automates all parts of an employee's life cycle in a single place. |   |
| Fully compliant with COBRA, OSHA, etc. |   |
Pricing
The Rippling HRMS solution is available via the subscription mode at a charge of $8 per user per month. 
#3 Eddy
EDDY HRMS solution is built as an HR Suite suitable for local businesses. It streamlines time-consuming HR processes like hiring, onboarding, and payroll, and manages employee data, including employee days and leaves, mandatory training, and licenses.  
Salient Features
Manages to recruit tasks like applicant tracking, onboarding, reporting, website posting, etc.  
Creates custom PTO policies
Allows for time tracking 
Manages employee data like employee directories, important documents, notes on performance, etc. 
Streamlines payroll management with other HR functions
Can be integrated with HR platforms and recruitment websites like Quickbooks, HelloSign, and Indeed.
| | |
| --- | --- |
| Pros  | Cons  |
| Intuitive and customizable  | Doesn't automatically populate the onboarding tab when a new employee joins |
| Handles all HR processes across an employee's life cycle  | Lacks visibility  |
| Detailed employee directory  | Lacks regional compliance and adherence  |
| Help minimize risk and penalties via timely tax compliance and adherence to labor laws  |   |
| A free trial is available  |   |
Pricing
Price available on request. 
#4 Monday.com
Monday.com Work OS is one of the top-rated HRMS solutions for small businesses. It is an open platform where anyone can create tools related to all aspects of HR processes. It also has readymade templates and customized solutions for clear direction and deadlines. 
Salient Features 
Allows to create tools and tasks to align with their HR functions and processes
200+ HR-related templates
Adaptable dashboards
Allows to set functions such as employee management, performance tracking, recruitment, onboarding, etc.
Automates payroll
Tracks and manages the hiring process   
| | |
| --- | --- |
| Pros  | Cons  |
| Flexible, all-in-one solution  | The dashboard can be confusing at times  |
| Customizable and Configurable to suit specific requirements  | Automations are tied to users and need to be recreated  |
| Automates and integrates complex processes |   |
| Efficient applicant tracking and hiring  |   |
| Integrates with third-party apps like Zapier, Google Drive, Zoom, Outlook, etc.  |   |
Pricing
Monday.com has a 14-day free trial and can be purchased at $8 per user per month. 
#5 Freshteam 
Freshteam is an award-winning HR suite that empowers your employees with paperless self-service options. Freshteam's low-code HR system helps organizations to manage their employees' hiring, onboarding, payroll, data, and workflows and reduces the workload of the recruiters by up to 75%.   
Salient Features 
Manages time-off and tracks absences of the employees
Paperless hiring and onboarding 
Self-service portal for employees to access their records and update their information.
Allows third-party integrations with applications like Google Meet, LinkedIn, DocuSign, Google Calendar, etc. 
| | |
| --- | --- |
| Pros  | Cons  |
| Secure and safe upkeep of employee data and files  | Inefficient mobile app |
| Suitable for growing businesses  | Occasional glitches in the search option   |
| Manage the entire lifecycle of an employee  | Sub-users aren't given customization options free of charge  |
| Easy to customize  |   |
| Easy integration with other apps  |   |
| Detailed reports – standard and customized  |   |
Pricing
Freshteam has a 21-day free trial period and is available at the cost of $1.20 per user per month.  
Wrap-Up 
Once you wrap your head around the perfect HRMS solution appropriate for your small business, check the fit and compatibility of the solution when it is implemented and integrated with HR processes. Also, conduct a basic training session to get your employees accustomed to the working of the HRMS solution. 
HRMS for small businesses can be a great addition to streamlining workflows and bringing efficiency and cost savings in the long run. With better candidates onboard and a self-sufficient solution to manage all employees, the company's work culture will improve, leading to satisfied employees and reduced turnover.  
FAQs on HRMS solutions for small businesses
Why do small businesses need HRMS solutions? 
HRMS solutions can help small businesses to manage and streamline their hiring, payroll, training, and other HR processes in sync with organizational needs. These solutions provide a centralized setup to manage and automate processes. This not only helps to cut down costs and time spent on non-core HR functions but also provides employees with a self-service portal to manage their benefits. 
Which is the right HRMS solution for an organization? 
HRMS solutions come in various fits and sizes and can be customized, configured, and tailored to meet an organization's specific requirements. An organization can choose whether it wants to automate all its HR functions – from hiring to exit or select a few amongst those occurring in the employee's lifecycle. Small businesses usually have budget and time constraints and should go for a solution that meets the most immediate HR needs and can be scaled and evolved in the future.   
Which software should a small business essentially have?
A small business should essentially have accounting software, HR software, and document management software to serve the foundational needs of the organization. 
What are the fundamental functions of HR in a small business?
Every small business should have well-aligned HR processes to manage employee compensation, maintain the workplace culture, invest in training, handle employee grievances, and cultivate employee career paths. 
What key factors to consider while selecting an HR solution? 
An HRMS solution should be able to handle HR needs such as applicant tracking and recruitment, compensation and benefits management, performance management, and training and development.