Recruitment is the initial and said to be the most crucial step for any business, as people can make or break any goal or motive an organization is vying for. However, finding the right talent can be a daunting task, if it is not done correctly. 
It's noteworthy that hiring doesn't just involve filtering job applications or conducting interviews. From identifying a role that needs hiring, writing a job description, advertising, filtering resumes, engaging candidates, and conducting interviews to managing the entire workflow and communication, recruitment is as extensive as any other business process and requires equally measured thought and effort.  
In short, a lot of effort, time, and money goes into fulfilling hiring needs for any organization. Instead of laboring on the same, HR professionals can go in for a process that streamlines and standardizes the recruitment process. 
That's where Recruitment Process Outsourcing (RPO) comes in. 
Organizations sometimes outsource their hiring needs to third-party providers specialized in hiring and recruitment, known as RPO companies, to manage their recruitment process. An RPO firm will be a good fit for an organization if it understands its core values, culture, and hiring needs.   
Here's all you need to know about recruitment process outsourcing, how it works, and which companies offer the best RPO services in the US. Let's dig in.   
What is Recruitment Process Outsourcing? 
Recruitment process outsourcing or RPO refers to outsourcing the management of the recruitment process, in part or entirely, to a third-party provider. In other words, RPO refers to a kind of business process outsourcing where companies hire an external provider or company to take care of an organization's hiring needs.  
An RPO is different from a staffing agency or a recruitment agency. An RPO designs and takes ownership of the implementation and management of the recruiting process of a company, while an agency does not. An agency merely acts as an external provider of talent. 
RPO involves bringing together recruiters and technology and synergizing them into an efficient and responsive talent acquisition process. 
An RPO company is a third-party provider that manages all parts of the recruiting process for its clients and charges for the same. They also have a flexible structure and pricing models to suit different levels of hiring needs. 
How does RPO Work? 
RPO works by combining recruiters and technology into a streamlined and standardized process. RPO providers employ their expert services and use metrics to improve upon the talent acquisition process. They do so by:
Forecasting hiring needs
Researching and studying the current recruiting methods, the kind of candidates the company is looking for, and the sources to reach those candidates
Realigning or developing existing recruitment processes from scratch based on the findings 
Sourcing candidates via different mediums, including direct job postings on HR portals, social media, or websites, or attracting passive candidates from the talent pool 
Assessment of candidates through resume screening and parsing, tests, interviews, etc. 
Making hiring decisions on behalf of the client and choosing the candidates that fit the role 
Onboarding the candidates and orienting them with their job roles and work culture in the organization
Reporting and collecting analytics and metrics to gauge and improve the hiring process and provide regular performance reports to the clients. 
7 Recruitment Process Outsourcing Benefits 
Recruitment process outsourcing can have multiple long-term and short-term benefits for any organization.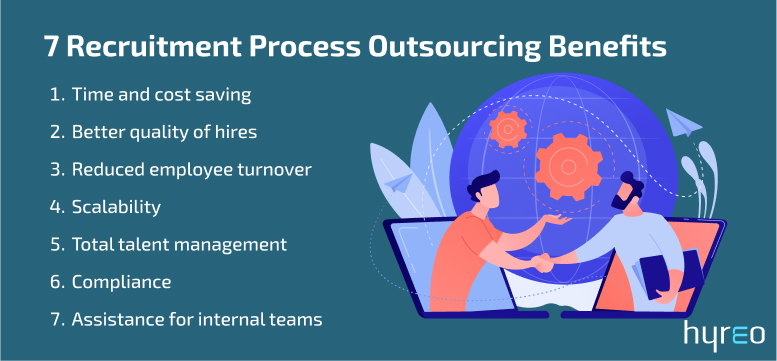 Let's enumerate the following:
#1 Time and cost saving
RPO models are cost-effective and save crucial recruitment effort and time for HR. By outsourcing the recruitment process, the organization can ensure the timely hiring and filling of vacancies so that the process remains efficient and productive. Thus, RPO brings cost-effectiveness in the long term by reducing recruitment costs. 
RPOs cater to the fluctuating needs of an organization without compromising on the quality of the hire or impacting the workings of the internal HR teams, bringing in time utility. 
#2 Better quality of hires 
RPOs serve the main purpose of bringing the best talent onboard for organizations. They put their time, effort, and resources into scouting for qualified candidates that suit the role for which they are hiring. Companies also hire RPO providers to improve the candidate experience and engagement. 
RPOs also use other resources, such as a talent pool, a database of candidates, or referrals, to look for suitable candidates. Also, via predictive talent analytics and performance metrics of the talent acquisition process, an RPO provider continuously improves the hiring process.   
#3 Reduced employee turnover and absenteeism 
RPO providers are skilled professionals specially trained to identify the right fit for a role. A good quality hire that is well-suited for a role carries several long-term benefits for a business. Happy and satisfied employees are productive and efficient in their work. This leads to lower attrition and turnover rates and saves long-term hiring costs for the company. 
#4 Scalability 
RPO services are calibrated and modeled to suit the needs of an organization, whether it is scaling up or down. For instance, a company may undergo expansion and require extensive hiring for its new offices, while at other times, it may undergo a hiring freeze. An RPO provider adapts to its client's requirements and flexes its hiring team accordingly. The RPO gets paid for the number of successfully filled vacancies at the pre-decided costs.  
#5 Total talent management 
Organizations may also hire RPO services to restructure their entire recruiting process or else streamline talent acquisition and recruitment processes. RPOs can also act as an external functional unit taking care of the entire recruitment process or managing the talent management strategy for their clients.  
#6 Compliance
An RPO firm has comprehensive knowledge of the labor laws and other compliance rules governing hiring and recruitment in any jurisdiction. They are experts on compliance laws and standards. They keep a record of every hire and use full-compliant and auditable methods in hiring and recruitment. 
#7 Assistance for internal teams 
Sourcing high-quality talent can be challenging for HR teams, and they often need support and expertise from outside sources. Companies partner with recruitment process outsourcing companies to lend support to their internal teams or entirely outsource their recruiting functions to these companies to streamline the hiring process.  
Top RPO companies in US – 2023 
There are many RPO players offering a suite of services and multiple options per the companies' needs and requirements. Some of the top RPO companies in the US that will rule the 2023 scenes include:
#1 Randstad
Randstad Sourceright is a result-focused and tech-driven RPO company that sources and identifies talent from across the globe. It has served over 280 RPO programs, and over 500 managed services programs in over 70 countries.  The company invests in understanding each client's unique needs before scouting for talent. It has deep experience in diversity, equity, and inclusion (DEI) recruiting. 
Pricing: Available on request  
#2 Sevenstep
Sevenstep offers custom solutions with its proprietary technology to serve clients with its tailor-made offerings. Its services are available as both end-to-end and project-based programs across verticals such as financial services, retail, and tech. Sevenstep's RPO programs are speedy and efficient, yielding up to 94% employee retention. 
Pricing: Available on request. 
#3 Cielo
Cielo offers specialized RPO services to hire better talent faster while ensuring a great candidate experience. Its tailor-made solutions are spread across 103 countries and 176 clients. The program is available in over 39 languages and is suitable for companies looking for a global RPO partner to tackle its diverse workforce requirements. 
Pricing: Available on request 
#4 Pierpoint
Pierpoint is a cost-effective RPO solution that can help drive 2x hiring at 40% to 50% savings on agency fees. It is particularly suitable for recruiting specific niches and hard-to-fill positions in sectors such as Tech, Healthcare, Manufacturing, Life Sciences, etc. It serves over 300 recruiters in 50 countries and has a customer retention rate of 94%. It has a proven track record of filling complex roles in record time – half of the industry standard.  
Pricing: Available on request. 
#5 PeopleScout
PeopleScout is owned by TrueBlue and is a leading RPO in the US, with a record number of military veterans in full-time civilian employment under its RPO programs. It provides end-to-end RPO solutions and talent advisory capabilities to its clients. It uses AI-driven capabilities for a better candidate experience and engagement. It serves clients in 70-plus countries and has a client retention rate of 97%. 
Pricing: Available on request
Wrap Up 
RPOs leverage technology and talent acquisition strategies to provide a consistent process for onboarding qualified candidates and giving organizations greater access to a fluid talent pool. RPOs are much more than traditional recruiting processes. They can reinvent a company's hiring strategy and rebuild the recruitment process from scratch and bring in functionalities and advantages not possible for a native hiring team. 
Companies outsource a plethora of non-essential and non-core functions today. RPOs inarguably remain a function that can help build a concrete and cohesive total management strategy for any organization.  
FAQs on Recruitment Process Outsourcing
What are recruitment process outsourcing services?
Recruitment process outsourcing services or RPO services refer to hiring an external partner or third-party provider to manage an organization's recruitment process partly or wholly. RPO services help to streamline and standardize an organization's recruitment process, improve the quality of hire, and reduce the time-to-hire and cost-to-hire. The HR personnel can concentrate on more core functions rather than repeatedly spend their time and effort hiring. 
What are the 5 best practices for any recruitment process?
For any recruitment process, the best practices would include: 
1. Keeping a check on job posting performance
2. Making the application process simpler and easier
3. Making the job more appealing
4. Investing time and effort in onboarding candidates
5. Making the right impression of the company during the interview
How Does an RPO Model Work? 
The RPO model is a kind of business process outsourcing where companies and businesses hire third-party providers to manage their hiring process and bring in cost-effectiveness, time utility, quality of hire, scalability, and efficiency of the hiring process. 
What is the difference between RPO and BPO? 
BPO or business process outsourcing is a much wider term than RPO or resource process outsourcing. An RPO is a company outsourcing the recruitment function to a third-party provider, whereas BPO refers to outsourcing or contracting all the non-core functions to a third-party provider. 
How Is The RPO Process Different From The Typical Recruiting Process?
Unlike the traditional recruiting process, RPO services do more than just fill vacancies. An RPO provider, besides filling in vacancies, would work with the HR on the recruitment process, look at turnover rates, bring scalable technology, and collect metrics to improve performance.