People form an integral part of the success of the organization. It is, after all, believed that success is a direct function of the efficiency and quality of its people. It's, therefore, essential that the right people get hired for the right job. A study suggests that a bad hire can cost the organization 30% of the employee's annual salary. Therefore, recruiting decisions carry a considerable level of risk and uncertainty. 
Scouting, selecting, and nurturing quality talent are part of the recruitment process, and resume screening plays a pivotal role in jump-starting the recruitment process. A tremendous amount of work and planning goes into sourcing and screening candidates.  
With the intervention of technology, like Artificial Intelligence (AI), machine learning, and recruitment software and tools, candidate screening processes are being automated, streamlined, and made more efficient continuously. These resume screening tools can make the applicant screening process a lot easier. 
AI resume screening software, especially, is on the verge of replacing humans for the better. Research shows that around 36% of small companies have already automated their HR systems.
What is Resume Screening Software, and why should you use one? 
Resume screening is the process by which recruiters filter candidate profiles against the job description based on their skills, education, work experience, and other relevant information mentioned in the resume. It is a part of the pre-employment screening process and can be done either manually or by automating the process using resume screening software or applicant tracking systems (ATS).  
Recruiters receive an average of 250 applications for a single hire, making manual resume screening a tedious, monotonous, and overwhelming job for HR. On average, a recruiter spends 23 hours in the screening process for a single hire. The majority of Fortune 500 companies today use resume screening software to ease and speed up the hiring process.
Resume screening software can help to streamline and expedite the recruitment process. This software helps narrow down the candidate pool via automated resume screening so that recruiters can concentrate on candidates suitable for the role. This helps to improve efficiency and reduce the time involved in the hiring process.  
While ATS software tracks candidates throughout the recruiting and hiring process, resume screening software review and filter the resumes, thus forming a section of the larger process. 
Benefits of using a Resume Screening Software 
Resume screening software doesn't just automate and streamlines applicant resume screening.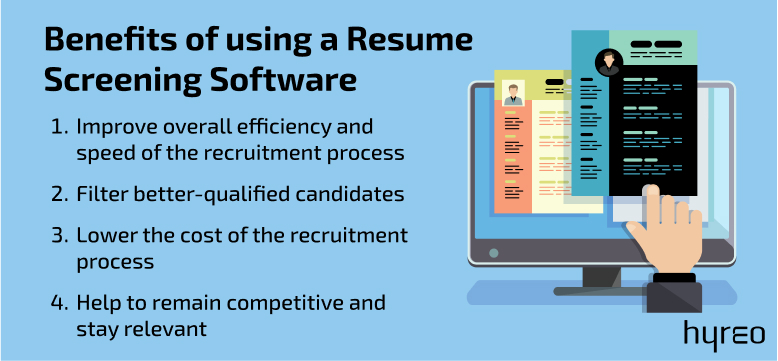 It brings additional benefits, some of which are listed below: 
#1 Improve overall efficiency and speed of the recruitment process
Resume screening consumes considerable time and effort. On average, out of the 250 applications received for a single hire, 220 get rejected. Multiply this figure by the number of job openings a recruiter has to take care of and the thousands of resumes they have to sift through. No wonder a recruiter doesn't spend more than 6 seconds on a resume. 
An effective ATS or CV scanner software can be a blessing for a recruiter as the software can automate and optimize large sections of the process, keep track of the same, and provide knowledgeable insights in the retrospective to evaluate the overall speed and efficiency of the recruitment process. It can manage large volumes of applications which have become a challenge for many companies lately. Resume management software can turn the tables in favor of recruiters by removing human bias and the scope for manual errors. 
A study found that 75% of recruiters and HR managers employ a resume screening or ATS software, and 94% of those said that the software had improved their hiring process.  
#2 Filter better-qualified candidates
Resume screening software leverage the power of AI and data to search for candidates better suited for the stated role. Via applications such as conditional screening, mapping of resume fields, contextual screening, etc., these tools extract and filter applications from multiple sources. Also, these AI-powered tools can recognize keyword stuffing and arrive at better and more reliable screening decisions. 
When the right candidates are selected for the right role, this automatically results in reduced employee turnover and attrition rates and a boost in their performance metrics. Also, with automated resume screening, recruiters can have more time to analyze and interview shortlisted candidates better. 
#3 Shorter response time is an enabler for better candidate engagement
Candidate experience plays a vital role in determining the perception of the organization among job seekers. The company may lose the creamy layer if the process is clunky and slow. Around 60% of the candidates quit their applications before they can even get in touch with an HR manager if the hiring process takes too long. 
A resume screening software or ATS can help speed up the hiring process and even improve it via the continuous flow of data analytics and ML-learning capabilities. Good AI resume screening software comes with AI chatbots that can help in candidate engagement.     
In the long run, the right hire can improve employee engagement and overall productivity. 
#4 Lower the cost of the recruitment process
There are a lot of surveys and stats to prove that resume screening software helps in reducing costs directly by substituting manual labor with automated resume screening. A 2019 survey found that talent acquisition leaders expected to increase their hiring volume by 56% in 2020. However, 66% of the recruiting team would remain the same size or shrink further.  
These trends indicate that recruiters must do more with less and automate workflows strategically. Resume screening would be one of them. AI has already transformed the hiring process and resulted in time and cost savings for organizations. Data suggests that suitable recruitment software can save 20% on recruitment time of the talent acquisition people and yield an ROI of 560% for the company! 
#5 Help to remain competitive and stay relevant 
Glassdoor Research suggests that 76% of HR personnel find it difficult to find the right candidate for a job profile. Add to that fierce competition in the job market, with every organization trying to rope in the best talent. 
Recruiters cannot afford to let go of a good resume. Automated resume screeners can help to sift the right candidate from the huge volume of applications on time and help manage the talent pool for future job openings.  
Key Criteria for choosing a Resume Screening Software 
Some of the key criteria that organizations need to keep in mind while narrowing down on the choice for a resume screening software include:
Organizations should match their hiring needs with the capabilities of the resume screening software and see if it fits. 
Opt for software that is customizable and can be configured to suit the unique requirements – present and foreseen – of the organization. This means that the software must be able to scale according to the company's growing needs.  
Organizations should identify and make a list of hiring functions that they need to automate and integrate into a cloud-based resume screening software and look for one that will streamline their processes and help to funnel candidates into one recruitment funnel. 
Companies should DYOR (Do your research) and look for customer reviews and brand reputation. They must read testimonials or reach out for success stories from real businesses to shortlist the best resume-screening software. 
A good CV scanning software must be easy to use and implement with the existing ATS or recruitment software.   
There are several costs that come under pricing for a typical resume screening software. Calculate a gross amount and check if it meets the budget. 
Check whether the customer support team is good and is available round the clock and if there's a manager/team dedicated to the organization. 
Always go for a free trial first to gauge the capabilities of the tool and if it fits well into your existing processes.  
Look for secure and compliant resume screening software to ensure the organization's data is secured against hacks and that the company's processes abide by rules and regulations. 
5 Best Resume Screening Software to look for
With technology ideating and evolving HR processes like never before, there is no dearth of good recruitment tools and resume screening software to choose from. Here's a list of 5 best resume screening software that are worth a mention: 
#1 CVViZ
CVViZ resume screening software uses AI to automate your recruitment process by integrating with your existing ATS or recruitment software. Its AI resume screening software filters resumes contextually rather than relying on simple keyword matching and binary search. The software continuously learns from the hiring process to screen better, more suitable candidates from the vast volume of resumes.  
Salient Features 
Real-time candidate ranking using AI according to the company's hiring process
Allows resume parsing and elastic search
Integration with the existing database of the organization
Customizable to suit organizational requirements 
Ability to predict and rank best candidate profiles from the resume database  
Ability to identify duplicate resumes
Pricing
CVViZ can be integrated with the recruitment software at $25 per job. For organizations hiring more than 50 positions, customizable pricing options are available to choose from.    
Freshteam was recognized as the best applicant tracking system in 2022 by Forbes Advisor. Its automated resume screening software can automate resume screening while providing the additional feature of a Talent pool where recruiters may save candidate profiles for future job openings. 
The software allows deep parsing for a 360-degree view of the candidate profile. The recruiters can opt for conditional screening and employ pre-screening tests with trusted integration partners like HackerEarth, HackerRank, etc. It's undoubtedly one of the best technical skills screening software out there. 
Salient Features 
Self-onboarding UI 
Auto-pilot workflows
Pre-screening aptitude, cognitive, personality, and physical tests
Conditional screening of resumes based on skill, education, and experience 
Background checks based on the job roles
Custom application forms 
Provision of a talent pool with a candidate database within the ATS
Integrations with HR platforms like LinkedIn, HackerEarth, Indeed, SignEasy, etc. 
Pricing
Freshteam software comes at zero cost for a basic plan for up to 50 employees. 
For growing businesses, their Growth plan is available at $1.02 per month plus a $62.83 platform fee per month. Their pro plan is $2.03 plus a $106.37 platform fee per month. 
#3 Zoho Recruit 
Zoho resume management software helps in parsing resumes, deep screens them according to their brand requirements, and collects candidate information in the candidate database. Recruiters can standardize resume details and map them accordingly in their ATS. The applicant screening software can also import candidate data from multiple HR platforms and web pages. 
Ability to extract candidate resume details and populate them on candidate and job records 
Deep parsing of resumes from Gmail, Zoho Mail, and Outlook Messages. 
Mapping resume fields from multiple online platforms and other web pages like LinkedIn. 
Pre-made customizable templates
Pricing 
The forever Free basic plan is available at zero cost. The standard and professional plans are available at $15.11 and $30.21 per month, billed annually. There's also the Enterprise plan that can be availed at $45.32. 
#4 Paycor Recruiting Software (previously Newton)
Paycor's resume screening capabilities leverage AI to automate candidate searches and capture the best talent. The candidate dashboard allows a panoramic view of all the job candidates, their status, and priority job listings in one place. The software also provides powerful analytics which recruiters can employ to make decisions or identify bottlenecks in the system. 
Salient Features
All-in-one Dashboard for recruitment needs
Streamlines and optimizes resume screening process
Ability to source passive job seekers from the database
Collects useful insights and data analytics in real-time
Automatic job postings to HR sites such as Indeed, LinkedIn, Glassdoor, and ZipRecruiter
Customizable and configurable   
Option to add comments and notes on candidate profiles and text candidates
Regular updates to remove bugs
Pricing
The website offers different plans to suit varying levels of HR needs. The pricing is available on request.  
#5 Taleo by Oracle
Taleo offers resume screening software tailored to suit unique organizational needs, which can be scaled accordingly. The configured software, besides being an automated resume scanner, can be used to leverage career sites, marketing campaigns, automated postings, and referral features for securing the best candidates. The software also helps in building the database of the talent pool, which can be used for future hiring. Recruiters can also take advantage of real-time data and analytics in the ongoing hiring process. 
Salient Features
Automatic resume parsing and applicant tracking 
Easy-to-use mobile app and a customizable dashboard increase efficiency and expedite the hiring process
Flexible and powerful screening options 
Analyzing multiple sources and channels 
Tracks assessments and candidate communications 
Real-time data analytics 
Pricing 
The pricing is based on the size of the organization and is available on request. 
Wrap Up
As the volume of applications swells even further, the need to automate and streamline hiring processes like resume screening, applicant tracking, onboarding, etc., will grow even more significant for any organization that seeks to retain the best talent and stay relevant in the job market. 
Modern ATS solutions can offer a palette of services via their cloud-based applications. AI-based recruitment solutions have gone the extra mile to simulate human-like interaction with candidate profiles and engage in collaborative hiring. 
While organizations can end up with the most sophisticated software, the best industry practice for any organization would be to identify its hiring needs and choose the best software.  
FAQs on Resume Screening Software 
What software is used to screen resumes?
Resume screening and other allied hiring processes can be automated, streamlined, and optimized using resume screening software or an all-inclusive ATS tool for all hiring needs. 
Resume screening software helps review a candidate's profile and filter it based on qualifications, work experience, skills, and other related factors. 
A good resume screening software should be easy-to-use and implement, intuitive, and able to extract and source candidate profiles from multiple portals and websites.  
What is the primary disadvantage of an ATS? 
The primary and most fundamental disadvantage of an ATS is its incapability to process information as a human recruitment manager would. This means that software cannot process the information it reads, which leaves scope for unintentional errors and elimination of every resume that's unreadable for the software. While AI is bringing in human-like tendencies to these tools, there's time before they will be able to parse and read all kinds of resumes in all formats and filter them accordingly. 
How to assess candidate skills during the pre-interview recruitment process? 
Organizations must enlist their requirements and opt for a good resume screening or ATS solution to automate their recruitment process. Pre-screening processes are some of the most cumbersome and extensive tasks that need to be done correctly to ease up the interview process and ensure that the best talent gets filtered for them. 
To do so, the recruiters must prepare a suitable job profile and screen CVs against them to shortlist candidates. Manually, this process may take up days, but when done using resume screening software, the results can be instant and more accurate.