Companies are always looking for ways to make the most of their resources and funds. Many companies invest a lot in providing their employees with the right work environment and experiences that would help them boost efficiency and productivity. 
However, in the past few years, there has been a growing trend of working remotely as many companies now give an option to their workforce to handle certain tasks from their location. This allows them to save time as they don't have to commute to offices and also be more productive as they can utilize the same time working on certain projects and tasks. 
This has been more prominent during the pandemic when many companies quickly adopted remote work while some companies embraced it reluctantly and gradually. While the pandemic situation today has eased out, and things are beginning to return to normal, the trend of remote work is here to stay. 
Hence, HR teams and recruiters now have to think about how they can attract, hire and retain remote employees and provide them with the right onboarding experiences.  
With more opportunities in the market, many employees today prefer to seek out another job if they have a bad onboarding experience. Hence, it has become essential for companies to retain new hires and save money, time, and effort through a better onboarding process.
10 Things to Keep in Mind While Onboarding a Remote Employee
While remote work can offer more benefits to the company, it can make things hard for HR recruiters and teams to onboard new remote employees. One of the main challenges of onboarding new employees is that they cannot visit your office as and when you prefer. However, there are certain things that you can keep in mind about how to onboard remote employees, and things can get smoother and better.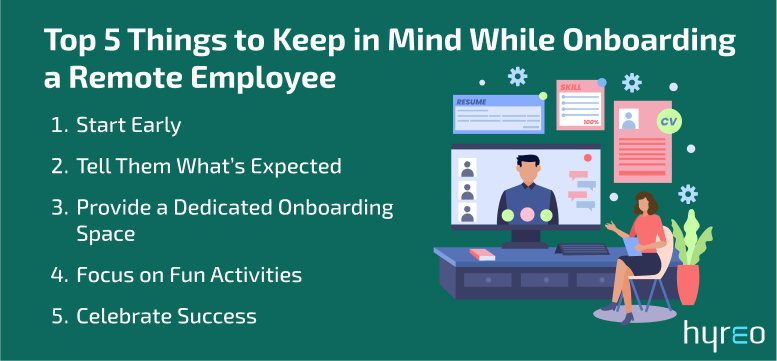 Here are 10 tips for onboarding remote employees. 
#1 Start Early
When you are onboarding remote employees, you need to understand that they need more time and space. Hence, you need to initiate the virtual new hire orientation process a bit earlier than you would do otherwise.
It is important that the new hires have clarity about the company and therefore you can send them a virtual onboarding mail about company culture, ethics, and a little bit about the history and founders of the firm.
If your company has a social media presence, you can send them the link to the company's social media pages and top executives to provide them with a basic knowledge of the company. 
#2 Tell Them What's Expected
When you are thinking about how to onboard new employees, you need to focus on how you can bring them all together and help them understand what's expected.
This is essential because you want to ensure that every new remote employee has clarity about whom they will meet and what tools they need to use and what communication mode they prefer.
You can make use of virtual onboarding mail that would allow you to set expectations and make things easier for you. 
#3 Create In-Office Experiences
Even though you are handling the onboarding process remotely, you can still create experiences that make them feel that you are in the office.
You can give them a shout-out on video calls and allow them to introduce themselves to other people connected on group video calls. For this, you can also host a virtual lunch where you can send new hires a food gift card and come online on lunch.
During virtual lunch, you can ask non-interview questions that would further help you determine the personality of the new hires. Also, this would create a sense of bonding amongst the new hires as they talk virtually over lunch.
#4 Provide a Dedicated Onboarding Space
When you are onboarding remote employees, you need to focus on creating a space where they can find all information related to the queries they have.
For this, you can create a company folder on the shared drive and that would ensure that new hires can log in as and when they prefer and find information about the company.
Also, this would allow you to keep track of the progress of how they can blend in with the company. Today, you can find plenty of HR Cloud Onboard platforms that offer a virtual onboarding template and allow you to put up more information and details about the company for remote onboarding. 
#5 Focus on Fun Activities
While remote onboarding can be hard, you need to focus on how you can make new hires feel at home and have fun. This is essential because you need to ensure that you don't pressure them in the first 90 days and drive them away.
Avoid being robotic and stick religiously to rules, as that would make new hires feel nervous. You need to provide enough time for new hires to socialize and learn from and about each other.
New hires often get the feeling of isolation, and therefore, you need to create a sense of belonging. Encourage teamwork and collaboration through fun activities and games that would bring them together and make them feel a part of the company.
#6 Assign an Orientation Partner
Using your employees would be critical when you are onboarding new hires remotely.
For this, you can assign one employee with a new hire. This would make your job easier because the new hires will have someone for help and advice as and when required, and that will create a better candidate experience and make the transition smoother for your new employee.
#7 Create Training Resources for All Learning Types
Different people have different ways of learning.
Some people prefer learning by seeing, some prefer audio information, and some prefer reading content and data. Hence, when you are creating training resources, you need to come up with all types.
This would put new employees on a comfort level that allows them to learn more about the company and the culture the way they prefer it. 
#8 Schedule Regular Meetings
Working remotely can quickly make new employees feel isolated because they are not in the same office.
After the orientation and fun activities, things can begin to get serious as these employees begin to settle into the company work pattern.
Scheduling regular meetings is a great way to make new employees feel that they are not forgotten and that you still care for their well-being and physical and mental health.
This also allows them to have a one-on-one conversation and bring up issues and concerns that bother them. By addressing these issues and concerns early on, you can retain new hires and create a welcoming remote work environment.
#9 Offer Them Space and Time
New employees would likely make silly mistakes and minor errors as they begin to work with the remote teams assigned.
However, you need to understand that they are still learning the ropes, and you need to guide them and provide them with enough space and time to learn and grow. Also, this would allow the new employees to understand the work culture and grow in time. 
#10 Celebrate Success
Even though most employees are working remotely, you need to focus on celebrating success when someone hits the target to complete their training program.
Recognition makes an employee feel valued and motivated to do better and continue with their recent performance. 
Remote Employee Onboarding Checklist
Onboarding remote employees can be complicated because they are not present in the same location.
Hence, you need to focus on how you can get things right from the start to provide them with a consistent experience. With the right remote employee onboarding checklist, you can keep things under control. 
#1 Provide relevant company information
Provide your new hires with relevant information about the company's history, culture, mission statement and vision, and values. This would help new employees know and understand what is expected of them and how they should proceed. 
#2 Share information ahead of time
If you are going to send them any physical material for reference, make sure that you do that early and that the material is available to them when you initiate the onboarding process. This would allow them to access that information as you connect with them virtually. 
#3 Keep it simple 
Be clear about what you want to say to avoid any confusion and misrepresentation. When you are sending them details about the company and work culture, you need to keep the content simple and easy to comprehend. 
#4 Meet them face-to-face
Schedule a one-on-one interview basis or a group orientation via video calls. This would allow you to know more about the new hires. If you are going for group orientation, you need to provide an in-office experience and make them feel a part of the group, and create a sense of belonging. 
#5 Share agenda ahead of time
Before the scheduled meeting, provide new hires with the agenda of the meeting and send them a digital copy of the employee handbook. This would allow them to be prepared for the meeting instead of being uncertain about what the meeting is all about. 
#6 Allow enough time to review the welcome kit 
Give enough time to the new employees to review and read the contents of the welcome kit and employee handbook before you schedule a meeting. You can also provide new employees links to a shared folder on the company's shared drive to access certain basic details about the company. 
#7 Assign an experienced mentor 
Assign new employees an experienced employee as a mentor and that would make the orientation process easier and smoother.
This way, even if you are not available, new employees have someone to ask queries and doubts they have about the work culture and the company in general.
#8 Ensure closure of digital documents 
Make sure that all the new employees have signed HR documents digitally and have clarity about benefits and set up any accounts and login IDs that they need for work.
#9 Ensure online work readiness 
Host communication orientation with IT and provide new employees with relevant email accounts, passwords, tools, and access to messaging groups that would allow them to work efficiently.
If they are going to use new software, give them a tour of the software and how it works, and what features they can access. You must help them set up their workspaces to begin with. 
#10 Solicit onboarding feedback 
Encourage feedback to ensure that you know more about the onboarding process. New employees can fill in surveys that would allow them to find out how you can improve the onboarding process. 
#11 Ensure connection and belonging 
Remote working can quickly make new hires feel isolated. Hence, you must provide them with important work and keep track of their progress.
You must give them enough space and room to grow and make mistakes and learn from those. However, don't let them get out of sight and mind and assign them team responsibility.
#12 Celebrate often!
Appreciate and celebrate their success when they clear training programs or when they reach the assigned target. With the right kind of appreciation and recognition, you can improve candidate experience and make them feel a part of the team.
9 Remote Employee Onboarding Software
When you are onboarding employees remotely, you need to have the best tools and software that can help you make a difference. 
Here are 9 tools for onboarding employees remotely.
#1 ProProfs
This software comes with multiple online tools for the training and assessment of employees. You can create a knowledge base and modules to assist employees when onboarding remotely. 
#2 Slack
Slack comes with inbuilt instant messaging and video call options, essential for onboarding remote employees as it can help employees work together in real-time, especially while working remotely. 
#3 BambooHR
This software is a competent tool if you want to gather and analyze the HR data of your company. It also allows you to create an onboarding checklist, collect data and fill out forms necessary for remote employees. 
#4 Scoro
As a work management software, Scoro is flexible and efficient for remote onboarding and creating collaborative workplace spaces. 
#5 WorkBright
This tool can help with automating paperwork and creating employee files with accuracy. You can also upload bulk data, which can get time-consuming if you need bulk information to be uploaded. 
#6 factoHR
FactoHR automates the process from creating the candidate form to allowing the employee to fill it themselves and is said to be easy to use and easily integrated with existing company apps. 
#7 Adobe Captivate Prime LMS
With this learning management software, you can automate not just the onboarding process of creating forms but collect and track them while integrating them with the existing system. 
#8 HR Partner
It comes with its onboarding checklist making it easier for the HR team to collect information and update employee records. You can also set up reminders and assign tasks to team members. 
#9 Collage
Apart from collecting employee data, Collage syncs data with the company's benefits carrier during onboarding and helps with team coordination. 
Conclusion
Onboarding new employees is a critical and time-consuming process. Hence, HR recruiters and teams have to work hard to provide new hires with the right candidate experience and retain the best talent.
However, things can be challenging when you are onboarding remotely. However, with the right software and systems, you can refine the onboarding process and make it easier for them to join the team even when working remotely. 
With the proper process and remote onboarding checklist, HR teams can iron out the issues related to virtual onboarding and ensure better results and productivity. 
FAQs on remote onboarding 
How can a non-tech company adopt a virtual onboarding approach?
Even if your business or company isn't tech-savvy, you can start by investing in simple technologies that meet your company's needs and requirements.
Do thorough research and find remote onboarding software that is simple to use, has a small learning curve for your HR team, and integrates well with other platforms you use for business. 
Can virtual lunch make a difference in the experience of a new hire?
Yes, it can. Various companies today host virtual lunches that allow the team to come online and enjoy time together over a meal.
This allows them to have a sense of teamwork and bonding. Also, they can share non-work related information like their likes and dislikes and learn more about one another's personality and preferences.
Virtual lunches also make new hires feel they are a part of the team and not just an isolated employee working for the company. 
What is the most important thing for the remote onboarding process?
Keeping the new employees motivated and inspired and providing them with a sense of belonging is the most important thing regarding the remote onboarding process.
What are the 4 C's on onboarding that also works for virtual employees?
Compliance, clarification, culture, and connection. All 4 C's work for the remote onboarding process as well. 
What are the most common mistakes you make when onboarding virtual employees?
Lack of communication, poor team bonding exercises, unclear goals and expectations, not addressing personal issues, overloading new hires, and no feedback loop are some of the common mistakes during onboarding remote employees.