Key Highlights
Talent analytics involves the use of talent data to understand the patterns in the workforce and predict trends and outcomes for any organization
Talent analytics is an effective tool to utilize data in shaping talent acquisition and recruiting strategies
HR teams can use data visualization techniques involving audience understanding, simple graphics, and well-sequenced visualizations to increase the impact of the talent data
Talent analytics is among the top five priorities in every region in the world today. But only 4% of the organizations believe they have talent analytics capabilities, only 14% have some form of talent analytics in place, and 60% are considering building the capabilities.
Talent analytics is an emerging yet exciting field in HR for companies to get their talent strategy right. Despite its game-changing capabilities, talent management analytics remains an area yet to be explored by the majority of companies.
Dave Ulrich, in his 2010 white paper "Are we there yet? What's next for HR." contented that HR leaders and teams find their status still to be an administrative and compliance one. However, HR can leverage talent analytics to elevate its status as a full partner to the business.
What is Talent Analytics?
Talent analytics, also known as 'people research' or workforce analytics,' attempts to understand the patterns in the workforce of any organization by analyzing employee-related data.
Talent analytics involves using statistics and technology on large sets of people to derive a more holistic and data-driven view of the organization and its people and make decisions based on the same.
It is focused on the use of tools that assist in organizational and operational decision-making related to hiring, retaining, or improving the productivity of current or potential employees.
Talent analytics presents great opportunities for HR organizations pioneering the high-priority area.
A Deloitte research suggests that companies that employ talent analytics in their day-to-day business 'can double their engagement, improve revenue, and dramatically increase every business measure by making better people decisions.'
A Bain and Company research found that the difference between the productivity of organizations investing in talent analytics to the rest was 40%.
Types of Talent Data that You Should Collect
While talent analytics can be a game-changer for HR, recruiters need to understand that not all kinds of data can be put to use to derive valuable insights using talent analytics. Often, HR departments collect vast amounts of data, most of which goes unused.
The HR may be using outdated processes, suffer from a lack of skills, or must have no clear vision of the bigger picture when they waste resources in collecting and storing such vast amounts of data.
But what kind of data recruiters and talent acquisition teams should collect to prove useful under talent analytics?
Let's list a few of these kinds: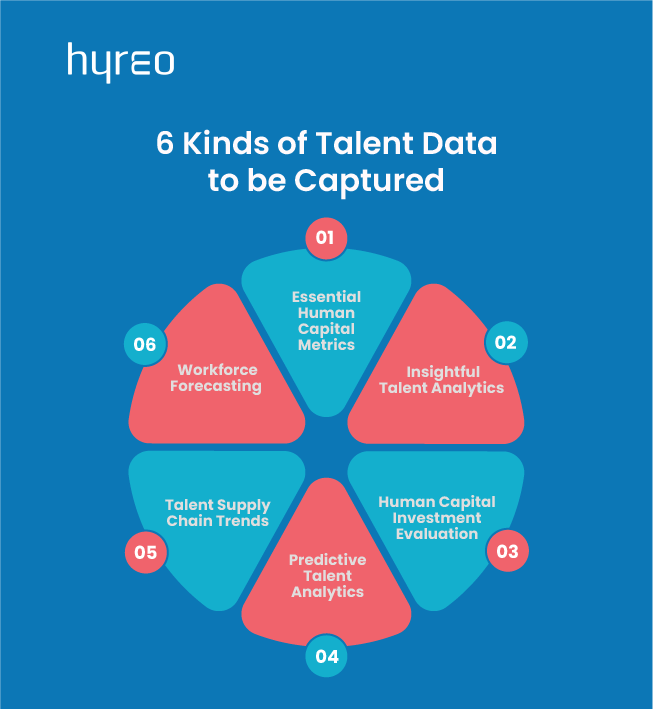 #1 Human Capital Stats
This data comprises vital stats related to your business health, including headcount, retention rate, attrition or turnover rate, employee satisfaction, etc.
#2 Analytical HR Data
This type of analytical information provides data concerning the units, departments, and individuals that are the most critical and need maximum attention.
#3 Human Capital Investment Analysis
These analytics keep a tab on the activities having the biggest impact on the business. These analyses includes how higher revenue, lower costs, and greater employee retention are a function of employee satisfaction.
#4 Talent Value Model
This kind of data provides valuable insights into the possible reasons an employee may want to stay in the organization or leave.
#5 Talent Supply Chain
Such data is valuable as it provides information on changing trends in staffing and the best possible way to staff a company in response to the changes.
#6 Workforce Forecasts
This kind of predictive analysis data identifies and predicts the hiring needs to increase or cut back on workforce needs.
What are some ways that HR departments can utilize talent analytics?
HR teams are under pressure to hire the best talent in the most resourceful and efficient way possible and retain the same in the long term. Talent analytics can help to move out the guesswork from these challenges, and HR teams can successfully leverage talent analytics for better decision-making:
#1 Administrative HR
HR administrators and other personnel can employ talent analytics to build detailed reports and presentations that require data analysis of personnel data, including turnover rates, open positions, and other related metrics.
Its sub-branch optimization analytics combines data and predictions from hiring analytics and ongoing feedback analysis to find ways to ensure that the internal HR processes are robust and efficient.
#2 Workforce management (WFM)
Talent analytics provides other significant metrics related to workforce management to help HR professionals forecast future workloads and the number of possible openings and schedule the employees in the most crucial areas.
Deloitte suggests that these data-driven tools can analyze hourly labor and identify patterns of overtime and other forms of payroll leakage to enable improvements in workforce management practices.
#3 Talent management
Talent management involves hiring, recruiting, selecting, onboarding, and retaining employees using talent analytics-backed decisions.
Recruitment leaders can leverage the power of analytics for employee engagement, learning, and development, and all other elements concerning the employee lifecycle, such as employee experience, performance, internal talent marketplace (ITM), skills management, etc.
The tools show the level of correlation between training and engagement in real-time and help in analyzing patterns for time management based on employee email and calendar data.
Besides, Talent analytics tools are also proficient in screening resumes and sifting candidates based on their video resumes during hiring.
4 steps to effectively visualize your talent data
The use of data analytics is a competitive necessity rather than a luxury today; HR functions have a great opportunity to employ talent analytics to curate data and use the insights to report, energize and synthesize HR functions like talent management and workforce management like never before.
To effectively visualize your talent data using talent management analytics, below are some essential steps to follow:
#1 Embed data analytics into decision-making
HR leaders should focus on the delivery and use of analytics rather than the volume of data alone to justify the investments spent on data analytics. The best way to do it is to embed analytics in the decision-making processes and workflows within the organization.
By doing so, HR can deliver value in a scalable way and reach multiple decision-makers and stakeholders while fitting itself into the way leadership uses to organically grow and advance a business in today's data-rich environments.
Gartner suggests that embedding analytics in decision-making, communicating the insights, and applying the same to business problems can drive talent outcomes by up to 23%.
#2 Determine the way you want your talent data visualized
The way you want to represent your data will ultimately depend on how you want to show it. Do you want to show it as a comparison or highlight it as a relationship? Do you want to demonstrate the composition using data insights, or are you considering showing the distribution of variables?
Once you have decided so, it would be easier to determine the types of visualizations and dashboards you want to opt for depending on your business goals and KPIs. Gartner suggests a decision tree for selecting appropriate graphics to visualize your data.
#3 Determining the system or tool that will be the single source of truth
Businesses carry out operations in data-rich environments while operating at scale and carrying out hiring in large volumes. This large volume of data needs to be segregated and segmented so that the results can be mapped and visualized for faster and more efficient decision-making.
All of this depends on the system you choose as your single source of truth for data analysis and collection. Multiple data tools will provide information in silos which won't be of much use given the overlapping outcomes or subsequent gaps.
Choosing the right data visualization tools, especially when HR is handling vast volumes of data, is crucial as poorly visualized data will only make hiring decisions harder, confuse the viewers, send wrong messages, and allow bias to enter the decision-making process.
#4 Turning data into actionable insights
Unprocessed, stand-alone data doesn't serve any purpose until converted into actionable insight.s For this, organizations need to mull over an analytics suite that not only processes and analyzes the data into insights but also converts them into visualized results that are easy to understand and decipher.
The human brain can process visual data 60,000 times faster than text.
The tool must be capable of streamlining data collection across channels and platforms like job boards and interviews. Once the data sets are combined into a single source of insights accessible by every member based on your desired outcome, the insights can be used to trigger processes, highlight bottlenecks, and suggest places that need further attention and investment.
4 Common Mistakes to be Avoided
Talent analytics can yield ground-breaking outcomes if done the right way. HR functions need to avoid some common mistakes during the collection and analysis of data.
#1 Not understanding the objective behind the analysis
It is essential for HR leaders to understand why they need to assimilate and analyze talent data, the goal behind the initiative, and the benefit it would yield to the organization.
#2 Not following compliances
Data collection comes with its set of legal obligations and compliance. If your data collection is a risk to people's privacy or forgoes any compliance, you may find yourself in trouble. While undertaking such data collection and inputs, ensure you abide by the rules and laws concerning it in your jurisdiction.
#3 Conveying hard-to-understand insights
Data insights carry value to the extent they are consumable and understandable by the stakeholders. Even if your actionable insights are accurate but are hard to decipher, unaesthetic, or ambiguous, you defeat the entire purpose of data collection and analysis. Make sure not to overload your dashboard with insights that carry little value. Use only those insights that can be churned into a visually-powerful story that conveys smart and aesthetically pleasing information to the users quickly.
#4 Not determining your audience
If you are not matching your data visualization to the audience or stakeholders that would be ultimately consuming it, it can be tricky and disastrous at times. Design the data orientation in sync with the expectations and capability of the decision-makers like the recruiters and those beyond the HR realm.
Wrap Up
There are many good talent analytics platforms and tools that HR functions can employ, spending on the number of users, features, and kind of platform. You can browse hundreds of verified reviews for each of the platforms to find the best fit for your organization.
Instead of a full-fledged analytics platform, if you are interested in using the insights for a limited number of HR functions like hiring and retention, you can use low-tech alternatives. Some of these alternatives include surveying your existing employees and conducting a comparative analysis of your compensation schema to the market average, etc.
Lately, HR professionals have been successful in capturing the might of talent analytics, and the usage is set to grow exponentially in the coming years. Using ideal data to your advantage and gaining a competitive edge can help you form the winning HR strategy that works wonders for your organization.
FAQs on Talent Analytics
How is talent analytics used?
Talent analytics is where HR functions employ a data-focused approach to decision-making related to HR operations, employees, and organization. Talent analytics is used to manage the hiring process, increase the retention rate, streamline workflows, and also handle day-to-day administrative tasks related to HR.
State the difference between talent analysis and people analytics.
The main difference between talent analytics and people analytics is that the former focuses on the best practices and methods to hire the best talent, while the latter focuses on ways to retain and engage them in the company.
What are the three types of analytics?
The three types of talent analytics used in talent acquisition and HR include descriptive analytics, which shares data insights on what has already happened, predictive analytics shows what can probably happen in the future, and prescriptive analytics gives statistical information on what should happen in the future.
How do HR functions use talent analytics in the hiring process?
A step-by-step guide on using talent analytics in the hiring process comprises the following steps:
Identifying the skills in your current team
Mark the gaps in diversity representation
Discover key recruiting metrics
Improve candidate experience
Reduce bias in the hiring process
Improve candidate selection
Build predictive and forecasting capabilities related to hiring
What is the HR analytics management cycle?
HR analytics refers to the process where HR addresses a strategic HR concern that uses business and external data and encompasses components such as identification of the HR issue, data management, research design, data interpretation, communication, and building an action plan.