2001 saw the beginning of a more pragmatic and efficient reform in the way of software developers with the Agile Manifesto. Since then, many have made successful attempts at revisiting the fundamentals and adapting them to their respective fields.

Concerning recruitment practices, a manifesto that was primarily designed for the software development industry can be strategically applied. Disciplinarian changes concerning responsiveness and adaptability to the key operative functions of the recruitment process under the agile programme will lead to increased productivity and reduced risk.
This blog discusses some of the best practices concerning applied agile methodologies in recruitment processes. It further summarises the benefits of agile recruiting and the practical adaptation of agile tactics to best emulate your hiring practices to perfection. 
What Is Agile Recruitment? 
Agile recruitment is an off-shoot of agile methodology that seeks to augment the hiring processes of an organisation with better visibility prospects concerning hiring managers, HR departments, and recruiters. With its iterative and efficient attributes, agile brings quantifiable benefits to hiring projects, enhancing the recruiting efficiency of companies significantly. 

The job requirements of a technical recruiter are synonymous with the myriad responsibilities that agile recruiters accomplish. With an agile development team and collaborative hiring tools, companies ensure that their approach towards qualified candidates is a no-compromise zone.
Agile recruitment methodology also entails building productive relationships with candidates from the onset of communication between both parties. 
How to Implement an Agile Recruitment Framework?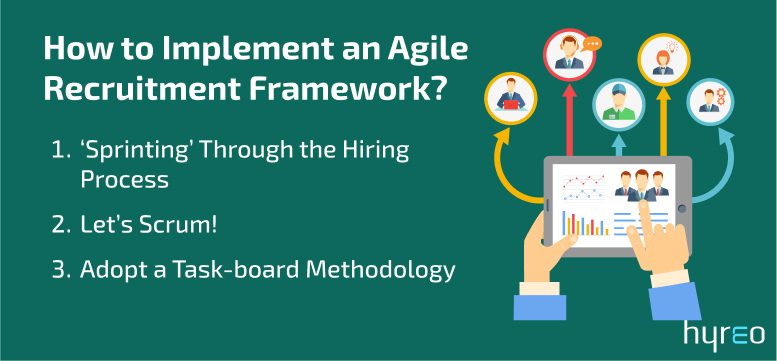 Integrating agile recruiting strategies requires one to think along many tangents and funnel a recruiting process that best complement the ideals set by the recruiting team. While agile recruitment sounds fancy, the trick is to deconstruct the same into intelligible bits of workable models that are explained below. 
#1 'Sprinting' Through the Hiring Process
Technically, sprints are dedicated timelines that are honed toward methodical planning and execution. Concerning agile recruiting, developing an elaborate plan with short-term commitments refers to an agile recruiting methodology most commonly known as a sprint. This entails the team pursuing defined recruitment goals by strategizing in the following manner.  
The first week may be dedicated solely to sourcing candidates that fit the particulars of the job description. This will require the team to find legit outreach programs to draw the attention of candidates on recruiting platforms of their choice. Post this, the hiring manager should be willing to have sit-down discussions with the team members and offer data-driven, real-time feedback. 
The second week may employ retargeted sourcing methods to increase visibility prospects. The third and final week may be dedicated to engagement opportunities. This can range from contacting the star candidates to organizing interviews with the hiring manager. 
Also Read – 4 Key Strategies for Post Offer Candidate Engagement
#2 Let's Scrum! 
Scrum is an umbrella concept that allows for a structured breakdown of a significant task into smaller easily-discernible pieces. The idea is to track the time-bound progression of the job. In practice, scrum brings more practicality to agile methodology. 
With regard to the recruitment cycle,  scrum meetings are short and crisp ways to ensure team members are on the same page regarding the project. These meetings are often conducted at a predetermined time and place wherein the leader addresses a quick rundown of the day's events and expected goals. 
Some common denominators in this stage of the agile recruitment process are connecting the tasks of the previous day with the present and defining a practical approach to access the forthcoming tasks. Based on the goal requirements, the team leader may make meeting arrangements either daily or weekly. 
Also Read – Startup hiring Strategies
#3 Adopt a Task-board Methodology
A task board oftentimes serves as a vantage point to visualise the logical progression of a project. Therefore, having a task board for a scrum that briefs the proceedings and the upcoming tasks can help members across departments to keep track of parallelly-run yet complementary operations. This substantially eliminates the need for mindless meetings and creates a more efficient operational framework. 
The task board also helps one to navigate through the sprints better. Having an objective visual aid may necessitate a change that initiates a cascade of minor adjustments. Such operational changes can sometimes be the only saving act of the day. 
To enable a more seamless experience, virtual workspaces are constantly integrating their work systems with virtual scrum task boards. This helps one to keep tabs on pending review requirements and current progress in a project. 
To come full circle, agile recruiting strategies fundamentally follow a guiding principle of sprints and scrum. Sprints and scrum is the corporate praxis of the modern agile concept. While sprints fall into the larger domain of macro management, the micro-management that scrum leads one to makes it a more efficient, dynamic, and working project in itself. 
3 Benefits of Agile Recruitment Framework
#1 Holistic Management Practices 
The agile recruitment framework has a more holistic approach to management practices when compared to traditional recruiting practices. For instance, consider this. 
The power of decision-making in an agile recruitment framework is divergent in nature. With scrum and sprint tactics, management practices are further extended from managers to HR team members and interns. Imbued with core responsibilities, each member involved in the project feels relevant and contributes to the smooth functioning of the project.
Since the agile recruiting process enables one to schlep from one sprint to the next, it helps to keep everyone motivated and inhibits the tenuous process to be a drag!
Also Read – 10 High impact recruiting tools
#2 In-built Check Points
Because agile prepares one to be in tandem with short-term and long-term project goals, it has default periodic checkpoints that are self-run. Going off track, deliberating on project particulars that have minimal to no impact on the set goals, and internal corporate politics have little scope for existence. 
With a task board in place, one can conveniently navigate through a particular phase and identify inefficient practices immediately. With an agile manager in place, timely feedback on cost per hire, quality of hire, source of hire, etc. can also be easily accommodated. 
#3 Creating a Talent Pool
With agile, talent is quantifiable. The agile hiring process has aced the issues pertaining to talent acquisition. Keeping bad hires on the payroll was previously subject to internal mobility programmes based on ineffective denominators such as employment duration.
However, with agile, recruiters have a better framework to judge the performance of employees. In fact, modern recruiters and talent acquisition teams are on a constant lookout for targeting talent pipelines for potential hires.  
Also Read – Best Cold Calling Scripts
Wrap Up
A company is merely a sum of its employees. With key performance indicators and other such performance metrics in place, the annual performance review of employees and the company has become quantifiable.
To come full circle, agile recruitment sets forth the optimized way to enter the recruiting industry. What better way to engage with such a modern recruitment methodology than to do it right with Hyreo. So, the question is, are you ready for the smart change that your company rightfully deserves?
FAQs on Agile Recruitment
What is the first stage of the recruitment process?
The first stage of the recruitment process entails the recruiting team employing strategies to source candidates that fit the job profile. This is the part of the process wherein the agile management team works on increasing the visibility of the recruiter in recruiting platforms.
What is the most common mode of recruitment?
In recent times, agile recruitment frameworks have outsmarted traditional recruiting processes. Special importance has been laid on agile recruitment to enable a hiring process that works best to better the mission that the company is on.
What is the agile recruitment process?
The agile recruitment process works to create a set of optimized ways to source candidates and talent acquisition strategies. This ensures efficient end-to-end recruitment initiatives between the candidates and recruiters.
What is agile HR?
An agile HR is a modern approach that introduces a way to prioritize responsiveness and fast-paced adaptiveness within the HR team.
What is the best recruitment process?
Finding a candidate that reflects a spirited personality and has the necessary skill sets and experience is a tough nut to crack for most companies. The agile recruitment process helps you target ideal candidates and funnel them back to your company.