The purpose of a job varies for every individual. Some people approach a job as a way to meet the ends; while for some people it is about having a fulfilling career. 
The premise of an organization is also to meet certain business goals. While the company's management carves out the organization's goals, it is the workforce that turns them into a reality. 
Now, this mutually agreeable system between the two works fine and can work for a prolonged period, as long as organizational and individual goals are met. It is, after all, the cumulative output of the workforce that is one of the many reasons for the organization to succeed. 
For companies, this creates the need to evaluate the output of its employees so that the end goals are achieved. This concept became popular and structured in the 19th century when business and industry expansions were rampant. While industries focused on mass production, functional efficiency was of great importance.
Measuring the productivity of an employee with respect to the set standards is called appraisal. The concept of performance appraisal has transformed over time –
Personality-based assessment where employees were evaluated for their job knowledge as well as loyalty. Soon leaders realized that this is not a very accurate measure of an employee's productivity.
Then came the concept of 'Management by Objectives' or MBO, where employees were evaluated on specific performance goals in alignment with larger organizational objectives.
The MBO concept was still considered to be very subjective and quite dependent on the assessor. This gave rise to psychometrics (like rating scales), adding tangibility to performance attributes.
Rating by a single evaluator expanded into a 'multi-rater' feedback system called 360° feedback
The 360 evaluation was usually conducted annually, which meant that ineffective processes would not be corrected till the next performance appraisal.
This made most organizations adopt a continuous feedback system for consistent performance management of an employee.
What is performance management?
When you check Wikipedia for the definition of performance management, it states that it is the process of ensuring that a set of activities and outputs meets an organization's goals in an effective and efficient manner. It is different from a performance appraisal, which focuses only on the individual's performance. 
Let's understand effective performance management better with examples. 
A continuous performance improvement review evaluates an employee's current performance, keeping in mind the desired goal. The skills needed to meet the business objectives are assessed regularly. For example, let us consider the parameter – 'support case resolution.' An employee is assigned 50 support cases and is expected to resolve at least 60% of the cases within 3 days. Whether an employee achieves this goal is reviewed every 3rd day. This consistent system is often automated and integrated with the company's ERP.
Management consultant and author Peter Drucker rightly said, "if you can't measure it, you can't improve (or manage) it." The assessment of the necessary skills, attributes, and compliance with expected standards is translated to scores that make the process objective and measurable (hence manageable). If an employee is unable to resolve 60% of the cases, a manager analyses the causes and takes the necessary steps to help the employee meet the set goals.Thus, performance management is about measuring, managing, and improving an employee's contribution to the organization.
Organizational goals are dynamic, and the workforce must step up to meet those agile goals. On the launch of a newer product, the number of support cases may increase; therefore, an employee may be expected to resolve more cases in less time. Performance management is agile and strategic.
Why is performance management crucial?
While everyone talks about 'performance management,' why is it important? There are multiple reasons for this:
Goal alignment
Performance management helps to set clear expectations regarding business goals and helps employees improve efficiency. Reviewing the present overall performance of the workforce also helps organizations set future goals.
Bridge between management and employees
Performance management provides visibility of the company's efficiency. Performance scores help professional development by offering feedback, training, coaching, and mentoring for increasing performance. Likewise, it also apprises the management of what systems and processes need to change for maximum efficiency of its workforce.
Maximizes the potential of employees
Continuous performance reviews are not only for the correction of gaps but also focused on optimizing the potential of employees. Organizations invest in skill development and updating knowledge to increase employee productivity.
Improves employee engagement and retention 
Regular, objective feedback helps employees learn more and perform better.  Performance reviews help the organization acknowledge, recognize, and reward high performers. This helps boost employee morale and subsequently employee retention.
7 best performance management practices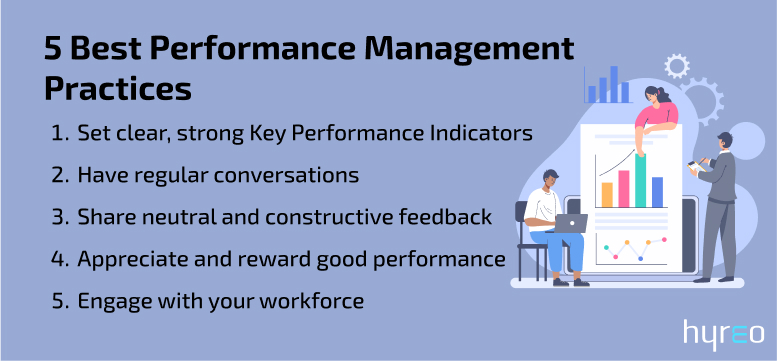 Putting a robust performance management system in place is quite simple. However, how do you know which one will work for your company? Though there are multiple practices that organization follows, here are some that are considered to be the best practices:
Set clear, strong Key Performance Indicators (KPIs)
KPIs are measurable and objective parameters that help in assessing the performance of an employee. Clear KPIs that have specific actions are easy to evaluate and improve.  KPIs are linked to specific business outcomes; for example, case resolutions are associated with customer satisfaction.   
Of course, not all KPIs are tangible like teamwork, leadership, or integrity. However, these can be measured by tangible actions or steps within the purview of these attributes. For example, positive feedback from peers or the team is a direct indicator of good teamwork or leadership. Some other attributes like integrity can be measured with a Boolean score (measuring adherence or breach of policies).     
Have regular conversations
Reports suggest that about 43% of highly engaged workers receive some feedback from their managers at least once a week. To stay true to the term, 'continuous performance reviews', managers must have regular conversations with their team members. Effective managers make space for these in their schedule beforehand in the "planning quadrant" (Q2 – important but not urgent) of the time management matrix.
Even if these conversations are brief, being consistent with performance review meetings builds trust in the employees about the credibility of their manager. The meetings are used not only to share feedback with employees but also to build relationships, enquire about the employee's well-being and goals, and as a primer for coaching and mentoring. 
Managers, who cancel these meetings often to fit in other tasks often fail to engage with their employees, in turn, affecting employee morale.     
Share neutral and constructive feedback
Performance review meetings are often unnerving for employees since they anticipate being reprimanded for poor performance or criticized for unmet expectations. 
Effective managers ensure that their employees feel at ease by offering constructive feedback. Constructive feedback is feedback regarding an individual's performance that can be used to build (construct) successful skills and behaviors. Instead of only pointing out what went wrong, it is necessary to help the employee understand how they can improve and meet the set benchmarks. 
Also, it is important for the manager to keep their opinions and biases aside while offering feedback regarding an employee's performance. This is the reason for setting clear and measurable KPIs to avoid unconscious biases and perceptions tainted by past experiences. Using specific scores, instances, observed actions or behaviours makes the conversation more neutral.
There are several models for sharing feedback – the sandwich method being the most common of them all. Communication – both verbal and non-verbal – play a huge role in sharing feedback regarding the employee's performance.
Appreciate and reward good performance
Contrary to common belief, effective managers use performance review meetings to acknowledge, appreciate and reward good performance and/or improvement. This helps build employee morale and retention. Employees can be acknowledged in an open forum as well, after their performance review conversations. Appreciation and rewards need not always be monetary. Many organizations offer implicit monetary rewards such as free lunches, gift cards, and gifts or non-financial rewards such as day-offs, and vacation leave. Appreciation can be an organization-wide acknowledgment of excellent performance (hall of fame boards, emails, employee of the month or quarter) or certificates. 
Offer training to bridge gaps in skill
Performance reviews are largely used to identify gaps in the skill or will (attitude) of an employee. Gaps in skills are easily identified by matching the current performance of an employee with the set KPIs. Using constructive feedback methods, the employee can be made aware of the need for improvement and can be offered support (through training or coaching). 
Managers can set mutually agreeable SMART goals with the employee to meet their targets. Training plans are created and followed up regularly to monitor the progress of the employee's performance.
Gaps in the willingness or lack of motivation need more involvement from the managers and an elaborate coaching or counseling plan. 
Consistent poor performers are given a Performance Improvement Plan (PIP) and offered as much support as possible to continue their job role/employment.
Support high-performing employees to progress
Every organization maintains a record of an employee's performance throughout their tenure. Human Resources can use these records to track an employee's progress within the organization and help them grow in ways that the employee desires (technically or in the hierarchy). 
High-performing employees may have specific goals – either to be more skilled in a technical role or to climb up the organizational ladder in management.   
Performance review meetings can be future-focused to help high-functioning employees to achieve their personal goals. This helps improve employee retention while also retaining "expertise" within the organization. 
Engage with your workforce
Performance management has come a long way from only rewarding and reprimanding employees. Apart from discussing KPIs and associated financial returns for the employee, these review meetings have diversified into being more person-centric. Organizations with a fairly open culture have informal performance review conversations where managers discuss an employee's well-being and overall health (including mental health).   
Managers also seek feedback from employees on their satisfaction with their job role, leadership, and the organization and suggestions for improvement of processes.
With employees working in a hybrid mode, there is a need for an increase in the frequency of these one-on-one meetings to feel connected with the organization. 
Wrap Up
Performance management is a necessary activity to ensure that an organization's workforce is functioning at its efficient best. Apart from assigning scores and sharing feedback, performance reviews are a more personal way to keep in touch with employees and gauge the pulse of the organization. 
It also presents the management with an opportunity to identify the strengths and weaknesses of their workforce. Interventions can be planned to better the performance of the employees and subsequently achieve the set business goals.
Although it may seem like performance management is only for the improvement of employees, the benefit that the organization receives is looped back to the employees in the form of incentives or bonuses. Thus, the performance management activity is a mutual investment-return cycle.  
Organizations with a robust performance management system earn a lot of credibility as great employers as well as highly-productive brands.
In a world where a product or service has many providers, the only real difference between one organization and another is the performance of its people!  
FAQs on Performance Management Practices
What are performance management practices?
Performance management practices ensure that a set of activities and their outcomes meet an organization's goals in an effective and efficient manner. It refers to an organization's continued effort to set clear goals, evaluate based on the set goals, provide constructive feedback on an ongoing basis to employees and help them grow professionally. 
What is the difference between performance management and performance appraisal?
Performance appraisal is focused on evaluating an employee on their performance against the goals set and the behaviour changes to effect in order to improve their performance on the job. Performance management, on the other hand, refers to the ongoing performance management of employees, ensuring that they meet the overarching objectives of the organization in an effective and efficient manner, while being tightly aligned to the company vision, values and culture. 
What are 5 stages of performance management?
Performance management can be divided into 5 stages as detailed below: 
1.      Planning – Translating the company goals & vision into SMART goals at an individual level 
2.      Monitoring – Continuous tracking of performance against key KPIs 
3.      Developing – Providing training, coaching and mentoring to help employees grow professionally and perform better on the job 
4.      Reviewing – Periodic evaluation of employee performance, providing constructive feedback to enhance performance
5.      Rewarding – Providing monetary and non-monetary rewards to motivate high performers and other employees to sustain and enhance performance
 
What are 5 best practices to improve employee performance?
Creating a culture of high performance is largely dependent on the organization's ability to clearly translate the strategic business goals to achievable SMART goals for each of the employees with a robust performance management mechanism to evaluate performance and provide constructive feedback on an ongoing basis. Some of the top ways to improve employee performance are:
1.      Set clear objectives and SMART goals
2.      Have regular employee touchpoints with direct and clear communication 
3.      Provide neutral and constructive feedback regularly 
4.      Appreciate and reward employees for high performance
5.      Provide training to bridge skill and knowledge gaps 
 
What are 5 top tips to improve performance at work?
While most of the effective ways to improve performance at work are known to people, following through on them is missing. The top ways to improve performance are:
1.      Breakdown goals into smaller and measurable tasks with milestones for easier achievement 
2.      Prioritize and complete key tasks first 
3.      Avoid multitasking and ensure logical completion of tasks before moving on to other tasks
4.      Delegate and ask for help as deemed necessary
5.      Clear and transparent communication with all stakeholders, requesting clarifications and providing updates to ensure all are on the same page