Over the years, the concept of Human Resources has evolved. The HR dictionary itself has many new terms added to it, in the recent past. Although the core of Human Resources is the same, many nuances have been added to the common processes like recruitment.
These added details have changed the Human Resource processes to become more people-centric and meaningful. One such process is talent acquisition. Its earlier form known as hiring or recruitment was about getting people to carry out tasks to achieve a goal.
Bulk hiring to fill vacancies in a shorter span of time brought in the need to be organized and efficient. Talent acquisition is now a journey starting from building a great brand image and attracting potential candidates to hiring and onboarding.
Talent acquisition practices are just as important as a company's goals. Organizations have begun to invest in automated systems, applicant tracking systems, CRM, and other technologies to make this process smooth and efficient.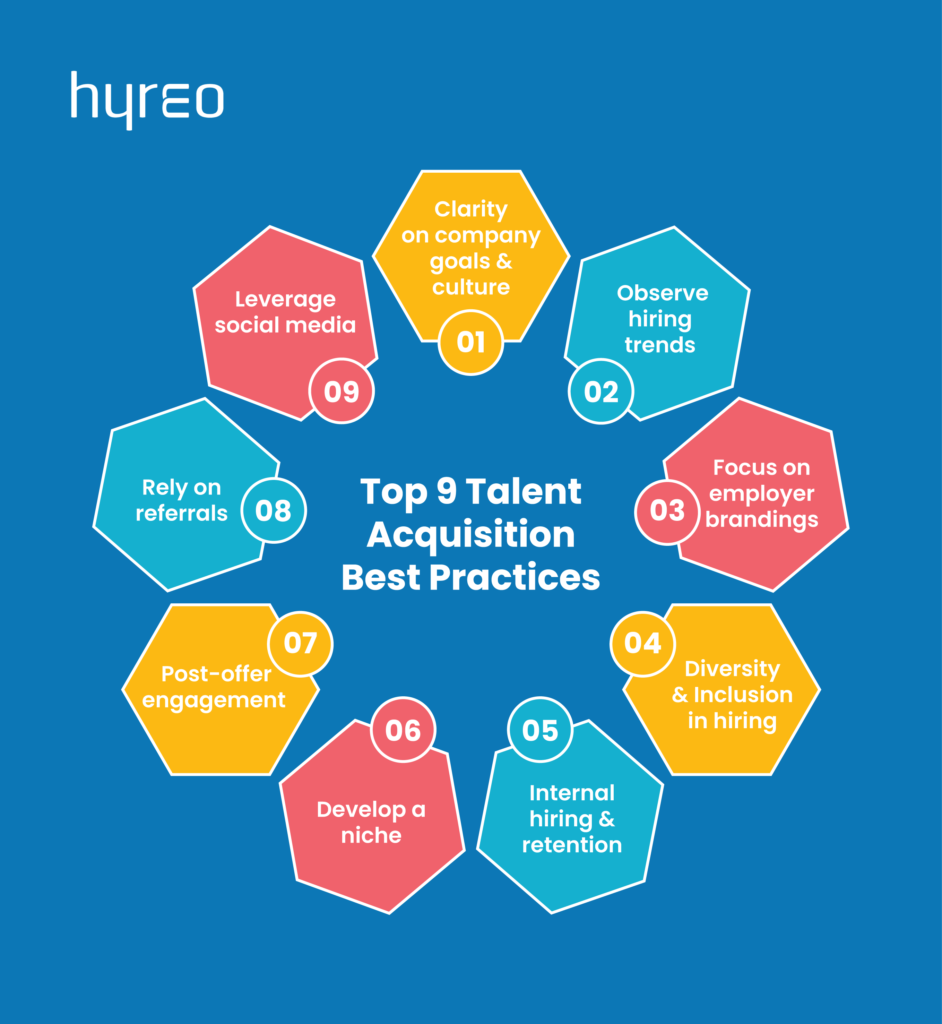 Why is it important to implement the best talent acquisition practices?
On one hand, it is a task for organizations to find suitable candidates; on the other hand, the millennial generation of employees is constantly seeking out new job opportunities. Gone are those days when companies would hire candidates to just fill in vacancies. Talent acquisition is also about retaining the talent that has been brought into the organization.
Talent acquisition is important for the following reasons:
It is a clear indicator of an organization's success. Without skilled employees, an organization is unlikely to meet its business goals.
It is a strategic process where skilled employees are hired, keeping in mind how they can make important contributions to the organization.
It helps retain employees because their career path is designed when the talent acquisition process begins.
Eventually, good talent acquisition helps in building a good brand image, representing the organization as highly productive and efficient.
Top 9 Best Talent Acquisition Practices
#1 Be clear about your organizational goals and culture
Talent acquisition is a futuristic process that impacts the achievement of business goals and contributes a great deal to the culture of the company.
So, it is important for the management to decide upon the skills and parameters of their workforce to be able to easily achieve their goals. Highly skilled employees can not only increase productivity but also bring efficiency and innovation to existing systems and processes.
Of course, financial goals are not the only goal. A company is also known for its values and culture. Hiring candidates with a mindset that aligns with the organization's culture is also a significant aspect of talent acquisition.
#2 Observe hiring trends
Changes in the market affect hiring conditions. Evolving technology demands upgraded skills, and candidates who manage to keep up with the changing trends are in high demand. These candidates are also the most sought-after by recruiters. An effective recruiter can gauge these changes and sometimes even forecast the demand for specific skills in the market.
Some popular skill statistics are published by organizations that conduct regular market surveys and analyze trends.
Recruiters can also keep an eye on candidate preferences with regard to the nature of the jobs they seek. A recruiter can also get an inkling of this pattern from their exit interviews (although difficult) or through the grapevine (relatively simpler).
#3 Focus on organization branding
The famous marketing consultant John Jantsch rightly defined branding as the art of becoming knowable, likable, and trustable. Candidates will communicate or engage with organizations only if they know the brand.
Surveys indicate that 59% of candidates visit the company website after discovering a job to know more about the role as well as the organization.
The organization's branding must communicate the history, vision, product, and service offerings, uniqueness of the company, and customer testimonials.
The company's career page can highlight teams and departments, job roles, benefits for a candidate who joins the company, open positions, interesting projects, glimpses of the company culture, and employee testimonials.
#4 Allow Diversity & Inclusion in hiring
No organization can bag all the skilled candidates for their organization. Employers must keep an open mind to hire candidates with the potential to become skilled to fit the job role.
Organizations also need to be flexible with their "make or break" criteria while hiring candidates, like the number of years of experience, age, or even gender. Organizations can consider including diverse skills and backgrounds that add perspective to the already-existing processes and systems.
Studies have shown that a diverse workforce can improve a business's bottom line, lead to happier and more productive teams, and drive employee innovation.
#5 Encourage internal hiring and employee retention
Fresh talent is not necessarily found outside the organization. Internal transfers and promotions can fill roles that need specific skills and existing employees can fit the bill with adequate training and skill development.
This also reduces the cost of hiring a high-skilled candidate from the market (which is expensive as it is) and makes it a 'lucrative' opportunity for an existing employee. The employee is familiar with the organization's systems and functioning and therefore is a good culture fit too.
Employees can get trained or certified through the organization and get better opportunities within the company, which improves employee retention.
Job rotations, an old concept, can add much value to an employee willing to be with the organization.
#6 Develop a niche
The uniqueness of an organization can be established on several levels:
by offering niche roles that need different, advanced, or newer skills
by offering benefits and perks – monetary and non-financial
by offering learning opportunities through training or communities
by representing a purpose or a cause
Automate the talent acquisition process
Many organizations have invested in automating their recruitment process. Tools like Applicant Tracking Systems, pre-employment testing, and AI-powered technology have made the process easier, more efficient, and more objective. This has also added metrics to a collaborative hiring process and reduced unconscious biases in selecting a candidate.
ATS helps in:
Candidate outreach and engagement
Sourcing
Scheduling and follow-ups
Pre-employment assessment
Interviewing and selection
Hiring and
Onboarding
#7 Rely on referrals
Existing employees, incredibly skilled and tenured ones, are brand ambassadors of the organization. They are also more likely to communicate clearly to potential candidates about job roles and benefits.
You must have heard, "birds of a feather flock together." Skilled employees often belong to communities and associate themselves with like-minded people. Many organizations reward employee referrals when the right talent is inducted.
Check – A Complete Employee Referral Guide
#8 Engage beyond the offer letter.
Effective recruiters engage consistently with potential hires and skilled, passive candidates through various media and communities. Communicating always helps brand recall, builds connections, and keeps candidates open to opportunities with an organization.
#9 Leverage social media
Social media has made the world a global community. Today, job opportunities are not location-based. Social media offers visibility to employers and candidates about what is available for them. It also provides the convenience of communication and the least expensive outreach method.
Technical communities also give great insights into a potential candidate's expertise in a specific skill and a glimpse into his personality.
Check – How to do Recruitment using Social Media
Wrap Up
All these practices help recruiters get the right talent and skills into the organization. Although there is no shortcut to talent acquisition, all these practices implemented into the recruitment process will help improve efficiency.
Recruiters need to be open to the idea of being futuristic even before beginning to look for potential candidates. They need to be able to visualize the candidates about their contribution to the organization. Recruiters must understand the job role well and match the candidate's expectations and the organization's offering.
Talent acquisition is a steady process and needs recruiters to be agile and adopt newer practices, methods, and tools to get the right talent.
In conclusion – Marc Bennioff, Founder, Chairman, and co-CEO of Salesforce, said, "Acquiring the right talent is the most important key to growth. Hiring was – and still is – the most important thing organizations do."
FAQs on Talent Acquisition Practices
What are the 3 pillars of talent acquisition?
The 3 most crucial elements of Talent Acquisition are a robust Talent Acquisition Strategy, delightful candidate experience & AI driven technology platforms for recruitment. Leveraging a comprehensive recruitment strategy, hiring software and tools (ATS, CRM etc.) help create a memorable candidate experience, increasing candidate engagement and conversions in a cost effective manner, leading to greater financial growth and customer outcomes.
What are top 5 talent acquisition best practices?
Talent acquisition is a strategic approach to hiring, ensuring a proactive and structured approach to continuously look for top talent, strongly aligned to the company's vision & culture. Top 5 talent acquisition best practices have been detailed below: 
· Build a strong Employer Brand 
· Focus on DE&I to create a strong & competent workforce 
· A robust internal talent marketplace or job rotation program 
· A strong Employee Referral Programs for high quality candidates with greater retention 
· Automation and streamlining of hiring processes to ensure time-saving and cost-effective hiring 
 
What makes a good talent acquisition strategy?
The key elements of a successful talent acquisition strategy are:
· Build a strong brand name for your organization
· Ensure alignment of talent acquisition to business goals and outcomes
· Offer an excellent candidate experience by building long term relationships with potential and passive candidates
· Dedicate time for workforce planning
· Ensure diversity is a key focus area in hiring 
· Maximize outreach via social media, tech communities, and job boards
· Automate and streamline the hiring process to save recruitment cost & time 
 
What are the top 5 challenges in talent acquisition?
Talent Acquisition enables companies to drive strong financial and growth outcomes by hiring top talent. TA has many challenges, of which the top 5 are listed below:
1.       Sourcing and engaging the right talent 
2.       Highly transactional and/or operational recruitment strategy 
3.       Extremely high  recruitment costs
4.       A poor or negligible brand entity 
5.       Scaling challenges due to hiring process inefficiencies along with people dependencies
 
What are the top 5 talent acquisition KPIs?
Critical talent acquisition metrics to evaluate, track and ensure effectiveness of talent acquisition are:
· Time-to-Hire
· Offer acceptance rate 
· Candidate experience throughout the recruitment process
· Quality-of-Hire
· Cost-of-Hire