Several instances in a person's life may be nerve-wracking. One of them includes not hearing back from recruiters or consultants. From the time a candidate applies for a job, waiting for a response begins. A candidate's expectation for consistent communication increases throughout the hiring stages.
Even with all the communication channels, consistent and on-time communication with candidates is just about the ease of the process. Although the standard modes of communication between recruiters and candidates are emails and phone calls, texting is not far behind in the most effective communication channels.
Many organizations that adopt recruitment software have the feature of sending automated messages. Let us look at how texting can be beneficial for recruiters as well as candidates.
5 Benefits of Recruiters Texting Candidates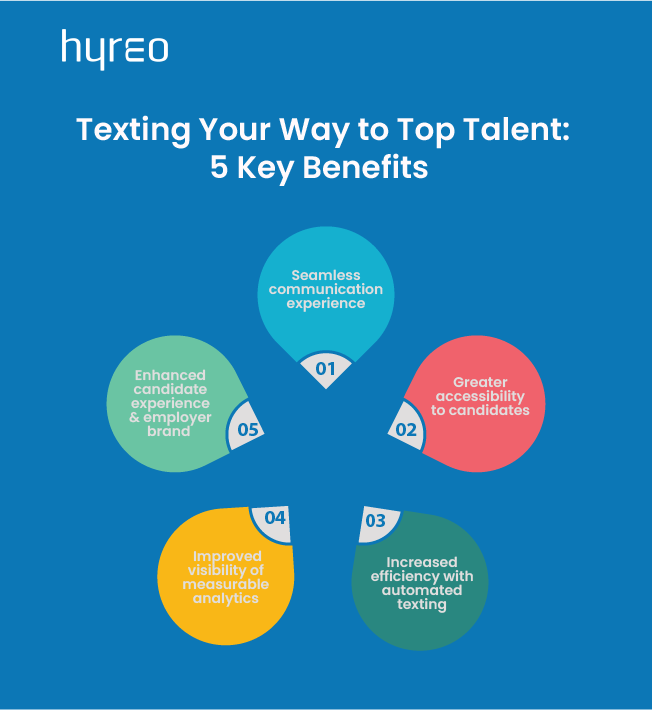 Many sectors, such as e-commerce and banking, use texting extensively to share information, confirmation, and updates. Recruitment can also use texting to ensure consistent and timely communication with candidates.
Here are some benefits of adopting this practice:
#1 Increased Convenience
When texting is integrated with any automated software like Applicant Tracking Software (ATS) or Customer Relationship Management (CRM), it is extremely convenient for the candidate as well as the recruiter.
A texting tool can access candidate data through the ATS or CRM and send automated messages to the relevant candidates at scheduled times. Messages can be sent through SMS, WhatsApp, LinkedIn, or even Facebook Messenger.
Texting tools are often interactive, where the candidate receives the message on their phone and can also send their responses conveniently. The candidate's responses are updated on their profiles on ATS for recruiters to view.
Texting can be used for:
Employer Branding
Information and updates
Interview reminders
Answering questions
Engagement with candidates

#2 Increased Accessibility
Texts are a faster way of communicating with candidates than emails and phone calls. Phone calls have constraints around time and emails with accessibility. Messages, however, can be accessed at the candidate's convenience.
It is said that 98% is the average SMS open rate as compared to the average email available rate of 20%. About 95% of text messages are read within 3 minutes.
Texting is a semi-formal way of interaction between recruiters and candidates. Many platforms have interactive AI or chatbots to help candidates with their queries around the clock.
Candidates can text a keyword on a designated number or click on a link to access job posts. They are welcome to apply for a job role and are provided with all the information. The candidate's data is screened, and an interview is scheduled if the candidate fits the bill.
This makes the process extremely simple and accessible for the candidates.
#3 Increased Efficiency
Efficiency measures the quality of work with a minor investment of effort and time. While reaching out to candidates at various stages of the hiring process, automated texting tools reduce manual errors due to integration with existing systems.
Texting also helps manage and save time with self-scheduling or rescheduling interview slots. One-many messaging options also reduce a considerable amount of time and effort.
Some tools also offer pre-screening through texting. Questions that are qualifying criteria for the organization, like education, experience, location, salary expectations, etc., can be used to screen potential candidates. Texting speeds up communication and reduces the time needed to move candidates through the hiring process.
This reduces the 'time to fill' since the pool of candidates progressing through the hiring stages is streamlined.
Read – How to improve Employer Branding
#4 Higher visibility and analytics of texting
Organizations can use messaging campaigns to reach out to candidates. Employer Branding, job posts, organizational updates, and job application links can be sent to a potential candidate pool through texts.
Recruiters can measure the success of their campaigns through analytics dashboards to measure conversions and engagement.
RPM Pizza, the largest Domino's franchisee in America, launched one such messaging campaign to attract candidates. An interactive chatbot was created to answer common questions, pre-screen candidates, schedule interviews, and fill over 4,000 open roles. The campaign claims to have increased the application rate by 66% and reduced the time to hire by 80%.
#5 Better Candidate Experience
Phones are the most common mode of communication for most people. With the advent of smartphones, accessibility to messages through various applications is more convenient. Interacting with recruiters through messages is simpler than communicating through emails or phone calls.
Messaging also allows consistent engagement with candidates, creating a better candidate experience. Companies that use text messaging may be perceived as approachable and communicative, strengthening the employer brand.
A 2019 research study found that candidates who received mobile text notifications during hiring rated their candidate experience 50% higher than those who did not.
Read – A Guide for Candidate Engagement
3 Points to be Mindful of while Adopting Texting Tools
Although text messages allow for better compliance; there are some points that recruiters need to keep in mind:
#1 Consent
Make sure that candidates are open to being contacted through text messages. Often, texting tools allow the flexibility to opt-in and out of receiving messages.

Every mass texting must include the option of opting out. It is known that 66% of candidates are open to interacting through text, while 73% are okay with receiving relevant job offers over text.
#2 Clarity
Ensure that the text is clear for the candidate to understand. Typos and errors in text messages can be considered spam.
#3 Conciseness
If your text is too long, it may not hold the reader's attention. Therefore, keeping the message short and 'to the point' will be more effective.
6 Tools that can help you Text Candidates as a Recruiter
Here are some common texting tools that can be used by recruiters:
#1 Hyreo
Hyreo believes in delivering a 'customer-like' experience for candidates by bringing technology, process, and people together throughout the recruiting cycle.
Key Features:
Intelligent conversational AI for 24/7 query management
Automated candidate nudges via SMS, WhatsApp, and emails
Automated candidate follow-ups
Interviews or meet-ups scheduled with calendar integrations
Pre-event marketing and sharing information about the brand, events, and jobs
Pricing:
Free Demo
Need to contact directly for pricing details.
Check – Post Offer Candidate Engagement Platform
#2 Sense Messaging
The Sense iOS and Android mobile apps offer the full functionality of the web-based experience on your mobile device.
Key Features:
Offers 1:1 and two-way SMS recruiting
Customized multiple broadcasts to hundreds of contacts at a time
Personalized messages with dynamic variables like name, job role, etc., and custom signatures
Shared inbox among recruiters
Sort text conversations based on activity status and advanced search based on phone number, name, tags, etc.
Bi-directional integration with existing ATS
Fully integrated conversational AI assistant built for recruiting
Pricing:
Not openly available; need to contact the vendor for pricing details.
#3 TextRecruit/iCIMS
TextRecruit is a software that was acquired by iCIMS in 2018. Called Text Engagement, the software enables job seekers and employees to interact with your brand anytime, anywhere.
Key Features:
Connecting with candidates through SMS, Facebook Messenger, and WhatsApp.
Text-to-apply campaigns allow candidates to apply for job roles by texting a keyword to a mobile number.
Chat-based virtual career fairs and events
Automated text campaigns
Digital Assistant to answer job seeker FAQs, pre-screen candidates, and schedule interviews
Unify data with integrations to your Talent Cloud.
Pricing
No free trial or free version
Not readily available on the website; need to contact the vendor for quotes
Average pricing may range between $49 to $99 per user/month
#4 Textus
TextUs is a candidate engagement platform for companies that want to engage in real-time conversations with employees and candidates.
Key Features:
Personalized, real-time communication
Customized campaigns and group texting
Sort conversations and quickly compose messages
Talk-to-text feature
Integration with existing CRM
Data tracking and analytics
Pricing:
A free trial is available
Subscription starts at $250.00/month but is not provided on their website
Professional plan has a minimum subscription of 5 text messaging accounts and 2000 monthly messages
Enterprise plan is for more than 6 messaging accounts and unlimited, customizable messages
#5 Jobvite Text
Jobvite's Intelligent Messaging enables connecting with job seekers effortlessly through candidate messaging.
Key Features:
Outreach through text messaging or career site chatbots
Targeted text campaigns
Send pre-screen forms by text
Text-to-apply functionality
Text bots to answer common questions
Mass texting and spin-off responses into individual conversations
View audit trails and logs of text conversations with candidates
Pricing:
No free trial or version
Pricing is not readily available, but maybe $500/month for less than 100 users
#6 Brazen
Brazen's text recruiting service is part of its larger conversational recruiting suite.
Key Features:
Recruiting chatbot and FAQbot
Virtual career fairs and scheduled online group chats with recruiters
Option for candidates to transition from a chatbot conversation to SMS communication.
Integration with existing systems
Sequencing or workflow for recruiters to set up text behaviors based on a candidate's actions or inaction
Pricing:
A free trial is available.
Pricing is subscription-based and is available on request.
Wrap up
Text recruiting has proven helpful in reaching out to a potential candidate pool, increasing the efficiency of recruiters.
With automated messaging, you would reduce time and effort in outreach and ensure consistent engagement with candidates. With careful planning and consideration, you can set customized templates and self-scheduling features to offer a great candidate experience.
Harness text recruiting to make your brand visible, engage with your candidates, and make the hiring process easy and memorable.
FAQs on Texting Candidates
Should the text recruiting software integrate with your ATS or CRM?
Your text recruiting tool must have a two-way integration with ATS and/or CRM. The tool will then pick up data from the ATS or CRM and then allow personalizing of messages.
Also, the candidate's responses are linked back to the ATS to intelligently decide the next course of action. Integration also allows for archiving of all conversations for compliance and record keeping.
How does a text recruiting tool help recruiters internally? 
An organization has several lines of recruitment happening at the same time. Often, the paths of recruiters cross each other.
To allow sharing of updates and information, many texting tools offer the feature of a shared inbox.
The hiring process can be optimized if recruiters can manage multiple hiring lines using two or more phone numbers.
What is compliance in text recruiting?
Text recruiting must comply with the Telephone Consumer Protection Act (TCPA) guidelines.
The TCPA regulates telemarketing calls, auto-dialed calls, pre-recorded calls, text messages, and unsolicited faxes. Texting must also adhere to Federal Communications Commission (FCC) guidelines, prohibiting text messages from being sent to a mobile phone using an auto-dialer or without consent.