Most firms nowadays conduct all professional affairs by email, including job rejection letters. Recruiters must analyze each applicant's talents and key competencies after numerous rounds of interviews to determine the one who would be the perfect fit.
However, before rolling out the offer letter to the chosen candidate, it is a norm to notify the other candidates that you have selected an applicant who is best suited for the role.  
Although the process of sending out rejection letters may be time-consuming, it humanizes the whole process. This blog will help you understand the core elements of a rejection letter. 
Keep reading to learn the best templates for a rejection letter.
What Is an Email Job Rejection Letter?
A job rejection email informs a potential applicant that they did not qualify for a job. It should be short, clear, and simple while being informative and sensitive to the applicant's feelings. In that way, writing a job rejection email is a craft that must be navigated thoughtfully.
Telling an applicant that they didn't qualify for the selected position is one of the most difficult things a recruiter has to do. Here are the key components that a job rejection email should entail. 
8 Key Components of a Job Rejection Email
The responsibility of writing a rejection letter is frequently allocated to those members of the recruiter team who weren't part of the screening process. The idea is to strike a balance between being supportive and optimistic while delivering the message in a genuine and professional tone. It requires a bit of trial and error to hit the right note. Even seasoned recruiters may find it difficult to write rejection emails.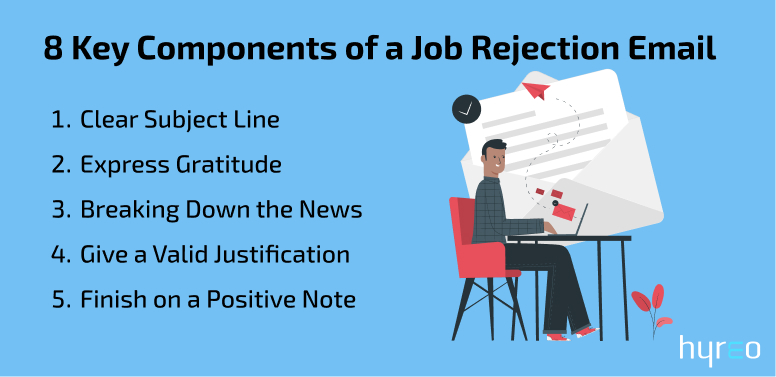 Job seekers become emotionally engaged in the hiring process, and rejection can be difficult to accept. It becomes especially hard if they've been invited for an interview with potential employers. Here are some tips to get it right!
#1 Clear Subject Line
When writing a rejection letter, choose a concise subject line that is easy to understand. It should mention the company's name and job title so the candidate will be aware of what the email is about. For instance, you could simply mention, "Your job application for (Name of Company)". 
#2 Express Gratitude 
Job hunting is difficult, and being rejected is considerably more difficult. Job searchers have spent time and effort applying. As a result, it's critical to acknowledge their processes by thanking the applicants for their efforts. This will make the letter sound earnest and respectful.
You might express gratitude for taking the effort to apply or for interviewing with you, depending on the status of the recruiting process.
#3 Breaking Down the News
The following statement or paragraph should make it obvious that you are going on with the recruiting process without them. Because this is the aim of the letter, it's typically best to provide this information towards the opening of the email. This will allow the candidate to understand the premise of the email and mentally prepare themselves to read the rest of the content. 
#4 Give a Valid Justification
Unexpected rejection can cause bewilderment, irritation, and overall a hard time for the applicant to accept. Even a short feedback is preferable to no feedback. Even though it is not mandatory to provide a reason, writing a short review of their interview performance and highlighting areas of improvement could help them during future job-seeking opportunities.  
You could also briefly summarise the qualities you seek in a prospect that the recipient lacks. Common explanations could include a lack of required skillsets, educational qualifications and/or specialization, or job experience. 
It would help if you clarified why the individual did not receive a job. You can go into as many details as you want here. It may be as easy as mentioning that there were more acceptable applicants in certain circumstances, or you may choose to offer extensive comments. Spending a few minutes reviewing a candidate's background might make the job seeker believe that your selection was thoughtful and fair.
#5 Highlight the Advantages of Their Qualifications 
Choose a few traits that you valued about the candidate to leave a favorable impression. Describing these good characteristics can also assist in a better understanding of the qualities. Moreover, identifying their strengths shows your investment as a recruiter, and will help the applicant feel valued during a time when they feel disheartened. However, stay away from common, generic remarks. If you make it personal, the letter will automatically sound more genuine. 
#6 Inform them About Their Extended Candidature for Future Job Openings
Explain that you wish to evaluate the prospect for future chances if you believe they would be a good match for the company's culture and work environment. Informing them that you wish to consider them for a different role in the future is an excellent strategy to retain contact with them while still keeping the tone of the letter pleasant.
#7 Motivate Them to Apply for Further Positions
To further strengthen the relationship with the candidate, you could urge them to explore more opportunities in your organization that you think they would be suitable for. This is another technique to reassure that you were genuinely interested in their candidature and would like for them to be a part of your company. 
#8 Finish on a Positive Note
In the rejection letter, the conclusion should be respectful. Thank the candidate again for their time and give your best wishes in one or two lines. End your email with a good tone. If you're willing to follow through, offer to provide feedback to the candidate.
Read- 3 Cold Calling Scripts for Recruiters
Two Job Rejection E-mail Templates
The process of informing applicants can be made simpler and faster by developing a template.
Template 1: For Eliminated Candidates (Post Screening)
Subject: Application status to (your company name)
Body:
Hello, (candidate name)
Thank you for taking interest in (job position) at (your company name). We value your enthusiasm for the role as well as the time you spent applying. 
We're sorry to inform you that we will not be proceeding with your application in the next round.  
We're expanding quickly and will be hiring for similar positions shortly. I advise you to keep an eye out for developments on our (careers page) and social platforms (hyperlink your social media profiles here). We wish you all the best in your future endeavors.
Regards,
(Your name)
(Designation)
Template 2: For Eliminated Candidates (Post Interview)
Subject: Your application to (Company name)
Dear (Name of Candidate),
Thank you for giving (Company name) some thought. We wanted to inform you that we have decided to proceed with a different application for the (Job title) position.
(Optionally, provide recruiting process input for individuals who may be fit for future openings:) Your abilities and accomplishments left a great impression on our team. [It's better to add anything that piqued your interest.) We believe you could be a great fit for future positions We believe you could be a great fit for (mention the role that you think they would be suitable for). and will contact you again if there's an opening. 
We wish you the best of luck in your job hunt and your future professional aspirations.
Regards,
(Your surname)
(Designation)
Winding Up
You may spend a significant amount of time sifting through hundreds of applications only to select individuals who satisfy your baseline standards. However, don't neglect to send one final email to your eliminated applicants.
In reality, while recruiting process allows you to screen prospects faster, there is no substitute for the human factor required to write rejection emails. If you follow these simple guidelines and ensure that the letter sounds genuine and humble, you're good to go
FAQs on Job Rejection Emails
How should the subject of a job rejection email be phrased?
A precise and straightforward subject line is preferred. Also, include the job title and the name of the firm. A straightforward subject line, such as "Your Application for (job title) at (name of the organization)," is the preferred choice.
What are the two most crucial details to provide in a rejection letter?
Every rejection letter has at least two essential components: the reason and the greeting. You can also give as much information about the recruiting process as you think are essential.
How do you handle job rejection?
1. Request thorough feedback
2. Examine and reconsider
3. Identify your learnings and create a personal growth strategy.
4. Refine your search
5. Increase your resistance.
Do you respond to employment rejection letters as a candidate?
So, in reply to your rejection letter, be kind and send a thank-you message. The response may be provided to the person you interacted with at the organization, thanking them for informing you of the recruiting process outcomes.
What should not be included in a rejection letter?
Never mention anything you don't mean in a candidate rejection letter. For example, if you think the candidate would not fit effectively in your business, don't propose that the candidate applies for future positions.