"In our organization, employees are like waves – they come and go!" If you resonate with this statement, your organization is on the receiving end of high employee turnover. 
In smaller companies and businesses, employee turnover is very common. You may have witnessed this when you see a new face serving your coffee, every time you visit the small café around the corner.
In a larger organization, employee turnover is not so obvious except to the team the employee worked in. However, it creates a talent gap, slows down operations, and financial loss. Studies have shown that companies end up spending one-half to two times an employee's annual salary to replace the exiting one. 
Regardless of the reason for the employee leaving, companies lose a great deal of revenue in replacing an employee. Organizations must (and usually do) have check-in points at every stage of the recruitment process to make sure it is efficient and cost-effective.
Each stage of recruitment incurs investment in cost and time. Imagine the loss in revenue at every point when a candidate drops out or is a misfit in the expected job role. The most efficient recruiter will hire candidates that fit in, contribute and stay with the organization for a long time. 
In comes the amazing concept of data-driven recruitment that will simplify your hiring efforts.
What is data-driven recruitment?
As the term goes, data-driven recruitment is the analysis of hiring data to gain insights that can be used to hire the best talent and retain them in the organization.  
The famous statistician, Edwards Deming, said, "Without data, you're just another person with an opinion." 
Data sets at different stages of recruitment can indicate what is working and what is not. This information can also bring to light the reasons behind low conversion rates.   
Organizations can then create a data-driven hiring strategy, which will help them save effort, money, and time.
6 Key Benefits of Data-Driven Recruiting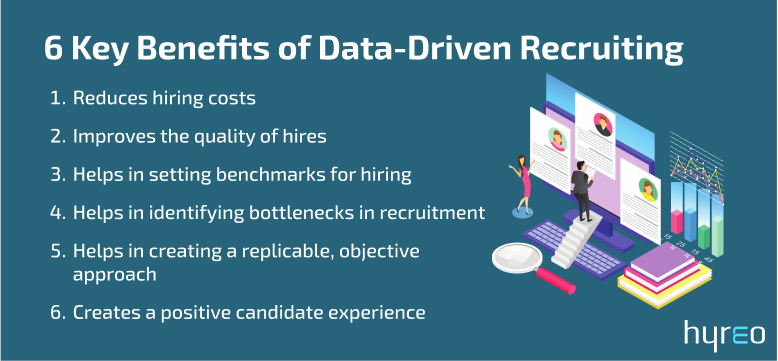 Needless to say, data-driven recruitment has many benefits:
#1 Reduces hiring costs
Data-driven hiring reduces redundant effort and errors made throughout the process. For example, the conversion rates from a certain outreach method or a source.     
#2 Improves the quality of hires
When you create specific Job Descriptions and use screening and pre-employment methods or referral programs, you are able to put in checkpoints to increase the quality of hires in the organization. 
#3 Helps in setting benchmarks for hiring
Once you start getting positive results from your data-driven hiring techniques, you will be able to set benchmarks for several aspects like specific skill sets, cultural fit, etc.  
#4 Helps in identifying bottlenecks in recruitment
Analyzing data trends can help identify gaps and bottlenecks in recruitment. For example, you can understand the expanse of your Diversity, Equality, and Inclusion initiatives by analyzing candidate demographics. Data analysis will also help in forecasting hiring needs. 
#5 Helps in creating a replicable, objective approach
Data is never person-dependent and therefore prevents unconscious bias during the process. The hiring process becomes objective and hence can be replicated. 
#6 Creates a positive candidate experience
Many organizations adopt software to make the process data-driven but also engage consistently with the candidates. Effective recruiters also ask candidates for feedback after their interview rounds, which they use as constructive feedback. 
Check – Post Offer Candidate Engagement Platform
What are important KPIs to measure in recruitment, and how?
Key Performance Indicators (KPIs) are used for individuals and processes to measure their effectiveness and efficiency.  Setting KPIs will help you fix gaps and make data-driven improvements to your recruitment. 
KPIs can be set based on the following 3 types of metrics: 
Time-based metrics 
#1 Time to offer 
It is the number of days to present the official offer letter to a candidate from the date of their last round of interviews.
How to measure:
Setting clear criteria or benchmarks for selection makes it easy to place an offer to a candidate. These benchmarks can be set in collaboration with hiring and operational managers. Some examples are technical skills, certifications, scores of the pre-employment assessment, etc. Once set and automated, the process can be expedited. Alternatively, the number of days to offer can also be set (3 days – 1 week)   
#2 Time to acceptance 
It is the days a candidate takes to accept the final offer from the day of their first offer. 
How to measure:
Potential candidates often have many offers that they are considering. According to an SHRM report, the average time for acceptance is 4 days. Considering the urgency of filling the position, you could adjust the time. 
#3 Time-to-fill/hire 
It is the number of days from publishing the approved job requisition to the day when the candidate accepts the offer. Time to hire is counted from the day the candidate applies for a position.
How to measure:
The efficiency of your entire recruitment process will define the time to fill/hire. A streamlined process will shorten the time to hire. However, this is also affected by the notice period of the candidate and other organizational factors. The average time to hire can be anywhere from a week to 4 months.    
Quality-based metrics: 
#4 Source quality 
It is the measurement of the quality of candidates from a particular source. E.g., how many candidates sent by an outsourced hiring consultant meet the set criteria?
How to measure:
This can be gauged by how many criteria the candidate (sourced from a certain method) meets and, subsequently the conversion rates viz. if you have hired many candidates sourced through LinkedIn, job boards, or a certain third-party recruiter.  
#5 Offer acceptance rate 
It shows how many candidates accepted your offer for a particular role. This data set can give you a lot of insight into your offer criteria as well as your competition 
How to measure:
You can measure the number of offers (meetings) or the number of days a candidate takes before accepting the offer. This can also be an indicator of aspects that candidates negotiate on viz. salary, benefits or mode of working, etc.
#6 Quality of hire
It indicates to what extent the candidates fit the role. This is more likely measured after onboarding.
How to measure:
This can be measured through assessments conducted during pre-employment, training as well as onboarding. The direct measurement of this parameter is the performance score. 
#7 Hiring manager satisfaction
It is the feedback from the hiring manager about the quality of hires. Of course, they have enough opportunities to measure organizational fit during interviews. However, bulk hiring can cause candidates to be spread across teams.
How to measure:
This can be obtained through feedback from the hiring manager, through a rating scale, or questionnaire. A candidate's performance scores can also add value to the hiring manager's feedback. 
#8 First-year turnover rate
It is the number of employees who leave the organization within or when they complete one year. Many companies consider their onboarding period to be for a year and hence counted in the recruitment process.
How to measure:
This can be measured by the number of candidates who leave the organization within their completion of one year. Poor performers or employees fired due to cultural misfit can also be considered in this parameter. 
Cost-based metrics: 
#9 Cost per hire 
It is the investment made in a hired candidate.
How to measure:
Cost per hire is the total costs (external and internal) divided by the number of new hires. External costs are advertising costs, third-party agency fees, etc. Internal costs are the average salaries of recruiters, training costs, etc.  
#10 Cost per candidate conversion
It is the investment in a candidate from an interview to offer acceptance.
How to measure:
Cost per conversion is the difference between the cost incurred in interviewing candidates and the cost incurred in successful placements.
9 Best practices for data-driven recruiting
Conduct a need-analysis meeting with your hiring manager to understand what kind of talent or expertise and other criteria are needed for a job role. Build a recruitment dashboard based on the set criteria to track successes and fix issues.
Research market trends and realign hiring criteria (if necessary) and then find your target talent pool accordingly.
In case of rare skills or urgency in filling a position, communicate your success or challenges with your hiring manager consistently.  You could also communicate changes in timelines or budgets in hiring a suitably qualified candidate.
Build a talent pool for current and future job requirements by analyzing employee turnover rates, newer job roles, and changes in the organization (due to expansion, hierarchy, diversification, etc.)
Like Jay Baer, the marketing expert, aptly says, "We are surrounded by data but starved for insights". It is important that you periodically analyze data sets in different ways for insights. Share these insights with your hiring manager to bridge hiring gaps and market trends. Some tools like LinkedIn Recruiter offer search insights to get an overview of your talent pool.
Observe and search for your hires from companies with large talent pools. You can replicate this for university student and alumni talent pools as well.
Use referrals (after analyzing source quality) to build a talent pipeline.
Always use a mix of different sources and outreach methods to target your talent pool.
Compare your past and present hiring data, review your methods and quality of hires intermittently to fix gaps, and realign hiring criteria to make your hiring process more efficient.
6 Tools useful in data-driven recruitment
Automation is useful in keeping track of multiple data sets. If financially feasible, an organization must consider automation wherever possible. 94% of HR managers say that recruitment software improves their hiring process. 
Here are some tools that you can use at various stages of recruitment:
#1 Search and analytics tools 
These tools help you to search for candidates a match in skills and criteria. Most of these tools also have customization and automated reporting.
#2 Applicant Tracking System (ATS) 
This is used to track candidates throughout the recruiting and hiring process. E.g.: Taleo, Greenhouse.

Check – Top 5 ATS Tools in 2023
#3 Talent Acquisition Software (TAS)
This provides automation for end-to-end recruitment, right from sourcing and outreach to onboarding. E.g.: iCIMS, Yello
#4 Recruitment analytics
This can be used to track hiring KPIs, tracking trends, and automated reporting. E.g.: iMocha, erecruit
Check – Boolean Search in Recruitment
#5 Competitor hiring analysis
This gives you an idea of the recruitment processes of your competitors. It helps you in gaining insight into trending cities, hiring cycles, and the quality of candidates hired by your industry peers.
E.g.: Talismatic
#6 Campaign performance tools
These help you understand which of your campaigns and marketing methods are working in your favor. It also offers metrics on email campaigns, conversion tracking, and historical data analytics.
Wrap Up
Recruitment has a lot of touchpoints (primarily subjective) that make it a complex process. With the entry of technology and various tools and techniques available today, recruiters can bring a lot of objectivity into the hiring process.
Although this will need recruiters who are not very tech-savvy to learn and realign their perspective towards hiring, the benefits of doing so are multifold, and the payoff is enormous! 
FAQs about Data-Driven Recruitment
Which data sets must be considered for analysis?
Alexander Peiniger, CEO at Quintly said "You should only measure and look at the numbers that drive action, meaning that the data tells you what you should do next." The most common data sets that can be considered to be analyzed as cost per hire and time to hire.
What are the benefits of data-driven recruitment?
The most obvious benefits are reduced cost per hire, time to hire, and quality of hire. Other advantages include eliminating unconscious bias of interviewers and increased visibility of the hiring process.
What is the most important aspect of analyzing hiring data?
The most important aspect of analyzing data is to identify trends and gain insights. Without insights, all the available data is quite redundant.
How does data-driven hiring affect the bottom line of the company?
Data trends in hiring can help you understand which expenses have higher payoffs and/or are necessary and which may be eliminated. Therefore, it can help you allocate the right budget for recruitment.