While the vast majority of businesses recognize the need for talent mobility, a Deloitte poll found that just 6% feel their firm has the proper means to execute it. Most corporate spaces lack the proper faculty to accommodate the procedural growth that their employees undergo. Before the political praxis of corporate space treats hardworking employees under unfair conditions, a more pragmatic approach that allows internal movement across vertical hierarchies or lateral shifts is what internal talent mobility programs try to achieve. 
To combat the growing tide of employee disengagement, executive personnel must respond to employee aspirations. The primary area of concern is how the corporate space has overlooked the perquisites of internal mobility without understanding its full scope for actualising organizational success. As a solution, the internal mobility framework serves more than just a means of advancing one's career. Internal mobility is a strategic or contingency organisational necessity that enables a logical internal movement or a shuffle of employees. 
Here is a guide that will take you through key concepts and attributes associated with planning the internal recruitment process. The best practices for internal mobility will also be discussed to exemplify your internal employees and their key competencies.
What Is an Internal Mobility Program?
Internal mobility refers to employee movement inside a company, either vertically or horizontally, for career planning or advancement. Allowing employees to swap roles betters the career opportunities of an employee as well as the organisation. With provisions that enhance communication, creativity, and motivation, employees tend to grow with the company. 
For example, a vertical transfer would see an individual go from Vice President to President, but a lateral transfer might see an employee advance from one job role to another with the same degree of seniority.
For some firms, internal role mobility is inextricably tied to career agility, or an employee's ability to keep up with the changing requirements of the current corporate landscape. A system based on predicting future job satisfaction, internal mobility acts as a supportive business policy to increase retention rates and handle turnover risks. 
Unlike the traditional linear approach to talent acquisition, its multi-purpose drive serves to locate latent potential and provide promotional opportunities for current members by incorporating it into their talent acquisition strategy. A reputed company is indicative of loyal employees and internal mobility programmes add significantly to the employees' trust factor.
Importance of Internal Mobility Programs for Any Business
#1 Recruit and Retain Outstanding Talent
A static career can eventually lead to employees questioning company policies concerning the status quo. As such, companies must find provisional ways to measure employees' adjacent skills. Agile career methodology, of which internal mobility programmes are a part, are ways that assimilate the best interests of both parties. That is why more recruiting managers and businesses are focused on factors like participation and retention, both of which are indicators of employee happiness and positive corporate culture. 
Fundamental to long-term organisational viability to expand existing talent, an internal mobility plan demonstrates that you are committed to employee development. It can help your company reassure employees about the existence of the appropriate facultative measures to accommodate their career goals.
#2 Save Money by Saving Time!
Hiring new staff usually incurs additional expenses and is time-consuming. It is estimated that major industrial firms lose more than 400,000 USD per year due to the costs of hiring processes and training new employees.  Recruitment costs may include employment advertising, training, and relocation expenditures, among other things.
Moreover, you may skip the onboarding processes by employing workers who already understand how your company operates, making it simple for them to get acquainted with new job roles.
As Finance experts stipulate recession in forthcoming years, companies are always looking for cost-effective measures. Furthermore, the internal mobility process entails far more than simply filling open existing positions. A well-designed internal mobility program may help you hire better, develop talent, and save money.
#3 Increase Employee Participation and Morale
The key to increasing employee satisfaction and employee engagement is to expand their boundaries with assignments that can reasonably challenge them. Expanding on their key skills to fill vacant positions by recruiting internally is one of the most effective ways to keep staff pleased. This will boost employee morale and reduce turnover. They are less likely to leave if they believe there are prospects for them to progress and move up the business ladder. They most likely already grasp how the firm operates and the corporate culture. 
#4 Invest in the Future of the Company
Allowing your internal personnel to take advantage of new prospects is an investment in your company's future. Employee loyalty grows as they perfect their abilities within the organisation. As a result, turnover rates are reduced. Implementing internal mobility gives you a firm foundation when market conditions cause workload to be unevenly divided. It will reduce the danger of losing significant business while also providing you with an advantage over your competitors.
How to Implement the Best Internal Mobility Practices at Your Company?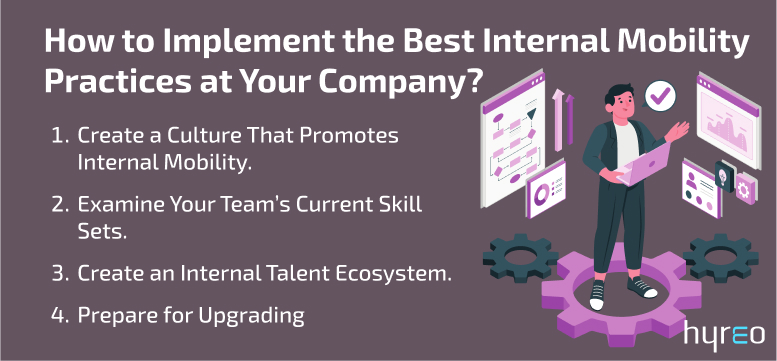 #1 Create a Culture That Promotes Internal Mobility.
Designing a corporate culture to facilitate internal mobility creates an atmosphere wherein ongoing learning and growth contribute to the success of the firm and vice versa. Navigating internal mobility programmes promotes itself as a legitimate framework in cases wherein managers are entrenched in a talent-hoarding mindset. While it is natural to be protective of high performers, business leaders must urge top management to accept internal mobility as a method of broadening their talent pools.
#2 Examine Your Team's Current Skill Sets.
Internal mobility is only feasible if you understand what each member of your team is capable of and what abilities they possess. Ideally, you will have evaluated each employee's capabilities during the onboarding stage, but tracking these talents for future mobility is beneficial. Only 18% of employees believe their bosses understand their abilities, interest, and performance gaps.
#3 Create an Internal Talent Ecosystem.
When there is a new position to fill, we often look to external recruiting to find quality employees and often resort to hiring platforms wherein the company invests money to augment visibility prospects. 
On the contrary, you can begin by assessing your existing and future needs, as well as any evident skill shortages to develop an internal framework for mobility. Workforce agility platforms augment a space that allows an open discussion on strategic workforce planning that significantly helps the upper management to get a better hold on nuanced workforce insights.
#4 Prepare for Upgrading
Employees can emulate their new skills to advance to a different job within their organisation. The advantages of reskilling are manifold, but the capacity to locate internal key talent while embracing position flexibility is one of the most important aspects of internal mobility programmes. 
Case Studies
#1 What Does Research Tell Us? 
Internal hires are a fantastic investment regardless of the economy, but they become even more critical when they are the sole source of talent throughout a hiring spree. According to a 2011 Wharton research, internal hires outperformed external hires during their initial two years. They are also 61% less likely to be fired and typically accept 18% less pay than their colleagues outside the company.
#2 An Example Best Exemplifying the Importance of Internal Mobility 
Mobility now has a strong collaboration with talent management. A Swiss pharmaceutical business recognized more internal opportunities in its worldwide talent pool. It introduced mobility modifications so that the company could go where the talent was and capitalise on it. Mobility served as the key amplifier and facilitator of the talent strategy at this firm. It enabled good career and labour management prospects for the optimal functioning of both parties. 
Final Takeaway
Internal mobility is a critical component for enterprises across industries that provide wide, long-term advantages while allowing one to address critical skill gaps. In a world where the demand for talent has always been in crisis situations, using the star workers you currently have will help the internal recruiting team adjust to the company's requirements quickly.
While outsourcing and hiring have been dominating strategies for filling vacancies, top organisations are increasingly prioritizing internal mobility to build leadership skills. Set your equations right with internal mobility programmes for your easy transition to future business scopes and prospects. If you are on board with this, consider resorting to a one-stop solution with Hyreo today!
FAQs on Internal Mobility Programs
What is an internal mobility program?
Internal mobility refers to the movement of employees inside a company, either vertically or horizontally, for career planning, scopes concerning employee experience, and career advancement. It is a supportive policy that a business may utilise to handle risks, particularly if the team feels constrained by the traditional linear approach to talent acquisition. An effective internal mobility program allows for promising career development for the talent hub of a company.
Why is internal mobility important to employees?
Filling unfilled positions by internal recruiting is one of the most effective ways to keep staff pleased. This will additionally save money and reduce employee turnover. Empowering employees to enhance their knowledge and capabilities prepares them for changes, while a diverse workforce benefits the organisation. 
 
Internal mobility encourages professional agility by transferring employees to different roles, and even mentoring internal mobility opportunities, helping them to become more adaptable as team players and the company to incorporate an inclusive workforce. Failure to do this will intellectually lead employees to find job opportunities elsewhere.
Why should internal mobility be a key part of your talent strategy?
Internal mobility is unquestionably essential for any organization's long-term viability and for providing employees with endless opportunities. It can assist to secure, nurture, and expand existing talent. A strong talent mobility culture assists firms in dealing with a continuously changing business environment, saving money on recruiting, providing employees with flexible career pathways, ensuring business continuity, setting business priorities, and becoming appealing to potential candidates.
What are the advantages of the internal recruitment process?
1. Recruit and keep outstanding talent
2. Create a talent marketplace or ecosystem within your organization.
3. Save both time and money.
4. Increase employee participation and morale by providing myriad types of opportunities
5. Invest in the future of the company.
How do you build internal mobility?
1. Create a culture that promotes business performance based on internal mobility.
2. Examine your team's current skill sets.
3. Augment a talent marketplace or ecosystem within your organization.
4. Prepare for upgrading.