"People are not your most important asset. The right people are." – Jim Collins
Getting the right people is always a top priority for any business. Recruitment starts with understanding the demand and sourcing the right candidates that fulfill the requirements. There are various ways in which a recruitment demand can be fulfilled. 
A sourcing strategy is a strategy determined by the organization wherein ideal candidates are identified for a recruitment need. To understand sourcing strategy, one needs to know about sourcing channels and the right mix for different recruitment needs.
What is Candidate Sourcing?
Once a recruiter receives a detailed hiring requirement from the business, the first step that the recruiter starts working on is sourcing the candidates. Sourcing of candidates means lining up suitable candidates for preliminary screening. 
This sourcing is purely done based on the understanding of the job requirement. There are various sources through which a recruiter can procure candidates.
Need for Candidate sourcing strategy
There are multiple channels that a recruiter can use to source suitable candidates. Sometimes using just one source isn't enough if the requirement is unique, critical, or niche. A recruiter has to use multiple channels or a mix of sources to get the desired outcome. 
To understand the requirement correctly and ascertain the right sourcing mix, to fulfill it within identified TAT, a sourcing strategy is necessary. It is imperative as this source/s will yield maximum quality outcomes and needs to be identified and used effectively.
12 Candidate Sourcing Strategies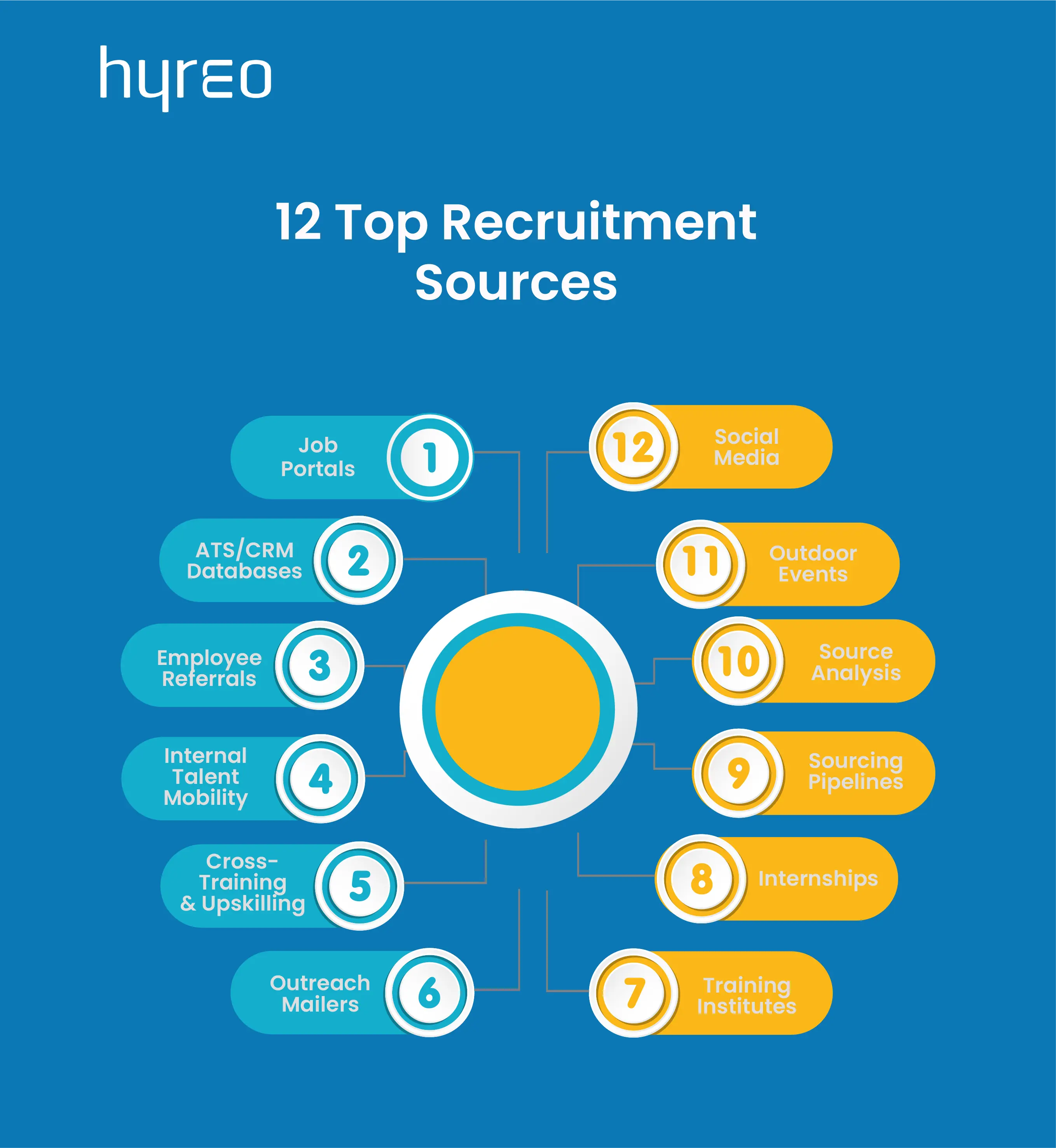 #1 Job Portals
The most commonly used sourcing strategy is through job portals. Job Portals like Monster.com, Indeed, etc. offer a huge live database of resumes of candidates who are open to work. 
Candidates from different geographies, varied work experience, and with different skill sets are available on these job portals making sourcing easy. In addition to this, it also allows posting jobs on their portals, thus inviting relevant applications.
#2 Recruitment Database (ATS/CRM)
Many organizations have their own Applicant Tracking System and/or Candidate Relationship Management tools, which serve as recruitment databases. Recruiters have to just run through these systems to identify the right candidates suitable for the current need. 
The best feature of the CRM is that the previously applied candidates' information is stored in the system and can be evaluated for upcoming recruitment needs. They can be contacted as deemed fit for appropriate future roles.
#3 Employee Referrals
A referral program is an incentive-based sourcing strategy wherein existing employees refer their friends, ex-colleagues, and relatives for open positions. This acts as a trusted and reliable sourcing strategy as the referrer is an employee of the organization. Upon the hiring of the referee, the referrer gets an incentive, and the organization earns a known and trusted employee. It is a cost-effective sourcing strategy as it is less expensive than other options.
#4 Internal Talent Mobility 
Sometimes a good candidate is available within the organization but working in a different department or with a different team. Internal transfers can act as a practical and cost-effective sourcing strategy in such cases.
#5 Cross Training and upskilling
For niche and critical requirements, the best source can be identifying candidates within the organization and cross-training or upskilling them to fit the current recruitment need. This way, the employee gets to learn new skills, broaden the work portfolio and work on different skill sets thus increasing his/her morale. 
#6 Mailers
Engaging with prospective candidates and sending them mailers explaining the job requirement and motivating them to apply for the position is also a sourcing strategy. This strategy emphasizes maximum outreach through constant messaging and mailers to create awareness and invoke interest among prospects.
#7 Social Media
Social media is a very popular sourcing strategy. Professional social media platforms like Linkedin are created for networking. Prospective employers and candidates stay engaged on this platform and connect when the right position opens up. 
Job postings can also be created, inviting all relevant resumes. Professional achievements, accolades, and achievements are all listed on this platform which enables easy hiring decisions.
#8 Outdoor events
Attending Job fairs and events is a good way to source candidates. Many recruitment managers attend these fairs and build candidate databases that can be used when a suitable position opens up.
#9 Trend Analysis
All recruitment tools present reports and trends. A recruiter needs to observe the trend and analyze the data. 
It's necessary to analyze which source yielded more favorable results. Which source did not work? Which location or geography provided good candidates etc.? Based on this analysis, the recruiter can determine future strategies.
#10 Sourcing Pipeline
Recruiters collect and store candidate information that they have contacted for open positions. Over some time, they build a database of active and passive job seekers. This process of collecting and storing information is called the sourcing pipeline. This pipeline can act as a good source as and when there are new positions.
#11 Internships
A lot of organizations hire interns for their summer and winter internships. These interns offer a fresh and creative perspective to the workplace. Converting good interns into permanent employees upon the completion of internships is a common sourcing strategy.
#12 Training Institutes
Many IT companies tie up with computer training institutes for skilled candidates. These institutes source trained and skilled workforce options to recruiters periodically. 
Types of Tools used for Sourcing Candidates
There are various sourcing tools available in the market that aid in the sourcing of candidates. They all can be categorized into 4 broad types:
#1 Resume Databases
Databases that have a wide collection of resumes for recruiters. It acts like a search engine for resumes. Recruiters can look for candidates based on skill set, experience, expertise, educational qualification, etc.  For example, Job portals, Applicant Tracking Systems, Candidate Relationship Management tools, Sourcing Pipeline
#2 Social Media Platform
Though one would rarely connect social media and recruitment in the past, you will find a majority of candidates and recruiters on social media. Research shows that 72% of recruiters have used LinkedIn to find candidates, 11% have used Instagram, and 47% have used Twitter.
#3 Email-finding tools
You can find any information on the Internet, including a candidate's e-mail. If you are using a soft approach by using mail, you can choose these tools to find the right talent. Email-finding tools like Lusha, Hunter, ContactOut, etc., are some of the widely used tools.
#4 Referral programs
One of the most effective ways to find talent is through referrals. Statistics have shown that about 80% of companies prefer using referrals as their first mode of finding the right talent. Employee referrals are known to have a high return on investment as well as employee engagement. 
Wrap up
As businesses evolve, recruitment will evolve too. We would find more strategies to source good candidates. Finding the right fit at the right time will always be paramount. 
Sourcing strategies will have to be upgraded and changed to meet this requirement. As corporates get more competitive, sourcing good candidates will require more effort and strategic thinking to ensure on-time demand fulfillment. 
FAQs on Recruitment Sourcing Strategy 
What does sourcing mean?
The sourcing process involves identifying and assessing potential candidates for hire.
What does sourcing strategy mean?
A sourcing strategy is an organization's plan for sourcing the best suited candidates for the organization, based on their business goals and priorities, aligned to their values and culture. 
Why is sourcing strategy required?
Sourcing strategy provides a structured and planned approach towards sourcing candidates to fulfill open positions. A well-planned sourcing strategy makes sourcing effective and efficient.
Why is the Employee Referral program a preferred sourcing technique?
Employee Referral is when an existing employee refers his friends, ex-colleagues, or relatives to his organization. Upon hire, the referrer gets incentives decided by the organization. It is one of the most effective ways to source top talent as the referrals are already aligned to the vision and culture of the organization with higher productivity, collaboration and retention creating a positive work culture. It's also one of the  most cost-effective ways to source highly qualified individuals.  
What is a sourcing pipeline?
The process of collecting and storing candidate information while sourcing on a real-time basis is called the sourcing pipeline. It helps organizations be better planned for hiring and attract top talent in an effective and efficient manner.