Recruitment CRM (Candidate Relationship Management) allows you to manage all aspects of staffing and recruiting. You can build and maintain relationships with a large pool of candidates and effectively streamline your entire recruiting process.
A powerful applicant tracking system can be an essential element at the center of any well-crafted recruitment strategy. Its potential as a database, hiring tool, and assisting workforce make it a central platform capable of managing incredible amounts of data.
With candidate and GDPR compliance tracking, screening, assessment, and hiring processes all centralized in one platform, an ATS can provide all the core elements your team needs to recruit effectively.
Recruitment software solutions have been proven a solid foundation for recruitment and more companies are beginning to see the benefits of adopting one. However, just as ATS functionalities can be essential, customer relationship management software provides even more opportunities for growth.
7 essential and key benefits of Recruitment CRM Software
Use candidate relationship management to strengthen your hiring strategy. Instead of operating in reaction mode, recruitment marketing software allows your recruiters to be proactive and stay ahead of talent needs. Building talent communities is an effective way to ensure a constant flow of candidates are available.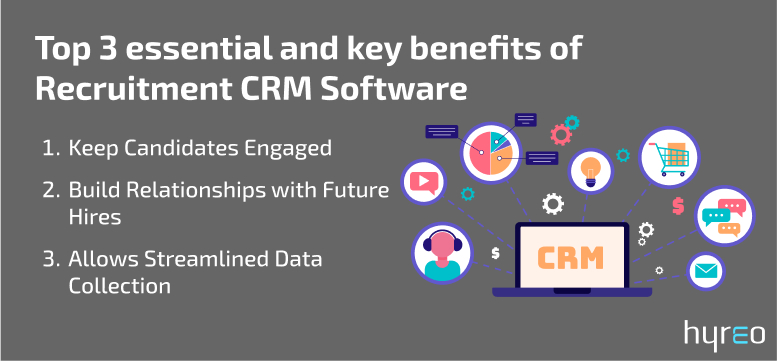 #1 Attract Top Talent
Top employers treat recruitment marketing similar to customer marketing, meaning they put in the effort to sell applicants on open roles and ensure job are posted where candidates can find them. A recruitment CRM can help you digitally retail your open roles and attract quality candidates.
One of the most critical pieces of a successful recruitment marketing strategy is a strong career site. A recruitment CRM can ensure you have a mobile-optimized, SEO-friendly career site in place that answers the "What's in it for me?" question and gets applicants excited to apply to your open roles.
Another key aspect of attracting top talent is posting open roles across a variety of diverse channels. While your career site is the top driver of quality talent and eventual hires, a recruitment CRM can manage your recruitment marketing budget for you, only investing in job board feeds, social media and other channels that drive results for you.
#2 Keep Candidates Engaged
From the moment applicants apply, a recruitment CRM can help you keep them engaged and excited about the possibility of joining your team. Data indicates the average business waits up to 10 days to review and respond to job applicants, a recruitment CRM can reduce this time to three days. By cutting down the time to review applicants by one week, you'll fill roles much faster, boosting productivity and profitability at your business.
In addition to speeding up applicant review time; the right recruitment CRM will enable you to seamlessly interact with candidates throughout the entire hiring process. For example, candidate text messaging is one recruitment CRM capability that makes communication much more seamless.
Text messaging is an impactful communication channel for both employers and job seekers and can streamline your candidate and new hire communication, keeping candidates engaged. As an added bonus, hiring managers who have used Hyreo's text messaging solution have decreased time to hire by 8 days, ultimately increasing productivity that's typically lost when roles are open.
#3 Build Relationships with Future Hires
Your team can't necessarily hire every quality candidate who applies to your open roles. Several factors can go into not necessarily hiring a quality candidate, including: not having the budget for a hire at the time, choosing between several highly qualified candidates, the candidate not being a fit for the specific role, or the candidate accepting a role with a different company, among other reasons.
While some candidates will never be a fit for your team, chances are you want to stay in touch with others for potential opportunities down the road.
With a recruitment CRM, you can maintain a network of candidates for future hires. For example, if a top candidate is runner-up for one of your open roles and the same role opens again a few months down the road, you can easily pull up his or her credentials from your recruitment CRM and re-engage. In such a competitive hiring market, sometimes talent you've already interacted with can be the key to filling your open roles sooner rather than later.
#4 Measure the Success of Your Hiring Efforts
Now more than ever, it's important to understand what's working and what's not with your hiring process. Not only can a recruitment CRM help you attract top talent and power your hiring process, but it also provides full transparency into the success of your hiring process.
Hyreo's recruitment CRM answers key questions to measure the health of your hiring process, including:
What is my total time to hire?
How well is my team following our hiring process?
Which applicant channels are driving my most quality candidates?
By continuously measuring these metrics, you can work toward improving your hiring process over time. If your time to hire is too low, it might be because you aren't reviewing applicants in a timely manner. If a certain manager isn't following each step of your hiring process, this is a great opportunity to provide additional training.
And if certain applicant channels aren't driving quality candidates, it likely means you should invest your recruitment marketing budget elsewhere. Ultimately, these insights can help you enable actionable next steps for improvement.
#5 Improves Social Reach
Social reach is hugely important in recruitment today. Using recruitment software allows you to connect to social media platforms like Facebook, Twitter, LinkedIn, and reach a wider array of potential candidates. Most recruitment software has social media integration options that can be linked to your social media profiles.
#6 Allows Streamlined Data Collection
You can use recruitment software to receive applications from a wide range of sources such as job boards and your own website. Furthermore, you can use CRM software to gather useful candidate data, which you can analyze to improve your recruitment process. Moreover, you can gain other useful information such as candidate response, how many people viewed your adverts and how many applied for the role etc. The best recruitment software agencies like Hyreo streamlines your data flow and gives you heaps of useful information.
#7 Helps to Improve a business's sourcing strategy
A common problem with recruitment is often the sourcing strategies used. By using HR Software, you can analyze your sourcing strategies and look at where you are possibly falling short, and can then use the same software to tailor your sourcing and improve it going forward.
Final Thoughts
So, now you have enough reasons to get a CRM for recruitment. If all this didn't convince you, then you would want to know that 68% of recruiting professionals believe that investing in new recruiting technology is the best way to improve recruiting performance over the next five years. Let automation bring out the best in your team and flourish your industry. This results in a reduction of your precious time and human resource on tasks that can be taken up by recruitment tools.
FAQs on Candidate Relationship Management
Why is CRM important in recruitment?
A CRM helps you fill jobs faster by connecting with current and future job candidates through automated email marketing, recruiting event functionality, job recommendation portals, and more.
What is a candidate CRM?
Candidate relationship management (CRM) is a method for managing and improving relationships with current and potential future job candidates. CRM technology is used to automate communication processes with the candidates, encourage their engagement and improve candidate experience.
What are the benefits of recruitment marketing?
Effective recruitment marketing results in increased brand awareness, a more qualified talent pool, faster hires and an improved candidate experience. Examples of recruitment marketing campaigns include employee culture videos or interviews, search-engine-optimized career sites and social media job advertising.
What is CRM and ATS?
Applicant tracking system (ATS) and candidate relationship management (CRM) software both help automate, organize, and optimize the recruitment and hiring process but knowing how, when, and why to integrate each of these tools into a talent acquisition strategy is key to maximizing their value.
What systems do recruiters use?
1. Hyreo
2. UltiPro
3. iCIMS recruit
4. LinkedIn Talent
5. SmartRecruiters
6. Jobvite
7. ClearCompany
8. Zoho Recruit
9. ADP Workforce Now