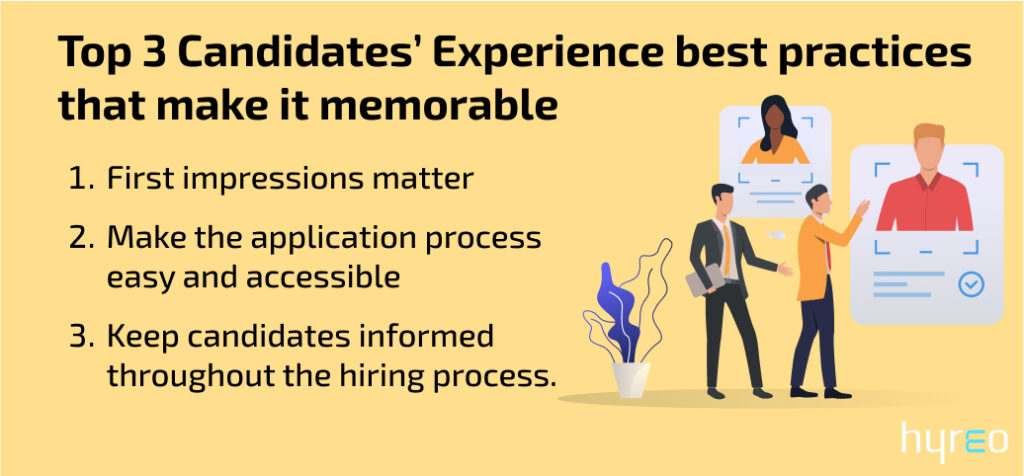 The Importance
Candidate Experience, the new popular buzzword in Human Resources, is not just limited to the recruitment process but also extends to the perception of people working in the organization along with the Recruiter.
Almost 73% of organizations agree that candidate experience is essential to their business, but less than half believe their recruiting practices are effective. This includes the collective result of all interactions with job candidates during the recruitment process.
It is one of the most important factors for attracting talent. That's because the candidate experience definition is "how candidates feel about your company once they experience your hiring process." And these 'feelings', whether good or bad, influence candidates in their decision to apply to your company or accept your job offer.
Candidate experience shows how your brand has treated and communicated with your candidates during the recruiting process. This directly affects your employer's brand as it creates a perception of your brand in the talent market.
Studies indicate that companies with around 10,000 employees might spend up to $7.6 million in additional wages to compensate for a poor employer reputation. The employer brand is the most powerful parameter influencing the cost of hire and the time to hire.
In short, a positive candidate experience can build a coveted employer brand saving cost, time, and effort in talent acquisition. Closely linked with Employer Branding, it also creates goodwill for the employer and also the recruiter, creating a win-win situation for all parties involved.
The world of hiring is more candidate-driven than ever before. Professionals in various industries with different levels of experience are in high demand, and that means they have more options when it comes to choosing an employer.
The presence of options, coupled with the rising bargaining power of employees, has lifted candidate experience to the top of many organizations' lists of talent acquisition and workforce management priorities. Generally, the better the candidate's experience, the more likely an organization is to attract the best talent. Top candidates demand compelling experiences during and after the hiring process
Poor experiences during the recruiting process can negatively impact an employer's ability to hire talent. In fact, 27 percent of candidates who have a bad experience would "actively discourage others to apply."
What's more, 77 percent of candidates are likely to share positive experiences with those in their network. Today, candidates have more choices, making it harder for employers to differentiate themselves and establish how their values, company culture, and employees represent a unique opportunity for top candidates.
Through a positive candidate experience, organizations can gain the trust and loyalty of applicants who may become advocates for an organization and help bolster their employer brand. With a stronger employer brand, organizations can distinguish themselves as an employer of choice in their industry
What's the most common complaint a candidate has about the job application experience? It's when they are 'ghosted' – companies never get back to them whether it's in the form of a response to an application or a follow-up after an interview.
The data backs all of this up – 42% of candidates will not apply for a position at your company if they've had a bad experience with you, and one in five (22%) actively advise their peers not to apply as well, according to a CareerBuilder report. A study found that almost 69% of candidates would consider sharing a negative experience with their friends and network.
On the flip side, 82% said they were likely to share a positive employment experience. This can affect not only how your company acquires talent down the line, but also how you attract future candidates that are a better match.
The pandemic has undoubtedly altered candidates' expectations in terms of what they want from prospective employers during the hiring process. Meeting and exceeding these expectations can help you attract talent.
This is why creating a thoughtful, well-planned, positive candidate experience has never been more critical. And, with in-person and offsite interviews off the table for many companies, that also means providing an exceptional remote candidate experience.
Delivering a positive candidate experience is hugely important for any recruiter. The better experience candidates have, the more your employer brand is enhanced, and the more likely the candidates are to engage with your job postings.
This, in turn, has a big impact on the quality of your hires and, consequently your revenue.
So, what makes that great candidate experience
There's no single universal checklist to follow to guarantee a good candidate experience: your recruiting needs are unique, and so are your candidates. However, in our experience of talking to some of the most successful recruiters and headhunters.
Before we get into how you can improve your candidate experience, let's take a look at the benefits of delivering a great candidate experience:
Improved engagement
Increased quality of hires
Strengthened brand positioning
Increased company revenue
Better word-of-mouth marketing, positive reviews, and recommendations.
Candidates' Experience best practices that make it memorable
Create a candidate persona to help your team understand who your candidates are and what they should expect.
First impressions matter. Create a candidate nurture journey that helps them understand the recruiting process better and keeps them updated about their progress.
Implement a system to streamline your hiring process and increase hiring speed.
Make sure you're hiring to fill a real need
Write clear and enticing job descriptions
Make the application process easy and accessible
Follow-up early and often
Communicate with and thank candidates during each step of the hiring process.
Give candidates information about what to expect at in-person interviews and a clear understanding of the Job Role and the organization they are applying to
Give candidates your full attention at interviews
Tell candidates if you're no longer considering them as soon as possible.
Be gentle and empathetic and communicate, early, and with care.
If you want to keep specific candidates in mind for future openings, keep track of them and convey the same to them without raising their hopes.
Be open to giving and receiving feedback. Ask your candidates and clients to leave behind feedback so that you can improve as a recruiter.
Avoid gender-based descriptions of any content about the entire hiring process.
Personalize their experience by showing you and your team care.
Using CRM Software and Applicant Tracking tools
Why use Applicant Tracking Software & CRM 
52% of candidates say they get frustrated most by the lack of response from potential employers during the job search process.
81% of job seekers say employers communicating continuous status updates would greatly improve the candidate experience.
46% of candidates who withdraw from the recruiting process do so because they believe their time has been disrespected during interviews.
You must keep up with today's dynamic recruitment market to scale your recruitment business. With executive recruitment software, you can build a single source of truth – a centralized dashboard that keeps track of all your candidates and ensures you don't miss out on important events and tasks.
A study found that when conversational AI is a part of the recruiting process, candidates offered a job are 38% more likely to accept.
Modern executive search software can help you improve your candidate experience without adding to your busy schedule.
Create email sequences for different stages of a hiring pipeline.
Measuring candidate experience and its importance
Measuring candidate experience is tricky. Since it's subjective, it is difficult to quantify and contextualize. And what would you do with data that you can't measure? You certainly can't improve your candidate experience using it. While there isn't a single metric that will measure the effectiveness of your candidate experience, there are a few recruitment metrics and KPIs that will give recruiters insights into what's working and where you can improve your candidate experience strategy. Some important recruitment KPIs to measure candidate experience:
Application abandonment
Time to fill i.e., length of time from application to offer
Interview to offer ratio
Offer acceptance rate
Recruiter response times
Candidate satisfaction
Referrals
Net Promoter Score (NPS)
It's important to collect and comb data for the full-cycle recruiting process: from which channel do you get the most job applicants, how much time do your recruiters take to make the first contact with applicants, how many emails on an average get opened, and more.
Your recruitment CRM is like a treasure trove of analytics data for each stage of your hiring process. Analyze this data to identify any stage at which your candidates lose interest or you need to optimize your internal recruiting strategies.
The good news is there are tons of recruitment tools out there now that give you the insight you need to enhance your candidate experience, by providing analytics and reports for candidates and job pipelines. Moreover, you can also set up automated feedback surveys within emails to gather candidate feedback.
There's an array of factors that influence your candidate's experience. Right from the time taken to fill out a job application, and interview scheduling to getting notifications during the hiring process, everything contributes to your candidate experience.
As a recruiter in today's remote, asynchronous environment where recruitment dynamics are constantly evolving, you need to take a fresh look at your candidate relationship management strategies.
The best recruiters look at their hiring process from a candidate's perspective to gauge the success of their candidate experience efforts. Providing a good candidate experience comes from a combination of science and psychology.
As important as it is to leverage AI and data to analyse your candidates' experience, it's equally crucial to be kind, respectful and accommodating.
By devoting some extra time and resources to enhancing your candidate experience, you can gain long-term business value (repeat business, more revenue, higher ROI) throughout your entire company.
It's the little things that can make a big difference: thoughtfulness, consideration, and attention to detail. Going above and beyond a candidate's expectations at every stage of the hiring process will ensure an exceptional candidate experience and, ultimately, a positive impression of your company.
According to Matt Charney, executive editor of Recruiting Daily and a key influencer in recruiting, candidate experience is more than another buzzword. It's not just a trendy new hiring fad.
It happens every time you recruit, whether you pay attention to it or not.
And it has grave consequences!