At the outset, a recruiter's job seems easy. You just need to hire the best candidates for a job. But one look at their day-to-day responsibilities: writing and posting jobs, reviewing hundreds of resumes, filtering the best ones, conducting background checks, negotiating over salaries and you know that it's far from easy.
With every head-hunter having their own specific sourcing and evaluating method, it's imperative to always stay on top of your game to master this art. Recruiters, HR, hiring managers, directors and so on have been spoilt for choice when it comes to choosing tools for recruiting.
17 Productivity boosting tools for recruiters
It's never too much work for a recruiter, and when it comes to working in an office setting, there are too many distractions that you'll have to deal with. You constantly have to think outside the box and you are busy with a lot of things at the same time.
To get all these tasks done more productively so that you can spend your time on activities that are important, let's look at 16 tools that help recruiters save a lot of time.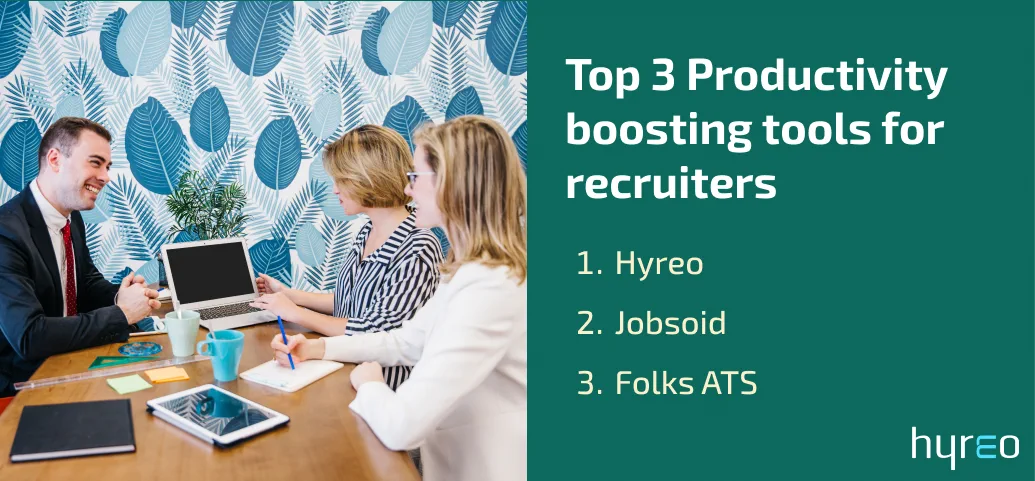 1. Hyreo
Hyreo is one of the best Recruitment CRM for enterprises and SMBs alike with deep conversational AI and virtual hiring capabilities. It is an award winning CRM platform with customers in the technology space across multiple geographies. 
A feature-rich Recruitment CRM, it helps optimize recruitment effort and provides a clear and comprehensive view of the candidate journey all through the recruitment life cycle, helping forge long-term relationships with candidates. With its advanced reporting and data analytics, valuable insights can be drawn and key interventions made to promote a strong brand image.
Hyreo's conversational AI chatbot system enables prediction of candidate intent to join with upto 80% accuracy. With the synergies achieved by an in-built nudge engine, a robust ticketing system, a powerful conversational AI chatbot system, and an automated content push engine, Hyreo can also automate up to 60% of recruiter tasks, significantly enhancing the candidate experience and thereby the company brand image.
2. Jobsoid
It is an Online Applicant Tracking System (ATS) that offers you a complete recruitment system for all kinds of recruitment needs. It comes with a host of features—each designed to simplify every step of your hiring process. From posting jobs on various job boards to managing the candidate applications you receive, from communicating with your candidates to collaborating with your team—this provides you an all-in-one platform.
It lets you automate the hiring process, and allows users to create their own career site or page with a professional look that promotes their brand. You can also post job advertisements on different social media channels and job platforms, through this.
3. Folks ATS
It is built to optimize every step of the recruiter's workflow. By integrating Folks ATS to career pages and job sites, centralizing candidate profiles and adding them automatically in the proper hiring process without moving a finger, recruiters can focus on the best candidates, not on tedious tasks.
Folks being a collaborative tool, every recruiter can build personalized templates like interview questionnaires or emails that can be reused by everyone on the recruiting team.
4. factoHR
It is an entirely HR-centric platform that helps managers streamline different HR processes. It helps boost a recruiting team's productivity by automating the hiring processes and assisting them in different critical functions. The platform offers a centralized database wherein the recruiters can store candidates' information and get it whenever needed. It also assists hiring professionals in candidate screening, so they can have a better idea about the potential employee.
5. SpringRecruit
It is a free-forever ATS built for startup recruiters. It helps in organizing and keeping track of job openings, resumes, candidates and contacts. With features like built-in reports and visually appealing dashboards, it tracks every stage of the recruitment process providing a funnel view to track the candidates, the platform also offers social media integration.
6. Adaface
It helps recruiters find qualified engineers by automating screening interviews with a conversational chatbot, Ada. Ada engages candidates with a friendly chat involving relevant challenges instead of asking trick questions on a test. For each role, subject matter experts design a custom assessment based on the role's requirements.
The platform also aids recruiters in figuring out the best-suited candidates for job roles while still being humane with the interview process. And candidates figure out if they'd be a good fit.
7. SmartTask
It is an online project & task management platform built for recruiters and HR professionals. With so many tasks, you can easily miss out on some and risk losing out on the perfect candidate. This platform lets you set reminders for your tasks. You can even make use of tags to bifurcate your tasks like interviews, resumes, salary and so on.
The time tracking feature lets you see which tasks take up most of your time and make strategies for the same. It also has a voice calling feature with which you can connect with your shortlisted candidates for interviews.
8. Trello
It is a Kanban-style project management software that helps recruiters manage hiring projects. It allows you to move tasks from one phase to another. You can easily see which candidates have moved towards the screening phase, which candidates are yet to submit their assessment tests and so on.
You can even use color-coding to mark important tasks. For tracking time in Trello, you need to opt-in for third-party plugins as it does not have a built-in time tracking feature. Other than that, you can add small descriptions to tasks and attach documents such as resumes, test scores and more.
9. WebWork
It is a time tracking and task management platform that can help recruiters organize the hiring process. It automatically tracks the time spent on work and creates detailed reports.
The reports simplify the work of recruiters by acquitting them with extra manual work. To keep track of employee attendance, recruiters can use the attendance tracking feature. It records the time employees start and finish work, and asks them to write the reason whenever they clock in late.
10. Right Inbox
It is an email productivity tool that can be used with your Gmail account. It allows recruiters to use email templates, schedule emails, send recurring emails, use email sequences and much more within Gmail. One of the best features of Right Inbox is the ability to add various signatures at the end of each email.
11. Mailbird
It is an email client that helps recruiters manage multiple email accounts from different email providers including Outlook, Gmail, Yahoo Mail, etc. It's not uncommon to have different folders and filters to take care of incoming emails from different employers.
What makes it even easier to manage is giving yourself the option of a Unified Inbox to check in on all incoming messages, no matter which email address they're coming from. Mailbird also integrates with Slack, Whatsapp, Facebook messenger and Twitter, so you'll never have an email or message get lost in the shuffle again.
12. Zapier
It integrates with over 5000 tools such as Evernote, Slack, Gmail, SmartTask, Trello and more so you can enable automation for all your recruiting tasks. All you need to do is set a trigger that kicks off the automated process between your apps.
These actions could be to send emails to candidates, deploy assessment tests and so on. You can even go a step further and automate your entire recruiting process with Zapier.
13. Grammarly
It helps in proofreading your emails and job descriptions. It helps you use the right tone, keywords and let you know if your content is easy to read. The tool also provides context-specific suggestions so that your writing stands out in front of your clients and candidates, noticing potential issues in your writing, detecting language, grammatical errors and plagiarism issues.
14. Vervoe
It simplifies hiring by providing AI-powered skills assessments and remote interviewing software. It is an excellent choice if you're on the lookout for a skill assessment tool. Apart from providing unique anti-cheating features, it also comes with integrations, and their AI is powered by machine learning algorithms that analyze human behavior—providing an accurate grade for assessments.
15. HootSuite
It enhances your social media management by covering almost every aspect of a social media manager. It provides a single interface for curating content, posting on different social media accounts, and scheduling your posts. Hootsuite's dashboard also has a feature for social analytics which allows you to track your ROI. It is a tool that lets you stay on top of all your social media networks and profiles.
16. Hubstaff
It is a time-tracking software that offers work monitoring, time tracking, and payroll management, along with a remote talent finder and project management software. This work tracker works through a timer that you can start and stop at your choice and captures proof of work through screenshots, app and URL tracking, and activity rates. It also allows you to manually enter and delete time entries and most importantly keeps your information safe. Hubstaff's work tracker is an invaluable tool, especially with remote working on the rise.
17. Sortd
It provides an all-in-one sales and task tracking app for Gmail Teams. It allows you to effortlessly manage your emails, customers, and tasks, without ever leaving your inbox. This tool helps manage your emails much more streamlined by transforming your inbox into organized lists through a visual board. It doubles as an email and task manager—without having to switch apps! In addition, Sortd is an excellent tool for remote teams to increase efficiency and speed
Final Words
Maintaining the productivity of an entire team can be challenging, but with tools mentioned above, you can easily monitor the activity and time of your team members to ensure a level of productivity. You can make use of these tools to collaborate with your teammates, automate tasks, manage projects and recruit effectively.
All of this combined can help you save a lot of time and money as well. From never missing out on replying to potential candidates to automating time-consuming tasks, technology has come a long way to making recruiting streamlined and a lot easier.
FAQs on Recruiter Tools
What tools do you need as a recruiter?
·  Job boards or job search engines
·  Premade assessments
·  Chatbots
·  Interviewing software
·  Applicant tracking systems
·  CRM/ ATS
·  Mobile applications
·  Augmented writing software
How is productivity measured in recruiters?
You can measure productivity in terms of how well they're maintaining a strong candidate network and how effective they are at building shortlists by focussing on the number of interviews per job they take on.
Which ones are the 4 KPIs for a recruiter?
1. Cost per hire
2. Source quality or Platform
3. Quality of hire
4. Time to hire
What is a talent acquisition tool?
Talent acquisition tools are recruitment software that automate and streamline the process of hiring. These online systems or products help recruiters measure candidate quality and manage candidate pipelines. Intelligent hiring and selection tools can help with sourcing, screening, and interviewing candidates
What is a recruitment CRM?
Recruitment CRM (Candidate Relationship Management) allows you to manage all aspects of staffing and recruiting. You can build and maintain relationships with a large pool of candidates and effectively streamline your entire recruiting process
What does ATS mean in recruitment?
An applicant tracking system (ATS) helps companies organize candidates for hiring and recruitment purposes. These systems allow businesses to collect information, organize prospects based on experience and skill set, and filter applicants.