Most educational institutes follow a roster system. Some would call it an attendance sheet. Every morning, the teacher would call out the names of the students to mark their presence. What if you were told that organizations also have rostering sheets? 
Manually, it is an extremely difficult task to be done. This is where automation comes in. There are many reasons why you need rostering software. Rostering is the process that involves assigning tasks to individuals or groups of people according to their availability and skills. 
A good rostering system will help you manage your team effectively, track the hours worked by each employee daily, monitor overtime hours, etc.
Here's a list of some of the best rostering software available in the US market, which can be used for perfecting your job duties and managing payrolls efficiently!
How the Best Rostering Software Are Compared
When it comes to choosing the best rostering software, there are many factors that you should consider. 
#1 Budget
The first is the budget. If you are working with limited resources, then it is crucial to find a rostering solution that will fit within your budget and still provide all of the features that you need. If not then it would only make sense to wait till you find something that will have the dual benefit of being less expensive while meeting your organization's needs.
#2 Scheduling and shift management features
The next thing to think about is what kind of scheduling and shift management features your organization needs. If you are a small business that has only one or two employees, then you don't need anything too complicated. 
However, if you have more than five or six employees, then it's essential to find a rostering solution that will be able to accommodate all of their shifts and provide all of the features they need to manage them effectively.
#3 Timekeeping features
The next thing to think about is what kind of timekeeping features your business needs. A basic rostering solution will be able to track employees' hours, but if you have a lot of employees and need detailed information about their time spent working, then it's important that the system you choose has this functionality.
#4 Integrations
If you're using a rostering solution for multiple purposes, then it's essential to find one that has integrations with other business software. An excellent example of this is an integration between your payroll system and your rostering solution so that the hours employees are working can be automatically added to their pay slips at the end of each month.
Key Features to Look For in the Best Rostering Software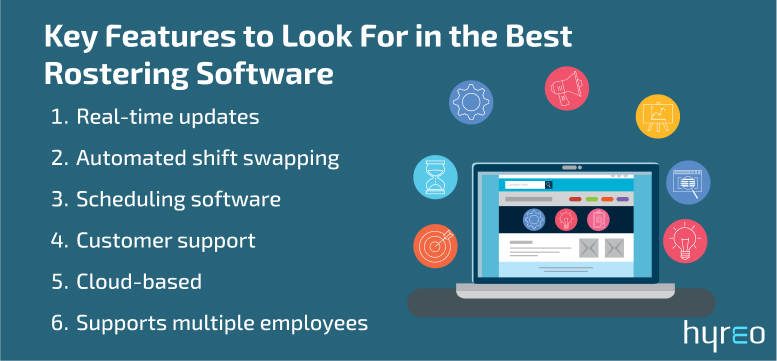 #1 Real-time updates
This is one of the essential features to look for in rostering software. With real-time updates, you can track your employees' hours as they are worked and make sure that they are paid accordingly. You will also be able to see how much they take home at the end of each month based on their actual pay rates and income tax deductions.
#2 Automated shift swapping
With automated shift swapping, it's easier than ever before for managers and supervisors to manage shifts without having any manual intervention required from them (which means less paperwork). This makes it easier for everyone involved with scheduling shifts because there are fewer errors made during scheduling processes.
This includes both human errors as well as technical issues like incorrectly entered data into spreadsheets or databases, which can cause slowdowns in other departments that rely upon these systems being accurate the first time around.
#3 Scheduling software
Scheduling software allows users to enter new hires' information into our system directly from Google Sheets or Excel files via Dropbox links containing all relevant details about each candidate, including name/address information, etc.
This allows you to maintain a central database of all new hires, which means that all information is instantly available for our team to access. You can also use this data to make sure that no one is left off the schedule or accidentally assigned multiple shifts in a single day.
#4 Customer support
The software should have a good customer support team that can help customers who have any issues with the software. The support team should be able to respond within 24 hours and offer solutions for any problems.
#5 Cloud-based
The software should be cloud-based, allowing you to access it from anywhere. This means that you can access and edit your data wherever you are without having to worry about whether or not your computer is on. 
The cloud also means that you can access the software from multiple computers, which allows a business to have multiple employees working on it at once. It becomes more efficient with an increase in productivity from the team.
#6 Supports multiple employees
The software should be able to support multiple employees and allow them to work on the same database at once. This will help you track all of your candidates in real time without having to worry about losing any information. This will also allow you to make changes and updates faster, which is especially helpful if you have multiple people in charge of the database.
Top 10 Best Rostering Software – US Review
#1 7shifts
7shifts is a cloud-based scheduling software that is designed for small businesses.
7shifts has a simple interface and can be used on any device. It also offers mobile apps that allow you to check in on your schedule from anywhere, so you don't have to rely on someone else's schedule or leave your phone at home while they're out of town.
Features:
A free 30-day trial to try out the software
Integration with popular payroll services such as ADP, Paychex, and QuickBooks Online
Ability to schedule shifts for up to 5,000 employees 
Compatible with all browsers and devices, including mobile apps
Simple setup process
Customizable reports for your business and employees
| | |
| --- | --- |
| Pros | Cons |
| Versatile software platform | Fewer features as compared to other software |
| User-friendly and intuitive  | Can be expensive for small businesses |
| Good customer support |   |
| Easy to keep track of employees' feedback |   |
Pricing: From $31.99 per month
#2 When I Work
When I Work is a cloud-based software that allows you to manage your employees and teams. The service offers a free trial, giving you access to all the features of their paid plans for 14 days. It is an all-in-one solution for scheduling at the workplace. 
If you're looking for an easy-to-use tool, this is it! You enter the names of your employees in one column and their work hours in another column—and When I Work will automatically generate a schedule based on their availability (or lack thereof). It strives to achieve your company goals. 
Features:
Absence & Leave Management 
Automatic scheduling
Time tracking and billing solutions
A calendar that shows all your employee's availability
An easy way to add new employees, update their information and set their schedule
Detailed reports on who's working when and how long they've worked
| | |
| --- | --- |
| Pros | Cons |
| Affordable  | Users can experience glitches while working simultaneously.  |
| Good mobile experience  |   |
| Straightforward to use |   |
| Ease of scheduling  |   |
Pricing: From $2.50 per user per month
#3 Connecteam
Connecteam is a web-based rostering software that enables you to manage your team's schedule, time and attendance, shift management, and reporting.
Connecteam integrates with payroll systems as well as HR systems like PeopleSoft so that you can track employee performance directly in Connecteam. The customer support team at Connecteam is available 24/7 via phone, email, or live chat.
Features:
A mobile app that enables you to access your schedule anywhere and at any time.
A powerful dashboard that allows you to view all of your data in one place.
Easy integration with payroll systems such as PeopleSoft and ADP.
A drag-and-drop interface with a mobile-friendly design.
Connecteam's optional integration with PeopleSoft HR software enables you to track employee performance directly in Connecteam.
| | |
| --- | --- |
| Pros | Cons |
| Great for small businesses | A lot of upgrades are required for additional features |
| Easy to install and navigate |   |
| Seamless phone functionality  |   |
| Automated reports |   |
Pricing: Free for up to 10 Users. From $29.00 for 30 Users per month.
#4 Deputy
Deputy is the most popular rostering software for small businesses. It's designed to help you create shift schedules, track employee attendance, and manage time off requests. It assists you in achieving your company objectives.  
Deputy offers two versions: free and paid. The basic version of Deputy is more than enough for most small businesses. It has a simple interface and makes it easy to create schedules in minutes. You can set up different types of shifts, like regular or short-term, and enter the number of hours each employee works each day.
Features:
Scheduling and attendance
Time off requests: Employees can submit time-off requests from their mobile devices using the
Deputy mobile app
Simple interface
Easy to create schedules in minutes
Set up different types of shifts, such as regular or short-term
Enter the number of hours each employee works on each day
| | |
| --- | --- |
| Pros | Cons |
| Meal and rest break planning  | No free trial is available |
| Straightforward to use |   |
| Easy to schedule shifts |   |
| Documents can be located easily |   |
Pricing: From USD 2.50 per user per month
#5 ZoomShift
ZoomShift is a cloud-based solution that helps businesses manage shift scheduling, employee time off requests, and scheduling. It's free to use on mobile devices and has a trial version available.
ZoomShift makes it easy to access your employee database from anywhere you have an internet connection. The platform allows users to schedule shifts as well as track their hours worked during the day as well as in advance of their taking off work (if applicable).
Features:
An easy-to-use and mobile-friendly interface
A wide range of features, including shift scheduling, time off requests, and employee profiles
The ability to schedule shifts, view schedules and track hours worked
A free 30-day trial for new users
A mobile app that allows you to access your employee database from anywhere
The ability to manage shifts from anywhere, giving you full access to your employees' schedules and hours worked
| | |
| --- | --- |
| Pros | Cons |
| Free trial for a month | Needs more customization features |
| Helps increase productivity  |   |
| Organized and easy to use |   |
| Very versatile and functional software |   |
Pricing: Available on request
#6 QuickBooks Time
QuickBooks Time is a cloud-based software that helps businesses manage their workforce. QuickBooks Time allows you to set up schedules, track hours, and manage your employees from anywhere with an internet connection. 
QuickBooks Time is an excellent option for small businesses that don't have an HR department; however, it may not be suitable for large companies that have more complex needs when it comes to scheduling and managing their workforce.
Features:
Track employee hours, manage schedules, and create reports.
Automatically email your timesheets to managers so they can approve them before being processed into QuickBooks.
Easily create schedules, track hours, and manage employees from anywhere with an internet connection
Track employee time cards and expense reports
Email timesheets directly to managers at the click of a button
| | |
| --- | --- |
| Pros | Cons |
| 30-day free trial | Only admins can do updates |
| Top-notch customer service |   |
| Create custom reports for specific projects |   |
| Ideal for small and medium businesses |   |
Pricing: From $8.00 per user per month + $20 base fee per month
#7 Monday.com
Monday.com is a cloud-based application that helps teams manage their schedules and workflows. It's designed to help teams collaborate, communicate more effectively, and save time and money on office expenses by streamlining processes like logistics planning, team training, and communication between departments.
With Monday's software, you can create multiple tasks for each member of your team to complete in order related to the project they are working on—and then assign different types of tasks based on their skill sets.
Features:
A calendar view that allows users to see every task and project in one place, regardless of who owns it
A messaging system that lets users communicate with each other about tasks and projects
An email integration feature so users can manage all their emails using Monday.com's software
Collaborative tools to help teams manage projects, tasks, and schedules
Integrations with Google Calendar, MailChimp, Dropbox, and more
| | |
| --- | --- |
| Pros | Cons |
| Unlimited boards, docs, and viewers on the basic plan | Requires coaching to reap the maximum benefits |
| Automation and integrations |   |
| Flexible and intuitive platform |   |
| Time-saving mobile apps for on-the-go project managers |   |
Pricing: From $8.00 per 4 seats per month
#8 Snap Schedule 365
Snap Schedule 365 is a cloud-based rostering software with a user-friendly interface. It has a very intuitive interface and is easy to use, even for people who need to become more familiar with rostering software. This makes it ideal for both new employees and experienced managers who need to manage their team's schedules from anywhere in the world.
The company provides two versions of its product: Snap Schedule 365 Personal 
Edition and Snap Schedule 365 Premium Edition (which includes more advanced features). 
Features:
Ability to work offline, which enables you to access your roster data even when there is no Internet connection
Multi-language support: English, French, and Spanish
Mobile apps for Android and iOS devices
Integration with QuickBooks Online, Google Docs, and Microsoft Office 365
| | |
| --- | --- |
| Pros | Cons |
| Customizable, drag-and-drop interface | Sale support could be better |
| One-click scheduling  | Users have reported bugs and glitches at times |
| Affordable and consumer-friendly |   |
| Adapts to all business sizes |   |
Pricing: Available on request
#9 Calendly
Calendly is a web-based scheduling solution that allows you to create and manage your schedule online. It's easy to use and integrates with Google Calendar, Office 365, and other popular apps (like Slack). 
It is suitable for small businesses or freelancers. Calendly offers free trials for up to 5 users who have signed up on their website.
Features:
Schedule appointments with your clients
Customizable booking forms for different types of appointments (e.g., consultations, calls, and workshops)
Integrates with Google Calendar and Office 365 calendar apps
Supports multiple languages and currencies
Ability to schedule appointments with multiple team members so that customers are only shown times when all of you are free
You can manage your schedule online. 
| | |
| --- | --- |
| Pros | Cons |
| Free trial for up to 5 users | Requires more workflow templates |
| Highly customizable  |   |
| Easy to create group events |   |
| Mobile app available on Android and iOS devices |   |
Pricing: From $8.00 per seat per month
#10 ClockShark
ClockShark is a cloud-based employee scheduling software that helps businesses in the hospitality and healthcare industries manage their workforce. ClockShark can be used to schedule, track and manage employees, as well as to create custom reports for payroll and tax purposes.
Features:
Automatically schedules your workers based on their availability and preferences
Tracks employee attendance and routes them to suitable locations at the correct times
Generates custom reports for payroll and tax purposes
Allows you to manage multiple locations from one account
Provides you with a single point of contact for managing your employees and locations.
| | |
| --- | --- |
| Pros | Cons |
| Quick customer support | Not fit for large businesses (over 100 employees) |
| Easy-to-use interface |   |
| Great time-tracking software |   |
| App mobility is good |   |
Pricing: From $16.00 per month
Wrap Up
If you want to use rostering software, consider the features it offers. The best rostering software can help you manage your employees' shifts and schedule efficiently. It also helps in giving them feedback on how they performed their work during the shift. With such tools, you can easily track your staff's performance and get accurate information about their activities.
FAQs on Rostering Software 
What Is The Importance Of Staff Rostering?
Staff rostering is a process of assigning employees to work shifts. It is essential to make sure that your staff is working the proper hours so they can get enough rest, which helps reduce absenteeism and increase productivity.
So what does all this have to do with your business? Well, if you're running a small business or sole proprietorship, then you need an effective way of managing your employees' schedules. This will ensure that everyone is doing their job at peak efficiency with minimal stress on both them and yourself (and maybe even some savings).
How To Roster Staff Effectively?
There are several things that you need to consider when choosing rostering software for your business. The first is whether or not the software can be used by everyone in your company, as well as other people outside of the organization. If this isn't possible, it may be better to go with an online application instead.
The second thing to look at is how much training will be required before employees start using the system on their own. Some programs are designed specifically for small businesses, and others have more advanced features which require more time before being able to work efficiently with them (this often comes down to budget).
What Are The Factors To Consider In Making A Duty Roster?
When you're building a duty roster, many factors need to be considered. Here are some of the most important:
The skills of staff
-What kind of job does each person do?
– Do you have someone who can help with customer service but not technical support? 
-Or do you have someone who can handle both roles? 
-If so, how well does this person perform in those roles?
The work schedule of staff members
-Are they available 24/7 or only during certain times (like night)? 
-How long will they be working each day before taking a break or going home at night? 
-Do they like staying late into the evening on weekends, or do they prefer taking their vacation time off instead?
Availability and location considerations
-Where is your business located geographically? 
-Is it close enough to customers without being too far away that employees might feel uncomfortable traveling there if necessary (and vice versa)?