The success of any organization depends on two crucial things: its product/service and its people. Be it a start-up or an established one, companies need hard-working as well as smart working personnel. A pool of talented and qualified employees can help an organization immensely in moving forward with its objectives as well as its financial goals. 
This is one of the main reasons why most companies across the globe invest heavily in talent acquisition and management. Unless an organization has the requisite talent, it cannot achieve its targets even if it possesses all other resources, including proper infrastructure, technology, management team, etc.
However, you need to remember that the process of talent acquisition is not as simple as it is made out to be. It starts with the identification of the right people for the organization and then taking appropriate measures to hire and retain them. 
Recruiting and retaining a talented workforce is a challenge. It's getting even tougher with tight budgets and cut-throat competition in every segment. If you are a part of the talent acquisition team, you need to be in the know about the growing issues and challenges. 
Here are the crucial challenges that most recruitment teams and companies face and the potential solution to overcome them: 
6 Talent Acquisition Challenges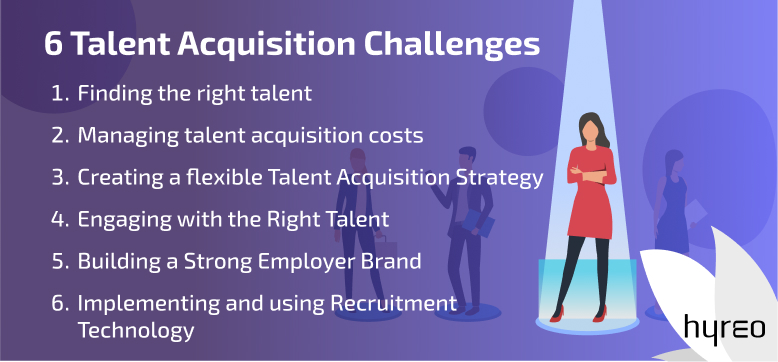 #1 Finding the right talent
Every time you post a job opening, you will get hundreds of responses.
However, how do you know which one is the right fit? Finding the right talent has always been challenging for talent management teams.
There is a difference between finding the best person for the job and the right person. So how do you find the person who is best suited? To start with, you will need to be clear as to what you are looking for in a potential employee.
Listing the requirements will help you, as well as the applicant, to understand if he/she is the right fit or not. An effective way to narrow down this is to create a questionnaire that the candidate must answer without being vague. 
#2 Managing talent acquisition costs
Cut-throat competition and constant pressure on companies to reduce operating costs have more than one drawback. This results not only in companies being forced to compromise on their product quality but also bargain on their employee hiring and retention budget. And unfortunately, this impacts the overall ability of the company to recruit the right talent.
Most companies rely heavily on cost-per-hire metrics to hire talent for unfulfilled positions, making it a bit tough for their HR departments. Research and data prove that most candidates want more than just good infrastructure and good leadership to enter a new job.
As per a Microsoft study, 73% of employees say they need a better reason to join a job than just the company's expectations. This is, however, only possible when the salary asked by an employee is within the cost-per-hire metrics decided by the company.
Read – Top Talent Acquisition Softwares
#3 Creating a flexible Talent Acquisition Strategy
Another big challenge that talent acquisition teams face while recruiting is creating a flexible and agile acquisition strategy. They are often asked to work on tight deadlines, stiff budgets, quality guidelines, and several other metrics, which make their job quite arduous.
They need to ensure that they have a robust strategy in place to hire the right talent and that too, as soon as possible.
However, it is easier said than done. Accounting for all applicable metrics and finding the right blueprint is not an easy task. 
Sometimes, hiring professionals end up focusing on the less essential things rather than deciding what the top qualities that they seek in a candidate are.
These are the ones with which they cannot compromise. Such situations result in a waste of time, effort, and money and can cause wrong hiring.
Check our detailed guide on talent acquisition strategy to help you navigate this.
#4 Engaging with the Right Talent
The job of the talent acquisition and management team does not start and end with hiring. One of the challenges they face is engaging with the right talent. It's a no-brainer that highly talented candidates often consider more than one job offers simultaneously. They are not the ones who will latch on to any opportunity that comes their way.
A study by Microsoft stated that almost 52% of Gen Z and millennials consider changing their employers frequently.
Hence, it is essential to make them believe that your organization is what they should look forward to.
But the bigger question is, how can you make this happen?
You must try to persuade candidates to choose your organization over your competitors.
Before contacting a candidate or interviewing a candidate, make sure that you know what motivates him or her and what makes him or her happy with his or her job.
You can often know this from their resume or social media profiles. 
We know how hard it is to hire Gen Z; you can check this detailed guide to hiring Gen Z.
#5 Building a Strong Employer Brand
The brand value of an employer goes a long way in attracting and engaging the right talent. As per a Glassdoor research report, employers that spend heavily on building their brand value are three times more likely to get the required talent than others. However, it is not as simple as it is made out to be. 
It includes ensuring a positive experience for new candidates as well as old employees that are already working with you. At a time when social media and sites like Glassdoor provide an easy platform for employees and candidates to bash their employers, maintaining a clean slate can be a difficult job.
You might think that this issue is more of a headache for the PR department. However, its repercussions can be felt by the HR department as well when candidates refuse an offer after looking at the negative brand image of a company.
There are a few things you can do, including asking for and acting on employee feedback, ensuring your company policies are in line with the overall brand value, using social media, and involving your employees in this process, etc. 
Also Read – A Detailed blog about the Employer Branding
#6 Implementing and using Recruitment Technology
Advancements in technology, such as Automation and the use of Artificial Intelligence (AI), have undoubtedly helped to hire teams significantly in finding the right talent for their organizations. Almost all large companies are using recruitment data and research metrics to improve and alter their recruiting process constantly.
However, implementing and starting to adopt such technologies can become an additional hassle for talent teams in the initial days.  Collecting data and processing them can require a lot of time, effort, and manpower. Although computers have become so much more powerful, they are still a long way from replacing manual work. 
3 Solutions that help in Talent Acquisition
There are ways and means to overcome acquisition challenges. While some can be done internally through due process, sometimes companies need additional help. This is what you can do: 
#1 Take the use of RPO service providers
You can partner with a Recruitment Process Outsourcing (RPO) provider to streamline your recruitment process. They can also help you create a suitable hiring strategy and build a strong employer brand to attract the best talent. 
#2 Train hiring teams
Nothing can work better than training your hiring teams about modern recruiting methods and technology. Though there may be a bit of financial investment involved, the results in the long term will be fruitful.
#3 Diversify Recruiting Strategies
Diversifying your recruiting strategies can help you reach the required talent pool quickly.
For example, you can use social media to post vacancies, showcase your organizational culture, etc. You can also attend job fairs and host recruiting events occasionally.
11 Strategies for Recruitment Marketing
10 Strategies for Startup Hiring
Conclusion 
Finding an employee is not as hard as it seems. However, finding the right person to do the job in the best way is where the challenge comes in. As mentioned, there are several steps you can take to overcome them. 
The job market is changing. So is the attitude towards work and organization, in general. While potential employees are willing to upskill and re-learn, companies also need to take a step forward to keep up with the people. This can be done with the right intent and technical prowess, where you can stay ahead of your competitors and attract the most talented workforce to your organization. 
FAQs on Challenges of Talent Acquisition 
What are the pillars of Talent Acquisition?
The 3 most crucial pillars of Talent Acquisition are Comprehensive Recruitment Strategy, Candidate Experience, AI-powered platforms for recruitment. Curating a delightful and memorable candidate experience leveraging a comprehensive recruitment strategy & recruiting platforms (ATS, CRM etc.) enables the organization to hire stellar talent in a cost-effective manner, driving exponential growth & customer outcomes. 
What are the top 6 challenges in Talent Acquisition?
Talent Acquisition is a process with many challenges, of which the top 6 are listed below:
Finding the right talent
Extremely high recruitment costs
Ineffective recruitment strategy focused on transactional or operational elements 
Engaging with the right talent
A negligible or non-existent brand entity 
Recruitment process inefficiencies & people dependencies cause challenges in scaling  
What are a few ways to resolve the challenges in Talent Acquisition?
A few ways to tackle the challenges faced in recruitment are:
Streamline the recruitment process by simplifying application, screening, and interviewing using tools & other effective processes 
Building a solid recruitment pipeline with diverse sources of talent
Leverage AI-powered technology platforms to drive down costs & to hire top talent at scale
Highly flexible & agile recruitment strategy helping hire top talent quickly and effectively
Building a strong employer brand 
Recruitment process inefficiencies & people dependencies causing challenges in scaling  
What are some key recruitment goals?
Some of the key recruitment goals are given below:
Source and hire top-notch candidates
Optimize and streamline recruitment processes
Reduce new hire attrition 
Increase candidate experience and customer satisfaction 
What is the difference between recruitment and talent acquisition?
While recruitment and talent acquisition are used interchangeably, recruitment is more transactional and focused on filling open positions. Whereas talent acquisition is a more strategic approach to hiring, ensuring a proactive and organized approach to scout for high-performing talent continuously, well-aligned with the company's vision & culture, helping strengthen the workforce.