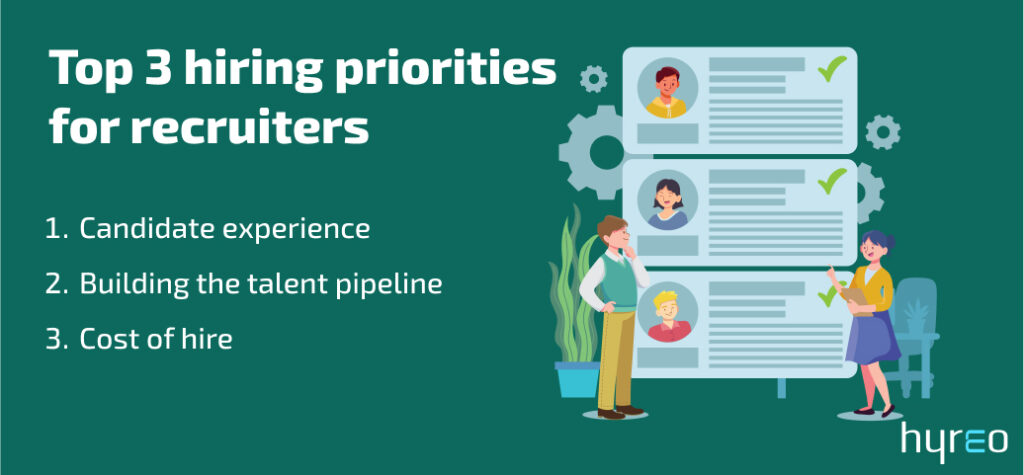 The recruitment landscape has witnessed a great number of changes in this age of digital transformation. With a higher emphasis on automation and AI, organizations no longer rely on the traditional methods of hiring to attract and retain quality talent. Modern recruiters are bound to have a well-defined talent acquisition strategy implemented for better hiring results. Every organization now needs to pick their talent acquisition battle smartly by maintaining a well-thought priority list managed by recruiters.
In the current scenario, we wanted to understand from the recruiters what element in the talent acquisition process do they consider as their top priority. Here we breakdown and analyze the results from the LinkedIn poll on what factor in the hiring process acts as a high priority element for recruiters.
Priority list for recruiters
The Hyreo LinkedIn poll was a direct question to the recruiters – In recruiting, which factor is your top priority? Recruiters were given a set of common high priority elements in talent acquisition, which included :
i) Time to hire
ii) Cost of hire
iii) Building the talent pipeline
iv) Candidate experience
Though all 4 elements are highly important in the hiring process, 43% of recruiters voted 'Building a talent pipeline' as the most crucial part of their recruiting strategy. Chasing candidates when there is a new requisition can be a tremendous pain for the recruiters. This is where a robust and high-quality talent pipeline plays a crucial role. Researches show that a well built, strong talent pipeline for future requisitions can decrease the overall time to hire by around 25 percent. A lot of recruiter effort can be minimized if there is an effective repository of all the candidates who have directly or through referrals, applied for any job with the organization at some point. Each time when there is a new requisition, rather than waiting for new CVs to pour in, recruiters can immediately kick start the hiring process with this existing database of candidates automatically provided via a CRM or ATS platform.
The factors 'Candidate experience' and 'Time to hire' received an equal percentage of votes, ie. 29% as part of the poll. In candidate experience, with the talent market facing a tight competition, it is of high priority for the hiring teams to give a solid reason for the candidates to choose your organization as their career option. A gratifying candidate experience has proven to be the deciding factor in the overall success of the recruitment process. At different stages of recruitment, which involves sourcing, screening, and onboarding, providing constant communication and building a positive candidate experience makes the candidates have a perception of the brand to be a great place to work. Recruiters should make sure that they put constant efforts and strategies in place to improve candidate experience.
Saving on the overall time to hire is definitely a key element in the recruitment process. As we say that nurturing candidate relationships and building a positive candidate experience is important, with the traditional recruiting methods, a major portion of the recruiter's time is spent in just completing the activities associated with each stage of the hiring process. With higher requirements, more time gets spent on finding, assessing, and hiring the right candidate. If we place more focus on optimizing the time to hire, recruiters can gain certain benefits like to understand the efficiency of the recruitment process, engage more frequently with the candidates and ensure that the right candidate is hired at the end of the day.
Though the cost of hire has not been voted as a priority element by the recruiters, it is essential to understand that focusing on the cost of hire and reducing the same can be super beneficial for the organization. Investing in the right tools, depending on the right vendors, and avoiding bad hires are some basic steps by which the overall cost of hire can be reduced. In short, for an efficient hiring experience, it is important to focus on decreasing the overall cost of hire.
For organizations, maintaining a priority list for the recruitment activities and building a well-planned recruitment strategy is a must-have. Operating in a recruitment market where the ultimate goal is to attract and hire top talent, recruiting teams need to look out for ways to survive and keep up with the changes in the market. When building a priority list, the basic idea should be to leverage technology and automation to build a quality talent pipeline, deliver a great candidate experience, manage cost and time to hire, and ultimately improve the overall hiring process. Also, while all these priorities can help recruiters up the hiring game, hiring teams should utilize data and insights to make intelligent and smarter decisions in talent acquisition.