Structures are important in life. With structure comes hierarchy. It is a known fact that there is some sort of hierarchy everywhere. You see it at home, where the father is the head of the family; the lion is the king of the jungle and the owner of any organization sits right on the top. 
However, what about who comes after them, and what is their role? When you look at an organizational structure, you realize it is important to define those 'other' places and form a hierarchy to know what each member of the team does. 
This is where the organizational chart comes in place. Those days of drawing a chart on a piece of paper or the computer are gone. You, now, need to clearly define roles, positions, and teams to know what employees need to do and report to. 
Organization chart tools help you create a more effective team and streamline your operations, then look no further. Instead of using paper or drawing a chart, you can now use tools to create an effective team structure in no time.
How The Best Organizational Chart Tools Are Compared
When looking for the best organization chart tools, these are a few things you need to consider.
#1 Free or Paid
The first thing to consider when finding a suitable organizational chart tool for your business is whether or not it's a free tool or if it requires a paid subscription. If you're just looking for a quick and easy way to make an organizational chart, then a free tool may be the best option for you. 
However, if you're looking for advanced features that allow for collaboration between team members and managers, then a paid tool may be more suitable for your company goals. 
#2 Mobile App Support
In today's world, most people are using a smartphone or tablet for just about everything, including creating an effective organizational chart.
If you want to use one of these tools while on the go, then you need to make sure it's compatible with your device. You will save a lot of time and hassle if you can just use your device as a tool instead of being forced to go back home and use a desktop computer.
#3 User Interface/Usability
When creating an effective organization chart, you want it to be as easy as possible for your team members to use the product. If a tool is difficult to use, then people will have trouble working with it and won't be able to get everything done promptly.
UI includes things like the design of the user interface, how easy it is to navigate through the program, and what features are available. You want to make sure you select a tool that has an intuitive interface and is easy for everyone on your team to use.
#4 Customer Support
Customer support is an important aspect of any product, but it's especially important when it comes to a charting tool. You want to be able to get in touch with someone if there's an issue and have them help you solve it quickly so that you can get back to work. The more responsive the customer support team is, the better.
Features To Look For in Organization Chart Tools
Looking for features in a charting tool can be overwhelming. There are so many different things that they do, and not all of them are necessary for what you want to do.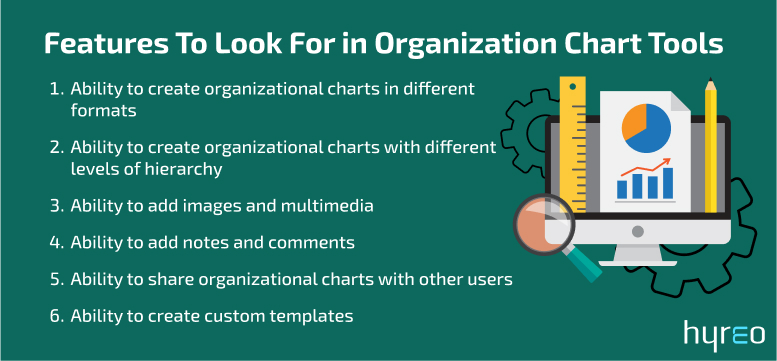 We've done some research for you and found the most important features to look for when choosing an organizational chart tool.
#1 Ability to create organizational charts in different formats
A good charting tool should give you the ability to create an organizational chart in different formats. The most popular options are mind maps and tree diagrams, but there are other formats as well. This allows you to choose how your graph looks and makes it easier for others in your organization to understand.
#2 Ability to create organizational charts with different levels of hierarchy
To create an organizational chart, you need to be able to show various levels of hierarchy. A good tool will allow you to create two-dimensional or three-dimensional graphs that give different levels of detail about employees within a company or organization.
#3 Ability to add images and multimedia
An organization chart is more than just a few lines on a page. It's an opportunity to show off the people in your company and highlight their accomplishments. A good tool will allow you to add images of team members, as well as videos and other multimedia content.
#4 Ability to add notes and comments
A good tool will allow you to add notes and comments about each employee, such as their position or how long they've been with the company. This can help you keep track of important information in one place rather than having it scattered across multiple documents on your computer.
#5 Ability to share organizational charts with other users
Your organizational charts should be accessible to everyone from one place. This can be especially useful when there are multiple people in charge of managing the company's staff or when there are managers within departments who need to keep track of their direct reports.
You should be able to share the organizational chart with other users in your company, so they can view it on their computers or mobile devices. This is especially important for companies that have employees working remotely or who travel frequently.
#6 Ability to create custom templates
You should be able to create custom templates for your organizational charts so they reflect the company's unique structure. For example, if you have a small business with a few employees and one owner who does all of the hiring himself, there's no need for an elaborate chart that includes dozens of managers and supervisors.
8 Best Organizational Chart Tools
#1 Creately
Creately is a web-based diagramming tool that allows users to create flowcharts, wireframes, organizational charts, and sitemaps. The software has over 30 million users worldwide and offers more than 1 million templates for different types of diagrams.
Features:
Runs on a smart visual canvas
Collaboration tool with a single dashboard overview
Drag-and-drop and customization features are available
Offers pre-made templates for a quicker start for beginners and professionals alike
Exports lists from Excel
| | |
| --- | --- |
| Pros  | Cons |
| Collaborative whiteboard software | Unknown errors can occur |
| Visual collaboration platform | It can be difficult to use in a large team |
| Block diagrams are very effective when used properly |   |
Pricing: Free public plan. Paid plan starts from $5.00 per employee per month
Read – Pre Employment Testing Softwares every Recruiter should know
#2 SmartDraw
A comprehensive suite of business planning and project management software, SmartDraw is a great option for creating an organizational chart. It's easy to use and has many features for creating professional-looking charts that include customizable colors and fonts. You can also add pictures, shapes, and text boxes to your diagrams.
Features:
Thousands of diagram templates for every profession—engineers, marketers, lawyers
Google Workspace, Microsoft Office, and Atlassian stack integrations
Visio import and export
Ability to import and export spreadsheet data into various formats
Single Sign-On (SSO)
Document retention and security
| | |
| --- | --- |
| Pros  | Cons |
| The software provides many templates you can use to create charts right away | You have to pay for advanced features like analytics |
| Multilayer capabilities keep your maps free of clutter | The home and design tabs are not accessible at the same time. |
| Helps create charts that can be understood at a glance |   |
Pricing: Enterprise account for less than $1 per employee per month
#3 Organimi
Organimi is a web-based application that allows you to create and manage your organizational chart. It's free for up to five users but has a premium version for larger teams. You can use Organimi as a way of tracking team members' tasks and milestones.
Features:
Import data from a CSV or Excel file
Create charts/directories/photo boards using the templates provided
You can fully customize charts by adding custom fields, brand colors, and design elements.
Share your chart by generating a public link, sending an invitation to view it privately, or embedding the iFrame version on another page.
Printing options that are well-suited to almost any need
All your favorite tools can be linked to Organimi.
| | |
| --- | --- |
| Pros  | Cons |
| An excellent tool with a user-friendly design and an intuitive interface | The software only works on desktop computers and not mobile devices. |
| The software is easy to install and does not have any technical requirements or dependencies. | You can only export to a PDF or PNG file. |
| It is compatible with all operating systems, including Windows 10, macOS, and Linux. |   |
| Free trial available |   |
Pricing: From $10.00 per month
Read – Best Employee Onboarding Practices
#4 Lucidchart
Lucidchart is a diagramming tool that allows you to create diagrams and flowcharts. The online tool has a variety of templates to choose from, as well as the ability to collaborate with others on your projects. It also has the ability to import files from other programs like Excel and Word if you need them.
Features:
Create diagrams and flowcharts.
Collaborate with others on projects.
Import files from other programs like Excel and Word.
Supports a variety of file formats, including PNG, SVG, and Microsoft Visio.
| | |
| --- | --- |
| Pros  | Cons |
| They offer a wide selection of templates and charts to choose from. | Categorization for content is confusing. |
| Economical diagramming tool |   |
| The expandable canvas is a great tool, according to many users |   |
Pricing: Free.
#5 Draw.io
Draw.io is a free online diagramming software that can be used by individuals and teams to create diagrams of all types. The platform includes a variety of pre-made templates and allows for collaboration with other users, so it's great for both beginners and professionals.
Features:
Ability to create flowcharts, wireframes, UML diagrams, and more
Pre-made templates available for the quick creation of charts and diagrams
Offers an online drawing tool for collaboration
A vast array of figures makes this tool ideal for a variety of tasks
| | |
| --- | --- |
| Pros  | Cons |
| The user interface is also very intuitive and easy to understand for beginners. | Sometimes it takes effort to connect the shapes |
| A great tool for making drawings without paying anything extra. |   |
| Easily export files in multiple formats. |   |
Pricing: Available on request
Read – 5 Best Resume Screening Software
#6 Miro Software
Miro is a tool for visual collaboration that helps teams of all kinds unlock creativity and accelerate innovation. With its infinite canvas, Miro makes it possible to lead engaging workshops, design products, and brainstorm ideas—all from one place!
Features:
Miro Developer Platform
Integrations are available to developers and partners
You can embed Miro content in your applications or create your tools using the Miro API
REST API provides access to our content and functionality so you can build whatever you need
| | |
| --- | --- |
| Pros  | Cons |
| Ease of use | It can be slow and confusing for newcomers |
| Quality of support  |   |
| Commenting and voting tools can be very useful for team collaboration |   |
| Ideal for all business sizes |   |
Pricing: From $8 per employee per month (billed annually)
#7 Pingboard
Pingboard is a web-based software that allows you to create and share organizational charts. It's completely free for anyone who needs an easy way to organize their employees, projects, clients, and more.
Features:
Offer the option of integration tools with a wide variety of HR software
Provide analytics such as headcount and budgeting
Allow the ability to rearrange an existing chart if there is no longer relevance
Lets users update lists as they grow (or shrink) over time
| | |
| --- | --- |
| Pros  | Cons |
| The easy drag-and-drop interface lets you add new teams, departments, or sub-departments | There are no advanced features like analytics and reporting available |
| You can share your organizational chart with others so they can quickly add new employees or projects too. |   |
| Import data from other tools like Microsoft Excel and Google Sheets |   |
Pricing: From $119.00 per month
Read – Best 10 Free Employee Scheduling Software
#8 OrgWeaver
OrgWeaver is a cloud-based tool that allows you to create, update and share organizational charts. OrgWeaver's interface is simple and easy to use with drag-and-drop functionality, so it's perfect for anyone who doesn't want anything complicated in their organizational chart app.
Features:
Supports multiple users in a single account
Collaboration features like document sharing and commenting
A drag-and-drop interface that allows you to easily create and modify organizational charts
Supports multiple chart types, including Matrix, Radial, Pyramid, and Tree
| | |
| --- | --- |
| Pros  | Cons |
| You can also access your files from anywhere using the web app. | It's not a complete solution for large teams and businesses |
| The software is easy to use and supports collaboration between teams. | There's no integration with other project management tools like Trello or Jira |
| It comes with a lot of features that make it easy to create, modify and share an organizational chart. |   |
Pricing: Available on request
Wrap Up
We've covered a lot of ground in this article, but we hope that you now have a better idea of how to use Organizational charts for your organization. If you're looking for a way to communicate clearly with your team members, Organizational charts can be invaluable. 
They make it easy for everyone to see who's responsible for what and how they fit into the bigger picture of the company.
FAQs on Organizational Chart Tools
What is an organizational chart?
An organizational chart is a diagram that shows the structure of an organization. It displays the names and positions of each employee as well as reporting relationships, communication tools, and other important information. 
Organizational charts can help you understand your company's objectives and how it operates. So that you can make better decisions regarding your career or business relationship with them.
What are the benefits of an organizational chart?
There are mainly 5 benefits of using an organization chart for your business:
1. It helps you to understand the structure of your organization by providing a visual representation of the hierarchy.
2. It helps you to see who reports to whom and how communication flows through the company.
3. It allows you to identify the key players in your organization so that you can get to know them better and make them feel valued.
4. It helps you to see how changes in the business might impact your organization.
5. It helps you to see where gaps exist in your organization's structure and processes, which can help improve communication between employees and increase productivity.
How do you create an organizational chart?
There are many different ways to create an organizational chart. The first step is to gather all the information you have about your company, including employee titles and responsibilities, as well as reporting relationships. 
Once you have this information, you can use it to build an organizational chart that is easy to read and understand. It's easier than you think!
All you have to do is:
1) Identify your organization's structure.
2) Brainstorm who reports to whom and how communication flows through the company.
3) Ask around and get feedback from others in your organization.
4) Once you have all of this information, create a flowchart that shows how things work in your business.
5) Share the organizational chart with everyone who has input into it so that they can provide feedback before finalizing it.