Companies have to ensure that they do whatever is necessary to keep up with the ongoing practices and trends. This should, ideally, allow them to be updated with the trends while outdoing the competition. 
One of the ways to do this is to be updated with the latest technologies and innovations that would help them do more and be more productive. Similarly, they also have to enhance the recruitment process that would permit them to hunt the best talent and look for the best candidates that can bring in the best skills and talent. 
Having a great HR team and hiring managers would ensure that companies can shortlist from the pool of candidates efficiently. 
Hiring is more or less like a gamble. In some cases, the successful candidates might not turn out to be a good match as you expect them to be and in some cases, they can turn out to be a tremendous asset. 
However, talent acquisition teams have to come up with better ways to narrow down the best list of candidates that can provide your company with productivity and the skills required. Shortlisting candidates would be the right way to ensure that you narrow down the best candidates for the interview process.
What is Candidate Shortlisting?
Hiring teams constantly strive to attract, assess and acquire talent in a relatively short period of time. This would allow them to find the best talent to boost company productivity and performance, minimize recruitment costs and enhance the candidate experience. Candidate shortlisting is one of the best ways to optimize your hiring process. In this, you review job applications to select the top candidates that are best suited for the vacant job position based on pre-shortlist criteria. 
With the help of the shortlisting process, HR teams and hiring managers can sift through all the resumes and cover letters that they have received to further narrow down the search and look for the best candidate that would be the right talent for your organization. 
How to Create a Candidate Shortlisting Process?
Shortlisting generally comes after you have found and attracted candidates that are interested in the job posting. However, when you have a lot of resumes and cover letters you need to come up with a process that allows you to handpick candidates that are more suitable for the job position available. Hence, you 'short list' the best ones and move ahead with your hiring process and leave out the rest of the candidates. 
Different HR teams and hiring managers have different ways to shortlist candidates. Hence, you need to ensure that you know how you can create the right candidate shortlisting process that can help you pick and sort the best candidates for the hiring process. 
Here are 6 steps on how to create a candidate shortlisting process.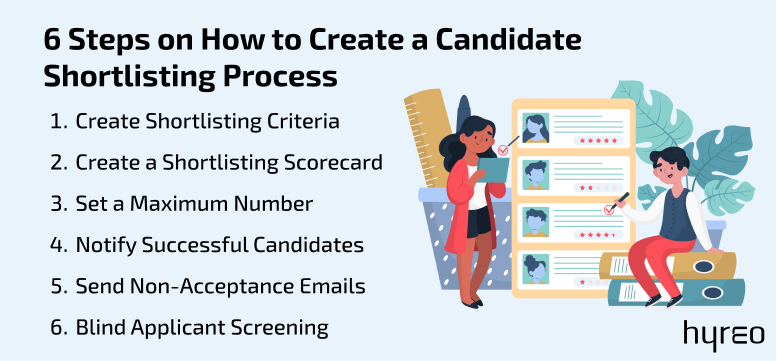 #1 Create Shortlisting Criteria
Even before you decide which qualified candidates you want to shortlist you need to create criteria for shortlisting. For this, you need to create a minimum level that these candidates must have. 
To create the right assessment criteria you need to find the right balance between keeping the standards you need for the company. However, at the same time, you have to ensure that you aren't very strict with the list of mandatory criteria as that would keep out a lot of qualified candidates. 
Hence, to find the right balance you need to create proper criteria based on the qualities and traits of top-performing employees. Also, you need to consider factors like minimum education, work experience, skills and knowledge, competencies, and personality traits.
#2 Create a Shortlisting Scorecard
Similar to an interview scorecard, you can also create a scorecard for shortlisting candidates that can help you sort the best resumes and cover letters. This would allow you to speed up the resume screening process and move on with the interview phase. You can assign ratings for each factor and that would help you to sort the best candidates based on the scorecard. This would also eliminate any bias or delay in shortlisting the candidates. 
#3 Set a Maximum Number
The whole point of shortlisting is that it must be 'short'. Hence, you cannot keep adding more and more candidates to your shortlisting list because that will only make things hard for you to choose the right candidate. Set a maximum number of how many candidates you want to add to your shortlisting list as you move on to the interview stage. As per industry standards, on average only 12 out of 100 candidates are shortlisted and invited for the interview process. 
#4 Notify Successful Candidates
Once you are done shortlisting candidates, you need to email and notify them about the next process. You can get on with scheduling an interview or do a video interview to congratulate them and keep them in the loop on how to proceed with the interview round. 
#5 Send Non-Acceptance Emails
Similarly, you also need to notify unqualified applicants that haven't made it to the shortlisting list. Sending non-acceptance emails to them would be a good way to explain why they weren't selected for the applied position. This would leave them with a positive impression of the company and provide the right candidate experience. Sending emails to hundreds of applicants can be time-consuming and you can use AI to send those emails. 
#6 Blind Applicant Screening
Many HR teams and hiring managers also prefer to go with the blind applicant screening method where they remove all the demographic information and leave out only the criteria relevant to the empty job position. 
Conclusion
Identifying the right candidate from a large pool of candidates can be the hardest part for the HR team and hiring managers. Hence, shortlisting the candidates would be the right way to get things done and ensure that you can find candidates that meet certain criteria that you need going forward. Apart from narrowing down the list of candidates, shortlisting also helps with setting the standards and improving the talent acquisition process. 
Setting up your shortlisting method would allow you to optimize the hiring process and acquire the best talent within a relatively short period of time. It saves time as you don't have to screen resumes and cover letters which can be overwhelming at times. 
FAQs on Shortlisting Candidates 
How long does the shortlisting process take?
On an average, it should take anywhere from two weeks to shortlist candidates and proceed with the interview process.
Can using AI make the shortlisting process more efficient?
Yes. Many automated tools and programs today can help you screen candidates based on the pre-determined criteria you set. These tools can also help with notifying the selected candidates, scheduling the interview, and sending reminder emails. 
Can candidate shortlisting help reduce the company's costs?
Shortlisting the candidates can allow recruiters to focus on applicants that match the job requirements and needs. With a faster hiring process, HR teams can reduce recruitment costs and acquire the best talent. 
How do you segregate skills when it comes to shortlisting?
For shortlisting, you need to create criteria to help you handpick ideal candidates. You can subdivide the skill segment into mandatory skills, essential skills, and value-added skills to find the best screen candidates without any discrimination.
What if you are not sure what criteria to include in the shortlisting process?
In that case, you can look to the best employees currently in that position. If the position is empty you can ask the department head what qualifications would they want to see new hires have.