When hiring managers are looking to fill a vacant position, they're usually at the mercy of the job market. But by taking a proactive approach to recruitment, you can build a more controlled, strategic, and effective hiring process—and better candidate outcomes.
In the simplest terms, proactive recruitment is the process of identifying and engaging with candidates long before a position comes open and they're not actually "candidates" at that point. Rather, they're people with skill sets in a given geographic area and job role, with whom you have built a relationship with
That way, when a position is available you have an active recruiting pipeline of people who can fill the role quickly and, more importantly, will be a good fit.
What is Proactive Recruitment
Publishing a job posting and crossing your fingers isn't the best strategy to attract the right talent.
The same goes for filling in skills gaps only after the situation at your organization starts to be critical. That's why you need to have proactive recruitment strategies in place.
Proactive hiring is the process of acquiring talent based on future goals and expectations, giving managers more time to discover and train employees for specific roles. To effectively do this, management must first understand which departments are projected to grow and which teams can expect increased workloads. Hiring teams can reap the benefits of proactive recruitment by mapping out these long-term expectations and begin building stronger teams as a result.
Unlike reactive recruiting, proactive recruiting doesn't depend on candidates applying for a position after it's open. Instead, proactive recruitment focuses on identifying talent before its demand, establishing contact, nurturing relationships, and ultimately making the candidate interested in an open opportunity.
As an employer, creating a proactive recruiting strategy creates a doorway to controlling and improving your candidate's experience and attracting great talent.
Proactive recruiters are much more like marketers and/or salespeople and tend to treat their candidates as customers. Candidates once sourced, enter into your  recruiting funnel or rather a series of stages ultimately resulting in the candidate working for your company. To be ready to start recruiting proactively, you initially have to have a recruitment plan that ties in together with your strategic workforce planning.
5 Important Benefits of Proactive Recruitment
Engaging in proactive recruitment can bring a number of advantages to the way you hire staff. Not only does it hamper the time it takes to rent the proper people, but it also paves the way for a better hiring and interviewing process. Let's take a more in-depth understanding of the benefits of proactive recruitment.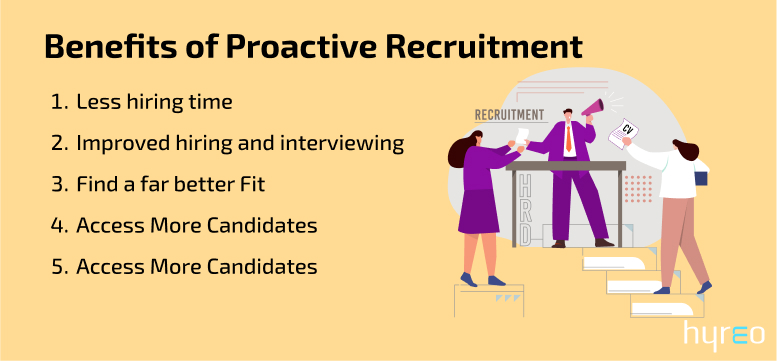 #1 Less hiring time
The standard thanks to hiring people is transactional. It requires the proper people coming to you. But if you flip that process on its head and proactively hunt down the simplest candidates for the work, tons of the groundwork of building relationships has already been done. By working proactively, recruiters  can not only forecast their hiring needs more accurately but also map what they're trying to find beforehand.
#2 Improved hiring and interviewing
When you  interview a candidate, remember that they're interviewing you as well. If they don't have an excellent experience, they're unlikely to  go forward with the opportunity and consider your offers in the future.
Employing a proactive recruitment strategy allows you to interview better and make a streamlined process for hiring the proper people. As you've already reached out to the potential candidate before and built up a relationship with a candidate long before you interview them, both parties will be more open and honest about what they're expecting from the role.
#3 Find a far better Fit
When you hire proactively, you are  able to understand your candidates better. Better candidature fit also improves employee retention, as they know your company's values and culture, and are unlikely to leave for a different job.
The better fit, also improves employee retention. With candidates who are more aware of your company's values and culture, they can make better decisions on whether they want to join or not.
#4 Access More Candidates
Proactive hiring gives you the time to connect with more potential candidates, including the  best talent in your field. Creating connections with more candidates through your recruitment marketing, newsletters, talent networks, or other proactive steps can make sure that you discover the absolute best fit for the work.
#5 Improved Employee Retention
Proactive recruitment can actually assist you to retain staff. One of the biggest reasons that employees leave companies is burnout. But by ensuring that there are a variety of candidates able to jump in should an employee leave, you'll lessen the impact it'll have on your remaining employees.
Rather than having to figure twice as hard to hide the absence left by an outgoing employee during the search and training period, proactive recruitment can confirm that there's an appropriate candidate able to step in at very short notice. 
Proactive Recruiting vs Reactive Recruiting
Proactive recruitment is the opposite of the more traditional reactive recruitment method. Reactive recruitment is when you start the recruiting process after a role is made vacant. In this scenario, there's more pressure on the hiring manager to find the best talent quickly so the team isn't hit with organizational stress, lost income, and decreased productivity.
But with proactive recruiting, you attract talent and then fill the role when it opens up, staying ahead of your hiring needs. Proactive recruitment is singling out the best employees for roles within your organization that aren't available yet. It's picking out ideal employees before demand. It is focussed on sourcing, engaging, and attracting candidates before hiring demand. With the ever-increasing time to rent and price per hire, it is sensible for recruiters to interact with both internal and external candidates proactively and stay ahead of the hiring demands and competition.
Reactive recruitment is all about the here and now, meaning that a corporation" reacts" to the loss of an employee by launching an employment hunt once a position has been vacated. Reactive recruitment fills an instantaneous need for workers, instead of anticipating needs going forward. Reactive recruiting is the least aggressive type of recruiting. A reactive recruiter is waiting around for an open position or active candidate and isn't hunting, awaiting the simplest outcome to fall under his/her lap.
6 Crucial Phases of Proactive Recruitment
Proactive recruiting involves nurturing a relationship with potential candidates, engaging with them, and keeping an open dialogue until a role that fits their skills opens up in your organization.
As a hiring manager, you'll need to shift your approach to recruiting, put on your marketing and sales hats, and walk your potential candidates through a strategic recruitment pipeline:
#1 Identify Ideal Candidate Qualities
Speak with the manager that oversees the vacant position, as well as current employees in that role, to determine the skills, competencies, and personality traits the ideal candidate would have. Then, create a candidate profile based on that information.
#2 Find Your Candidates
First, dig into your organization's current talent pool. Connect with managers or mentors to see if they can refer employees who fit the role and can be internally hired or promoted.
Next, use your database of previous candidates to find prospects. See if any previous applicants match the ideal candidate qualifiers and move them into the next phase.
LinkedIn, Facebook, Instagram, Reddit and Twitter all have unique online communities where employees and industry leaders go to network and connect. Find those groups, events and channels, and join the conversation.
Lastly, create an open talent portal where interested prospects can submit their CV/resume and contact information for future reference. This could be as simple as having an open call for applications on your careers page so prospects can still apply for a role, even if it's not currently open.
#3 Engage With Them
Your first interaction with the prospect should be casual and personalized. Send them an email or connect with them on social media with a direct message that introduces yourself and mentions something about their profile or background that stands out to you. Then, introduce your company and ask them what they're looking for in their next role.
This initial message should focus more on them than you, and offer to provide more details in another message, call, or email. 
#4 Nurture The Relationships
Nurturing your prospect involves keeping your company and the role top-of-mind. You want to keep them informed without overwhelming them with information or annoying them with too many messages.
Nurturing could include interacting with them on LinkedIn, scheduling and sending out emails with information on company achievements or reports or sending well-timed direct messages checking in and offering any further information.
#5 Attract Them to The Position
A great employer brand attracts 50% more qualified applicants and reduces cost-per-hire by 50%. Not to mention companies with strong employer brands hire one to two times faster.
Build out your social media presence by sharing valuable information, reports, and employee reviews or interviews. Use engaging media like videos or graphics, promote interaction on social media with Q&As or polls, and notify candidates when positions open up via direct messages or emails.
Prospects at this stage should receive more attention from hiring managers since they have a higher chance of converting into candidates.
#6 Convert Them into Candidates
Once the right role opens up, make sure your top prospects know about it and encourage them to apply. After they send in their application, keep in communication with them. Update them on any progress, be transparent and help them prepare for the interview stage.
Even if they aren't hired, you can keep their information in your back pocket and continue to nurture the relationship. You never know if a better-suited position comes up later. Ensuring a positive candidate experience can also attract more top talent, as candidates are more likely to recommend your company to their peers or friends, even if they aren't selected for the role.
8 Proactive Recruitment Strategies to get the Right Hire
To be ready to start recruiting proactively, you need to create a recruitment plan that ties in together with your strategic workforce planning. It is always better to become a proactive recruiter instead of a reactive recruiter who looks for candidates only after the position has been created. There are a few proactive recruitment strategies that will help you in organizing your recruitment process and get The Right Talent on Board.
#1 Analyze hiring needs and skills gap 
The initial step to making a recruitment plan is to recognize your hiring needs and where there are skills gaps that your current talent can't fill.
A skills gap test is an efficient perspective on the qualities and shortcomings of your current team and recognizing which skills you have to bring on board. 
#2 Sourcing
Finding the correct talent is not, at this point, only an issue of concluding whether to cast a wide net or narrow down your search. Use AI to focus on your particular crowd. The objective ought to be to make numerous candidate streams to give you an expanded pool to enlist the most qualified candidate. 
#3 Candidate Experience
We live in a universe of open correspondence, and on the off chance that you have a disappointed employee, they are unlikely to  remain quiet about their complaints. To ensure this is an important issue and to support the ceaseless pipeline, it is critical to ensure the applicant has a wonderful experience, while they are applying and meeting in the entire hiring process.
#4 Build a talent pool
Building a talent pool or talent community delivers a selection of bodies ready to fill roles as and when they become available. They are the very definition of proactive recruitment.
Develop your online presence and visibility. Being online and available to chat is a great way to reel in interested parties even with the passive and uninterested ones.
Working on your SEO, engaging in social media, being unmissable is imperative. You need to be the face that is everywhere the candidates look.
#5 Employer branding
Employer branding is a company's chance to tell potential candidates why you're the place they want to work. Research has shown that companies with a strong employer brand receive 54% higher-quality applicants, Quality of shortlisted candidates increase by 22% and the employee fit increases by 9%
Employer branding involves promoting a company as an employer to a target market of potential candidates that the company wants to hire.
#6 Nothing Beats Networking
There are so many apps and systems to get people talking. All you have to do is utilize them to see where your most aligned thinkers are and start building relationships. Networking is the best way to keep your brand being talked about and in conversation in all spaces, providing candidates with more information. Which in turn brings in a good talent pool.,
#7 Make applications as easy as possible
The harder you make it for anyone to engage with or apply for a role, the less likely you are to create the contact you need. In those first important steps, just ask for the basics.
Asking for the information you need when you need it, makes the process less cluttered for your applicants and easier to carry out at each step.
#8 Build relationships through engagement
Video content is one of the biggest players over all of the platforms at the moment. They let you personalize your content to specific roles and areas of operation where your candidate pool is low on numbers. Active job-hunters are always scrolling their feeds at work for good engaging content.
Conclusion
There are several reasons that your organization should have a proactive recruitment strategy. For one, proactive recruitment is important for fostering goodwill and interest among qualified candidates. If you only ever wait until you have hiring demand to engage candidates, you might lose out on highly desirable prospects. It should come as no surprise that the most qualified candidates will also be the ones with the most competition, which is why it's important to practice proactive candidate engagement.
FAQs on Proactive Recruiting
Why is recruitment strategy important?
It is also considered to be a key contributor to a firm's competitive advantage. A well thought-out and innovative recruitment strategy not only streamlines your hiring process but also consistently and effortlessly attracts top-tier candidates.
What is a recruitment strategy plan?
A strategic recruitment plan is a detailed roadmap on how to attract high-caliber talent for your organization. With piercing clarity, it outlines employer brand messaging, which candidates are to be targeted, the primary sources for hires, and anything else needed to make your recruitment program a resounding success.
What is the process of recruitment?
The recruitment process involves finding the candidate with the best skills, experience, and personality to fit the job. It requires a series of collecting and reviewing resumes, conducting job interviews, and finally selecting and onboarding an employee to start working for the organization.
What is the difference between proactive and reactive recruitment?
Proactive recruitment is all about anticipating the staffing needs of a business and working ahead to ensure that the best candidates are plugged into available roles. By contrast, reactive recruitment focuses on the immediate hiring needs of a business.
What are 5 recruitment strategies?
1. Exhibiting a distinctive value proposition
2. Emphasizing on non-traditional sourcing channels
3. Getting talent inside quickly
4. Competitive packages and benefits always win
5. Focus on assessment methodologies