Turning a simple idea into a million dollars business is not a one-person job. It requires the right team with excellent skills and relevant experience. Hiring the right people is one of the main foundations for any business. If you fail to bring the right talent to your company, then forget about being successful. Recruitment has become incredibly competitive in today's world. Companies don't just have to wade through huge number of applicants to find a suitable candidate, but they also have to convince the top talent to join their organization.
According to a report, the cost of hiring a new employee is about $4000 and it takes 42 days on average to find the right candidate. While the hiring process is unavoidable, you can use recruitment software to decrease the overall time and cost it takes to hire a new employee. In the pandemic era, hiring the right people would have been nearly impossible, but thanks to recruitment software, you can find the rockstars for your company in minimal time.
68% of recruiters say the best way to improve recruiting performance over the next five years is by investing in new recruiting technology. More recruiters are relying on recruitment software to improve their productivity, widen their reach to get the right candidates, streamline their hiring pipeline, and save time by automating their tedious, but necessary tasks. 75% of recruiters use some form of recruiting software and 94% of those who use recruiting software say it has improved their hiring process.
Thus, if you're looking for a modern recruiting tool, there are a few options available in the market. But the important thing is: that it's not about the platform you choose; it's the way you plan to use it. In this article, we'll dig into what factors you should consider while buying recruitment software, and how specific features can help you accomplish your goals. '
Also Read – Strategies to implement employer branding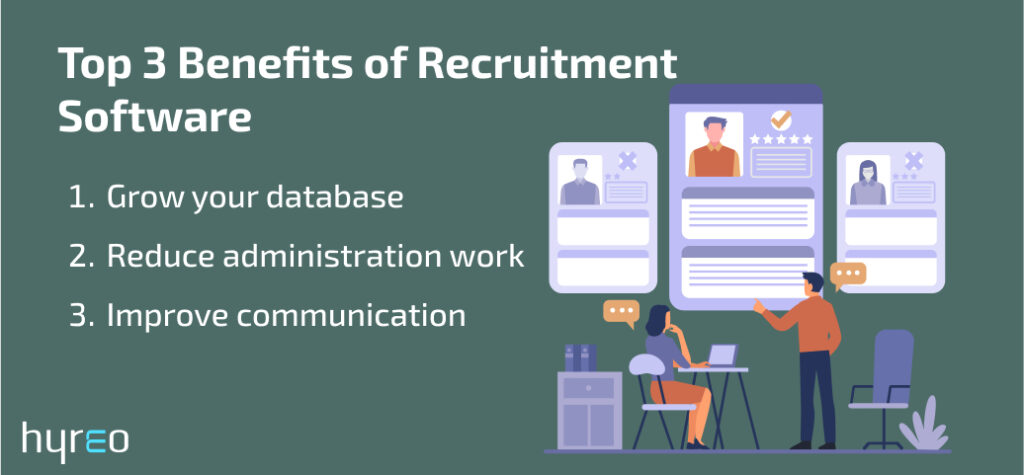 What is Recruiting Software?
Recruiting software is software that helps organizations optimize the hiring process, from finding and attracting candidates to screening resumes and sending out offer letters. Recruiting software is often called an applicant tracking system or ATS, though these two are not exactly the same.

Recruiting software is a broader category that encompasses applicant tracking systems as well as other tools that focus on individual phases of the hiring process. Similarly, CRM (candidate relationship management) recruiting uses another type of recruiting software similar to an ATS.

However, while an ATS manages applications for any given job, a CRM is a tool for nurturing relationships with potential job candidates. In other words, an ATS is more focused on active job applicants, while a CRM is used to build a pool of talent eligible for future job openings.
Today's recruitment market consists of talent acquisition suites and recruitment solutions that cater to a wide range of users – in-house talent acquisition reps, head-hunters, and recruiters that work in recruitment agencies. First, you need to identify which category you fall into and which type of solution is critical to sustaining long-term growth. In the battle for hiring top talent and improving the speed of your hiring process, one of your most valuable weapons is a platform that helps you optimize your hiring pipeline and offers features that help you achieve iterative growth. 
According to Fortune Business Insights research, the Recruitment Software market is expected to grow by $3 billion by the end of 2025. Many businesses use the software, from agencies to SME's and from large enterprises to new start-ups. Based on the same report, the services industry uses the software more than all other industries, and its market share is 35%. North and South America is on top of the list for regions holding a 45% market share that uses the recruitment software as the essential pillar for their HR departments. 
4 Use cases of recruiting software
A recruiting technology stack is a combination of technologies used to find, attract, and hire the best talent. It will help improve the business impact on recruitment activities and connect and hire more qualified candidates. Only with the best recruitment technology stack can a business outperform its competitors in the war to hire the best talent.
Applicant tracking systems, candidate relationship management platforms, video interviewing tools: these are just a few of the types of recruiting software a hiring team might use during the hiring process. While these terms may look familiar, few recruiters know how broad the recruitment software category really is. Recruiting software generally fits into four categories which are: –
Sourcing: Sourcing software helps recruiters identify and recruit candidates.
Engagement: engagement software helps organizations streamline communication between recruiters and candidates in order to keep recruiters and candidates connected throughout the hiring process.
Selection: selection software accelerates the process of identifying qualified applicants.
Hiring: after selecting a candidate for a job, hiring software helps organizations coordinate the hiring and onboarding processes.
7 Types of Recruiting Software
Applicant Tracking System: 
To put it briefly, an ATS provides an all-in-one solution for managing job applications, resumes, candidate data, emails, and job postings.
Candidate Relationship Management System: 
A CRM is an intelligent tool that functions as an engine that drives your sourcing activities by allowing recruiters to create talent pools and build and nurture relationships with passive talent and previous candidates. According to a State of Sales report by LinkedIn, 64% of companies say CRM tools are very impactful for recruitment businesses.
Recruitment Marketing Tools: 
Recruitment marketing tools are designed to automate, streamline and improve recruitment marketing operations. In other words, recruitment marketing tools help attract top talent through various recruitment marketing methods.
Tools for sourcing and attracting candidates: including job ad software, chatbots, career page building software, and recruitment marketing tools. 
Conversion tools: these platforms and integrations attract qualified candidates to an option position and give you data points on how to convince them to apply; website analytics, heat mapping, and retargeting tools, for example. 
Candidate selection tools: resume screening software, skill-testing tools, and video interviewing platforms help recruiters narrow down their search. 
Onboarding platforms: these tools send new hires their paperwork and guide them through their first few weeks on the job. 
8 Benefits of Recruitment Software
Due to its growing popularity, there is a wide range of recruitment software in the market. Thus, it is very important for business and organization to consider which software will be beneficial for the, before buying off the rack. Each software is produced to meet specific requirements, multiple functionalities as per the need of the organization. The benefits of recruitment software are: –
Speed up the recruitment process –
One can access all the necessary information and reach both candidates and employers from anywhere and at any time of the day and you are always updated as all changes are introduced automatically to the system. It allows you to reduce the time it takes to identify and hire the right people.
Grow your database –
There is no longer a need to filter through piles of papers when you can store all of the resumes and job applications in one place. You may also enable candidates to log into the platform and upload their CVs themselves which allows you to achieve a wider reach.
Reduce administration work –
You can save hours of work once you automate posting jobs on several job-boards sites. Imagine posting a job to a range of job-boards with a single click! With recruitment software, you can also use a shared calendar and thus simplify scheduling interviews.
Increase hire quality –
Storing all the resumes in one place also enables you to find better candidates in a much shorter period of time as you can classify the received CVs into various categories and then filter them while searching for candidates with specific skills. That way you make sure you match potential candidates to suitable job positions.
Improve communication –
Using one system, recruiters can stay updated on every task their team is handling. As well as this, they can update any information taken on a candidate during every stage of the recruitment process, keeping all of your notes attached. Digitally moving candidates through the process helps you to treat all of the candidates equally.
Keep track of job applicants –
To make sure you consider each of the applicants while filling open job positions, the system automatically updates any action taken on a candidate, with all of your notes attached. Moving candidates through the hiring stages online allows you to ensure none of the applications goes missing.
Improve your performance –
By keeping track of all of your candidates, you can also provide better performance. Once you analyze how many job positions you fill and how many candidates you reject on each of the hiring stages, you can notice important inefficiencies and opportunities to become a better recruiter.
Secure sensitive data –
While hiring, you gain access to extremely personal details of each of the candidates. Using a recruitment software solution, you can be sure they are all stored in one secured and encrypted place and can only be accessed by you and your team.
Choosing the Best Recruitment Software
With so many options on the market, how do you know how to choose the best recruiting software for your business? 
Identifying Goals –
Start by understanding what you hope to achieve by adding recruiting software to your hiring process. What challenges will your tool help you overcome? Many firms start using recruitment software to help get more candidates to their careers site, improve how recruiters approach passive candidates, or to lower new hire turnover rates. Define a specific goal to make your search for recruiting software more focused. 
Establish you 'Must Have' Features – |
identify what features your software tool must have. It's critical that your tool integrate with your existing platforms and data sources, from your social media channels to email, career sites, third-party staffing platforms, and any existing recruiting software you may already be using. What else does your tool need to be able to accomplish based on your recruiting goal? 
Budget Determination –
One of the most crucial and important factors while choosing a recruitment software is the pricing point. While some will charge you pay per recruiting manager, others might pay per hire and some both. Its best to estimate recruiting software costs a few different ways, so, you're prepared to compare pricing no matter what, removing all paths of sudden surprise.
Functionalities of Tools –
All tools should have some kind of reporting and analytics function to help you assess if your hiring is improving. Look to see how intuitive the reports are and if you need additional support to get set up pulling data from all your sources. 
Create a list of Preliminary Contenders – Once the parameters of goals, tools and budgets are established, vendor listing and proposals should be narrowed down to a handful. The vendors should fit into your budget and must come with software that suits all your need and features.
Examine Vendor track Records and Take a Demo –
Beyond features and budgets, it is important to know the reputation of the vendor within the industry along with their offerings. Security features, Accreditations, Customer testimonials, references, technical support facilities, HR Suite integrations are some the things that needs to be checked. Lastly Take a demo or free trial of the software in question, to experience how it fares for your company and aligns with its goals.
HR Technologist highly recommends that you find a tool that comes with built-in sort-and-filter capabilities to help find the right candidates quickly. Look for recruitment software that approaches hiring with the same efficiency as a sales and marketing campaign. The best recruiting software will support features such as:
Email automation
Ad publishing
Video communication
In-app messaging
Candidate relationship management
Skill testing
Also Check – Virtual Hiring Events Solution
Pricing of Recruitment Software
Software cost varies by provider, but when it comes to cost, it's important to keep in mind the difference between in-house and cloud-based recruitment software. In-house software is installed directly to your computer, live in your company's server, and is managed by your own IT staff.

Cloud-based software is housed in the provider's server and accessed via the web. Cloud-based software therefore requires no internal IT support. In 2022 recruitment software costs range from $48 to $950 a month. Prices adjust in direct relation to features, number of employees to access software, and the number of candidates added each month. The final consideration will be using an ASP system or a client-server.
In general, larger organizations prefer in-house software, which allows for greater control, while small businesses prefer the convenience of cloud software. With that in mind, in-house software can cost between $1000-$5000 per user.
Companies requiring ten or more users can receive a discount, but should expect to pay as much as $30,000 or more. Moreover, these numbers do not include setup fees (which can run into thousands of dollars), training costs, licensing fees, and ongoing technical support. Cloud-based software usually requires a monthly or annual subscription fee, ranging anywhere between $500-$2000 per year.