Businesses and companies are looking for innovative ways and solutions that would allow them to cut down their costs and improve efficiency and productivity. Most companies still prefer to stick to conventional seating arrangements where every employee has an assigned desk or cubicle to work from. However, some businesses are looking for unconventional methods and ideas to bring down the overall business cost by adopting uncommon seating arrangements. 
Today, various companies prefer to make use of hot desking arrangements where employees are assigned desks on a first-come, first-served basis. This is done to minimize real estate costs, optimize space utilization and improve desk efficiency. However, to ensure that you can make the most of hot desking methods you need to have software that can help you manage hot desking the right way. 
What is hot desk booking software?
While the idea of hot desking sounds good to keep the business cost low, it can cause a lot of inconveniences if it is not done the right way. For this, you need to look for a hot desk booking software which is a space utilization tool that helps employees to book spaces that are most appropriate for their needs. 
While many software companies have come up with their version of desk booking programs you need to be clear about which one you can use for your business. Having the right programs for hot desk booking can make things easier for the employees as well because they can book their places the right way, view desk availability, and ensure better team performance. 
In the post-pandemic world, many companies have teams working from home and therefore the amount of space used isn't the same. Hot desk booking can help with team cohesion and ensure that employees stick together and work with remote team members the right way.
7 Benefits of Using Hot Desk Booking Software
Having the right employee seat booking software can make things easier for both employer and employee. Hence, many companies are now looking for better programs that can make things easier and make the most of the office space.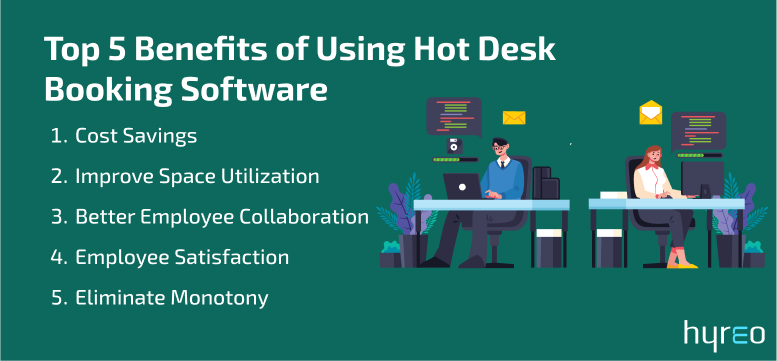 Let's take a quick look at the 7 benefits of using hot desk booking software.
#1 Cost Savings
One of the main reasons and benefits of using hot desk booking software is that it saves money. When you are adopting hot desking in your company you reduce the real estate cost by a margin. With the help of hot desk programs, companies can maximize the use of existing floor space and ensure better use of the office space and would not be required to think of expanding the infrastructure uncessarily. 
#2 Improve Space Utilization
Incorporating hot desking can also allow you to improve space utilization because you can reassign the same desks to different employees in different shifts. In the post-pandemic world, not all employees work from the office and therefore it has become necessary for various private offices to come up with solutions where they can optimize the space used in their offices. 
#3 Tidier Workspaces
The concept of hot desking and assigning certain desks to employees can also help you keep your office space cleaner and tidier. Instead of allotting a fixed space in the office, you can incorporate hot desking and make use of employee seat booking software that would bring all the employees closer.
#4 Better Employee Collaboration
Using employee seat-booking software also fosters the habit of better employee collaboration. This encourages employees to move around the office and talk to other members instead of having routine conversations only with a few close associates. This can help promote better teamwork, and employee engagement forges new connections and acquaintances and enhances cross-department rapport. With the help of the hot desk booking program employees can decide what desks they would prefer as per their work requirements. 
#5 Employee Satisfaction
When you have a fixed assigned spot, many employees might not be happy with the desk designated to them. With the help of hot desking, you can provide an opportunity for employees to choose where they want to sit. 
#6 Eliminate Monotony
Working at the same desks for many months and years can get boring and monotonous. Hot desking can help you eliminate boredom and monotony because employees have the opportunity to sit at different desks and that would allow them to have more control over where they would prefer to sit and work.
#7 Swaps Traditional Structures
The idea of senior executives sitting in their offices and juniors working in a cubicle might sound conventional but it creates a sense of division within the organization. With hot desking, you can get rid of that and bring all departments and employee levels to the same space. This would make employees feel that they all are equal and they have the power to decide where they want to sit in the office for the day. 
Criteria for Choosing Best Hot Desk Booking Software
If you have plans to incorporate hot desking in your company office you need to make use of the best programs and software that you can find. This would provide you with the best ways to allow employees to decide and book a seat as and when required. 
#1 Simple and User-Friendly Interface
When you are choosing employee seat booking software you need to look for the ones that offer simple and easy UI. Having software that can provide a better experience to employees would encourage them to use them often and also reduce the learning time. This would make things easier and quicker for your company. Also, you need to know that different employees use different devices like smartphones, laptops, and tablets and therefore the software must work seamlessly on different devices. 
#2 Seamless Integration
While you are searching for hot desk booking software you need to look for programs that offer seamless connection and integration with your current business technologies. This would ensure that your employees can use it with their existing business email accounts and technology. It also should work with collaboration tools like Zoom and Slack and that would ensure that you can have an excellent hybrid workplace.
#3 Branding Features
When you are choosing employee seat booking programs you must also focus on how you can allow visitors, clients, and even board members. Therefore, the software you choose must have certain branding features allowing you to make the most of the options. With this, you can make changes to the software and use your brand logo, colors, and icons that would help you personalize the software.
#4 Booking Conference Rooms
Apart from making bookings for the office desks, the software must also have features to help employees book conference rooms for their conference meetings. This would allow relevant employees to book their seats for the conference room as well. Also, when you have a program that can allow employees to look at the seats available they can decide what space and desk they want to book for the upcoming conference meeting. This also saves time because employees can quickly occupy their booked seats and get on with the conference meeting. 
#5 Add Permissions
When you are choosing employee seat booking software you must also focus on how you can add permissions to the program to ensure that certain employees have access to certain office floor plans. If you have plenty of interns and freelancers working for your company you can assign a separate space or floor plan for them to ensure that they don't interrupt your core team. Similarly, you can have the ability to provide better access to employees performing well.
#6 Integrated Floor Plan Maps
Choosing programs that also come with office floor plan maps would make it easier for employees to find their seats when they come to the office. Having employee seat-booking software would allow employees to find their way through the office when they arrive. This can also help clients and visitors to get help with directions when they work from the company office. 
#7 Reporting and Analytics
When you are shifting to hot desking in your company and using hot desk booking software you need to focus on how well the system works for your company. This is critical because you want to ensure that employees are happy with it and they are using the right way to make it more productive. Choosing software that can provide you with the right data collection and reporting options would allow you to gather valuable insights without having to ask the staff. 
#8 Technical Support
Like all apps and software, you need to look for programs that come with technical support and assistance. This would ensure that you can have all the help you need when you have questions or when there are certain issues with the system.
Top 5 Best Hot Desk Booking Software
#1 Skedda
When you are looking for employee seat booking software that can provide users with accountability and privacy you can choose Skedda. The software is designed to provide the right seat booking options and that there are no double-booking errors. 
With this, you can book desks, conference rooms, company resources, and even a presentation room. The software is compatible with Mac, Windows, Linux, Chromebook, Android, and iPhone. The software also provides 24X7 email, phone, and chat support.
#2 Eden
Eden is designed to provide an all-in-one flexible workspace management experience. With this, you can book work desks, manage performance, do room scheduling, and much more. Eden is a more mobile-centric program and therefore it works on Android, iPhone, and iPad. It also provides email and phone support. 
#3 Robin
Robin is one of the popular desk booking software that can help employees book meeting rooms, switch desks, and find teammates with just a few clicks. The program works for all business sizes and helps you manage your hybrid workplace. With Robin, you can manage occupancy, emails, and space, and do Calendar sync as well. It is compatible with Mac, Windows, Linux, Chromebook, Android, iPhone, and iPad. It also provides 24X7 phone, email, and chat support. 
#4 Envoy
Envoy is a simple solution for managing visitors and employees on multiple floors. If you have vendors and contractors visiting your office they can make use of this desk booking software to book their desks and conference rooms. Envoy also has a free trial version and therefore companies can try it before opting for various monthly plans. 
#5 Officely
If you are already using Slack for your business you can make use of Officely which allows you to let your employees book desks and rooms in your office. The software can integrate with Slack and allow employees to organize office events and monitor attendance. With this, employees don't have to download another program.
Conclusion
There is no doubt that hot desking is an effective workplace strategy. However, it is important to have the right software and solutions that can make things work for your office. With the right software, you can offer more control to employees over where they want to sit and how they can optimize the office space, create better team bonding and work effectively. 
FAQs on Hot Desk Booking Software
What is the average desk-to-person ratio for hot desking?
Generally, companies prefer to assign 2 to 4 employees on one desk. However, different businesses have different needs and requirements. 
Will hot desking work for my company office?
Not all businesses adopt hot desking and benefit from it. Hence, you must evaluate your business needs and find out how collaborative desk arrangements would work for your business. 
Does it work with different work programs?
If you are already using a business program you need to ensure that you look for hot desking programs that can integrate with your existing and current business technology. 
Can I use it with Outlook?
Plenty of companies make use of Outlook for email and therefore most of the hot desking programs work with Outlook. However, you must evaluate the features and compatibility options.