In a competitive candidate-driven market, companies have to keep up with filling up vacant positions and hiring the best talent they can find. Hence, hiring managers and HR teams understand the importance of keeping their hiring process short and effective. 
When done effectively, an interview process can allow an employer to evaluate the skills, personality, and experience of the candidate. However, before you get to the interview process you need to attract the right candidates and schedule interviews.
Interview scheduling isn't just a task but a long process that can consume plenty of time and effort for the talent teams and managers. The process initiates with you deciding what candidates are fit to move on to the next round for an interview. 
Apart from making a list of candidates that you want to call for an interview you also have to:
 Identify the slots with the hiring team, 
Keep the email content ready and handy, 
Identify the skills you will be evaluating and create a set of questions that will help you assess them
Send them the emails to set the interview date
Reschedule the interview date as per the applicant's preference
In a modern technological world, most companies and HR teams leverage the use of the best interview scheduling tools and software that can do the heavy lifting and allow employees to be more efficient and productive. 
What is Interview Scheduling Software?
An interview scheduling software is a tool that can help you streamline the entire hiring process using Artificial Intelligence or AI. This includes coordinating with the hiring team on the available time slots, scheduling candidate interviews, automated communication with the applicants, creating interview scorecards, and reminding interviewers to submit their feedback.
With the help of automation and integration features, HR teams can improve the candidate experience and also shorten the candidate sorting process as the software does that for you. This can help companies to connect with top talent faster and eliminate candidate loss caused by delayed email communication processes.
Why Should You Use an Interview Scheduling Software?
While some companies still schedule interviews the conventional way, many companies are now incorporating newer technologies to speed up the process.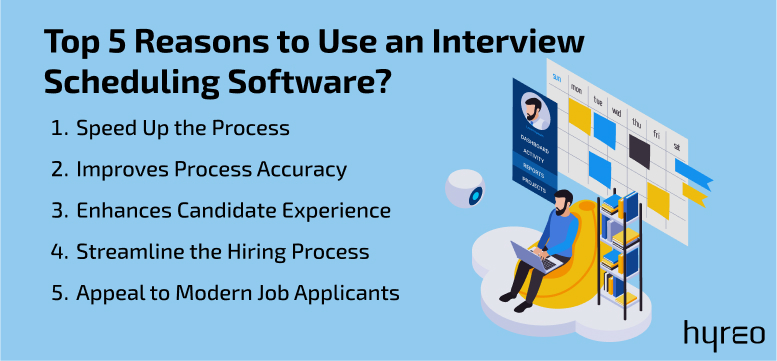 With automated interview scheduling, companies can streamline the talent acquisition process which would offer them greater flexibility and improve efficiency.
Let's take a quick look at 10 reasons why you should use the best interview scheduling tools.
#1 Speed Up the Process
The interview scheduling process can be tiring and time-consuming for HR managers and teams. The process involves a lot of back-and-forth communication and connecting various people to ensure a smooth interview process. This can lead to many other delays which can eventually hamper the experience of the interviewer and the applicant as well. With the help of the best interview scheduling software, you can maintain speed and accuracy in the hiring process. Various recruiters and hiring managers prefer to use these tools to make the scheduling process more efficient and reduce hiring cycle time.
#2 Improves Process Accuracy
A well-written job description can make a huge impact and get you the right candidates for the interview process. However, emailing and communicating with all the candidates personally can make things difficult. Automation lends speed to workflows and ensures that the AI can handle a part of the process. The software can handle the communication email and reschedule the interview and even remind candidates on time to ensure that there are no human errors.
#3 Enhances Candidate Experience
Companies and HR teams understand the importance of candidate experience, especially in campus hiring. Freshers are observant and first impression matters to businesses that want to constantly and consistently attract top talent. With the best interview scheduling tools; companies can eliminate the constant back-and-forth emails and streamline the process. Automated interview systems can reduce the chaos and can reschedule the interview dates and process without much interference from the interviewer.
#4 Offer Scheduling Flexibility
In a candidate-driven market, companies need to know how to acquire the best talent. Hence, companies must provide the right candidate experience. For this, companies need to provide flexibility to potential candidates for the interviewing process. An automated interview scheduling program can reduce the need for multiple emails and communication between the two to schedule interviews. It can set the right date based on interviewers' or candidates' preferences and notify the other party automatically. 
#5 Streamline the Hiring Process
It is a known fact that companies can lose candidates due to a slow hiring process. While your HR team is communicating back and forth with the candidate it is likely that they have already interviewed with your competitor. Automated interview scheduling can speed up the process and eliminate scheduling delays. This can also reduce the number of candidates who drop out of the interview process. Choosing the right interview scheduling software can help you streamline the hiring process to secure the top employees for your company's needs. 
#6 Eliminate Human Error
When you have plenty of candidate interviews, things can get hectic. Emailing various candidates and scheduling them for the interview process can lead to stress and, subsequently, human errors and biases. An interviewer can miss sending a rescheduled email due to other priorities or a busy schedule. However, with automated interview scheduling software, you can eliminate all such issues and eliminate human errors and biases.
#7 Focus on Priorities
HR professionals and teams today have a lot to work on to ensure that they attract, assess, and acquire the best talent for the company. Also, they need to speed up the hiring process while offering the best candidate experiences. Automated interview scheduling can make their lives easier and help them focus on core issues and priorities as AI does most of the rescheduling work. During campus hiring, HR teams can use this additional time to connect with the candidate community and promote their brand. 
#8 Appeal to Modern Job Applicants
Apart from hiring the best candidates and finding the right talent, companies need to constantly work on how they promote their brands. Switching to new technologies for the hiring process can make your company more appealing to digitally savvy candidates who prefer to use modern tools and apps. Many young job candidates would prefer digitalization of the hiring process and having an automated interview scheduling program can help you attract such talent. 
#9 Connect with a Larger Talent Pool
In the post-pandemic scenario, many job applicants and candidates prefer not to travel. Hence, many companies today prefer to conduct online video interviews. This would allow them to connect with a larger talent pool and find the best new employee for the company. With the help of interview scheduling software, you can connect with these candidates and communicate effectively to get on with the interview process.
#10 Get Analytics Information
Most interview scheduling software comes with built-in analytics. This can provide you with the relevant data you need to make your hiring process efficient. With the relevant data, you can identify areas of improvement and how you can streamline the interview process. Data analytics help you make informed choices for employer branding, better talent quality, and higher conversion rates. 
11 Key Criteria to Select Best Interview Scheduling Software
Companies today are willing to invest in technologies that can help them become more efficient and productive. Investing in interview scheduling software can speed up the hiring process and enhance the candidate experience, but before you make an investment, you need to be clear about what you want from these programs and systems. Different recruiters have different needs, and requirements and therefore different software caters to different needs. 
It is always a good idea to have clarity on what you want and how these programs can help you achieve your goals before you move ahead with the purchase. 
#1 Demo Options
Here are 10 key criteria to select the best interview scheduling software.
Having a demo option offers more convenience to companies because they have the flexibility to choose the right software based on their demo experiences. Not all software companies would provide you with to demo their interview scheduling software before purchase. However, if you have the demo option for software, you can download the demo and try out the features and user interface, and performance before you decide if you want to buy it or try another one. 
#2 Excellent Calendar Management
The software you choose for automated interview scheduling must have excellent calendar management. This allows users to create and/or update interview times on their calendars. The software then automatically syncs across all parties and calendars like Google Calendar and Microsoft Outlook.
#3 Good AI Features
When it comes to interviewing scheduling, you need to choose a program that has better AI features that can trigger all calendars and send messages to candidates updating their status, or informing them about the interview process. This can save a lot of time and effort that otherwise goes into interview scheduling. 
#4 Dynamic Interview Scheduling
There is always a possibility that the candidate may not be able to make it for the interview due to any reason. For instance, if there is a medical emergency, he/she may wish to reschedule it. With a dynamic interview scheduling feature, the software can reschedule the interview date and time more than once, saving plenty of time and unwanted back-and-forth emails. 
#5 Meeting Room Locations
When you are using the best interview scheduling tools, you also get the feature to specify the exact rooms and locations where the interview will be held, in the case of in-person interviews. This makes it convenient for the candidates and the hiring managers to be clear about the location of the interview.
#6 Multiple Device Syncing
People today switch across multiple devices and therefore, it is necessary to have a system that can sync information across all devices. With the best interview scheduling software, you can have the data synced across all devices when any new interview is coming up, or when the data or notes are updated.
#7 Availability Settings
Apart from conducting interviews, HR professionals and interviewers have other tasks to complete. Hence, they can set their availability timings and dates in the software which would make it easier for others to find the right available timing and date. 
#8 Setting Reminders
Using the best interview scheduling software would also allow you to set and trigger reminders before an interview. This would ensure that all related parties have received the reminder to ensure that the interview process is successful.
#9 Excellent Customer Support
Various recruiting software platforms also provide excellent 24X7 customer support and assistance with any queries or issues you have when handling the software. They can additionally provide you with comprehensive HR resource guides to help you make the most of the software.
#10 Choose the Right Plan
Some software companies can offer you basic and premium plans that have different features packaged with them. However, you need to compare these plans before you decide what plans you need as per your recruitment requirements. When you are clear about your requirements, you can be sure that you don't overspend. 
#11 Total Pricing
Various recruitment platforms and software companies would offer different custom pricing for the interview scheduling software they offer. However, you need to focus on how you can get the best value-for-money experience.
For this, you need to know how many employees will be using the software. Some software companies would charge you per head, while some companies might have a fixed price for a certain number of employees. Also, you need to be clear about how many locations you will use these tools as the cost would increase when you will use software from multiple locations.
Best 5 Interview Scheduling Software in 2023
#1 Freshteam 
You can optimize your interview process with interview scheduling software by Freshworks. The software ensures better calendar integration for better results. It also helps book all the meeting rooms beforehand, provides remote interviewing options, and provides help with the interview kit. It can also collect feedback online. The software offers a free trial option.
Pricing: Free version available. Prices start at INR 84 per month per user plus INR 5199 as platform fees/per user per month for the basic Growth Plan. The Enterprise Plan will cost INR 336/employee/month plus INR 14999 platform fee/month
#2 Calendly
With Calendly, you can book more interviews, increase the candidate pipeline and fill more roles faster. It also has easy-to-use UI/UX to minimize the learning curve. With Calendly, companies can enhance the candidate experience, book interviews from LinkedIn Messenger, and offer integration with various applicant tracking systems. It also has excellent security and compliance features to secure your business data and be ready for an audit. 
Pricing: The software also has a trial offer. Calendly team plan starts at $16 per head per month.
#3 Yello 
Solve all interview scenarios with the Yello interview scheduling suite that provides you with features to invite candidates to self-schedule, brand all communications, see ROI analytics and reports, and comply with privacy and security protocols. The suite also integrates with your ATS and CRM and syncs with Google Calendar or Outlook 365 in real time.
Pricing: Pricing available on request 
#4 Rooster
Rooster is a state-of-the-art enterprise interview scheduling tool that offers full, bi-directional integration. It allows recruiters to fully automate the scheduling process with just a few clicks and settings. The software also provides insights and reports to help you enhance candidate experiences. You can request a demo of the software.
Pricing: Pricing unavailable on the website
#5 ModernLoop
Bring efficiency into your recruiting operations with ModernLoop, which allows you to get the best interview scheduling experience. The solution integrates with email, calendar, Slack, Zoom and Google Meets, and any other ATS your company uses.
Pricing: Pricing unavailable on the website
Conclusion
Speeding up your hiring process and enhancing your candidate experience is critical for most companies. Hence, various HR teams and hiring managers today use the best interview scheduling tools that allow them to automate the candidate interview scheduling process. This helps them to make the interview scheduling process more efficient and effective. However, choosing the right software is critical based on your company's needs and requirements and total cost.
FAQs on Interview Scheduling Software 
Is it essential for all businesses to automate the interview scheduling process?
Not necessarily, but if you notice that you are spending more time on finding the right time slot for the interview or candidates dropping out in the middle of the hiring process, you need to look for automated solutions.
What are the benefits of interview scheduling software?
Interview scheduling software saves time, delegates resources, increases efficiency, minimizes availability conflicts and manages compliance, and keeps all parties in the loop.
What are two types of interview scheduling software?
Interview scheduling software is either cloud-based or local programs.
Can interview scheduling software help me lower recruiting costs?
Yes, it can. However, you need to evaluate the total cost of purchasing the software. Also, it would help if you focused on how dynamic your interview process is and how you can benefit from using this softwares.