One of the most dynamic and fast evolving industries, with global suppliers and consumers, the e-commerce landscape is becoming highly crowded and competitive. With Digital transformation being a key differentiator and a top priority for companies, talent with highly specialized and par-excellence technical skills have become a hot commodity in the talent market. 
While the pandemic provided a major boost to the e-commerce industry, it also severely impacted the talent market, with highly qualified people leaving in droves, making it a very candidate driven and skilled labor scarce market. Hiring in such conditions for conventional roles is an uphill task, let alone highly specialized e-commerce roles. 
So, with the latest e-commerce trends driving home the need for digitization and operational efficiency, let's take a quick look at how these companies have evolved in 2022 with their most sought after roles and a few new age e-commerce hiring trends to crack e-commerce recruitment with a robust E-commerce Recruitment Strategy. 
How does E-commerce look in 2022?
Per Forbes, the e-commerce industry is becoming crowded and is predicted to account for 20.4% of global retail sales by the end of 2022, up from only 10% five years ago. 
While covid wreaked havoc on most businesses and led to some of them folding prematurely, it proved to be a boon for the e-commerce industry. The consumers, being wary of venturing out amidst the pandemic, resorted to buying all their essentials from online stores. This led to many companies adopting the online model of retailing, if they hadn't already done so and others expanding their online offerings, diverting stock from their conventional offline stores. 
Insights into E-Commerce Recruitment in 2022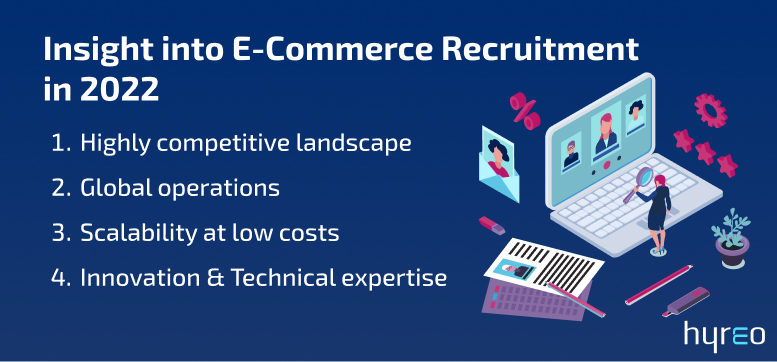 Either way, e-commerce has been at the forefront of businesses, from food to clothes to electronic goods and hardware, dictating their sales and marketing strategies, improving their market penetration and product offerings.    
#1 Highly competitive landscape
The drastic change to work arrangements, employment status and availability of essentials, spurred by the low entry barriers, e-commerce companies are mushrooming all across the world. This makes for a highly crowded and competitive market, requiring unique and innovative offerings to differentiate from the competition. 
#2 Global operations
With the rising demand for novel merchandise, saturation in the domestic markets and ease of international shipping, many e-commerce companies have expanded their operations globally.  A recent survey has revealed that 76% of online shoppers have made purchases on sites outside their own countries, showing a clear trend of rising global consumerism. So while companies go global in hunt of markets and supply, they do so for top talent too, with more companies vying for similar technical and business expertise across the world. 
#3 Scalability at low costs 
Moving to e-commerce is a no-brainer for most businesses with the lower operational costs and deeper access to consumers. The online platform enables a faster scaling of operations and expansion to diverse and international markets. Here efficiency in operations (supply chain,  logistics etc.) becomes key to growing and sustaining profitability, with strategic use of talent and automation to drive higher business outcomes. 
#4 Innovation & Technical expertise 
More companies are establishing an online presence with heavy investments in making their websites and mobile apps attractive and appealing to online buyers. This has led to a proliferation of e-commerce roles related to visual appeal, usability, reach & performance of websites and mobile apps such as Software engineering, UI/UX design, Data analytics & Marketing. 
Some of the key e-commerce trends that are driving technological innovation in online retail have been enumerated below:
Augmented Reality (AR) enhances online shopping experience
Growing volume of voice search with smart speakers 
AI & Big data help provide personalized and customized shopping experiences to customers  
Increased customer engagement with promotional videos & chatbots  
Flexible payment options per customer convenience
Optimized digital strategy for customer conversion & loyalty    
Most sought after roles in E-commerce  
As more companies go online and others embrace Digital Transformation, companies are redesigning their talent acquisition strategy in e-commerce. While building operational efficiency and scalability are deemed important, so are the products, services and features needed to attract, build and sustain a robust customer base. The most popular and sought after roles can be broadly categorized into Software Engineering, Operations, Customer Service, Data Analytics & Marketing. 
#1 Software Engineering
Software Engineering is a critical part of the e-commerce roles with the development, testing, maintenance and support of website, mobile and other applications and interfaces necessary to run smooth operations 24/7. From creating & evaluating appealing, fast, intuitive and high performing websites to financial modeling and forecasting to overseeing the entire e-commerce team and interacting with customers, Software Engineering spans a lot of crucial roles that account for 32% of the open positions in the e-commerce industry. 
A few of the critical Software Engineering roles are as follows:
Web developers
Business Analysts
Quality Assurance Analysts 
Project Manager
Product Manager 
#2 Operations 
With the supply chain and logistics being the backbone of e-commerce, it is important to hire the best talent for the operational roles. From ensuring quality and safety of raw materials procured and goods produced to managing inventory to timely deliveries, managing a smooth running supply chain is critical to any e-commerce company's success. Here, a robust technical infrastructure of databases, networks and servers, running uninterrupted, is also essential to support all organizational and customer needs. 
A few of the important Operations roles in e-commerce are as follows: 
Supply Chain Manager 
Procurement Team
Warehouse Manager 
Warehouse personnel 
IT specialists
Also Check – A detailed Guide to hire Genz in 2023
#3 Customer Service 
With overlapping operational responsibilities, Customer Service professionals are required to ensure customer satisfaction and delight all through to ensure continued patronage and loyalty. With improved logistics across the world and tight competition in the e-commerce space, customer delight is crucial for every order, with one disappointing experience enough to send customers over to other competitors. So, here, having employees with the ability to manage irate customers and provide valuable operational support and feedback to the requisite department for resolution is key to building strong customer loyalty. 
Some of the key roles in Customer Service are: 
Customer Service Manager 
Customer Service Representative 
#4 Marketing 
Tight competition in the e-commerce space makes company branding critical to attract and retain customers for company profitability and expansion. Towards that, the Marketing team is crucial to company success, with the overarching responsibility of adding new customers via marketing programs and campaigns, enhancing its online brand image and positioning. It typically involves roles from SEO & content specialists, graphic & UX designers and product marketeers. 
A few of the important roles in Marketing are given below: 
Digital Marketing Manager 
Content Manager   
SEO content writer 
Graphic designer 
#5 Data Analytics 
To provide and sustain high quality services to customers, e-commerce companies look to treating customers like royalty, translating, in today's digital world, to a more "personalized" experience for every customer. Tapping into the rich customer data at hand with the online shopping and loyalty systems, companies are leveraging big data and other analytics to gain powerful insights into customer preferences, patterns and provide interesting recommendations to improve their wallet share. 
Some of the key roles in Data Analytics are as below:
Data Engineering
Data Analysis & Reporting 
Business Intelligence  
6 E-commerce Hiring Trends in 2023  
Highly skilled talent with specialized business and digitization skills are crucial for the e-commerce industry, with digital transformation being one of the top priorities. Towards that, companies are adopting new and innovative ways of sourcing and hiring talent geared to deliver higher outcomes for e-commerce. 
#1 Social Media hiring 
Social media hiring is quite the rage these days with it being a very effective platform to connect and engage with highly skilled and qualified talent. Professional networking sites such as LinkedIn and Twitter as well as informal forums like MeetUps & EVentBrite help source top talent as well as expand the hiring network.
They also enable recruiters to connect with passive talent such as thought leaders and other technology enthusiasts who aren't on the lookout for a job at the time. Personalized messaging on LinkedIn and other social media enables recruiters to engage with, forge and nurture long-term relationships with potential candidates, ready for activation at any time in the future. 
#2 Gamification      
With the widespread use of Gamification as a fun and innovative way of inducting and teaching business skills to new employees, it is no surprise that it is being leveraged to source top talent. Gamification simulates the business in a gaming environment, enabling companies to evaluate their relevant business experience, helping hire highly talented and driven individuals with better solutioning capabilities and the ability to respond quickly.
It helps companies evaluate the critical skills of the talent, the talent to better understand the business and to screen out those not aligned to the company vision and values.  
#3 NLP for hiring   
Recruiters are leveraging Natural Language Processing (NLP) in their hiring systems to engage with and screen relevant talent from thousands of applications received.
Chatbots with NLP capability improve recruiter efficiency and quality of hires with lower time-to-hire and enhanced candidate experience. They also help reduce or eliminate bias and enhance diversity of the talent pipeline.  
#4 Data-driven hiring 
With the tight competition for talent and millions of unqualified applications to wade through before finding the right talent for the open positions, recruitment tools & software become very useful. Bias-free and scalable recruitment tools and software such as ATS & CRM platforms enable objective data-driven decision making with automation and frequent touch-points, improving recruiter efficacy and candidate experience.
Collaboration tools and other tools also help improve the effectiveness of hiring with increased quality of hires, and provide significant time and cost benefits in terms of recruiter and hiring manager time and effort. These tools also facilitate better recruitment forecasts for the upcoming year. 
#5 Predictive Analytics for hiring 
Hiring top talent takes a lot of valuable time and effort investment from recruiters and hiring managers alike. With soaring hiring costs and candidate drop-outs, there is a need for higher engagement with predictive analytics post the offer rollout to accurately predict the candidate intent to join the employer.
These predictive CRM tools enable faster decision making with valuable candidate data in terms of feedback as well as chats. These tools also ensure a superior candidate experience with frequent candidate touch-points enabling sentiment analysis of candidates and the likelihood of their joining. 
#6 Virtual hiring  
The pandemic normalized remote-everything, from shopping to teaching to hiring. With virtual hiring bringing a host of benefits such as access to global talent pools, hiring on the go, higher recruiter & hiring manager productivity etc., it has become commonplace with recruiters.
It brings candidates, recruiters and hiring managers on a single platform with enhanced efficacy and productivity, enabling live or pre-recorded interviews based on their convenience. They also serve as a great way to increase candidate engagement and conversion by early introduction to the leaders, team and company culture. 
Wrapping Up
Innovation and technical advancements being key to staying ahead of competitors and retaining market share, it is important to understand the latest e-commerce trends as well as the talent required to staff the most critical departments in e-commerce. Digital transformation continues to be one of their key priorities, with a need for highly niche and specialized skills which are difficult to source with conventional practices. 
To tackle these hiring challenges head-on and tap into a rich candidate pool of highly qualified business and technical talent, a comprehensive e-commerce recruitment strategy reinforced with the new-age hiring trends becomes imperative, enabling e-commerce companies to continue their market penetration and global expansion unabated.   
FAQs on E-commerce Recruitment
What are the different roles in E-commerce?
A successful e-commerce venture needs an extremely talented team creating an impactful  customer experience with appealing and intuitive interfaces and smooth running operations. The most popular and sought after roles can be broadly categorized into Software Engineering, Operations, Customer Service, Data Analytics, Marketing & UI/UX design. Some of the key roles in e-commerce are as follows:
1. Web developers
2. IT specialists
3. Customer Service Manager 
4. Digital Marketing Manager 
5. SEO content writer 
6. Graphic designer 
7. Supply Chain Manager 
8. Procurement Team
9. Warehouse Manager 
10. Warehouse personnel
What is the role of an ecommerce specialist?
An e-commerce specialist designs and executes an e-commerce marketing strategy, to promote the products and services of online businesses leveraging the viable marketing channels. They are responsible for the overall presentation of content, SEO, analytics, maintenance of online stores as well as creating new marketing strategies for higher business growth and sales.
What are the different departments in e-commerce?
With efficiency and streamlined operations key to running a successful e-commerce business, the key departments are Marketing, Customer Service, Operations, Software Development & Data Analytics. As companies start, they may need only one to start with but add more departments as the business grows and expands into other geographies.
What are a few tips for effective recruiting in e-commerce?
Companies are adopting new and innovative ways of sourcing and hiring talent geared to deliver higher outcomes for e-commerce. Some of the hiring trends that would help hire highly qualified business and technical talent for e-commerce are as follows:
1. Use social media hiring to network and source highly qualified talent
2. Business gamification to find highly innovative and responsive talent
3. Natural Language Processing in chatbots helps improve candidate engagement & reducing bias in screening 
4. Use of recruitment tools such as ATS & CRM enable data-driven decision making, helping hire top talent with enhanced candidate experience and lower hiring costs
5. Use virtual/remote hiring such as video interviewing to tap into rich and diverse candidate pools
6. Leverage tools with predictive analytics to improve hiring efficacy and candidate conversions
How to organize an e-commerce team?
An e-commerce team needs to be efficiently and prudently organized in order to run operations smoothly and help drive higher business outcomes for the e-commerce company. Some of the steps to be followed to structure an efficient and effective e-commerce team are enumerated below:  
1. Clearly define the business strategy and plans 
2. Identify the key roles and responsibilities
3. Hire highly skilled and experienced talent for these roles 
4. Devise a clear and smart marketing strategy to build a strong customer base
5. Design lean and efficient supply chain and logistics
6. Design and create high quality products and services
7. Ensure efficient customer service for higher customer satisfaction and retention