Key Highlights
Employee benefits go beyond the regular compensation and include legal and voluntary benefits such as pension and retirement plans, paid leaves, medical insurance, employee stock options, etc.
The employee benefits program is a crucial tactic used in employee retention and engagement strategies
The size of the benefits program depends on the budget, size, and motive of the organization
Compensation is not the sole driving factor to engage candidates and retain employees who expect more comprehensive rewards from their employment.
An SHRM study found that 92% of employees consider employee benefits significant for their job satisfaction. Similarly, 63% of candidates look for the benefits a company offers while searching for a job.
Employee benefits are among the top driving factors impacting employee engagement and retention in any company. Huge strata of job seekers and current employees cite work benefits as important criteria in their decisions while choosing to stay at a company or opt-out.
For organizations and businesses, employee benefits serve to engage employees without the need for high pay. Employee benefits are granted to all employees without considering their performance.
What is an employee benefits plan?
An employee benefits plan refers to a package consisting of multiple employee perks or prerequisites that an employer offers to their employees apart from salary and compensation. Employee benefits are non-wage or non-fiscal benefits that help employees to take care of their well-being, feel motivated, and establish a healthy work-life balance.
Though some benefits like medical insurance, social security contributions, and worker's compensation insurance may be mandatory by law, most other benefits are voluntary and depend on the size, budget, and welfare policies of a company. For instance, in the US health insurance is a compulsory part of every employee benefits program.
A typical employee benefits program may consist of:
Medical Benefits: medical insurance, dental insurance, vision insurance, health saving account, health reimbursement account, critical health insurance, and hospital insurance.
Retirement benefits: retirement plan, pension fund, and gratuity benefits
Life benefits: Life insurance and accidental death insurance
Disability benefits: Disability insurance and accidental insurance
Additional compensation: bonuses, incentives, profit sharing, stock options, and indirect compensation
Paid leaves: holidays, sick leaves, vacations, family leave, sabbaticals, bereavement leaves, etc.
Skill development: tuition fees, student loan assistance, professional training, and certifications, etc.
Other benefits: food and beverages, gifts and activities, gatherings, awards, financial literacy programs, etc.
In the US, most employers usually provide the 401(k) plan, in place of a traditional plan, where the employees can invest a portion of their wages into the funds of their choice and enjoy tax deductions on the invested amount. In most cases, employers contribute an equivalent amount to the employee's account.
Employee benefits are not dependent on how an employee performs but are used more as a strategy for talent acquisition, employee engagement, and retention. These plans help the employees feel valued and motivated at the workplace.
4 Critical Elements of an Employee Benefits Plan
An employee benefits plan consists of two kinds of elements – statutory benefits required by law and discretionary benefits which an employer can choose to provide. Statutory benefits are required by the law prevalent in a specific jurisdiction and many include workers' compensation insurance, unemployment provisions, etc.
Discretionary benefits include flexible work arrangements, mental health benefits, tuition assistance, etc.
A benefits plan can also be divided into compensation and total rewards. Some benefits form a part of the compensation while others are considered as perks above and over the compensation.
The main elements of any employee benefits plan are: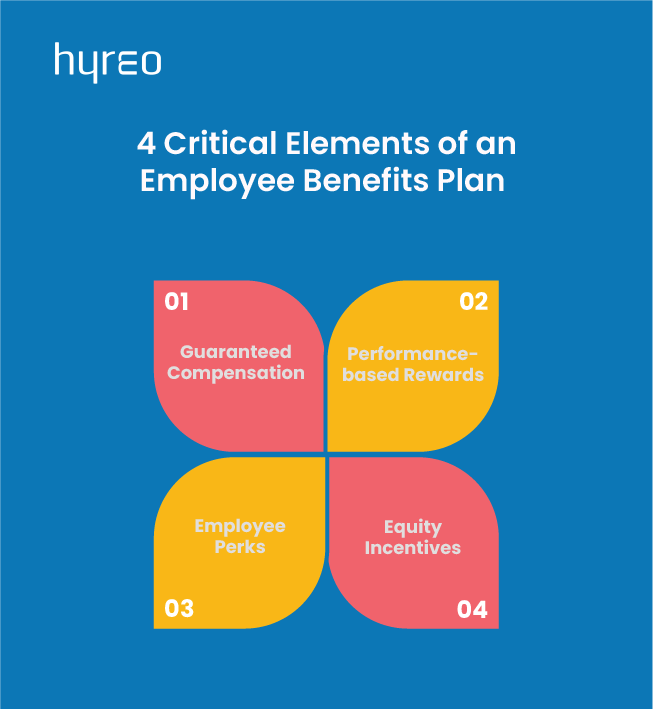 #1 Fixed monetary pay
Besides salary, fixed monetary pay is the guaranteed reward an employer ensures to an employee. It may include benefits like housing and conveyance allowance, premium allowance, differential allowance, etc.
#2 Non-Fixed Monetary Pay
This kind of benefit is conditional and dependent on the performance or results achieved. Examples of non-fixed monetary pay include incentives and bonuses.
#3 Benefits
These add-on benefits like medical insurance, company car, etc., run along with compensation.
#4 Equity-based compensation
These benefits are relatively recent and powerful tools to make the employees feel belonged and are a part of the success of the company. These benefits give employees part ownership in the firm. They may be stock options or bonus shares that an employer may give to their employees.
The advantages of providing competitive benefits for employers
Beyond the mandatory provisions, there are multiple benefits to providing a competitive benefits program for employers. Some of the advantages include the following: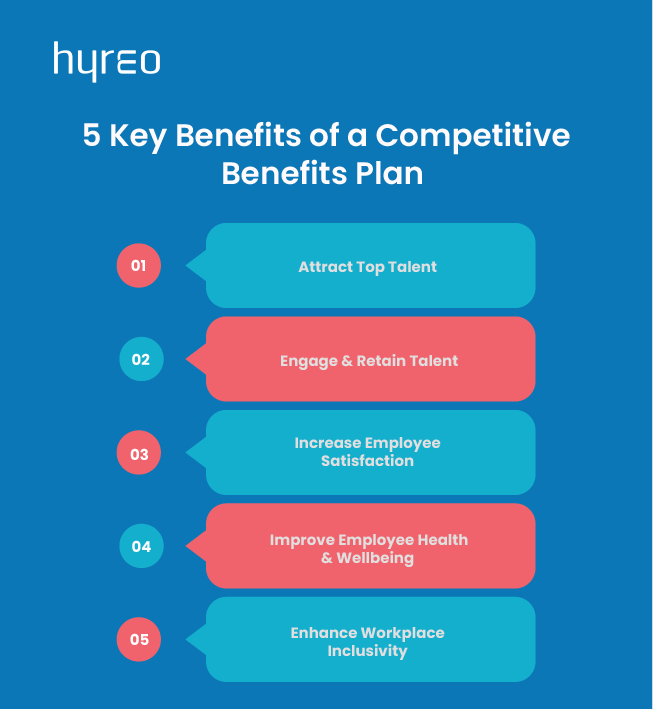 #1 Attract top talent
Competitive benefits can be the deciding factor for a candidate having two similar job offers. Such benefits can help your organization stand out and attract the right talent. About 88% of the candidates find medical (health, dental, and vision) insurance benefits and flexible hours important determiners while searching for jobs.
#2 Engage and retain talent
Benefits offered above and beyond compensation help to keep the employees motivated and retained at work. When their wants are satisfied and they are able to manage work-life balance, employees stay longer with their employer.
#3 Enhance employee satisfaction
Employee benefits help to make employees feel valued and appreciated. 70% of satisfied employees are more likely to stay loyal to their current employers. Increased loyalty also reduces employee absenteeism, improves productivity, and builds retention levels.
#4 Improve health & wellbeing of employees
These benefits are also important for the overall health and well-being of the employees. Medical insurance, free health checkups, gym memberships, preventive doctor care, etc., could be some of the benefits that promote wellness at work.
#5 Enhance inclusivity of organizations
Perks and benefits can be designed to serve the specific needs of different employees, making the organization more inclusive toward employee needs. For instance, parental leave, floating holidays, flexible work schedules, and other benefits can be useful for workers starting their families.
4 strategies for creating an employee benefits plan
An employee benefits program should be designed after thoughtful consideration as it is a crucial determinant in employee satisfaction and also has substantial financial implications for the firm. A well-rounded, well-computed mix of benefits presented as a package needs effective planning and strategizing.
#1 Aim and Budget
The motive behind any benefits program is the first step in establishing the structure of the package. The package should reflect both employer and employee needs and should concur with the business strategy of the employer. It should be evaluated and revised from time to time.
#2 Proper Assessment
The benefits program should be formulated on the basis of a proper assessment of employee wants and needs, employer aims, competitors' best practices for benefits, and legal requirements and statutory provisions.
#3 Dynamic Implementation
After designing, strategic implementation of the benefits scheme is necessary for determining the cost of providing such benefits and whether these benefits fall under the pre-determined budget. Implementation is a complex process but if done the right way, it can help reduce inefficiency, eliminate redundancies, and reduce costs.
#4 Communication and Review
Once implemented, the contents and advantages of the benefits plan must be communicated to the employees. Employers must make all the necessary disclosures to create awareness and acknowledgment of the program. Employers should consider periodically reviewing the plan after careful consideration of the external factors and employee feedback.
Wrap Up
Employers need to follow a few best practices to keep their employee benefits program effective and relevant for the employees. They need to seek continuous feedback from the employees, offer inclusive benefits for all, improve communication to spread awareness, enable ease of use, and measure and evaluate the impact of the package as a right fit for the employees.
Employees and candidates expect employers to go out of their way while serving the health, wellness, and other needs of their employees. Companies also need to focus on developing a well-balanced benefits package to stay relevant in the candidate-driven job market, fight competition, and retain top talent in the long term.
FAQs on Employee Benefits
What are the top 5 employee benefits?
The top five employee benefits include mental health assistance, mandatory paid time off, employer-covered medical insurance, life insurance, and retirement benefits.
What are employee benefits?
Employee benefits in HR are also called perks and fringe benefits. These benefits are given over and above the compensation, i.e., salary and wages. Companies mostly provide these benefits as employee benefits packages that include different benefits such as vacation, profit sharing, stocks, medical insurance, pension scheme, retirement benefits, overtime, etc.
What are the main goals of employee benefits?
Companies provide employees with employee benefits to attract, engage, and retain the best talent, to help employees when they are in need and cannot protect themselves in their individual capacity, and to adhere to prevailing industry norms related to employee benefits to stay relevant in the market.
Why do employees need life benefits?
Life benefits or life insurance benefits provide crucial financial cover to your family in the event of your demise. The beneficiaries may use the funds to cover essential expenses like education, medical bills, paying off debts, etc.
What is the role of the benefits manager?
The benefits manager manages the employee benefits program in an organization. The program covers multiple benefits like pension, leave policies, wellness programs, insurance policies, etc., which the benefits manager administers.