The post-pandemic recruitment challenges of acute shortage of skilled talent, fierce competition, and increasingly passive talent have made hiring an uphill task, even for conventional roles.
92% of Business Leaders say their organizations will not meet goals without the right talent, per the iCIMS workforce report for 2022.
Against that backdrop, growing multi-fold in a short time span, hiring a large volume of highly qualified talent can be an overwhelming task of any recruiting team.
Fortunately, with a holistic, technology-enabled Talent Acquisition Strategy, one can ace the High-Volume Recruiting game, without compromising on the quality of hire. An AI-based Recruitment CRM with advanced screening and data-centric recruiting automates and streamlines your hiring process, helping you hire exceptional talent to scale.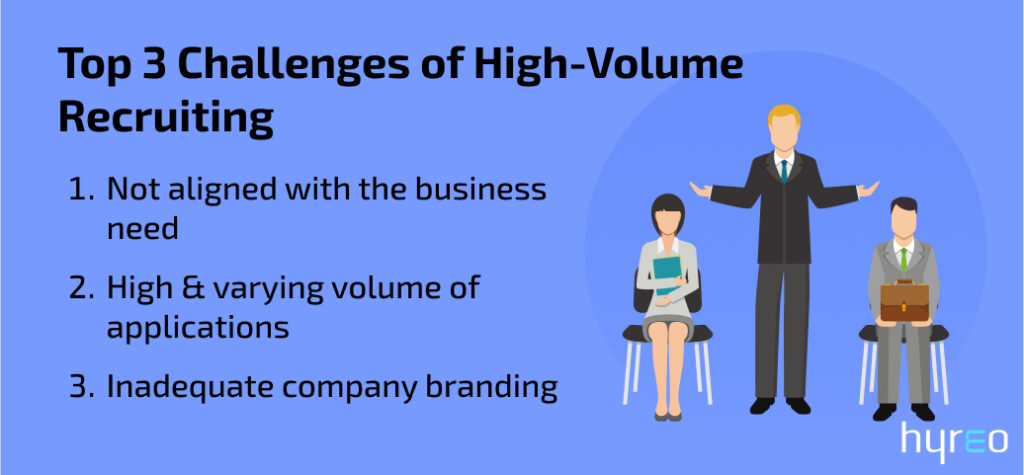 What is High Volume Recruiting
In plain speak, High Volume Recruiting refers to a large number of candidates being hired in a short span of time. Typical in high-volume industries, such as Retail & Hospitality, it is also utilized by Technology, Aerospace & Financial Services.
65% of companies have high-volume recruitment needs today, per research.
Most companies, apart from start-ups and small businesses, rely on mass hiring when expanding into a new business domain, commencing operations at a new location, or for a seasonal operational need. High-volume recruitment is also applicable to hourly and gig workers.
Also Read – Agile Recruitment Framework
6 Challenges of High-Volume Recruiting
Jobvite reports that while the average job posting attracts less than 50 applicants, the average high-volume hiring attracts more than 250 applicants.
So, in High-Volume hiring, the regular hiring challenges of unqualified candidates, no-shows, interview cancellations, offer declines, attrition, etc. are amplified, leading to an adverse business impact.   
While the High-Volume recruiting challenges are numerous, a few core ones are enumerated below:
Not aligned with the business need
The hiring team is unaware of the overarching business objective and goals leading to the creation of poorly written JDs & candidate personas. This in turn increases the chances of bad hires in the organization, costing the business valuable money, time, and effort.
High & varying volume of applications
With the diverse sources of talent being activated, the volume of applications can vary, leading to ineffective use of recruiter time and effort. When inundated with a high volume of applications, just sorting through and screening can be a herculean task for the hiring team.
Not technology enabled
In Volume Hiring, not having a recruitment tech platform (ATS or CRM) leads to huge delays as well as errors in the processing of hundreds to thousands of profiles. This has a direct impact on all the critical goals of the recruitment life cycle such as candidate experience & conversions, customer satisfaction & employer branding. 
Also Read – Strategies to improve Employer Branding
Quality of hires
Sourcing and hiring top talent is the biggest hiring challenge faced today. With Volume-hiring, this becomes cumbersome with the enormous impact on cost and quality, not to mention company brand. In the number game of volume hiring, the quality of the candidates also gets diluted, leading to lower business throughput and subsequently, poor customer satisfaction at a higher cost and attrition.
Inadequate company branding
Before committing to work for a Brand, potential candidates like to have a good understanding of the core business, work culture, and company vision & values. Not investing in building a strong brand image on career sites as well as social media would hurt your hiring prospects.    
Poor candidate experience
With the high volume of candidates being reviewed, screened, interviewed, and onboarded, the turnaround time increases, and the recruiters are unable to communicate effectively with candidates. This leads to a lower candidate engagement, lost branding opportunity, and an overall hiring delay, adversely impacting the candidate experience. 
Top 6 Strategies to mitigate challenges in High-Volume Recruiting                                     
High-volume recruiting isn't just about filling a huge number of positions quickly. It's about finding the most suitable candidates, aligned with the business goals and values of the company, with the ability to collaborate and deliver higher outcomes rapidly.
Here are 6 top strategies to drive the best results from High-Volume hiring:
#1 Candidate-centric approach
Today's recruitment is strongly candidate-driven, in order to hire top talent, the recruitment strategy must be centered around the candidates.
Create attractive and crisp job posts
Simplify the application process to have fewer steps
Articulate employee value proposition clearly 
Check – How to post a job on LinkedIn for Free
#2 Strong company branding
With the talent of today being selective about the brands they engage with and work for, it is important to build a brand image of a socially conscious, diverse, inclusive, and bias-free workplace, one whose values align closely with that of the workforce of today.
Leverage social media platforms such as LinkedIn, Twitter, Facebook & Instagram to promote your brand, with simple and appealing content. Ensure that the career page is kept up to date with the relevant company business and workforce updates to influence potential candidates.
Also Read – Social Media Recruitment Strategies
#3 Alignment to the hiring manager
There must be a clear alignment of the mass hiring recruitment team to the hiring managers with a distinct understanding of the business objectives and goals. There should be open channels of communication, enabling an effective translation of the hiring objective to candidate personas to final onboarding of stellar talent consistently.
#4 Automation & AI-based tech enablement
Tech Talent Acquisition platforms such as ATS or CRM or a combination of both help automate recurring tasks and optimize the recruitment process, helping save significant recruiter time and effort and engage better with candidates.

An ATS helps with an automated screening of resumes using keywords and phrases to select potential candidates with specific skills, expertise, and qualifications. It also helps recruiters create attractive career landing pages, job applications, and postings, sharing them on social media, career sites, and company websites, helping attract and engage top talent.

A recruitment CRM enables the creation of a talent community of passive and potential candidates, nurturing and engaging with them continuously, helping deliver targeted messaging, and activate for any future opportunities. A Tech TA platform is essential to meeting the inordinately high expectations of High-Volume hiring and must be leveraged accordingly.
Also Read – 16+ Productive Tools for Recruiters
#5 SMART metrics to track performance
Leverage a few key hiring metrics to track, optimize and improvise upon the High-Volume hiring strategy
Time to fill – It is a clear indication of the readiness and efficacy of the hiring team to move through the various recruitment life cycle stages quickly to onboard the candidates. It becomes critical during High-Volume hiring with an equal impact on the candidate experience and customer satisfaction.
Offer acceptance rate – It is an important metric to measure the effectiveness of the recruitment process as well as the clarity of the job posts & the company branding.
Quality of hire – With the large volume of open positions, it becomes important to ensure that the quality of candidates is maintained, hiring qualified talent aligned with the business objectives and organizational culture.
Cost of hire – An important metric for any conventional hiring, it takes on a higher priority due to the cost implications during High-Volume recruiting going by the sheer number of hires being planned. It helps drive effectiveness & efficiency in the process.
Source of hire – With the volume of candidates sourced, a High-Volume hiring provides ample data to understand and baseline the role-fitment and quality parameters of candidates received from every source, enabling you to utilize accordingly for varying hiring needs in the future.
#6 Diversify Talent Sources
Hiring success regardless of the mode of hiring (conventional or high-volume) depends on the ability of an organization to build a robust recruitment funnel that taps into diverse candidate pools, helping source exceptional talent quickly during a peak hiring period. The candidate pool can consist of past candidates, passive candidates, internal talent, referrals, and retired hands too.

Based on the business domain and roles being hired, different geographies and modes of talent sourcing must also be explored. Create a strong candidate pool by identifying the best sources of qualified talent. 
Wrapping Up
Going by the sheer number of hires in the short time span, High-Volume Recruiting can be daunting for the hiring and business teams of any organization. The business criticality and the time-sensitivity of mass hiring make it all the more challenging. Fortunately, a robust High-Volume Recruiting strategy, leveraging the right technology can ease most of the hiring pains and help attract highly qualified candidates, to ensure the highest business outcome on their onboarding.
A Recruitment CRM is of immense value here, automating and optimizing the recruitment process, curating a great candidate journey, and building a strong brand image with real-time stats, reports, and insights. It also helps you manage and tap into a robust recruitment funnel and talent community of highly qualified, diverse talent, during a mass hiring need.