The modern recruiting landscape is more complex and competitive than ever before.  Thanks to recent upticks in the economy, organizations nationwide are now hiring at an unprecedented rate. Coupled with historically low unemployment rates, HR and recruiting professionals are often faced with more open positions than there are viable candidates to fill them. In fact, 65% of recruiters claim talent shortage is the biggest difficulty they face in the hiring process.
As the competition for top talent tightens, many hiring professionals are finding traditional recruiting tactics to be less effective. It's no longer enough to simply post a generic job description on the usual platforms and pray applicants will come pouring in — because they won't. Instead, recruiters must take a proactive approach in their search for the perfect hire, or risk losing the ideal candidate to the competition.
Fortunately, with the help of candidate personas, you can find, target and recruit the best candidates in the workforce.  Ready to learn more about candidate personas? Keep reading.
What is Candidate Persona?
A candidate persona is a semi-fictional representation of your ideal job candidate.
Candidate personas are similar to buyer personas, which have long been used by marketing teams to identify and target an organization's best customers — but, rather than pinpointing a potential buyer, candidate personas help recruiters zero in on the perfect hire. Candidate personas use industry research, hiring trends and anecdotal evidence to allow recruiters to truly get inside the minds of their ideal candidates.
A standard candidate persona is derived from data surrounding work history, skills, qualifications, and education. But, the most effective candidate personas go beyond information found within a resume and explore other, less tangible traits that make someone the perfect hire. This often includes characteristics like personality traits, career goals, soft skills, and sometimes even employment preferences.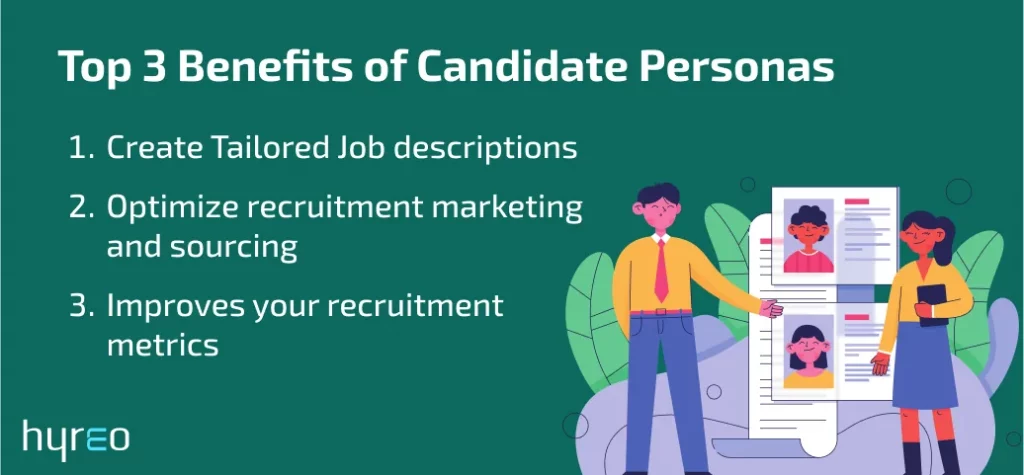 How are candidate personas used in recruitment?
A candidate persona can help your recruitment in the 3 following steps:
Interviewing

Instead of following the same old list of questions, create a customized interview questionnaire for each type of candidate (or each persona). This will help an interview feel less formal and allow you to have an actual conversation based on the position and role.

Marketing

If you understand the type of person you want to attract, then your marketing opportunities can expand significantly! You can target ads based on personal motivators or attributes (like hobbies), expanding beyond the common demographic selections.

Career Pathing

Each role (or person) is going to have unique motivators and different expectations in their job or career. When you or this person's manager understands these motivators from the start, you can create the right career path for them and increase the chances of retaining them.
A candidate persona is a great tool. It works to help recruiters decide where their marketing dollars will work most effectively. However, if you are targeting candidates, you want to make sure that candidate personas are being used when determining when and where advertising and sponsoring should be utilized.
Significance of creating a Candidate Persona framework
An ideal job candidate persona will significantly help you in the following ways:
Create efficient application forms as per your target audience to optimize the completion rate of applications
Reduce the time required to hire employees
Decrease your expenditure per hire
Filter out the unqualified candidates, providing you with quality leads
According to HR professionals, the characteristics that define an ideal job candidate persona involves:
Work experience
Relevant education
Specific skills
Good communication
Professional motivators and goals
Preferred work atmosphere
Personal social media and online presence
Geographical location
All this may look like plenty of data to collect and organize. But it is worth the effort. After all, it is better to spend ample time sharpening the axe than to waste your resources towards an inconclusive outcome. This data will help you create a perfect persona of the ideal candidate, which will help you attract the right candidates for the job.
4 Benefits of Candidate Personas
Creating a candidate persona for every job role helps the company understand what exactly they are searching for in an ideal candidate, before starting the actual recruitment process. Also, it efficiently helps with the various key aspects of the recruitment strategy:
#1 Create Tailored Job descriptions
A job description is the first point of contact between the employer and the job candidate. And, a first impression is mostly the last impression. So, it is important to make a perfect first impression on your prospective employee.
By writing an engaging job description that reflects your ideal candidate persona, you can make the perfect first pitch to the right candidates about the job offer. Remember that employee branding is just as important as employer branding. It will ensure filtered applications. This filter will help you use your time and resources more efficiently and productively.
#2 Optimize recruitment marketing and sourcing
By knowing the "who" you will be able to find the "where". Knowing whom to target will aid in getting a better insight on where to find them. This will help you pool your resources to optimize recruitment marketing, resulting in efficient and strategic sourcing.
Additionally, a company's talent acquisition strategies, as well as employer branding strategies, greatly benefit from an ideal candidate persona, as your marketing team can create better content that resonates with your prospective job candidates.
#3 Integrates your diversity initiatives
Candidate personas help to identify the gaps in your talent acquisition strategy. You can stitch these gaps by creating an ideal candidate persona of the kind of employees you want to boost diversity in your organization. This way you will implement more diversity in your hiring initiatives. The right persona will help you proactively target the right type of applicants, who will bring diverse personalities, fresh ideas and new experiences.
#4 Improves your recruitment metrics
As per recent studies, the success rate of finding the right candidate through an unstructured interview process is only about 20%. The candidate persona will give a structure to your recruitment processes, which will inevitably increase your rate of success at finding the right job candidate.
Moreover, the candidate persona will stay throughout the recruitment process. This will help the human resource professionals take proper and efficient hiring decisions, greatly saving your money, time and resources.
Final Thoughts
If you want to make sure that your talent team is highly effective in the ways they search for, discover, communicate with and screen candidates, then candidate personas are your best bet. Thoughtfully creating personas helps make sure that recruiters and hiring managers are aligned on who you're really looking for.
FAQs on Candidate Persona
How do you make a persona candidate?
Get a deep understanding of requirements from various stakeholders. Devise your sourcing strategy to source the right candidates. Create recruitment collateral (Job Description, Application Form, Introductory materials, emails) to get more applicants.
How do you define candidate persona?
A candidate persona is a semi-fictional representation of your ideal job candidate. Human Resource professionals need to define their candidate personas in order to adjust their talent acquisition strategies towards people they want to attract to their companies.
How do you specify a candidate to a client?
Write a short summary highlighting the key selling points of the candidate. Include relevant job skills, managerial experience, language skills and character points as well. It's best to have this summary at the top of the resume so that the client reads this before anything else.
How do I create a candidate profile in persona?
Candidate personas need to be based on actual data, not gut feelings or assumptions. For the best results, your research should account for current employees, any major stakeholders in the hiring process and candidates. Ideally, you should have a persona for each role you're trying to fill.
What does an ideal candidate look like?
You are fit for the job and capable of delivering excellent results. You possess skills that are unique, and likely unteachable, which makes you an above average candidate. You'll be an asset to the company and a perfect fit for the team.