An Applicant Tracking System (ATS) is a recruiters best friend. It is used by companies to automate the recruitment process, improve efficiency and reduce costs.
The key point to note is that an ATS is not only for enterprise level companies. Startups and small businesses can also benefit from using an ATS. Keeping this in mind, here are 10 benefits of using an Applicant Tracking System (ATS).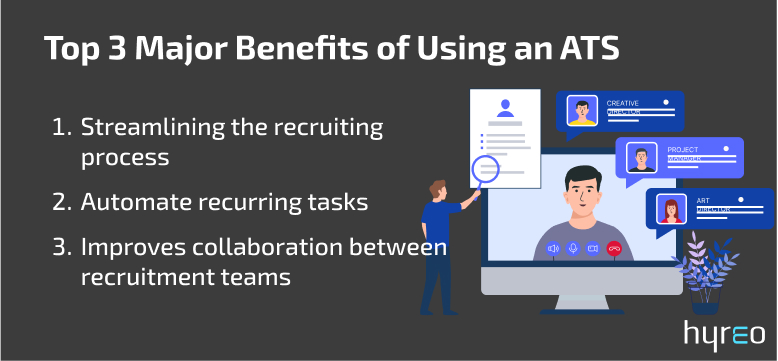 #1 Streamlining the recruiting process
All growing companies are often recruiting for multiple positions simultaneously throughout the year. If not handled properly from the beginning, things can quickly get out of hand and recruiters can lose control of the process. To combat this, an Application Tracking System (ATS) becomes very useful. An ATS enables you to manage the entire hiring process from start to finish, from a single platform, without having to depend on multiple spreadsheets.
Irrespective of the growth stage of the organization, hiring is a crucial exercise with very little room for error. The process needs to be quick and accurate to minimize the effects of a bad hiring decision.
Tools like Hyreo can also be used to enhance the candidate experience by integrating it with any ATS.
#2 Post jobs on multiple job boards
Organizations tend to pay a significant amount of money to subscribe to multiple job boards like LinkedIn, Monster and Indeed. The objective here is to cast as wide a net as possible, in order to achieve maximum applications. However, managing these multiple job boards often becomes a task unto itself, making the recruiters job that much more difficult. Furthermore, it becomes difficult to know where your best candidates are coming from.
An ATS can help recruiters multiple job portals from the ATS itself, An ATS can be integrated to all the job portals which are needed and the job posting can be done from the ATS. This drastically reduced the cost as you now only have to pay for one ATS subscriptions as opposed to multiple job portal subscriptions.
#3 Automate recurring tasks
A good ATS system can be used to automate routine recruiter tasks. By doing so, it leaves the recruiter free to focus on key strategic objectives. A good ATS can reduce time spent per recruiter by around 50%.
However one key drawback is an ATS cannot be used to automate tasks pertaining to candidate experience and actual hiring event management. Tools like Hyreo enable recruiters to enhance candidate experience and manage virtual hiring events. The big advantage is that Hyreo can be integrated with all major ATS solutions and can also be used as a standalone tool with no ATS.
#4 Keeps your candidates in the loop
Whether the candidate is selected or not, it is important to properly communicate the results to the candidates in a timely manner. Candidates appreciate transparency and clear communication, even in the case they are not selected. They would be more inclined to recommend a company to their social circle, if they have had a good candidate experience. A good ATS will notify the candidate as they move towards the different stages  of the interview process.
One feature ATS does lack is the option of managing the communication with candidates after the offer has been rolled out. Tools such as Hyreo help in creating a great candidate experience after the offer has been rolled out.
#5 Manage Talent Database
When a job ad is posted across the internet on multiple job boards, you will receive a good number of applicants. But one source of applicants that are often overlooked are the candidates in the existing talent pool. Each time a job opening is published, you will receive multiple candidates who would not be a good fit for the existing opening. With the help of ATS, you can nurture these candidates for a future opening for which they might be a good fit.
A good ATS makes sure that you don't miss out on good candidates. By managing and nurturing these talent pools, the cost of the talent acquisition can be vastly reduced.
#6 Improves collaboration between recruitment teams
Having a good ATS makes it possible to reduce the chaos and confusion that comes along with hiring for multiple openings and teams. It enables assigning a hiring manager to each candidate's profile so that there is clarity on who the single point of contact is. This also makes collaboration within the hiring team easier.
Everyone involved in the hiring process has the data that is required to make a decision in a quick, effective and decisive manner.
#7 Finding the right candidate
Each job opening receives more applications than a recruiter can realistically go through. At least manually. Without an ATS, a recruiter would be overwhelmed with the sheer amount of applications which need to be reviewed and having a good candidate slip through the cracks is inevitable. Rather than risk missing out on a great candidate, or worse have a competitor find that candidate, an ATS will help a recruiter go through all the applications and find the most suitable one.
A good ATS enables you to set the prerequisites for any job. It could be the location of the candidates, age, skills needed, previous experience etc. Applications that do not match these pre-set criteria are automatically rejected and the ones that do are set aside for consideration.
#8 Centralized candidates management
Without an ATS, you would need to take special care to store the candidate details and documents. This increases the chance of losing key information about the candidate, or in the worst case losing a candidate's file in its entirety. But with an ATS, you can store all the candidate information in one place and have it securely stored in the cloud.
This reduces the time spent in storing the information, and more importantly the time spent in sourcing the information for future uses.
#9 Reduce cost of hire
An ATS can help reduce the cost of hire significantly. It can reduce the cost of hiring by at least 40%.
By integrating with multiple job boards, an ATS the effective job portal to be used, Therefore, removing the need for other job boards which do not  generate better candidates. It also automates large repetitive tasks which can take a huge amount of time for the recruiter. Tasks such as parsing resumes, automating the sourcing, screening and scheduling process reduced a large amount of recruiter effort.
#10 Generate key recruiter insights
An ATS will give you detailed reports and insights that you need to make the right decision.
You can access real-time reports from the applicant tracking system (ATS), such as the average time spent at each stage of interviews for various roles, the best source for hiring, the quantity of applicants processed each week or month, interview metrics, and trends in applicant rejection for each department.
Wrapping Up
Given the large number of software applications available, choosing the best one for you can be daunting. But, the best thing is almost all of these softwares come with free trials and some of them come with forever free options, albeit with limited options. Take advantage of these free options and choose the right one for you.
FAQs on Applicant Tracking System
What are the benefits of an applicant tracking system?
An Applicant Tracking System (ATS), helps in automating the recruitment process, and helps finding the best candidates. Thus reducing the cost associated with recruitment.
What are the features of ATS?
The features in an ATS are automated sourcing and screening, candidate tracking through the interview process, and management of existing talent databases.
How can we improve the quality of hiring?
By using an ATS, recruiters can identify the most qualified candidates for a particular opening by automating the recruitment process. An ATS can also improve candidate experience, by automating the communication with candidates.
What is integration with ATS?
Any tools which can be used to improve the hiring process can be integrated with an ATS. Tools like Hyreo can integrated with an ATS to improve candidate experience, by using features ATS usually lack