Key Takeaways
Pre-onboarding is the process of preparing new hires before their official start date and can significantly improve employee retention and engagement.
Onboarding is a process that ensures new hires are prepared for everything they encounter and research shows that new hires are more effective because they have an effective and engaging onboarding experience.
Many potential employees form an opinion about a new company long before the first day on the job, and effective pre-boarding can help new hires feel more welcome and connected to the company.
Organizations with a strong onboarding process improve new hire retention by 82 percent and productivity by more than 70 percent, and improving onboarding can help organizations address talent shortages and high turnover.
Pre-onboarding is the process of contacting new recruits before their official start date to ensure they are fully trained and ready to enter the company. This is an important step in the onboarding process that can significantly improve employee retention and engagement. In this blog, we discuss some of the best pre-onboarding practices that organizations can follow to help their new hires succeed.
Onboarding affects everyone – it can mean many things to different teams. A typical onboarding process begins with a candidate accepting their first job offer, onboarding and possible transfers between teams (we call this transfer). Although this is a largely formal process, there are still many ways to make onboarding fun.
One common theme remains: Onboarding is a process that ensures new hires are prepared for everything they encounter—from procedural to cultural learning. Research shows that new hires are more productive if they have an effective and engaging onboarding experience – 90% of employees decide to stay with the company within the first six months. 
So why do so many get it wrong?
Would it surprise you that many of your new hires are already wondering if they made the right choice even before starting their new job? Effective organizations know that potential employees form an opinion about a new company long before the first day on the job. During the selection and recruitment process, employees see the inner workings of the organization – including HR processes, organizational transparency and cross-departmental communication.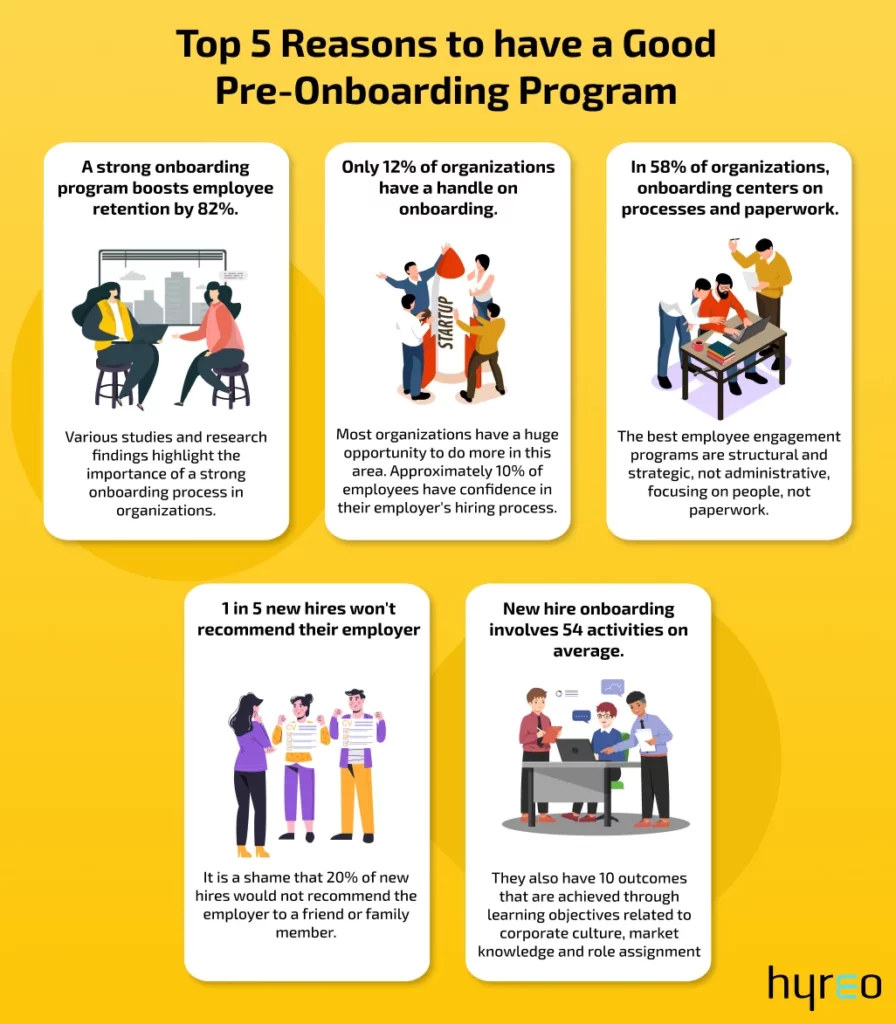 Why is it important to have a good Pre-onboarding program? 
It is not always a given that your new hire will show up the first day after signing the offer letter. In fact, one in five new hires don't. 4% of them leave after the first working day, ie. 80% (HBR). The time between accepting a job offer and starting work is called progression. Your new hire may need to complete the required paperwork and send an introductory email to the entire organization as part of this process. Sending a welcome pack or holding a coffee meeting can help your new employee get to know the rest of the team. 
HR professionals spend a significant amount of time to keep up with the latest recruitment trends, performance management practices or engagement strategy to be able to reduce and manage employee retention, commitment, satisfaction, productivity better. While these efforts are important and should certainly continue, it is even more important to consider how effective implementation solutions bring HR teams one step closer to that next best thing. 
Strategic employee engagement will continue to be central to many organizations. Companies that invest in improving the onboarding experience are more likely to see significant benefits such as increased engagement, reduced time to qualify and reduced turnover. But the most innovative companies understand that building an effective affiliate program is an ongoing and iterative process. Here are some key onboarding statistics to consider: 
 #1 A good onboarding program improves employee retention by 82% 
Employee orientation and onboarding play a crucial role in shaping the employee experience and can have a significant impact on employee retention and productivity. Various studies and research findings highlight the importance of a strong onboarding process in organizations. This introduction provides insights into key statistics that emphasize the significance of effective employee orientation and onboarding practices.
Brandon Hall Group research found that organizations with a strong onboarding process enable the improvement of new hire retention by 82% and productivity by more than 70%. Talent shortages and high turnover are the biggest challenges organizations will face in 2023 – so it's important to engage and retain employees right from day one. A robust and structured employee onboarding process can help you achieve this by helping new employees onboard faster so they can become productive faster. 
#2 Only 12% of organizations have a handle on onboarding   
Gallup found that only 12% of employees strongly believe that their organization does a great job of hiring new employees. That means 88% don't think their organizations are doing a good job and that leaves a lot of room for improvement! 
Since a strong onboarding process can lead to better retention and productivity, most organizations have a huge opportunity to do more in this area. Only about one in 10 employees believe their employer does a great job of hiring new employees – so use employee surveys to find out what you could be doing better! 
#3 58% of organizations say their onboarding programs focus on processes and paperwork 
Not surprisingly, only 12% of employees feel that their organization excels at onboarding, while HCI found that more than half of organizations focus on employee engagement with processes and paperwork. Additionally, a third said their onboarding program was informal, inconsistent or reactive. The best employee engagement programs are structural and strategic, not administrative, focusing on people, not paperwork. 
 #4 1 in 5 new hires is unlikely to recommend an employer 
Per Digitate, 1 in 5 new hires is unlikely to recommend an employer to friends or family, after their new hire experience. Employee referral is one of the most sought after sources of salary because they are faster, cheaper to hire, and last longer. Many organizations hold recruiting jam sessions with their new employees to explore their social networks to check which connections might be potential candidates for current or future positions. Therefore, it is a shame that 20% of new hires would not recommend the employer to a friend or family member. 
However, a new team member's willingness to refer increases by 93% when given multiple opportunities to communicate goals, meet team members, and have questions answered before the start date. If they complete an online employee pre-screening before the start date, their willingness to report increases by 83%. And if they get a call from an employer before their first day on the job, their willingness to consult also increases by 83%.  
#5 The average onboarding experience of a new hire consists of 54 activities 
Sapling reports that new hires have more than 50 tasks to complete during their onboarding period. The average new hire has 3 documents to sign, send or approve and 41 administrative tasks such as desktop setup. They also have 10 outcomes that are achieved through learning objectives related to corporate culture, market knowledge and role assignment. Such versatile activities ensure complete adaptation and integration of the new employee into his new role.
Pre Onboarding Best Practices 
Employee orientation is an important part of recruitment. With an effective onboarding strategy, you can acclimate new employees to your culture and equip them with the knowledge and resources they need to succeed. This becomes critical to retain employees, reduce turnover and maximize productivity. 
To give your new hires a great start with your organization, follow the below enumerated best practices:
#1 Prepare new employees 
Onboarding is a process where an employee starts working before the first day of work. This can get them excited about their new job and keep them engaged until the day they start. This is the perfect time to send them a corporate gift, such as a water bottle or notebook with your logo,  and encourage them to ask any questions. Also send them an orientation schedule  so they know what to expect on the first day. 
#2 Fill out the paperwork as quickly as possible 
It's a good idea to give your new hires a head start on administrative tasks like setting up a company email address or  HR paperwork so their first day on the job isn't filled with paperwork. 
Some examples of paper you can encourage before you begin include: 
Tax forms 
Forms of direct deposit  
Non-competition or non-disclosure agreements 
Employee handbook recognition forms 
If possible, allow new hires to fill out these forms online so they don't have to print and fill them out by hand. 
#3 Curate a delightful welcome pack 
Although welcome packages are not required, they can make a positive first impression and show that you value your new hires. You can keep it basic, like a corporate mug or mouse pad,  or get creative with meaningful gifts, cookies or other treats with your logo on them. Whatever you do, make sure your welcome packs reflect your unique culture. Send them  as soon as candidates accept their offer. 
#4 Involve team members in the process 
A successful onboarding process is collaborative, meaning it involves multiple team members, not just hiring managers and employees. Make sure other employees, managers, supervisors and even senior executives understand the onboarding process and how they fit into it. New hires do feel more engaged and connected to your company as a whole.
#5 Use pre-onboarding to get started quickly
Being prepared not only gives you a jump start, but can also be a good way to demonstrate how organized you are. While it is up to you how much or how little you do pre-boarding, the golden rule is to try to see it from the new employee's perspective. Think about the journey your new hire took before they started work. Your new hire probably checked your reviews before applying for the job. 86% of job seekers currently research an organization as a routine. 
Also remember that LinkedIn enables job seekers to see the average tenure of your employees. If they see people leaving after less than a month, they probably won't apply for your position. With that in mind, it's important to make a big impression right away.
#6 Implement an action plan
A good road map is as valuable as a treasure map, especially if the best practice is one that encourages new hires to stay with you. Ensure a streamlined and effective process to induct new hires into the organization as the experience is key to their decision to stay on and an ineffective and long-drawn out process can discourage new hires.
#7 Get your whole organization involved
Having your entire organization on board will help welcome new hires and offer them mentoring opportunities. By building critical relationships from day one, new hires get a firm handle of the culture of your organization and also have a view of the potential future opportunities. 
In addition to holding introductory meetings with heads of other departments, you can create a workflow with a set of tasks. These web-based workflows can provide information about different departments in your organization. It can also include videos of existing staff explaining their roles, and you can end the workflow with a brief reminder of the information provided.
A new employee could use the workflow even in the pre-employment phase. While this can be a simple and comprehensive view, your entire organization stands to benefit from your new hires having a high-level understanding of the internal workings of various departments. 
Wrap up
In summary, effective pre-orientation practices are critical to ensure that new hires are fully prepared and equipped to begin their first day on the job. Organizations should focus on onboarding new employees from the moment they accept an offer, providing the necessary information, sending welcome packs and organizing coffee meetups to help new employees engage with the team. 
Research shows that organizations with strong onboarding processes lead to a significant improvement in retention of new hires (by 82%) and productivity (by over 70%). Therefore, it is important to create an effective onboarding program that is structured, purpose-driven and personalized, welcoming the new hires into the organization in the most meaningful way. 
FAQs on pre-onboarding best practices
What are pre onboarding responsibilities?
Pre-onboarding process makes onboarding programs gripping with preparing the necessities in advance. Pre- onboarding process happens when applicants accept the offer and their day one of joining. Admin side activities such as document verification, references, signing contracts, etc., occur during this time.
What are the 5 Cs of effective onboarding?
The 5 Cs of effective onboarding are as enumerated below
1. Compliance
2. Clarification
3. Confidence
4. Connection
5. Culture
How can organizations prepare new employees during pre-boarding?
During pre-boarding, organizations can take several steps to prepare new employees:
1. Send a welcome pack or corporate gift to make them feel valued and excited about their new job.
2. Provide an orientation schedule, detailing what to expect on the first day and beyond.
3. Encourage new hires to ask any questions they may have and address any concerns.
What paperwork can be completed before the first day?
To streamline the onboarding process, organizations can encourage new hires to complete certain paperwork before their first day. This can include forms such as tax forms, direct deposit information, non-competition or non-disclosure agreements, and acknowledgment forms for the employee handbook. Offering electronic options for form completion can further expedite the process.
Should organizations provide a welcome pack?
While not mandatory, providing a welcome pack can make a positive first impression on new hires. Welcome packs can include company-branded items like mugs, mouse pads, or other useful items. Alternatively, personalized treats with the company logo can also be sent. The goal is to show appreciation and align the welcome pack with the organization's unique culture.