The blunt truth that any recruiter quickly comes to terms with is that no matter how skilled they may be, carrying out the recruitment process will never be a piece of cake. The underlying culprit for this would be the various miscellaneous tasks involved in the recruitment cycle.
Tasks like advertising open positions, screening resumes, and inviting potential candidates for job interviews can get tedious, especially when dealing with critical time limits. 
8 Best Chrome Extensions For Recruiters 2023
If the goal is saving time and further organizing the qualified talent acquisition cycle  – the solution may be as simple as downloading a Chrome extension to complement your recruitment software!
From drafting job descriptions or resumes to sending emails, maintaining candidate databases, screening candidates, and much more can be done with appropriate Chrome extensions. 
5 must have Chrome Extensions for Recruiters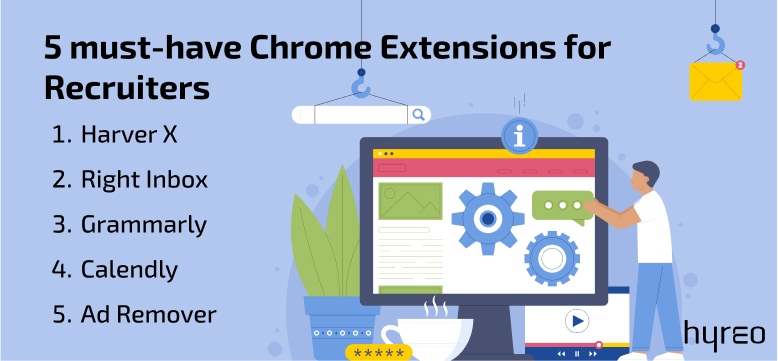 There is nothing quite so satisfying as letting technology handle the heavy lifting for you while you can focus your time on more essential input-heavy tasks. Curious how some of the best Chrome extensions out there can help you smoothen your recruitment process? Then be sure to explore further! 
#1 Harver X
Candidate assessments and tracking has never been easier. No more shuffling through Google sheets and going through 100s of potential candidate profiles. With this extension, you can speed up your talent acquisition by managing your assessment process on top of your existing ATS.
This effectively augments the capabilities of your ATS by introducing features like candidate matching and performance metrics.
But that's not all; Harver X comes packed with other notable features such as:
Email invitation templates (ones that you can either choose from or have created)
Application scores within a singular dashboard
Downloadable PDF reports
Check – How to Engage with Candidate Post Offer
#2 Right Inbox
Right Inbox is popular among professionals searching for a comprehensive email upgrade tool. This tool is tailor-made for recruiters to achieve more leads in no time from their Gmail inbox. 
Here are some notable features:
Email tracking: The email tracking feature lets you know which email was opened and went for their CTA. Recruiters can know their prospects and their respective action of engagement. Therefore, it becomes easy to target recruitment efforts to convert engaging leads. 
Email reminders: Right Inbox provides the feature of email reminders that acts as the recruiter's assistant. It helps send a nudge to ensure that the company can effectively follow up with candidates and remind them of any deadlines or updates within the recruitment cycle. 
Mail merge: Most recruitment strategies recommend personalizing messages to candidates as much as possible to enable a human touch. With integrated mail merge features, recruiters can contact a huge database of candidates through customized notifications. 
Gmail email sequences: Many recruiters often come across candidates that would wait to reply to their emails. Email sequencing can make it a lot easier by automatically sending in a follow-up email to the recipients that were yet to respond. 
Check – Best Cold Calling Scripts for Recruiters
#3 Grammarly
Whether a recruiter is looking to forward candidate profiles to management or other references or communicating job descriptions to prospects – emails with incorrect sentence formation or not-so-perfect grammar can be major red flags.
Grammarly is one of the most advanced AI language assistants on the market and will be able to catch a lot of simple oversights with eagle-eyed precision.  
One of the great things about this tool is that most of its best features can be used for free. However, if one hopes to address more advanced language issues such as sentence construction, tonality, and word choice, one would be better served with a premium subscription plan. 
Check – How to create Diverse Talent Pool – A Detailed Guide
#4 Calendly
A recruiter's day is usually filled with multiple calls, interviews, and meetings, all of which need to be balanced with each other. There are a few issues that come up when it comes to setting up these meetings that Calendly seamlessly resolve.

For one, traditional email scheduling correspondence often results in double bookings and the hassle of sending in the invitation links and disbursing them to all the concerned individuals.
Let alone the possibility of forgetting to join a specific meeting in light of other unforeseen circumstances. 
This is where Calendly solves this problem through proper time management. It allows recruiters to share their calendar link so potential candidates can select from the time slots the recruiter has made available.

An additional feature that makes Calendly an ideal partner to help you best track time? Well, it would be the way that it works in lieu of your Google Calendar and embeds the meeting link into the same reminders. 
#5 Ad Remover
Ad Remover is a handy tool, especially for those using Chrome. No matter if a person is a recruiter, accountant, or salesman when using Chrome, they will come across several ads that may become quite distracting. 
With Ad Remover, a recruiter can block all types of internet ads, such as banners, texts, video ads, pop-ups, and tracking cookies. This tool offers a 7-day free trial, and once completed, a person can upgrade to the paid plan.
#6 Clockify Extension
Clockify Extension is a simple, free-to-use extension that helps recruiters manage their time more effectively. It has often been a go-to time management solution to help boost productivity for team leads worldwide. 
There are three main ways in which Clockify works: 
Users can use the timer while they work
Users can manually input the time after they've finished
Users can add an auto tacker  
This helps recruiters see the big picture of their day, where they can fill in the gaps, etc especially as Clockify furnishes users with robust reports that can be downloaded on the go. 
#7 Voila Norbert
Voila, Norbert is a mail prospecting tool specializing in e-mail search and verification. It is a powerful tool if a recruiter wants to expand the scale of his recruiting firm by hunting down talent and hiring managers. 
Below given are three key features that this tool can provide to recruiters:
Prospecting: This tool has a massive B2B (business-to-business) company database. A recruiter needs to use the prospect's name and the company's domain; the tool itself scrutinizes the sources and extracts verified email addresses. 
Email verifier: Around 31% of people are reported to change their email every year. With the high-end verification algorithm of Voila Norbert, one can confirm the accuracy of the emails. 
Data enrichment: This feature reveals more details like the company's name, phone numbers, social media candidate profiles, and locations.
Check – How to Build Internal Talent Pool
#8 Contact Out
Contact Out is a search engine used by recruiters to extract prospect emails and phone numbers and comes out to be especially handy after you have shortlisted candidates from various talent pools.
It is built explicitly for recruiters who want an organized platform to help quickly find the right candidates.  
To use this tool, a recruiter must first download the extension, pin it on their browser, and go to LinkedIn. When hovering above an individual's profile, the HR manager can access additional details like personal email addresses, phone numbers, and also links to social media profiles. 
Check – A Detailed Guide on Agile Recruitment
Which Extensions Would Be Best For You?
Automation is excellent, but if you don't carefully consider the pros and cons, you may set back your recruitment efforts. As we have seen above, there are various tools, from email finders to time management tools. 
Hence, it comes down to the recruiters to zone in on the tools they are comfortable with. Here are some factors that may help you decide:
Budget: Although most of these tools are free to use, there are also a few premium features that you would need to pay for. You would want to run the numbers through to ensure it would be a good investment in the long run. 
Ease-Of-Use: A tool that works exceptionally well for someone else might not feel quite so comfortable for you, which means that no matter how simple a device might be, it must fit in with your work style.
Performance: Does the tool work the way it is supposed to? Even if it does work, does the plugin resemble the needed functionalities?

For example, if you already have a very effective time management system, you probably don't want to experiment with new ways to do the same. 
It is also always a good idea to experiment with multiple tools! Before you lock into any particular tool or software, it never hurts to run a quick pilot.

See which tools are giving you the best results so that you can proceed with the same. As a recruiter, it would always be best advised to invest the time in the beginning so that your processes would run seamlessly for a good while to come!
Check – How to Conduct Interviews
Wrapping up!
Searching and recruiting the best talent that is qualified for the vacant jobs in the company is an uphill battle. However, with the right Chrome extensions, the stress of recruiting suitable candidates is reduced to a great extent. 
In fact, according to a report referenced on Forbes regarding automation, 53% of employees say they can save around 2 work hours a day! 
These are just some Chrome extensions found online for free or with affordable pricing options.
Other Chrome extensions that a recruiter can use are the language learning tool, Currency conversion extension, etc., to automate the entire recruitment process.
When choosing any of these tools, a recruiter should assess his company's requirements and then select the extensions meeting those requirements.  
Analyze the shortlisted Chrome extensions for all additional features to use them optimally and hire the best candidates.
The chosen Software should resonate with the schedule of a recruiter, be easy to use, and make the business more productive. 
FAQs on Chrome Extensions
What exactly is a Chrome extension?
Google Chrome extensions are programs that one install in their Chrome web browser to automate certain recruitment operations. From a recruitment perspective, different extensions help automate specific HR functions in the browser, modifying existing behaviors and improving the software's convenience.
What tasks can be performed by Chrome extensions for recruiters?
1. Sourcing potential candidates from different official recruitment websites and also social media platforms
2. Tracking and screening applications or resumes for specific roles or job positions in the companies
3. Browsing social media networks for background checks of the selected candidates
What risks are associated with Chrome extensions?
The following mentioned are the risks associated with chrome extensions:
1. Privacy and data theft: When adding an extension to your Chrome browser, you will be warned that the extension might access your data.
2. Malicious Software: Sometimes, there are malicious extensions in the Chrome web store.
How can I protect myself from the risks of using Chrome extensions?
1. Research: Search the web to check for any concerning reviews or reports about the particular Chrome extension. 
2. Uninstall the unrequired extensions: It is better to uninstall the Chrome extensions that you don't use regularly.