An applicant's resume is the first introduction to their skills, experience, and abilities when considering potential candidates for an open position. Certain qualities, however, cannot find a fair place in resumes. Resumes, at best, are an accumulation of academic merits and professional accomplishments, meaning they are quite limited when it comes to truly getting to know the candidate. Their text-based, closed-form nature deprives the opportunity for recruiting teams of fully comprehending the scope of a potential recruit.
As a recruiting solution to these pertinent issues, organizations are now using skills assessments to complete all hiring phases. These assessments are keen on avoiding onboarding people who lack the required skills for the roles. In fact, the global candidate competency assessment market was valued at 1.93 billion dollars in 2020 and is expected to reach 5.64 billion dollars by 2030, with a compound annual growth rate of 11.6 per cent from 2021 to 2030. Here is a blog that elaborates on skill assessment tests and why businesses rely on them.
What Are Skills Assessment Tests?
Skill assessment tests are designed to assist employers in assessing the skills of job candidates and employees. Companies can use skills assessment tests in all stages of employment. Recruitment processes, internal mobility programs, and other important functionalities can have different sets of skills assessment tests to ensure that their job candidates and current employees have the necessary skills to perform their jobs successfully.
Concerning hiring processes, recruiter assessment tests are most commonly used. Many employers require applicants to take a skill assessment test to narrow down the list of candidates who will be invited for a job interview.
Why Does a Company Require Skill Assessment Tests?
Skills assessment tests are dependable, objective, and inexpensive, and they provide valuable insight into candidates' cognitive abilities. They assist employers in weeding out candidates who, despite their resumes, are underqualified for a job position. As a result, a few key benefits come to light, as presented below: 
These tests assist employers in verifying candidates' claims and identifying candidates who may be better suited to another position. 
Employers can also use these tests to determine which employees are ready for advancement or should be transferred to a different entry-level position. 
Employers may be able to identify areas where an employee is successful or struggling using assessment tests. 
Employers can use this information to provide additional training, nurture and develop employees, and help them achieve their own goals.
Employers can also use the test results to compare internal talent to the industry and geographical standards. 
Recruiting assessment tests to enable employers to make informed, statistical decisions about recruitment, training, and promotions because they are used to evaluate both potential and existing employees.
Different Types of Skill Evaluation Tests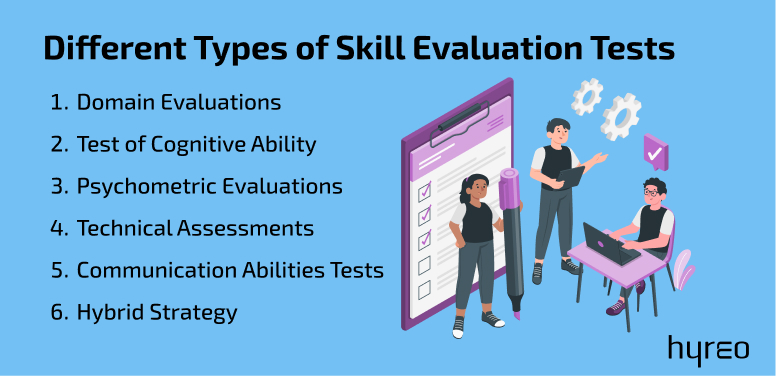 With a plethora of industry-specific aptitude tests, companies can obtain a comprehensive profile of the job applicant taking these tests. Some of the most common types of skills assessments used during the hiring process are listed below:
#1 Domain Evaluations
These are structured interview tests that assess the candidate's knowledge of the specific domain skills required for the position. These tests can be tailored to assess abilities in a variety of areas, including sales, marketing, operational processes, auditing, financial services, strategy, and production planning. They evaluate technical and functional abilities, as well as general suitability for financial positions.
#2 Test of Cognitive Ability
Cognitive ability tests assess how candidates would perform in unexpected scenarios rather than typical ordinary situations. This is accomplished by assessing a person's ability to think abstractly while employing numerical and verbal reasoning skills. Game-based assessment tests are frequently used to assess cognitive ability. This format is more approachable for the job applicant, and the process is usually much faster than traditional cognitive skill tests.
#3 Psychometric Evaluations
Psychometric tests are psychological assessment tools used to evaluate a job applicant's aptitude, personal characteristics, abilities, and levels of intelligence objectively. These assessments are widely used in the hiring and career development processes of employees. 
The psychometric test can help match an individual's behaviour and abilities to the right role or career, whether for employment or career guidance. These tests can assist in large-scale recruitment by narrowing down a large pool of applicants to a select few who may be the best fit for the specific position.
#4 Technical Assessments
To make the test fit perfectly for your job role, you can include questions in objective as well as subjective formats for any experience range through a single assessment. From evaluating programming skills and computer languages to software development frameworks, such tests facilitate assessing applicants' technical ability.
#5 Communication Abilities Tests
Communication skills evaluations assess candidates' communication skills, with a focus on how well they understand the complexities of the language. These tests are based on four evaluation criteria: 
Pronunciation 
Fluency 
Listening and Reading Comprehension 
Grammar 
These assessments and language comprehension assignments are designed to assess the applicant's breadth of knowledge and proficiency in oral and written media. The various components of such skills tests assist recruiters in determining how well the candidates understand a particular language and the quality of response solutions that they can furnish.
#6 Hybrid Strategy
Many organizations prefer to use a combination of assessment tests instead of just one for the job interview. While the assessment process can be a bit lengthy for the job applicant, it yields more comprehensive results.
Tools for Assessing Skills
It can be challenging to find quality recruits. With such a highly competitive market, hiring teams frequently find their inboxes or desks piled high with resumes. Finding the time to carefully sift through all of them can be time consuming, so let's introduce you to some effective skills assessment tools. 
#1 iSpring Suite Max
iSpring Suite Max is primarily intended for the creation of eLearning content, but it also serves as an excellent assessment tool for recruiters. It not only enables the creation of interactive distance learning using a wide range of media, such as visuals, video files, and screencasts, but it also includes a powerful tool for creating tests with fourteen pre-made question layouts.
#2 eSkill
eSkill is a solid recruiting assessment tool that allows organizations in virtually any field, including IT, sales, financial, and even hospitality, to screen large numbers of candidates. And it provides a wide range of test types for each of these industries, including behavior patterns, pre-employment, and even video-response questions. You can select from hundreds of pre-made templates or easily create your own custom template.
#3 Interview Mocha
iMocha has one of the largest library collections of ready-made, role-related tests in the world. They even offer AI-based proctoring to ensure the integrity of the job applicant and their test scores because they specialize in assisting organizations in finding remote tech jobs.
As a result, they are best suited for organizations that are solely focused on technology and work with distributed teams. Recruiters can easily curate and customize their tests and collate an extensive skill test to get better applicants onboard with the organisation.
#4 HireMojo
HireMojo is a high-tech skills assessment tool that employs artificial intelligence, big data, robotic systems, and analytics to assist automate every aspect of the employee vetting system, including the creation of position descriptions and interview questions. 
That is why it is used by large corporations such as Stanford, Philip Morris, and American Homes. This tool enables them to sit back and complete the open positions rather than making multiple visits to their inboxes. However, with so much of the hiring process handled for you, there is little room for customization.
#5 Skillmeter
Skill meter, which is intended for hiring teams rather than individual recruiters, tests prospective employees by improving their knowledge and skills. It is highly customizable, allowing you to create your assessments in almost any template you can think of. You can even brand it with your logo and subdomain name. The best part is that no IT is required. It is cloud-based and user-friendly. Furthermore, you can obtain any candidate's test results instantly.
#6 Wonderlic
Wonderlic, a workforce planning veteran, has mastered the art of predictive scientific research to ensure that the best candidates are selected fairly – that is, objectively and data-driven. They are constantly improving their platforms and tests by utilising cutting-edge methods and technologies such as industrial-organizational psychology, intelligent systems, and machine learning to deliver their patent-protected 'WonScores.' These results are based on three types of assessment methods: 
Cognitive functioning/ability examines if your employee or potential recruit can meet the job responsibility. 
Personal assessments render information about likely behavioural patterns on the job.
Motivation assessments examine if the available positions interest candidates or not.
Conclusion
Many businesses foster a true competitive culture that encourages positive reinforcement and inspiration to excel for the greater good of the organization. These skills assessment tests aid in determining a person's eligibility and competency for the job, as well as whether or not he or she has the desire to succeed and prosper in the organizational setting.
These tests are typically used to determine where one's skills are lacking and possible scopes for improvement, allowing businesses to obtain a more realistic view of their performance. Internal validity scales in these skills tests can quickly detect any false representation and help determine a candidate's suitability by weighing how they would fare and measure up to the standards of the company in the long run. With smarter ways to optimise your team's efficacy and reduced risks concerning bad hires, skill assessment tests are a viable upgrade to every organisation. 
FAQs on Skill Evaluation Tests
What exactly is skill assessment?
The evaluation of an individual's skill in performing in a specific competency job is referred to as skill assessment.
How does one prepare for a skill evaluation test?
Candidates should take as many practice tests as possible before the scheduled exam. If the mock tests aren't easily accessible online, they can ask the recruiter to give them an idea of the types of questions they will be asked during the test.
How can one define professional skills?
Professional skills include qualities such as leadership abilities and project management abilities that an employee learns to imbibe in an efficient workspace.
What do employers look for in skill evaluation tests?
Though the specific criteria may vary for every employer, the most desired qualities by employers are competence, interpersonal skills, and professionalism.
What are some examples of skills assessment tests?
Companies commonly use several tests, domain test results, psychological testing, behaviour tests, and communication tests in their hiring processes. While some positions require only a type of assessment test, others might require a mix of several kinds to better judge a job applicant.