Key Takeaways
– Understand the common candidate expectations, including efficient hiring process and growth within the organization
– Benefits of meeting candidates' expectations include a positive employer image and candidate satisfaction
– Strategies to meet candidate expectations that need to be bifurcated and implemented at various stages 
Expectations are one aspect of life that almost everyone tends to have. Job seekers, especially the younger generations of millennials and Gen Z, have different expectations from their work lives and organizations nowadays.
From their flexibility and freedom to work to social responsibility, candidates bank on every interaction to decide whether to associate with the brand. 
The globally transforming workspaces and styles have also ensured adapting to technology, hybrid work modes, and a non-traditional workforce.
This shift in perspective towards work has pushed recruiters to be at their best and meet candidate expectations by creating positive and pleasant experiences for them.   
What are the common Candidate Expectations?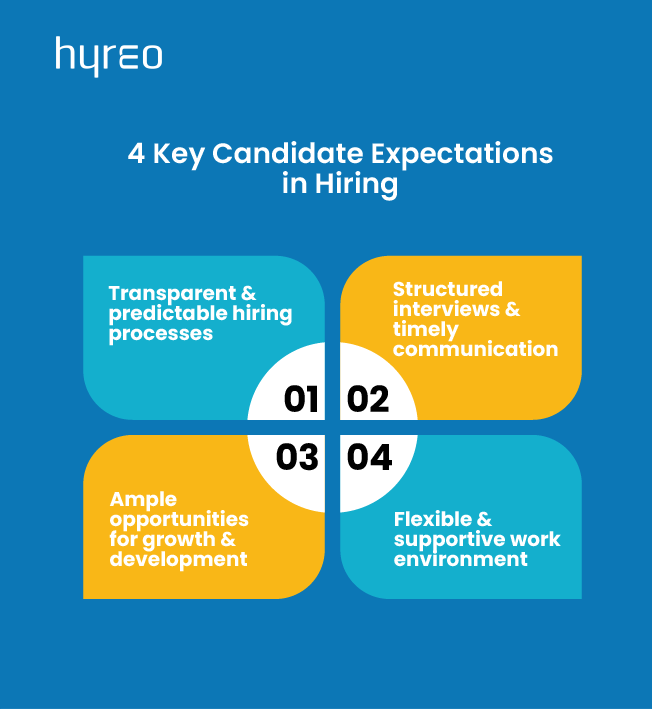 The most common candidate expectations are the most obvious ones we may expect as customers or often in any relationship.
Expectations broadly fall under the following four categories:
#1 Clarity and transparency
Candidates, especially younger ones, appreciate knowing the role and what lies in store for them.
Informing them about the interview stages and what they can expect in each step creates transparency and predictability in the hiring process.
#2 Efficient hiring
Some candidates need a job urgently, and many others may have counteroffers. They may expect that the interview process must be quick and efficient.
Of course, regardless of the pace of the hiring process, every candidate expects to be treated well and be informed about their result on time. 
#3 Growth and development
Along with meeting their basic expectations of salary and designation, candidates may expect other benefits, skill development, and career advancement.
Reward and recognition are also common expectations of most employees. Younger generations are also open to job rotations or opportunities in various other geographical locations. 
#4 Work environment
Candidates seek enough challenging work that can lead to achievement.
Recently, candidates have sought to maintain an excellent work-life balance and hence appreciate flexibility in work modes, remote or hybrid. 
Another important aspect is support from managers and team members sustains motivation and sometimes even loyalty.
Positive employee experience and work culture have been known to increase productivity.
Why do you need to meet candidate expectations?
By meeting candidate expectations, an organization can ensure a positive brand image as an employer.
You will notice how the brand image has a far-reaching impact on many areas. 
Positive reviews from former applicants or testimonials from existing employees can lead to a solid referral line. These endorsements on social media and company review sites can lead to an increase in the number of applicants per opening, a high offer acceptance rate, and overall candidate satisfaction.
For the recruiters, it reduces the time to attract and hire talent. If each of the hiring processes is made standard and efficient, the recruiters will find it effortless to meet candidate expectations and create great experiences.
6 Strategies to Meet Candidate Expectations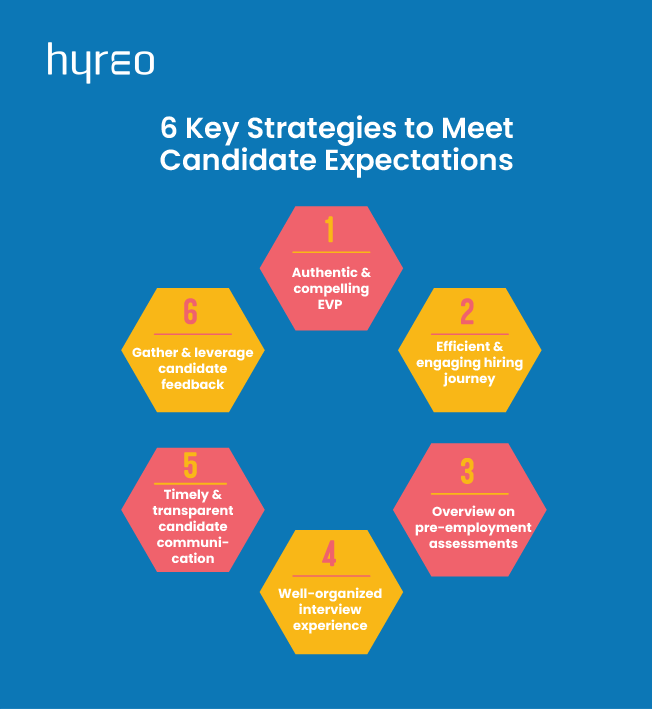 After knowing the benefits of meeting candidates' expectations, the next step is to know how to go about it. Many of these steps may take time and effort for you to master and make them a part of your recruitment process. However, once you set the process in order, the benefits are manifold.
Let us look at how to meet candidate expectations at every stage:
#1 Sourcing
Showcase the Employee Value Proposition, work culture, and values that your organization stands for. Depending on your company's values and culture, you could be as creative as you can get. 
Offer the candidate a long-term vision they can create by associating with the organization. Many times, you may not be able to offer the candidate all that they expect. However, you can be transparent in your offerings and show them what they can achieve over time. 
Build clear job roles and job descriptions for candidates to understand what they would get into.
Ensure that your chosen talent pool matches the job role and the organizational culture. A mismatch in this stage can cause a lot of trouble for you going ahead. 
#2 Application and screening
Ensure that your application criteria and process are clear enough. If your recruitment process allows online applications, make sure that filling in their details is easy for interested candidates. If your screening process is automated, set criteria that are reasonably flexible so that you don't lose out on talent. If a profile is rejected at the screening stage, ensure that it is conveyed to the candidate. Once again, automation makes this easier since the software can send timely and personalized messages to a group of candidates in one go.   
If a profile is furthered into the interview stages, educating the candidates about the next rounds is a good idea. If not the entire process, you could let them know what the next round is and what they will be evaluated on. 
#3 Pre-employment assessment
Many employers adopt pre-employment tests for further screening. These could be online technical tests, aptitude tests, psychometric assessments, and value questionnaires.
Other assessments, such as group discussions, presentations, or assessment centers, could be used to screen candidates. Although no organization details what parameters or skills will be assessed in this round, the candidate could be given an overview of the rounds to be better prepared. 
Check – Post Offer Candidate Engagement Platform 
#4 Interview rounds
Any candidate will undergo at least one Interview round while applying for a job. These interviews can be conducted in person or online, run by one or many interviewers.  
Interview rounds are 'Moments of Truth' for candidates. Here are some factors that create a good candidate experience:
How organized the process is
Whether the interview starts and ends on time
Whether the candidate feels comfortable, respected, and listened to
Whether their questions are answered 
Whether constructive feedback is shared after the interviews
Regardless of how many interviews a candidate goes through, three significant aspects are communication of the result, sharing feedback, and making a quick hiring decision. 
For experienced and skilled candidates, other great experiences could be how interesting, challenging, or creative the interviews were.

Check – Email Templates to keep candidates warm post offer
#5 Offer of employment
When candidates are found compatible with the role and organization, they are offered employment. This must be done as quickly as possible to avoid disinterest in the candidate and interference by counteroffers. 
A recruiter needs to be flexible with some criteria (as allowed by the organization) so that the organization doesn't lose out on talent. If candidates meet most criteria, you could consider training them to overcome other skill deficits. 
Recruiters could be open to negotiation regarding designation, flexibility in schedule, benefits, etc.  
In case of rejection of a candidate, especially in the latter stages of an interview, ensure you share constructive feedback so that the candidate can work on themselves. The more skilled or experienced the candidate, the more detailed and specific the input should be.  
#6 Gather candidate satisfaction feedback
If you wish to become more efficient in your recruitment, you must ask for feedback after every stage or round. Feedback forms can be automatically sent to candidates when they apply for the role till the last interview round.

These surveys can help you understand how many of the candidate's expectations you have met and how to elevate the experience for each candidate for enhanced employer branding and higher candidate referrals. 
Wrap Up
No organization can meet every expectation of every candidate. However, as a recruiter, you can meet the most common ones that, include clarity, transparency, timeliness, and respect. 
By meeting these basic expectations, you can be assured of a positive brand value and of creating a great candidate experience.
Whether or not the candidate joins your organization, you will have created a memorable experience for them! 
FAQs on Strategies for Meeting Candidate Expectations
What happens when organizations cannot meet expectations of compensation, remote working, or other basic criteria?
Organizations have some set standards and budgets for hiring. Often, these are made flexible for skilled and experienced candidates. However, in case you find some candidates who are a good fit but have expectations that cannot be fulfilled at this moment, you can offer to consider their profile for future opportunities. You can engage with them through LinkedIn or send them updates about opportunities in the organization. 
Depending on their expertise or skills, you could even recommend similar profiles that are a win-win for both the candidate and the organization.
What is the role of candidate engagement in meeting their expectations?
Some response is always better than no response. It is important for recruiters to communicate in time and regularly to inform candidates about schedules, roadmaps, updates, results, and feedback. 
Clear, transparent, and timely communication with candidates is a big factor in creating positive Moments of Truth.
  [D1]https://hbr.org/2015/12/proof-that-positive-work-cultures-are-more-productive