Every year organizations visit various colleges to acquire fresh talent. Young talent can bring new ideas to the table that every organization nurtures. A lot of planning and preparation is required for campus recruitment. 
A software tool that facilitates campus hiring is called Campus Recruitment Software. This Software takes into account all the steps involved in Campus recruitment. This serves as a guide leading the organization to manage the process in an organized way. 
6 Key Steps of a Campus Recruitment Event
Let's first understand the basic steps involved in a Campus recruitment event.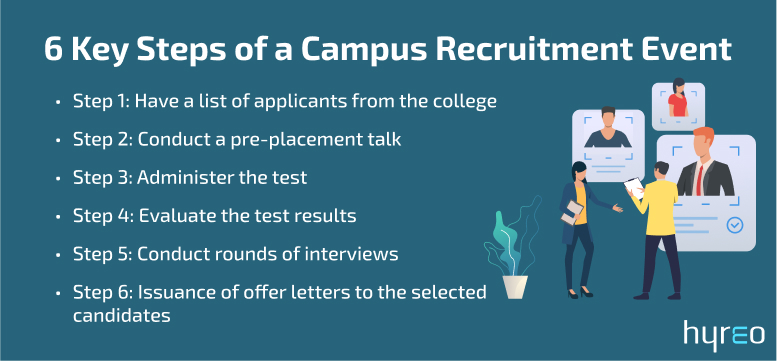 Step 1: Have a list of applicants (students who wish to apply for a position) from the college
Step 2: Conduct a pre-placement talk 
Step 3: Administer the test
Step 4: Evaluate the test results
Step 5: Conduct rounds of interviews
Step 6: Issuance of offer letters to the selected candidates
There are a lot of sub-steps involved in each of these steps. Tracking the entire process end to end is one such critical step.
Now imagine this entire process being managed manually for hundreds of applicants. The effort is huge. Data management is cumbersome, and tracking is tiring. 
Campus Recruitment Software helps in this scenario. It reduces manual efforts, helps manage the data, and tracks the end-to-end progress. 
An ATS (Application Tracking System) or Campus Recruitment Software automates the process reducing manual effort and errors. Most of the software today is AI-powered. That makes employee screening, shortlisting, and tracking easy.
Things to keep in mind while recruiting from Campus
Campus Recruitment is a recurring annual process. Many stakeholders are involved right from the point of start till the end. Not just the campus recruitment team but the business also actively participates in this activity. A lot of man-hours are invested in this activity; hence it is only wise to have a strategy in place for a fruitful campus hiring experience.
Things to keep in mind while recruiting from Campus are:
The strategy and the overall process need to be very simple and easy to replicate every year. Consistency is the key.
It is important to have a contingency plan for each step of the campus hiring process.
All the stakeholders – the college recruitment coordinator, the Campus recruitment team, and the business need to be well aware of their responsibilities in the hiring process. Everybody's buy-in is important. 
Backup interview panelists, HR interviewers, and Online, as well as offline tests, should be kept ready as a backup, and a backup panel to evaluate the tests, etc., needs to be kept ready to avoid any unforeseen event.
Any change in the agreed strategy/plan needs to be communicated effectively to the concerned stakeholders. This helps avoid any miscommunication and confusion.
Adherence to the committed timelines is critical to Campus recruitment.
 The campus recruitment team needs to have an internal checklist in place to track all internal processes:
Identify the preferred campuses along with the management.
Confirmation of dates and timings of campus recruitment date. Communicating the same to the stakeholders
Ensuring the tests are ready along with the key.
If you are using campus recruitment software – then do a software check.
Reconfirm with the panelists about their availability closer to the date.
Acquire the list of applicants from the college and upload it on the ATS OR encourage online applications.
Ensure the pre-placement talk presentation is ready
Dry-run the whole process once within the team to check for any loopholes
Keep backups for everything ready
Once you have a clear picture of the steps involved in campus recruitment, instituting campus recruitment software becomes very easy. Most software are very user-friendly and intuitive. Hence moving from a manual hiring process to a software-enabled one is not at all difficult. 
10 Best Campus recruitment software
Since Covid, a lot of organizations have preferred online recruitment solutions, while some prefer a hybrid version – online and offline. The market is aware of these preferences, and hence there is software for everyone to suit their need. 
Let's evaluate the 10 best Campus recruitment Softwares that make the recruitment cycle easy and efficient:
#1 Yello
Yello is an award-winning talent acquisition tool that facilitates the recruitment process and campus events effortlessly. It is a one-stop shop for all your recruitment needs. It helps in managing the entire candidate lifecycle on the tool. Some of its key features are given below:
Supports virtual as well as offline hiring models
Provides complete hiring solution
Helps manage the entire candidate lifecycle to schedule interviews.
Helps in event planning and campus relationships
Streamline recruitment operations
Analytics and reporting
#2 Vervoe
Vervoe enables the hiring process by focusing on the skills and attitude of the candidate. Its hiring solutions are based on the merit of the applicant. It helps in predicting the job performance of the applicant using skill assessments that showcases the applicant's ability. 
Key features are as follows.
Create customized assessments using a combination of skill sets
Top candidate experience
Seamless integration with your existing ATS
Analytics and Reporting. Detailed Dashboard.
#3 Rakuna
Rakuna is a one-stop shop for all recruitment needs. It has a unique campus recruitment and events application that support the mass recruitment process. The tool is intuitive and ensures engagement with the applicants through its Recruiting CRM module. The functionalities support recruitment fairs as well as an online recruitment model. 
Key features are as follows
Ideal for all organization sizes
Interactive and user-friendly mobile app
Easy data management
Robust screening process
Analytics and Reporting
#4 Talview
Talview was awarded as the top HR Tech product in 2022. It provides AI-powered assessment-based recruitment solutions which help in measuring the potential of the candidate. It is ideal for large organizations or organizations that are scalable. 
Key features are as follows:
Evaluates the candidate's competencies and skills
Variety of assessments like coding tests, multiple choice, aptitude, etc.
Supports online recruitment
Suitable for high-volume tests
Remote proctoring to prevent cheating 
#5 Adaface
Adaface provides complete recruitment solutions for campus recruitment. It can efficiently screen a huge volume of student applications to arrive at the final list of top recruits. It is designed to check the skills and cognitive ability of the candidate.
Key features are as follows:
Online recruitment model available
Assesses the skills and cognitive abilities of the candidate
Detailed reporting
Variety of assessments as per the organization's needs
#6 iMocha
iMocha is a champion of skill-based Talent acquisition. With its AI-powered skill assessment tool, it provides scalable and cost-efficient recruitment support for campus hiring.
Key features are as follows:
Assess the job readiness of candidates
Supports Virtual recruitment
Unbiased assessments
AI-enabled proctoring
AI-powered Insights and Reporting
#7 Oleeo
Oleeo is a unique blend of technology and talent acquisition specialists who have created Recruitment offerings that suits all. It provides solutions like High volume hiring, Virtual Recruitment, Diversity hiring, and Campus hiring.
Key features are as follows:
Customized recruitment solutions
AI-powered volume recruitment
Offer personalized candidate experience
Analytics and Reporting
#8 Hirevue
Hirevue is a digital recruitment platform designed to make scale hiring easy. It uses video intelligence in its interviews to find the best talent. Hirevue scores the candidate's response and thereby ranks compared to other applicants. 
Key Features are as follows:
Screen and hire talent via assessments and video interviews
Scalable solutions for all sizes of organizations
Fast and flexible hiring solutions
Fair and transparent hiring
#9 Mettl
Mettl is the global leader in talent assessments. They conduct customized online assessments to acquire the best talent. Mettl helps evaluate the skill, personality, and ability of the applicant through their assessments.
Key features are as follows:
Customizable Solutions
Scalable solutions- hence the size of your organization does not matter
24*7 support
AI-powered proctoring 
#10 Avature
Avature provides one of the best Talent acquisition suites. It has specialized solutions for Campus Hiring. It supports online as well as offline large-scale hiring. Its smart automation enables efficient data management and fast processing of applicants with the least amount of effort.
Key features are as follows:
Create a Recruitment event or Virtual event on the tool
Simple scheduling
AI-powered Screening
Easy decision-making with real-time feedback
Interactive dashboards and Reports
Integrations with existing ATS possible
Wrap-up
With a variety of Campus Recruitment Software floating in the market, the process of campus hiring has become very convenient and easy to execute. You only need to choose the right solution that fits your organizational needs. These AI-powered tools make data management, testing, screening, and tracking candidate hiring processes less cumbersome. Campus Recruitment is a recurring event – hence automating it with the help of this software is a wise investment.
FAQs on Campus Recruitment
What is ATS in Recruitment?
ATS stands for Application Tracking System. It helps track the candidate's progress in the entire recruitment cycle.
What are recruitment methods?
Various methods through which candidates can be recruited in the organization are:
1. Direct advertising
2. Outsourced vendors and recruitment agencies
3. Employee referrals
4. Promotions and transfers
5. Employment exchanges
6. Recruitment events
7. Recruitment portals
8. Re-hire
What is the difference between ATS and CRM?
Application Tracking System (ATS) is an active workflow of managing applicants on the tool. It helps in the screening, evaluation, and selection of candidates. While Candidate Relationship Management (CRM) is a repository of active as well as passive candidates that can be accessed for further processing at any point in time.
What is AI Recruitment Software?
AI Recruitment Software uses Artificial Intelligence in doing the predictive analysis of the applications on the tool. This analysis helps the recruiters to do better screening and hiring of candidates.
What are the stages of Recruitment?
Entire Recruitment cycle has 6 broad stages:
Stage 1: Requirement Gathering: In this stage, the recruiter gathers all the relevant information like skill, attitude, aptitude, etc. desired to be hired for the open position from the stakeholders.
Stage 2: Sourcing: Based on the data gathered during stage 1, Candidate resumes are sourced. Sourcing can be done through the Recruitment portal, Employee referrals, advertisements, recruitment vendors, etc.
Stage 3: Screening: This stage involves screening the sourced resumes to see if the potential candidate meets the requirements listed by the organization. An initial round of interviews is also conducted to confirm and understand the basic information/skills of the candidate at this stage.
Stage 4: Selection: During this stage, tests are administered, and multiple interviews are conducted, to ensure the right candidate is selected for the open position.
Stage 5: Hiring: When a candidate completes the selection criteria, he is hired into the organization. An offer letter is generated and handed over at this stage.
Stage 6: Onboarding: Once hired, the candidate accepts the offer and is onboarded into the organization. Orientation and training that are followed ensure the candidate has a great new joiner experience.