Imagine this scenario: It is the weekend and you get a call from an ex-colleague. You pick up the call, hesitatingly, wondering what he is calling you for. After pleasantries, he asks if you know about a company's work culture. This is something neither he nor you have heard about. He, then, informs you that he has job offers from two very famous and well-known organizations in the same sector. 
You instinctively ask him to pick one of them, as they are ranked amongst the top companies in the industry. While hanging up, you wonder if you have given him the right advice. 
This situation applies to candidates and job seekers everywhere. When candidates have very little idea about a company and its work culture, it is very difficult for them to consider applying for a job. 
According to research conducted, it was noted that 75% of active applicants apply to a job when they notice the employer managing their brand. Now, if every candidate aspires to pick well-known brands, how will other businesses acquire talent and how do they become famous as employers?  
The answer lies in a concept called employer branding.  
What is Employer branding?
Branding is a term that has usually been used for products and services to attract customers. In a world where customers have a lot of options, they lean towards peer reviews, ratings, and brand presence in the market. This has also seeped into Human Resources. 
Employer branding is an organizational strategy to positively influence people's perception of the company to attract and retain talent. 
Simply put, it is the organization's reputation as an employer for current employees, job seekers, and associated stakeholders. How they feel and speak about your organization will determine business outcomes and the stability of your workforce. This was determined in a study where it was stated that 86% of employees would not work for a company that has a bad reputation with ex-employees or the public. 
What are the advantages of employer branding?
Creating a solid employer brand will help you to:
#1 Attract Better Talent 
75% of active job seekers are likely to apply for a job if the employer has a healthy company reputation. It helps you influence uncertain or passive candidates to make a decision. Several companies also use social media to reach out to young talent. 
#2 Reduce Recruiting Costs
When highly talented candidates want to work with you, it drastically reduces recruitment costs by almost 43%. For existing employees, positive experiences strengthen brand perception and improve employee retention. This, in turn, reduces turnover costs. A great employer brand helps you hire talent without the need for higher pay. 
#3 Improves Referral & Quality of Hires
A satisfied workforce acts as a brand ambassador for future candidates. While 7% of applicants were accounted for through referrals, it generated about 40% of new employees. Hiring through your referral network also improves the quality of hires. 
#4 Creates A Diverse Work Culture
Diversity and inclusion help employees feel connected and welcome. Satisfied employees increase productivity and offer different perspectives for problem-solving and innovation.    
Factors that influence the employee life cycle 
An organization's brand image is influenced by many organizational factors:
#1 Clear and relatable vision and values
#2 Employee Value Proposition (EVP) viz. salary, bonuses, leave, health insurance, retirement funds, etc.
#3 Employee recognition
#4 Employee engagement and satisfaction
#5 Diversity, Equality & Inclusion (DE&I)
#6 Growth and career development opportunities
#7 Healthy and safe work culture 
#8 Job role satisfaction
#9 Job security
#10 Management style
#11 Work-life balance
How can you create an Employer Brand? [8 Strategies]
The process of creating an employer brand is tough and takes a lot of consistent investment as long as the brand exists. But the returns of this activity are so high that all the effort is worth it.

Introduced by Simon Sinek, the Golden Circle urges you to first identify the core values that you want to be known for. Once you understand the 'why', you will know what aspects of the company to put forth and how to present your brand. 
Here are the steps to be followed:
#1 Get familiar with your company
Before you start putting yourself 'out there', it is important to know what your company stands for – its vision, values, culture, unique value proposition, and roles. Just writing all of these on posters and marketing material is not enough, it is important that the management of the company 'walks the talk'. 
#2 Periodically, audit your brand
Of course, you put your best foot forward while branding yourself as an excellent employer. However, it is necessary for you to review which of your activities are working for you and which ones can be done away with. E.g.: For prospective candidates, what the organization can offer them is very significant for them. For current employees, every positive experience strengthens their belief in the brand.  
Are you able to meet the expectations of current employees and influence the conversion of potential candidates? Are you able to acquire talent with the right cultural fit?   
Let's look at some metrics that can help you measure the efficiency of your branding activities. 
#3 Create impressive Job Descriptions
If you are serious about employer branding, you need to dump the generic format and verbiage used in Job Descriptions. Of course, don't make it so complex and use abbreviations and jargon that candidates don't get. Does it seem like a big ask? If it does, go back to step 1. Clarity of company roles and values will make this simpler for you.  
#4 Create brand awareness among job seekers
The first step of (new-age) talent acquisition is recruitment marketing. It is about creating awareness of the brand and presenting the value of working for your company to potential candidates. Nowadays, many companies use social media to reach out to young talent.
#5 Aim to provide positive experiences
No amount of brand hammering can replace being remembered for how a company makes candidates and employees feel. Positive experiences add credibility to the brand image.  
#6 Design a seamless onboarding process
Onboarding is a phase where moments of truth for your brand image are experienced by your employees. All that you presented to the candidate before they became a part of your company is tested and a lot of strong perceptions can be made, during this phase.
#7 Engage with your current employees
Consistent engagement with your workforce can work wonders to create employee satisfaction and, in turn, influence productivity and retention. Engaging with your employees will also give you enough feedback to realign your talent management strategies. 
#8 Provide training and development opportunities
Employees must be able to see their association with a company to be beneficial. Apart from a satisfying role and a comfortable work culture, opportunities to learn and grow are important to employees. 
What are the tools to improve Employer Branding?
Branding can be done through direct or indirect methods.
Some direct and usual methods are through the career pages of the company website, campus hiring, campaigns, banners, etc.
New-age methods of branding are:
Social media marketing
A company blog, community, or even an alumni
Rich media like video ads, slide decks, and marketing tools
Storytelling for brand recognition and recall (like a logo and tagline)
Employee success stories or testimonials
Sponsored college events (marathons, sports events, etc.)
Indirect methods of branding are:
Hiring for diversity
Employee engagement activities
Corporate Social Responsibility causes and projects
7 Metrics to measure your Employer Brand Efforts Success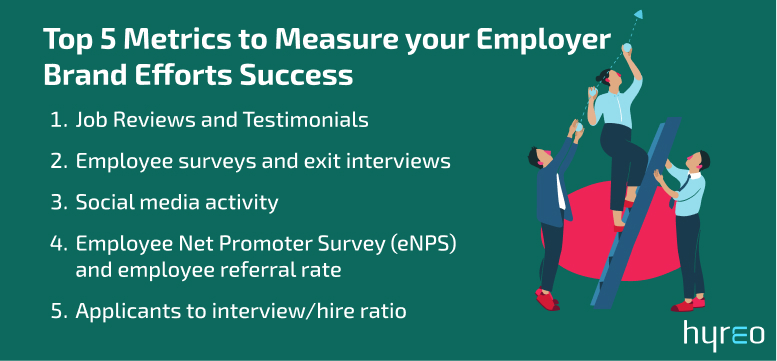 Employer branding metrics can be measured through many parameters but are mainly tied to employee experiences and feedback.  
#1 Job Reviews and Testimonials
Employees and candidates share their ratings, reviews, and experiences on some common platforms like LinkedIn, Glassdoor, Indeed, etc.
Candidates can view company ratings, CEO approval, senior management ratings, compensation, career opportunities, etc. As an employer, you can use this feedback to realign your strategy after verifying data. 
Check – How to post a Job for Free on LinkedIn
#2 Employee surveys and exit interviews
Organizations that ask for feedback from candidates and employees are often perceived to be open, adaptable, and humble. Employee experience insights can be sought through surveys. 
#3 Social media activity
How many people access your channels and view your posts is an indicator of interest in your brand. Comments can also show how people feel about you as an employer. Also, the number of open applications for a role can indicate the strength of your brand awareness. 
Read – A Guide to hiring candidates using Social Media
#4 Employee Net Promoter Survey (eNPS) and employee referral rate
eNPS measures the satisfaction and loyalty of existing employees. Employees are asked to rate and comment if they are likely to recommend the organization as an employer. This is an indicator of the possibility of referrals. The measure of the employee referral rate is also directly proportional to your branding success. 
#5 Applicants to interview/hire ratio
This shows how many applicants make it to the interview stage. It indicates the applicant's interest in your company and the various roles offered. The conversion of applicants into hires also shows if the branding and recruitment strategy is working well.
#6 Cost per hire and Time-to-hire
If your branding efforts are in the right direction, you will be able to attract talent organically through your website, social media, or word of mouth. This will help you save marketing and sourcing costs. 
Check more about these critical HR Metrics –
#1 Cost per hire
#2 Time to hire
#3 Time to fill
#7 Quality of candidates/hires
A strong employer brand helps you attract high-quality candidates. The quality of candidates and hires can be measured through pre-employment assessments, performance scores, and hiring manager satisfaction.
Wrap up
If you establish a smooth employer branding strategy, maintaining it is relatively simple. Feel free to be creative in marketing your company, along with the tried-and-tested ways to help you attract, recruit, and retain the best employees. You may end up finding a more efficient and cost-effective way of sourcing high-quality talent. 
Keep investing in your existing workforce to tap into a reliable referral network. Positive experiences for candidates and employees will create a strong brand image as an employer and will set you apart from the competition. 
Connect with candidates through your brand and be rest assured that they will be driven to you rather than you searching for them. As it is said, products are made in a factory but brands are created in the mind!
FAQs on Employer Branding
What is employer branding?
Employer branding is a strategy that organizations use to influence their existing workforce, active as well as passive candidates by showcasing what makes them an ideal place to work. 
Does employer branding have any benefits for the company?
Employer branding helps with reducing the cost to hire, time to hire, lower retention, attract passive candidates, and keep the existing employee engaged and satisfied.  
Can you monitor employer branding?
There are various ways to monitor employer branding. You can schedule interviews with your new hires and existing employees, conduct market research to see how the customers perceive the company, use social media to do a poll, etc.
These methodologies may not give you the perfect result, but they can help you understand where you stand within and outside the organization.