It is no secret that as recruiters the fundamental and the most challenging part of their job is to find the perfect candidate from tons of applicants. One should not be mistaken that this let alone describes the recruiter job. To ensure that the bestl candidate is sourced and hired, recruiters need to complete various tasks. The tasklist includes responsibilities like developing effective recruitment strategies, maintaining constant communication with candidates, and so on.
An assistant who can take care of all the repetitive tasks in the hiring process can be the saviour for recruiters at this stage. What better than AI-driven recruitment chatbots, to be that much needed recruiter assistants! Conversational bots are revolutionizing the HR functions in a way beyond what anyone imagined. Studies indicate that the use of chatbots has exploded in the recruitment space over the last couple of years. Let's take a look at how chatbots have enhanced the hiring experience and why recruiters should include chatbots as an integral part of the recruitment process.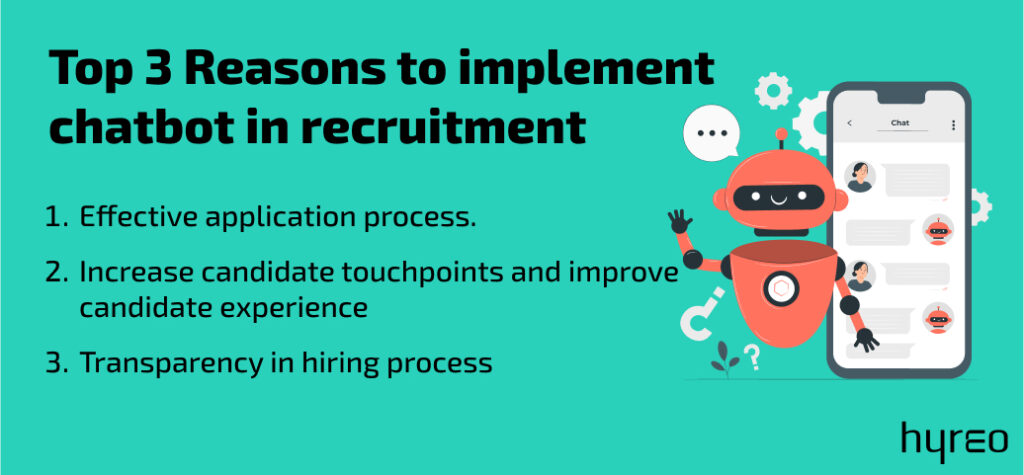 Why recruiters should implement a recruitment chatbot
Powered with AI and NLP capabilities, recruitment chatbots have minimized the overall workload for recruiters. The conversational chatbots have streamlined candidate experience, even for high volume hiring. Throughout each and every recruitment stage, bots have optimized recruiter tasks and have helped recruiters to create a personalized recruiting experience. Below are a few factors that outline why chatbots should be a part of the recruitment strategy in organizations.
Effective application process
From sourcing to on-boarding stage, chatbots have been accepted as the most efficient assistants to recruiters in making the application process effective. Chatbots are capable of automating repetitive tasks including parsing resumes, scheduling interviews, conducting candidate follow ups or managing the post onboarding activities. Almost 80% of the top-funnel recruiting activities are automated via chatbots, which minimizes the overall recruiter efforts at all hiring stages. This helps the recruiters to focus on both hiring the right talent in the least amount of time and also lowering the cost.
Increase candidate touchpoints and improve candidate experience
Maintaining a constant communication with talent pipeline is next to impossible for recruiters specifically when it comes to high volume hiring. But it is inevitable to build that connection and nurture candidate relationship for a positive candidate experience. In order to assist recruiters in finding, hiring and communicating with potential new talent, the use of chatbots can be the perfect solution. The 24/7 support provided via chatbots creates a positive impression in the overall recruiting process. Research shows that around 74% of candidates leave the application process midway and if there is a chatbot to constantly interact and nudge with the candidates, such situations can be avoided to a large extent.
Transparency in hiring process
In the traditional hiring model, once a candidate has submitted a job application, the candidate is left clueless about the application status as there is limited communication. At each hiring stage for candidates there exists an indefinite waiting period to receive an update about the next steps. On the other side, for recruiters, it is not easy to reach out to each candidate and provide updates or feedback regularly on their job application. A chatbot can fill this gap by constantly being available, providing feedback and automating updates to the candidates. This makes the hiring process more transparent to the candidates and reduces the efforts of the recruiters.
Build stronger employer brand
A transparent application process where there is 24/7 candidate support available creates a positive impression about the brand in front of the candidate. Candidates typically are more interested to join such organizations. Implementing an AI-driven chatbot will have a positive impact on the overall employer brand. Be it rejection or selection, if a candidate receives a timely update from the recruiter side, it shows how much the organization values its future employees. Such a positive candidate experience can end up being word-of-mouth recommendations too. Also, chatbots can be used to voice your enterprise values and employee benefits which will attract more candidates to the brand.
Chatbots : Revolutionize hiring in the digital era
In today's talent landscape, an effective recruitment strategy is essential to attract and retain the best talent. Candidates expect a predictable recruiting experience which they could relate to the consumer experience that the brand stands for. In such a scenario, recruiting teams should consider the possibility of implementing chatbots as an effective tool for candidate engagement. Enterprises should also remember that simply launching a chatbot does not complete the process. Necessary steps should be taken to constantly tune the chatbots and make it more responsive for successful candidate engagement. Employers should look for capable technology solutions that will help them hire the best talent.