If you ask a 50-year-old what his/her recruitment process was like, they would tell you that they probably went for the interview after seeing an advertisement in a newspaper.
Once they were selected, the company's HR took a copy of their resume and photograph for their records. Over time, whenever there was some change in personnel details, they would need to find your file and update it. 
All this was a manual process.  Technology has changed all this. The days of newspaper adverts and filing employee information are almost gone, and recruitment and candidate relationship management software, is taking their place. 
A recruitment CRM is a core application that helps recruiters have better control over candidates and manage the whole process. For most businesses, it's not only software but a necessity to perform better and with less effort. 
It allows them to set more accurate quotas, such as: what percentage they want to hire each year, how much money they want to spend on new employees each month, and more.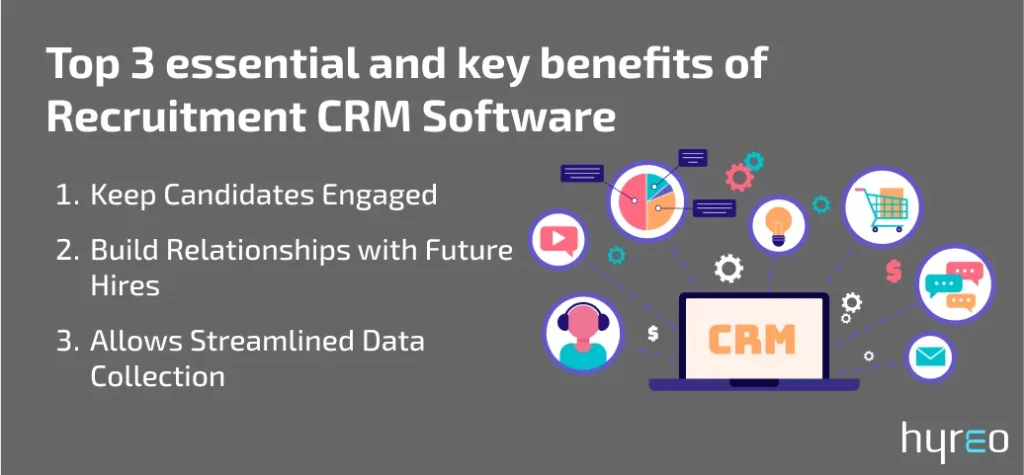 10 Benefits of Recruitment CRM Software
So if you are not using a CRM already, it is time for you to get on board. In this post, we'll address 10 benefits of Recruitment CRM Software for you to consider!
#1 Streamline communications
Recruitment CRM software is designed to make communication with candidates and clients simpler. You can use it to email campaigns, newsletters, or surveys. 
When you have a recruitment CRM in place, your team can use one platform to send out messages rather than having a load of separate accounts, which are harder to manage.
Companies must ensure they use technology that can give them an advantage over their competitors.
#2 Centralize Data
Poor data management often impacts businesses, which can lead to several problems.
For example, if you cannot find the information you need quickly, it will cost your company money in terms of lost time and productivity.
A CRM system helps you to centralize your data and make it easier to access.
Rather than having spreadsheets, documents, and other files scattered everywhere, everything can be stored in one place.
This means you don't lose any vital information, and it can also save time when retrieving details about potential candidates.
#3 Automate Processes
A CRM system can help you to automate specific processes.
For example, if a candidate is not interested in the position that you have advertised, it can take time for them to respond to your messages and arrange for an interview.
It will automatically send emails or other notifications when specific criteria are met, such as when someone becomes available for an interview.
This can save you time and effort, especially if you have many candidates to filter through.
#4 Monitor Performance & ROI
A CRM system will help you monitor your performance, which is especially useful if you have many employees.
For example, it can show how many recruiters meet their targets and what they do during their day-to-day activities.
This information can help you identify areas where improvements need to be made and ensure your business gets the most out of its resources.
You do not want a recruiter who only spends half their time doing something worthwhile.
Monitoring performance can help ensure your employees work at their best.
#5 Improve Candidate Relationships
A CRM system can be used to improve the relationship you have with candidates.
You can use it to communicate with them effectively, meaning they will be more likely to respond when you send them an email inviting them for an interview or informing them of their status in your recruitment process.
You will not only be improving the candidate experience, but you will also be able to reduce your overall recruitment costs as a result.
#6 Increase Repeat Business
When you have a CRM system in place, you can keep track of all the candidates who applied for jobs at your company in the past.
This means that when you need to recruit again, you can reach out to them and let them know about new opportunities.
You can also use it to track how many applicants are interested in certain positions. If someone drops out or declines an offer, you can quickly offer it to another candidate without wasting time or money on unnecessary interviews.
#7 Reduce Hiring Costs
If you are serious about reducing recruitment costs, you must invest in a CRM system.
It can be used to streamline the hiring process by automating many of the tasks that previously required human intervention.
This means that you will no longer have to spend time repeatedly reviewing applications and resumes and will also not have to pay recruiters or other staff members to do this work for you.
Instead, you can use the time saved to focus on other aspects of the recruitment process, such as interviewing and selecting candidates.
This will allow you to make more strategic decisions about who should be hired, which will improve your bottom line.
#8 Increase Productivity
The most challenging thing to do as a business owner is to increase productivity.
You can improve your productivity by using a CRM system, which will allow you to track the progress of each project that you are working on. 
This means that you will know exactly how much time and energy has been put into each project, which will help you make better decisions about what projects to pursue next.
A CRM system will also increase productivity by allowing you to focus on specific tasks and projects anytime. 
#9 Maintain Compliance
This software helps businesses to keep up with government regulations and even paper-based records like HR documents and employee files.
This technology also helps them meet all their legal obligations on time. 
In addition, it also helps them save money by reducing their effort and the amount of paperwork involved in keeping track of their recruiting efforts. In most cases, human resources departments will often spend more money than they save due to hiring mistakes or biased decisions regarding whom to hire.
#10 Improved Salary Negotiation Processes
It is also an excellent tool for helping you negotiate better compensation – not only with your staff but also with other professionals.
You can access the data on people's personal and professional backgrounds, as well as their current positions and salary histories.
This helps inform critical decisions about how much to pay each person to stay competitive in today's market.
Wrap Up
When choosing a recruitment CRM system, it's integral that you take note of the benefits these technologies provide.
You will find your company has far more options available and many different products to choose from.
FAQs on Recruitment CRMs 
How do recruiters use CRM?
Recruiters use CRM to manage their candidates, which includes everything from sending out emails and direct messages to creating job postings and sourcing talent.
A recruiter's CRM is essentially a database that allows them to store information about each candidate for them to reference later on if necessary.
Why is CRM important in recruitment?
Recruiters use CRM to manage their candidates, which includes everything from sending out emails and direct messages to creating job postings and sourcing talent.
A recruiter's CRM is essentially a database that allows them to store information about each candidate for them to reference later if necessary.
This can be especially useful when finding the right candidate for a job.
Businesses today need to be able to manage their candidates in a way that allows them to find the right talent for any job quickly.
This can include everything from tracking how long it takes for each candidate to respond to an email, keeping track of where they are in the hiring process, and even logging all of the information about any interviews that have been scheduled.
What are the benefits of recruitment marketing?
In today's competitive job market, recruiters must stay up-to-date with the latest recruitment marketing trends and technology.
Integrating your CRM with external tools like social media and applicant tracking systems (ATS) can create a more efficient and effective recruiting process.
Here are some of the benefits you can expect from recruitment marketing:
1. Increased candidate quality and quantity
2. Improved applicant experience
3. Better brand awareness
4. Increased sales and revenue Higher ROI
Recruitment marketing can also help you reach a wider audience and generate more interest in your company. Combining traditional recruitment advertising with technology can be an effective way to recruit top talent for your organization.