Key Highlights
Recruiting training programs help recruiters stay updated with the latest trends and skills relevant to the job market
Training programs are essential to improve the hiring quality, reduce time-to-hire, and build candidate experience
A good recruiting training program should include mentorship, activities for improving interactions, listening, and feedback, and a performance tracking system to keep the recruiters motivated
Recruiters are called the gatekeepers of talent. A lack of skill, talent, or training in them can bring huge inefficiencies in the form of increased costs, loss of good talent, increased time in hiring, etc., for any corporate.
Recruiting training can prove crucial for recruiters who have to constantly upgrade themselves to stay relevant in the job market and develop their skills. Recruiters who constantly upskill and train themselves for relevant changes are better placed to source, screen, and hire great candidates.
As industry trends continuously evolve and technology upgrades, recruiters need to take advantage of both formal and informal recruiting training programs. Also, changing job requirements is necessary for recruiters to keep up with their professional qualifications and advance in their careers.
7 Benefits of Recruiting Training
Recruiting training programs are learning and development initiatives meant for recruiters and talent acquisition professionals to upskill and train them for several benefits, including: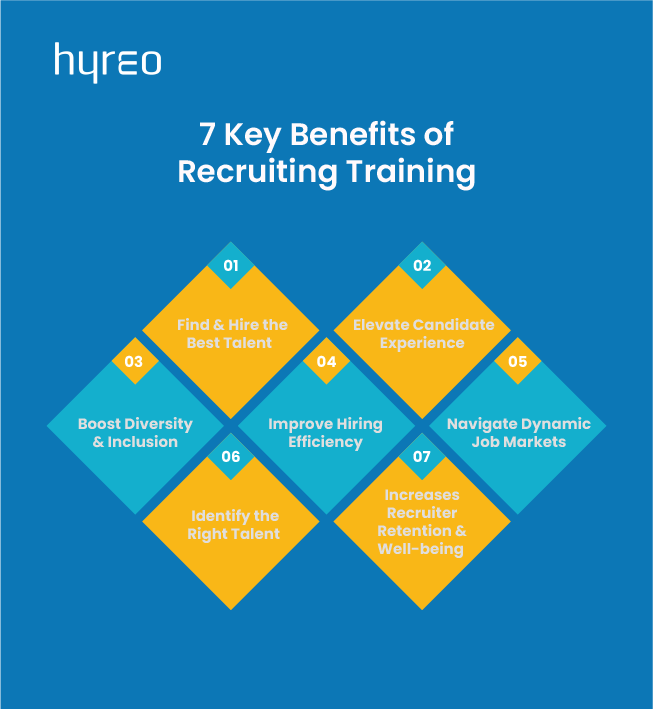 #1 Find and hire the best talent
Recruiting training can help recruiters in finding and filtering the right talent for even hard-to-fill strategic roles. Recruiters can arm themselves with the latest tools, skills, and know-how about candidate needs to secure the best talent and reduce talent shortage.
#2 Build candidate experience
A positive candidate experience can be vital for improving hiring rates, reducing ghosting, and building brand image. Recruiting training can benefit recruiters in understanding candidate expectations and applying a customized approach to conducting interviews, screening calls, etc., so as to elevate their experience.
#3 Increase diversity and inclusion
A diverse and equitable workforce is an ideal goal for any organization. Proper DEI training reduces recruiter bias, drives diversity in candidate selection, and improves the representation of candidates from all kinds of backgrounds.
#4 Reduce time spent in hiring
Timely hiring is essential to fill roles without hampering the functioning of the organization as a whole. Trained recruiters are more suited to bring efficiency and speed to the recruitment process, reducing the time-to-hire and cost-to-hire. This results in the best talent getting hired and retained onboard.
#5 Dynamic job markets
Today's candidate-driven markets are led by changing trends in technology and hiring needs. Recruiters need to stay up-to-date with trends and improve their hard and soft skills. Recruiting training can improve critical thinking and communication abilities and build the technical know-how and ease of use of new recruitment software and tools.
#6 Find the right fit
By understanding the behavioral bend of candidates, recruiters can better assess candidate behavior during the recruitment process and make informed hiring decisions.
#7 Retention and well-being
79% of candidates consider training programs as an important parameter while judging their prospective employment. Recruiters who get the opportunity to continuously advance themselves on their career path are better satisfied at work and encounter lower number of stressful situations, improving their longevity with the organization and ability to provide a consistent candidate experience.
7 Common Elements of Recruiting Training Programs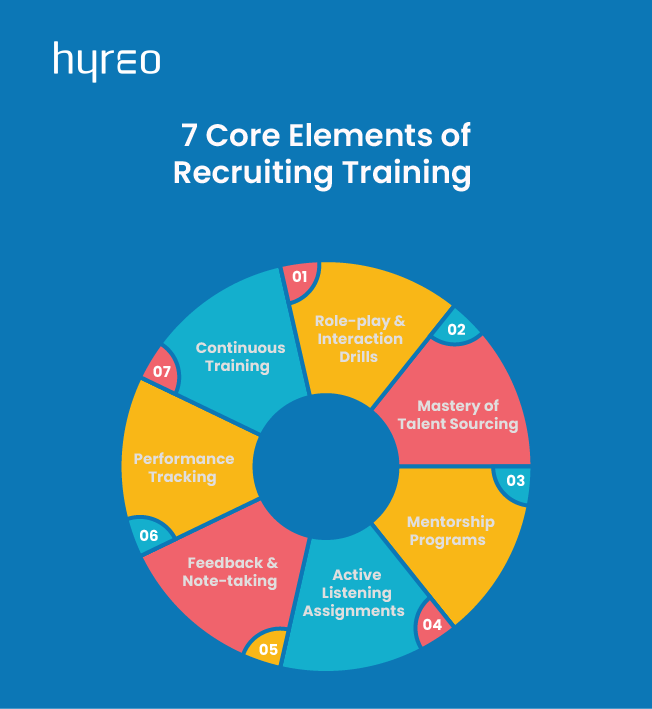 #1 Practice Interactions
Recruiters must be offered in-training opportunities to hone their skills and participate in mock interactions. The trainer may act as a candidate and play-out question answer rounds with the recruiter to help them develop their negotiation, problem-solving, interviewing, and other recruiting skills.
The interactions can be both in-person and on the phone, where recruiters are able to practice phone etiquette and learn to be confident and composed in face-to-face interactions.
#2 Provide recruiting sources
Presenting recruiters with an exhaustive list of sources consisting of social media channels, job portals, and other websites where they can find prospective candidates is also important during training sessions.
Sourcing and filtering the right candidates is half the job done if the trainee's recruiting skills are effective in finding the right channels for specific job roles.
#3 Introduce mentoring
Recruiting training programs should incorporate the provision of assigning newbie recruiters with mentors or experienced recruiters. The new recruiters can observe their techniques and methods, ask queries, and assist them in actual recruiting tasks to learn on the job.
Mentors can also help the new recruiters get accustomed to the new work culture and establish relationships within the organization.
#4 Promote active listening
Listening is a valuable quality that every recruiter needs to possess to observe and deduce the worth of candidates during selection and interview and address employee grievances later on.
Also, recruiters need to engage with many people, have discussions, and be aware of the latest trends. All these benefits can only come with active listening. The training modules should involve activities and assignments that promote active listening and test recruiters' skills on the same.
#5 Encourage feedback and note-taking
Incorporating check-ins for recruiters to ask queries if they have any can be crucial to lay the grounds for training modules as the trainers would have an idea of where the new recruiters stand and how much they need to refurbish their skills and expertise.
Similarly, asking for honest feedback from the recruiters can be useful to continuously innovate and improve the recruiting training programs. Recruiters can also be encouraged to take notes that may serve as guidelines later on.
#6 Employ a performance-tracking system
A performance or success tracking system during the training tenure can help recruiters assess their improvement and motivate them to keep building their skills and improve their success scores.
A tracking system also ensures that all the trainees take the recruiting training program seriously.
#7 Continuous training
Recruiting training should be an ongoing phenomenon and not a stand-alone task conducted once in a while. Recruiters should be made a part of the system of continuous education where they continually learn about the latest industry trends and evaluate their skills, prowess, and knowledge from time to time.
Wrap Up
No organization can do without an effective recruiting training program for its recruiters. Trained recruiters are better listeners, more understanding of the candidate's persona and requirements, and have a great eye for the right talent.
Recruiters are also the face of the brand before the candidates shaping candidate experience and promoting the company's brand name. A well-trained recruiting team is adept at handling volumes of applications and finding qualified candidates from among the heap of applications.
FAQs on Recruiting Training
What is recruiting training?
Recruiting training refers to an educational program or learning and development initiative for recruiters to help them advance in their careers and perform their current roles more effectively.
Why is recruiting training important?
Recruiting training is essential to upskill the recruiters and improve the chances of getting better hires during the recruitment process. Trained recruiting professionals are an asset that positively shape the productivity and growth of the company.
What are recruitment skills?
Recruitment skills can be hard skills and soft skills necessary for a recruiter to perform his role of finding qualified candidates. Hard skills include technical prowess learned through formal education, internships, etc. Soft skills include communication, negotiation, and interviewing skills learned through experience and practice training sessions.
What are the best 5 skills a recruiter should possess?
The five best skills every recruiter should possess are critical thinking, the ability to use technology, multitasking and time management, communication skills, and an aptitude for learning and improving.
What is the basic objective of recruitment?
The basic objective of recruitment stretches from identifying a staffing need to finding a suitable candidate for filling in the position. It is the process of identifying, attracting, filtering, selecting, and onboarding the right talent.