Key Takeaways 
Recruiters spend 16 hours a week on average dealing with administrative and operations tasks related to interview scheduling.
Automated interview scheduling can help to eliminate human intervention, smoothen workflows, and speed up the hiring process.
A good automated interview scheduling software must be able to integrate with in-house calendars and other recruitment software.
Streamlining recruitment processes is necessary, especially for great candidate experience and engagement. Among the many concerns, manual scheduling of interviews can get overwhelming for recruiters. A survey reports that 41% of recruiters still schedule interviews over phone calls and emails! 
To get the gravity of the issue, picture the phone calls with hundreds and thousands of candidates. Such a process not only impacts the overall candidate experience but also is a tedious, time-consuming task.  
The valuable time and effort, instead, could be used to deliver better on other significant checkpoints in the recruitment pipeline. Automated Interview scheduling eliminates the need for back-and-forth communication between the interviewer and the candidate, saving time and, ultimately, bringing down the time-to-hire. 
Automated interview scheduling is an essential component of the recruitment streamlining process, which helps to schedule interviews without much human intervention. This article explores the steps to automate the interview scheduling process and why recruiters need to consider automating their interview process.   
How to Automate Interview Scheduling?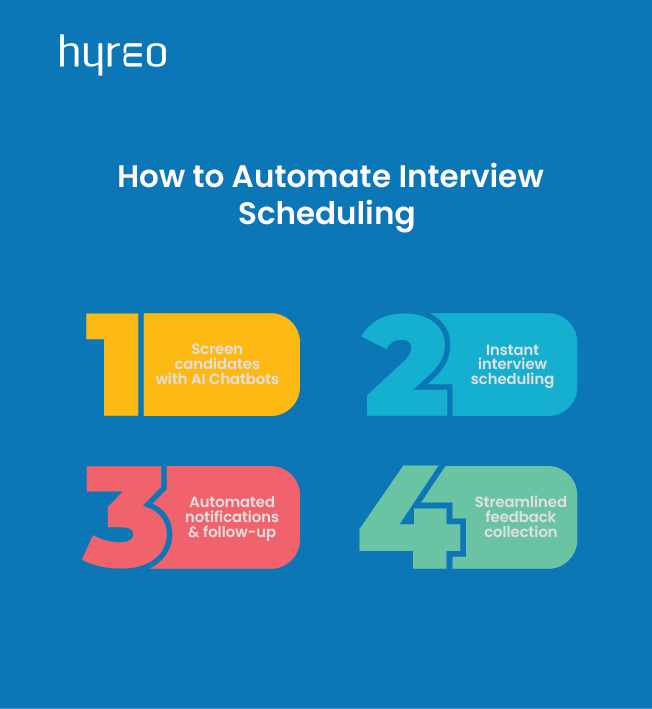 Here is a step-by-step guide to automating your interview scheduling process:
#1 Screening by Recruitment Chatbots  
Conversational AI-based interview scheduling applications like recruitment chatbots can be deployed on the staffing portal or the employer's website, where the job is posted.
The chatbot screens candidates with the screening criteria set, creating a pipeline of potential applicants for further processing. 
#2 Automated Scheduling & Follow Up
The software instantly schedules interviews with qualified candidates based on availability and allows for follow-up emails, such as interview confirmation emails automatically sent to the selected candidates.
The interview panel can receive confirmations quickly, and the number of interviewees appearing for an interview can be estimated. The rescheduling and cancellations are also automated, simplifying the process for both the candidates and the panelists. 
#3 Automated Follow-Up 
Text-based reminders or emails one or two days before the interview are sent to the candidate to check if the candidate is still interested and reduce ghosting and no-show-ups by a considerable margin. Follow-ups are relevant for both scheduling and rescheduling of interviews by the software. 
#4 Automated feedback collection 
This automated scheduling software covers the feedback collection from the panelist's post stages of the interview cycle in a streamlined fashion.
It also enables the display of feedback from the candidates after the interview, facilitating the continuous improvement of the candidate experience. 
What do you need to Automate Interview Scheduling?
The prerequisites for automating your interview scheduling process include the following:
#1 Seamlessly integrating hiring tools
Interview scheduling software or an ATS that can easily integrate with the in-house tools and software and provide seamless navigation. 
While automation software will automate all the repetitive functions, it is essential to integrate the software with calendar apps, onboarding and pre-assessment tools, and video interviews. 
#2 Interview Tool Kit
Form a toolkit for interviews over the interview scheduling software and collect all available time slots from the hiring team to schedule interviews. 
#3 Automation Touchpoints for Email 
Since interview scheduling tools don't just cover the pre-interview phase, the talent acquisition team needs to establish the touch points or points of contact to automate email communication. 
4 Key Benefits of Interview Scheduling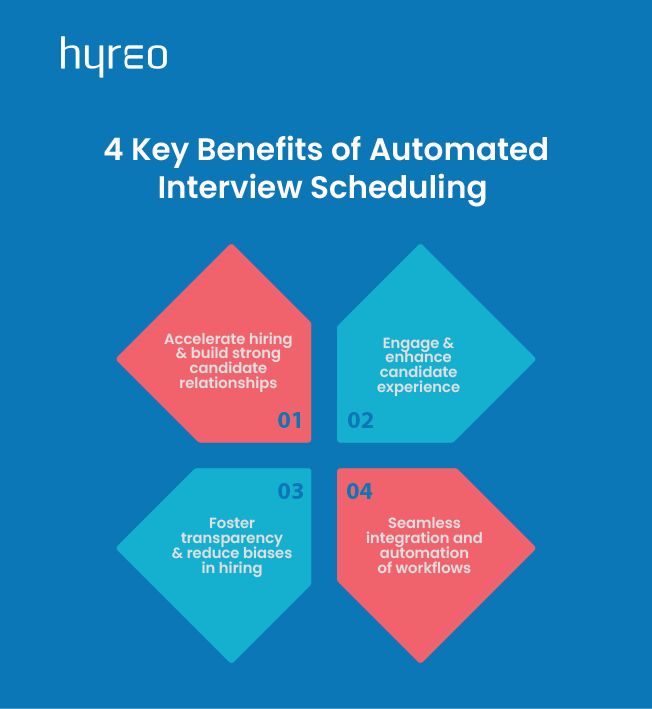 Integrating an automated interview scheduling toolkit in your recruitment cycle can help improve efficiency and timeliness in the recruitment process. It also helps to enhance your brand image and improve candidate experience. 
There can be many benefits to using interview scheduling software. Some of them are: 
#1 Reduces your time-to-hire 
81% of candidates expect the hiring process to take two weeks or less. Instead of manually handling interview scheduling and related tasks, recruiters should consider automating the process.  
By automating workflows and integrating scheduling software, recruiters can remove interventions and interruptions in the scheduling process. The need for the recruiting team to sit on scheduling tasks is removed, and they can use the time to build better and long-lasting relationships with candidates. 
Automation allows candidates to self-schedule and reschedule interviews within the available time slots, giving the candidates much-needed flexibility and ease. A conversational chatbot can be a good way to solve queries and provide real-time updates to candidates 24/7. 
#2 Improves candidate experience and engagement 
Candidate engagement is vital to lock in qualified prospects during the interview and hiring process. Ask any candidate, and you know that the worst part of the recruitment process is waiting to hear from prospective employers. 
Though the wait is inevitable at every stage, AI chatbots can prove helpful to keep the candidates in the loop and informed about the latest happenings and updates. These chatbots can also screen candidates and schedule interviews with them automatically. Thus candidates are no longer required to undergo a lengthy selection and application process.  
The chatbots are also convenient for nudging the candidates via follow-up updates, text reminders, and check-ins for their onboarding. This helps to make the candidates feel valued and eager to join the company. 
Read – Why focus on improving candidate experience
#3 Creates a transparent scheduling process 
Automations open the room for transparency and measurability in the hiring process. With interview scheduling automation, recruiters can view every aspect of the interview scheduling process in real time. Increased visibility allows better transparency and efficiency in the scheduling process.  
Automated scheduling also helps to remove inefficient processes while reallocating the resources and time into more crucial parts of the talent acquisition cycle. Also, automation helps to remove certain kinds of bias, reducing costs of hiring, and opening room for better initiatives such as scaling processes, bringing in new technology, and investing in diversity programs and recruitment marketing initiatives. 
#4 Useful integrations and workflow automation
Automatic interview scheduling can take the stress out of the recruitment process. By drastically reducing the time-to-hire and timely responses to the candidates, recruiters can make sure the candidates remain engaged. Recruiters need to meet hiring goals and manage complex, ever-evolving recruitment cycles, including interview scheduling. 
Interview scheduling software eliminates the need to keep a constant eye on and continuous back-and-forth communication. Instead, the talent acquisition team can seamlessly integrate in-house HRMS  or ATS integrations such as calendar software. Any time an interview slot gets booked, your calendar gets automatically updated, confirmed, or rescheduled. 
Automation can also help to set criteria to move eligible candidates to the next stages in the recruitment cycle. This workflow automation saves valuable time and effort for the recruiters. Also, interviewers and candidates can get updated information in real-time across all devices through automatic syncs. 
Wrap Up
Talent acquisition professionals and recruiters have to meet and surpass a blizzard of goals and expectations while being all-pervasive during the recruitment cycle. Automation software that helps to streamline and automate certain aspects, such as the interview scheduling process, can help to free up their time for more crucial tasks.  
If organizations want to stay ahead of their competitors and hire the best talent, they need to leverage automation software like chatbots and workflow automation tools to help restore efficiency and improve candidate engagement. 
FAQs on Automated Interview Scheduling
How do you automate an interview process?
Automating interview scheduling involves choosing an appropriate interview scheduling software to automate all the manual and repetitive tasks. The software should be integrated with calendar apps and other interview and onboarding tools. 
After gathering all the available time slots, create an interview toolkit and identify all the touchpoints to build customized responses necessary for email automation.   
What are the greatest benefits of automated interview scheduling?
Recruiters have to spend a lot of time scheduling and setting up interviews with multiple candidates at a time. Automated interview scheduling software can help to streamline the workload, automate workflows and communication with candidates, and to bring greater efficiency to the interview process. 
Is Calendly a good tool for recruiters?  
Calendly is a useful scheduling automation tool that helps recruiters to automate key steps in the interview process. It helps recruiters to coordinate interviews from phone screens or to hiring panel interviews in just a few clicks.
How much time do recruiters spend scheduling interviews?
Recruiters spend 16 hours a week just scheduling interviews and managing the administrative and operational tasks related to them. The recruiters need to manage tasks before, during, and after the interview. 
What is an interview bot?
Interview bots help to automate the interview scheduling and other aspects of the interview process that can do without human intervention. It helps to improve the overall interview experience by speeding up the response rate, adding flexibility, and streamlining workflows.