A good communication system lies at the crux of any organization and business. Hence, when you intend to improve your business you need to focus on how you can have better communication systems that can help employees, teams, and departments interact effectively. Having a good intranet system can make a huge difference because it can encourage excellent communication. With the right intranet solutions employees, teams, and departments within your organization can share files, vital data, documents, links, forms, applications, and even archived records.
In simple terms, an intranet is a private network within a company and is used to securely share data, information, and other computing resources among employees, teams, and departments. 
From an HR perspective, having a robust intranet system can make it easier for effective and constant communication between new hires and the HR team. Also, it helps new hires to find relevant company-related information to help them know more about the organization. A solid intranet solution is critical to having a lively workplace culture, to simplify employee onboarding and engagement. 
However, it is important to choose the right intranet solutions that can make a difference to your business organization. 
How Best Intranet Solutions are Compared?
While there are many intranet solutions you can find in the market you need to be selective about what you choose for your business. This would allow you to make the right investments and ensure that you can provide your employees, teams, and departments with the right intranet platform.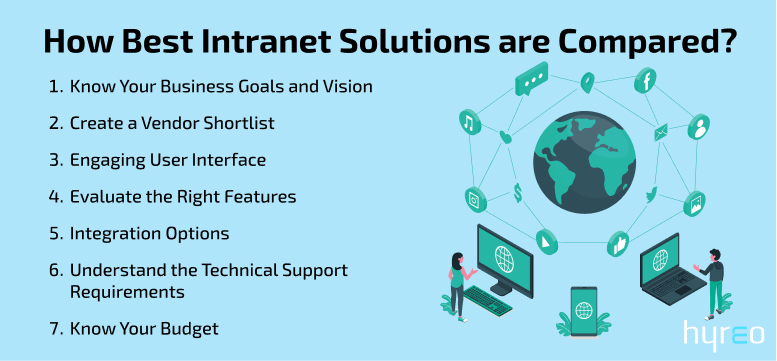 Here are 7 key points that you need to keep in mind while choosing intranet solutions. 
#1 Know Your Business Goals and Vision
Different businesses have different organizational goals and visions and work cultures. It is important that you know what your intranet goals are for your business and look for software that will help facilitate in achieving them. 
#2 Create a Vendor Shortlist
With plenty of software companies out there you need to ensure that you make the right choices. Hence, you need to create a vendor shortlist that would allow you to evaluate different vendors on different factors and sort the best intranet solutions that meet your business demands and needs. 
#3 Engaging User Interface
Having an intranet solution that is engaging and user-friendly makes the entire process convenient. This makes the job easier for different teams and departments using the same system. Also, you can come up with styles and themes that mimic your business branding on social media platforms. 
#4 Evaluate the Right Features
Even before you invest in an intranet solution for your business you need to focus on the features that come with it. Also, you have to compare those features with your organizational objectives and requirements as that will provide the most practical value. 
#5 Integration Options
Are you looking for intranet solutions that integrate with your existing business technology and solutions? If yes, you need to look for intranet solutions that can help you integrate various local applications seamlessly to allow different teams and departments to use them efficiently. 
#6 Understand the Technical Support Requirements
Most IT teams aren't experts on how to communicate effectively. However, when you are choosing intranet solutions you also have to keep in mind your technical support needs and requirements. Consult with your IT experts before you decide what intranet systems you want to choose for your business. 
#7 Know Your Budget
When you are choosing an intranet solution you must also focus on the total cost of buying the software. To begin with, you need to compare costs versus its bottom line value, which would help you manage the budget. 
Check – HR Software for Small Business
14 Key Features Your Intranet System Must Have
Once you have considered the factors that can help you choose these intranet solutions, you need to know what features you should have. Various software companies provide you with different features and options which can be overwhelming.
However, here are 14 key features your company intranet should have. 
#1 Excellent Integration Features
An intranet solution that integrates well with your existing business applications can work wonders. For instance with a suite like Microsoft 365 and Google Workspace and other third-party integrations that complement your business. 
#2 Must Be Secure
Choosing an intranet solution that offers the highest level of security and protection would allow companies to share private and sensitive data on internal communication platforms as and when required. 
#3 Have Functional CMS
An intranet solution with a practical and functional content management system (CMS) would provide a good framework for the system. With a functional CMS, employees can create, modify and customize digital content and share it across the company departments. 
#4 Becomes a Social Tool
An enterprise intranet is a lot more than just a business collaboration tool. Hence, you need to look for intranet platforms that come with a wide range of social features allowing employees to invite, chat in real-time, and send video messages to create a bond within the company and improve the work culture. 
#5 Has Mobile Intranet Capabilities
Smartphones and mobile phones have become indispensable parts of our lives. Hence, having an intranet solution with mobile features would allow employees to connect from their mobile devices and help when people are working remotely or in different time zones.
#6 Post Newsletter
Having an intranet platform that allows the company to post an internal newsletter would be a great way to update employees, teams, and departments about just anything happening in the company. For instance, announcing company achievements, employee promotions, annual corporate picnic events, and a lot more. 
#7 Provide Multimedia Tools
The intranet platform you choose must provide you and your employees with a wide range of multimedia tools to interact. This should include podcasts, videos, images, webinars, and live blogs. You can also look for intranet programs that integrate with YouTube to make it more engaging.
#8 Smart Calendar Integration
Since all employees use the intranet solution it must have a smart calendar integration that allows employees to book meetings and appointments, and log vacations and upcoming events to optimize their time. This promotes transparency within the organization and improves efficiency.
#9 Task Management 
Having a 'to-do list' would make things easier when you want to allow your employees, teams, and departments to share a work environment. This would allow employees to create, view and participate in various projects and even track deadlines and progress. 
#10 User-Friendly UI
An intranet with a user-friendly and customizable UI can make things easier for employees. The intranet must have a design that reflects the company's brand identity. The platform must have pre-designed forms and templates that users can pick and choose for effective communication. 
#11 Internal Search Capabilities
With so much information and data stored on the intranet platform, it is important to have an intranet solution that comes with fast internal search capabilities. This would allow employees to search for information quickly using a keyword, use particular tags or select relevant categories to narrow down the search. 
#12 Pop-Ups and Notification
Having an intranet solution that comes with pop-up reminders and notifications can make things easier. This would allow employees to stay updated on what's important and not miss out on vital details and events. 
#13 Employee Center
Every intranet solution must have a space that recognizes and appreciates employee hard work. Using an intranet platform to share success stories is a great way to say 'Thank you' and it works to boost employee morale, loyalty, and retention. 
#14 Analytics
Like various analytical tools, the intranet platform must have excellent analytics and report option that help you know the rate of adoption and engagement and other parameters to help you make it more effective. 
Top 5 Best Intranet Solutions
#1 Microsoft Sharepoint
Microsoft Sharepoint is one of the most popular and trusted intranet software available in the market. It offers excellent employee management, digital workplace management, and content and knowledge management features. Also, it comes with better security and encryption options to protect company data and documents. It is GDPR, SOX, HIPAA, PCI DSS, and GLBA compliant. It integrates well with HRMS, CRM, and BI and is available in apps for Android and iOS platforms. You get a free 30-day trial. The software is available in three different price plans. 
#2 Happeo
If you are already using Google Workspace, Happeo is a good intranet solution that can work for your business. The software works and is compatible with every Google app and has an open API to integrate with multiple third-party applications. Also, it offers centralized information to provide easier access to all employees. With universal search and excellent employee engagement features, Happeo can offer a great intranet solution to companies with more than 20 employees. Happeo app works with Android and Apple devices. You can request a demo online for it and it comes in three different pricing plans. 
#3 Yammer
Yammer is an extension of Microsoft Sharepoint. However, it also is a cloud-based intranet part social networking platform for organizations that are using Microsoft 365 Enterprise premium plan. This software allows users to build communities, provide integration with Microsoft 365, provide excellent analytics and insights and provide enterprise-level security and compliance features. It is also SOX and HIPAA compliant. It is compatible with Android and iOS devices. You can get a free trial of Yammer when you purchase Office 365. 
#4 Workplace by Meta
This intranet program works like a Facebook-for-business. Hence, it is easier to use and instantly connects with employees. The software also integrates with Google Workspace, Office 365, and Service Now. It is also compatible with other local third-party applications. This intranet solution improves employee engagement, provides better connectivity to remote teams, simplifies data sharing, and develops better work culture. A free trial is available for Workplace. It is also compatible with Android and iOS devices. The core plan is available for $4 per person per month.
#5 Simpplr
Another simple and easy-to-use intranet solution is Simpplr. This software functions like a digital newsroom where employees can share their updates, progress, and events. This improves employee engagement and comes with a personalized dashboard and friendly features and options. It also provides excellent AI recommendations, allows employees to write and share blogs, and customize workflow. It can integrate with ServiceNow, Google Shared Drive, Office 365, Workday, Box, and others. A 14-day trial is available for Simpplr. The software is also available on Android and iOS app stores.
Conclusion 
Having an intranet solution is like having a local internet within the organization. Hence, you must choose the one that aligns with your business objectives and vision. Most intranet solutions today are more than just document storage systems and therefore you need to look for the ones that unify communications and provide better features that help your employees, teams, and departments to share data, documents, content, and records quickly, securely and in different formats.
FAQs on Intranet Solutions 
Can I build an intranet solution for my business instead of buying?
Yes. However, the overall cost of developing a custom intranet solution for your business would be a lot higher. Also, it would cost you more time and effort than buying one.
Why are cloud-based intranet solutions popular?
Cloud-based intranet solutions are easy to set up and highly scalable. Additionally, the cost of setup is less than on-premise intranet solutions.
Is it necessary to have an intranet for a business?
An intranet provides better communication and sharing features across the company. You can try a demo of these programs before you decide if you should have one for your business.