When you are working as an HR professional in a talent-driven market you need to be on your toes, to acquire the right talent. 
In the United States alone, it has been found that there are two job openings for every unemployed person and that means that job seekers can make a choice when looking for the best job opportunities. 
So how do you attract the right talent pool in your company? With the right candidate experiences, you as an HR professional, can attract more job-seeking individuals and convince them to accept your job offer over another. 
Offering the right candidate experiences today would make a difference in how you manage your HR duties. The process begins when candidates look out for job opportunities in the market and they begin to do their research about companies before applying for jobs. 
They research the company's history, job culture, achievements, and even market position. All this information together makes it easier for the candidate to learn more about the company they want to work for. 
However, that changes with candidate experiences and best practices and therefore you shouldn't ignore the importance of it. Candidate experience is how a job-seeking individual perceives a company throughout the hiring process. This includes an interview process and follow-up communication. 
With candidate experiences and best practices, you can sway more candidates to accept your offer and show them why they should work at your company. Similarly, a poor candidate experience can drive away your potential job seekers as they lose trust in your company because of a poor hiring process and communication gaps. 
13 Candidate Experience Best Practices You Should Know
While there is no official definition of candidate experience, you need to know that providing a positive candidate experience can impact and drive more talent to your company. Hence, you need to focus on how you can follow some of the best candidate journeys, experiences and best practices that would make a difference.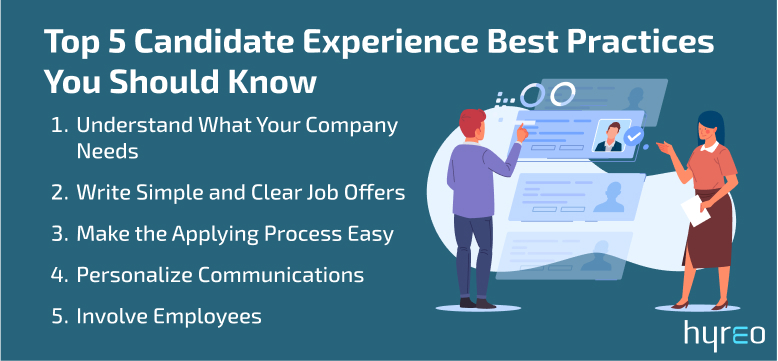 Candidate experience is critical because the way you treat your candidates reflects the way you treat your employees. It is important that as an HR professional you understand that employees want to feel that they are welcomed and supported and become a part of a team that cares about their growth and well-being. 
#1 Understand What Your Company Needs
Recruiting just for the sake of filling vacancies isn't going to give you results and support your company's needs. Hence, as an HR professional, you must have clarity on why you want to fill a certain position and what you need from a skills and talent perspective. 
This would allow you to choose the right candidates that have relevant skills and knowledge to fill those gaps. When you are unclear about what type of candidates you are looking for you might have to make second guesses and probably delay the hiring process because you want to talk with the concerned department about establishing a job title and the kind of skills required. 
To begin with, you can do a skill gap analysis that would allow you to determine what exactly you need from the candidate you will hire. 
#2 Write Simple and Clear Job Offers
The best way to attract and acquire the best talent is to keep your job offers simple and crystal clear. This would allow relevant job seekers to apply for the job posting and allow you to attract the right talent. A positive candidate experience begins with the job offers that you post on websites, social media, and even search platforms. 
Be clear, direct, and specific about the job title. Focus on requirements and qualifications, responsibilities and duties, benefits, and pay range in clear words. While you are writing job offers, keep it short and simple anywhere between 300 to 600 words. 
#3 Make the Applying Process Easy
One of the candidate experience best practices is that you keep the application process easy and convenient. You must appreciate and respect the time and effort of the job seeker applying for the job. Hence, you need to keep things simple and ensure that candidates can upload their resumes or easily provide additional details.
This makes the candidate's journey easier while applying for a job. Cut down the number of steps involved in the application process because that will drive away potential job seekers and lead to poor talent acquisition. 
#4 Use the Right Technology and Tools
While you are sorting all the applications from different job seekers you need to have the right technology and tools that make it easier for both you and the applicants. The technology must allow the applicants to easily upload their resumes and cover letters for a speedy application process. 
However, it should also be easier and more convenient for you to sort all the information and allow you to browse through the details helping you to segregate all the required details to initiate the interview process subsequently. 
Similarly, if you are doing a video interview you want to ensure that you choose platforms that are widely available for the applicants to use as well like Skype or Zoom.
#5 Acknowledge Delays, If Any
Not many companies acknowledge and connect with applicants on delays in the interview stages. This can make a huge impact on how the job seeker perceives the company. There might be many situations where your selection process is delayed for various unseen reasons. 
This can be frustrating for the applicants waiting for a response from the HR department. A simple email or call explaining the reasons and circumstances for the delay can go a long way in promoting goodwill and make the applicants feel that you are still on the case and that they are not done and forgotten.
#6 Personalize Communications
A standard generic message sounds robotic and uninspiring. Hence, you must respond to the candidates with some personalization. This would allow you to build a relationship and make the applicant feel connected and ensure that you are a real person on the other end of the communication. 
You must also be clear about what information you want to share and how you want the candidates to stay connected throughout the hiring process. Personalization is also important for rejection emails to ensure positive feedback.
#7 Send Interview Invitation
Most candidates and job applicants prefer to research the brand or company they apply for. However, they still have queries and doubts about how the process will follow and who will interview them. 
One of the candidate experience best practices is to send detailed interview invitations which would share the basics of the hiring process. You can also share the LinkedIn profiles of the interviewers, so candidates can know more about them before they meet in person. This can make things easier for the candidates when they are going through the interview process and reflect positively about the company.
#8 Be Clear About Your Hiring Process
Most candidates and applicants are nervous about what to expect from your company during the hiring process. Different brands and companies have different hiring and interview processes. This uncertainty can make things difficult for candidates. However, outlining and sharing basic details about the hiring process would help you manage expectations and provide an exceptional candidate experience.
#9 Ask for Feedback from Candidates
Communication is a two-way street. Hence, it is critical that you also ask for feedback from candidates about their experiences. This is important because you want to know how the candidates feel about the entire hiring process. You can send out satisfaction surveys to find out what the candidates think about the current process and know more about areas of improvement. Asking for feedback demonstrates that you are open to suggestions and willing to change which reflects a positive image of the company and adds to the candidate's experiences. 
#10 Don't Forget the Ones Not Selected
When it comes to candidate experience best practices you also need to make the most of the ones not selected during the hiring process. Many companies don't bother to connect and inform candidates if they do not pass the selection process. This can be frustrating for the applicants as they expect some response or communication from the company. 
You should notify them that they will not move on to the next step of the interview process. With this, you can keep them engaged and let them know their status. Subsequently, you can provide them with feedback on why they didn't move on to the next step. Many job seekers would want to know why they didn't make it and learn how to develop relevant skills and prepare for the next interview. 
#11 Involve Employees
After the interview process, it is important that you also let candidates connect with the current employees in the organization. This makes things easier for them to ask queries and doubts they have about the company's ethics, culture, and even about various departments.
Furthermore, you can think of an ambassador program with current employees that would share their experiences and stories on social media and even via employee testimonials on sites like Glassdoor and Indeed. You can come up with incentives and bonus schemes for employees committed to helping you recruit new talent. 
#12 Engage With Your Candidates Until Onboarding
Once the selected candidates have accepted your offer you need to make sure that you interact and engage with them. This is critical because it is likely that they might receive offers from other companies and they will be in a situation where they aren't sure what to choose and what to leave. 
Engaging your candidates and offering them excellent candidate experiences would be critical to ensure that they feel welcomed and supported. You can prepare a welcome kit that would have all the basic information and resources that would add to their experiences. 
Here, Hyreo's Post Offer solution comes to your rescue, keeping the offered candidates engaged throughout the notice period via constant nudges, automated chatbot, propensity rankings, in-built ticket management system and video interventions. This enables recruiters to provide more personalized attention to candidates, elevating the candidate experience as well as reducing the risk of candidate drop-outs during this critical period. Hyreo's clients have experienced a 30% uptick in candidate conversions since their adoption.  
#13 Make the Onboarding Process Robust
Onboarding is still a part of the candidate experience. Hence, you need to ensure that you have the right processes that can make a difference. Call in a staff meeting to introduce candidates to experienced employees. 
You can use effective systems to handle processes like training and benefits and other paperwork. This would ensure that candidates have more time for office tours and team introductions. You can also designate an experienced employee with a new candidate to help them out with further queries and minor issues. 
Wrap Up
Candidate experience is critical to finding the right talent and filling up the positions for your company. Hence, you need to ensure that you have the best practices that would allow candidates to apply easily and know more about the hiring process and feel comfortable during the interview rounds, and get the best welcome experience after the selection process. 
With the right candidate experiences and best practices, you can ensure that you can attract, assess and acquire the best talent for your company.
FAQs on the Best Candidate Experience 
What are the benefits of candidate experience best practices?
Improving your candidate experience can improve engagement, offer better word-of-mouth publicity for your company, offer positive reviews and recommendations, improve the quality of people you hire, improve brand position and increase company revenue. 
What to ask in the candidate experience survey?
The candidate experience survey you provide should have questions related to what candidates felt about the company's mission and values. Ask how you can make this process better. Ask about the quality of the job description and how it matches reality. You can also include ratings for recruiter responsiveness, friendliness, communication skills, etc. 
What is the applicant's experience?
Applicant experience is candidates' overall impression of the job application process which is influenced by your job description, job application form, and responsiveness to applications. 
How is applicant experience different from candidate experience?
Applicant experience is all about how candidates feel when they read the job description and respond to those applications. On the other hand, candidate experience initiates from experiences and opinions they form the moment they apply for the job until they receive a job offer or rejection email.
What is the application time?
In recruitment terms, application time is the time a job seeker takes to complete and fill in their job application form. This is generally used when application forms have multiple questions and fields to fill out.