Did you know that the unemployment rate among computer system administrators is on the decline? According to recent statistics released, the rate has managed to stay below the 3 percent mark since 2014, from 5 percent in 2010. What does this tell you? With increased digitization and technology adoption, firms across the world are looking to hire system administrators. And this "need" is likely to increase further, in the coming years. 
Simply put, a system administrator is a skilled individual who ensures the maintenance, configuration, and efficient functioning of computer systems in an organization. Being employed by a firm, the person is responsible for maintaining multi-user-based computer systems. All this is to ensure that the day-to-day operations are running smoothly and the client servers are working at all times. 
Clearly, the job is crucial and you need the right system administrator for your organization. Of course, they have the degree and the skills required to be fit for the job, which is why you have decided to interview them in the first place. But the interview round helps you gauge the conceptual clarity and experience of the candidate. Hence, this round becomes crucial to the hiring process. 
To help you hire the best system administrator, here is a curated list of questions along with certain key skills to look for in the ideal candidate. You may diversify a bit from the list, depending on the specific skills that you need. However, this list aims to give you a basic idea of the kind of interview questions to ask, for hiring a system administrator. 
What to look for in a System Administrator 
Before getting into the interview questions for system administrators, it is better to chalk out a list of skills that you or your organization needs. These skills will act as a checklist to fulfill two purposes – a. Curating interview questions and b. choosing the candidate which ticks off most items on your list.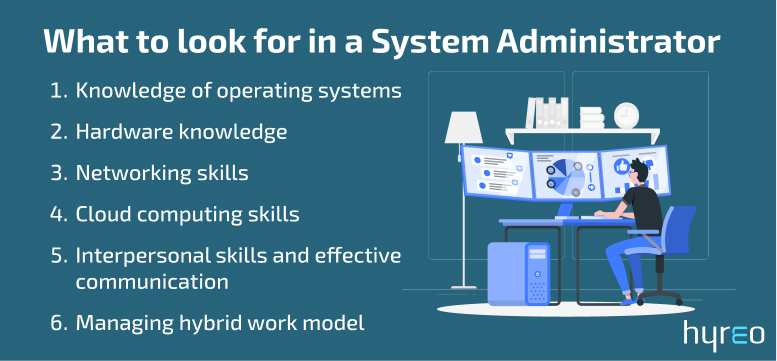 Following are some skills that you need to look for in a system administrator or sysadmin 
#1 Knowledge of operating systems
The three most dominating operating systems used by firms across the world are Windows, Linux, and Mac. But which operating system does your firm use? For instance, if it's Windows, you would want the ideal candidate to be well-versed in Windows Operating System. The key is to identify a candidate who possesses in-depth knowledge of operating systems in general as well as who knows the detailed functioning of the system used by your firm. You can identify this qualification by asking operating system-specific questions during the interview round. 
#2 Hardware knowledge
While looking to hire a sysadmin, you would know that this individual makes use of both virtual and real servers in their job. So, they should be well aware of devices like physical server connections, manual printer configuration, Ethernet port configuration, etc. All these are basic knowledge requirements that need to be a part of your checklist. 
#3 Networking skills
In the sysadmin universe, networking skills do not indicate proper communication or interpersonal skills. Instead, these skills are pertaining to a system administrator's ability to build and maintain a network of connections. They should be able to keep track of any sudden interruptions, network outage, or other systemic problems and their sources of origin. These should be communicated to the end-user as soon as possible, to maintain transparency. 
The right sysadmin would be able to maintain both Local Area Network (LAN) and Wide Area Network (WAN) along with introducing security-based features like a firewall. In big-shot organizations, each sysadmin is assigned a specific area to manage. But if you are recruiting for a small firm, the sysadmin will invariably be expected to wear several hats. Thus, networking becomes a crucial skill to look for in a system administrator. 
#4 Cloud computing skills
If you have been following the tech industry closely, you must have gauged how cloud computing is gradually asserting its dominance in the IT field. 
This observation indicates two things – 
There is an increasing need for individuals who are abreast and can manage the latest cloud computing technology 
To be deemed an expert in managing the cloud, sysadmins need to acquire special knowledge and skills
Now, as a recruiter, this can be a differentiating factor during the interview process. But, this is only if your firm uses the cloud for storage and data analysis. 
#5 Interpersonal skills and effective communication
As mentioned before, a system administrator not only needs to identify issues with the network but also, communicate them to the end user effectively. It will become all the more difficult to explain a tech-related issue to someone who has no knowledge of it, without confusing them. Here, effective communication will play a key role and again, a differentiating factor while interviewing candidates. 
#6 Managing hybrid work model
During and after the COVID-19 pandemic, several companies made the switch to a hybrid work model if not an entirely remote one. Irrespective of remote or hybrid, a system administrator should be capable of providing access to files or data to a remote worker, through their cloud computing knowledge. The sysadmin should also overlook the remote server connectivity at all times so that work runs smoothly. Thus, managing such a work model is another skill that you need to look for while interviewing candidates. 
Additionally, you can also look for skills like scripting and coding, troubleshooting, IoT or mobile device management, administration and problem-solving, etc as part of your checklist before hiring the right system administrator. Each organization has a different set of needs and so, you can prepare a specialized checklist referring to the skills mentioned above.  
Top 60 interview questions for system administrators 
Irrespective of the size of your organization, you may hire system administrators who are either freshers or experienced. Keep in mind that the interview questions must differ for both categories. In the case of freshers, you want to test their knowledge base and willingness to expand their skills. With respect to experienced individuals, you want to know their domain of expertise as well as their team-building capacity. 
Based on your experience requirements for sysadmins, the following is the list of questions for each category – 
#1 Top interview questions for fresher sysadmins 
This list of questions aims to target freshers, fresh out of college after completing their certification course. They may or may not have 0-1 year of experience in the sysadmin field. To such candidates, you can ask – 
Can you tell me about the role of the active directory in the system administration?
Are you aware of the group policy?
Can you give a reason why one should not back up a DC that was not backed up for the last 8 months?
What is your overall experience with hardware Components? 
Are you aware of the terms forest, trees, and domain?
How well-versed are you with the WINS servers?
What, according to you, may be the personal characteristics of an ideal system administrator?
Do you know the difference between NTFS and FAT?
Can you tell me the meaning and purpose of a loopback address 
Are you aware of proxy servers?
How often do servers require updates? Please justify your answer. 
How do you identify a server's capacity?
What can you tell me/us about a Windows registry?
Have you heard of the term 'Sysvol Folder'? 
Can you give 1-2 examples of a system that you have worked on so far, in a professional, freelance, or personal-project capacity?
Do you know the meaning of a lingering object?
Is there a particular command that you use to remove any lingering object in the system? 
Can you give me 1-2 reasons why it is necessary to remove the lingering objects? 
Are you aware of the basic difference between a firewall and an antivirus? 
Why is it important, according to you, to back up an active directory?
Can you specify some ways to back up an active directory?
Do you know the difference between an active directory and LDAP?
What do you mean by a controller?
Why do you think VOIP is important?
Can you define or make us understand what Windows deployment services are?
Do you know the difference between a domain and a workgroup?
As a sysadmin, one of your roles would be to solve systemic or tech-related issues. Can you tell us a past instance when you were unable to do so?
As a sysadmin candidate, what makes you stand out from others?
#2 Top interview questions for experienced sysadmins 
Experienced professionals usually tend to have a minimum of 2 years of experience in this field. So the questions to ask them must be of a higher level, compared to freshers. Some questions can include – 
Are you aware of the lightweight directory access protocol?
Can you explain the PPP protocol?
What do you mean by IP Spoofing? 
What are some precautions to prevent or solve IP Spoofing?
What do you mean by garbage collection?
Can you explain the meaning of frame relay?
What do you mean by DNS? 
Can you explain the basic difference between domain admin groups and Enterprise admin groups in the context of the active directory?
What is the authoritative restoration method in the case of the active directory?
What does your day-to-day routine look like as a system administrator?
Are you aware of object servers? 
Can you explain the working of a traceroute?
Is traceroute governed by a protocol? If yes, can you explain it? 
Can you explain the meaning of NETBIOS and NetBEUI?
What do you mean by RSVP?
How does RSVP work? 
Can you explain the meaning of DHCP?
Can you name the main email servers along with their ports?
Will you be able to specify the basic difference between a hub and a switch? 
What is the meaning of TCP?
Are you aware of UDP?
What do you mean by the term "port forwarding"? 
Can you cite the difference between a PowerShell and a Command prompt? 
What is the basic difference between an RDP and a KVM?
Can you briefly explain FTP and SSH? 
What protocol does FTP use?
What protocol does SSH use?
What are EFS and ARP?
What do you mean by an id?
Do you know the meaning of Telnet?
As a sysadmin, how do you prioritize your work?
These are a few basic questions that you can ask during the interview round to get a sense of a candidate's knowledge base. Of course, there is no need to ask a barrage of endless questions. Only those which are related to the specific responsibilities that the sysadmin needs to fulfill at your firm. The main motive is to keep the interview simple, standardized, and easy for comparison purposes. 
Conclusion 
With the advancement in technology, a system administrator is expected to fulfill a variety of responsibilities. Even these roles keep evolving with an upgrade in the IT sector. Then, it also becomes a task for the recruiter to hire the perfect sysadmin, capable of managing the firm's system while keeping himself/herself with the latest updates. 
Imagine a sea filled with fresher and more experienced system administrators. You have to sieve through the sea to find the perfect match. And to do this, you need to ask the right questions to ask during the interview round. But these questions must be congruent with the skills that your company needs. Thus, while curating a list of questions, keep the skills checklist nearby. 
FAQs on System Administrator Interview Questions  
What questions should you ask a system administrator?
As a recruiter, you can ask a plethora of questions to a candidate applying for the sysadmin position. Some of them can include – 
1. What is the purpose of an active directory in the system administrator field?
2. What do you mean by group policy?
3. Why should you not restore a DC that was backed up 9 or more months ago?
4. Can you explain the terms 'forest', 'trees', and 'domain'?
What is the primary role of a system administrator?
A system administrator acts as the brain and nerves of a company's networking system. They are responsible for managing the system, identifying and rectifying errors immediately, upgrading the hardware and software at frequent intervals, etc. The exact role of the sysadmin depends on the size of the company and the network system used by it. 
What is the most essential quality of a system administrator?
There are several skills that a recruiter looks for while hiring a system administrator. Some of them include – 
1. Problem-solving and administration capability 
2. Knowledge about cloud-computing 
3. Interpersonal and effective communication skills 
4. Coding and scripting 
What makes a system administrator stand out?
Although most system administrators have the basic knowledge base and certifications to apply for the job, they differ in their ability to communicate. Simply put, a good system administrator will have the communications skills to explain technical issues to a non-tech person. Active communication helps in maintaining complete transparency between the sysadmin and the client/colleague.