It was in 1970 when people learned about office automation. This was when the Microcomputer was invented. It also led to the creation of the first collaborative software called Electronic Information Exchange System (EIES). 
This EIES was like an online conferencing bulletin board. It allowed asynchronous and real-time communication. The EIES also allowed users to conduct surveys, threaded replies, and group-structured approaches. 
The purpose of any collaborative tool is to help a group of people work together to achieve a common goal. If this group of people are together in an office space, non-technological tools like paper, whiteboards, and post-it notes can be used. However, for those sitting in remote places, an online collaborative tool would be most effective.
Since 1970, email has been one of the foremost tools of communication between team members. However, it was used for one-on-one communication. So, it wasn't considered to be an effective collaborative tool for teams. 
Now, the entire purpose of collaborative software is to help teams work effectively and efficiently, regardless of where they are based. There are many online collaboration tools available to help with this. So how do you choose the best remote collaboration tool for your team?
15 Best collaboration tools for remote team
Before choosing a collaboration tool, you will have to look for its key features. This productivity tool can be a communication tool like an email or a complete project management software.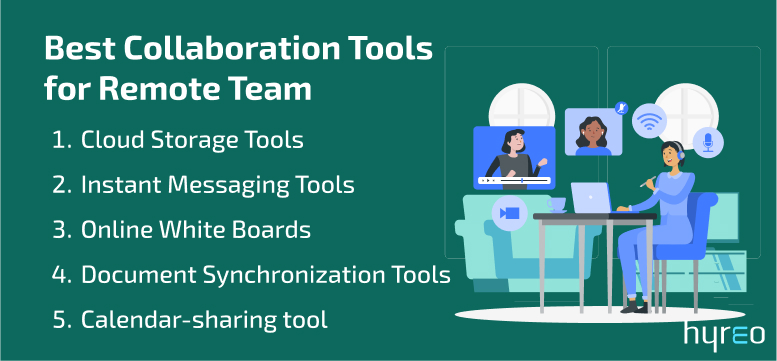 One of the few things you need to remember before choosing is that it should provide real-time messaging and video conferencing.  Project management software comes with essential features including file sharing, task management, progress charting, etc.
Before you choose a virtual collaboration tool, you should look at the different types available: 
Cloud Storage Tools
These can be used as a remote collaboration tool where the data is stored in a centralized location online so that the team members can access it easily. One example of cloud storage is Google Workspace, where you can use Google Drive as well as Google Docs to collaborate on a project.
Instant Messaging Tools 
These are used if you wish to exchange information or collaborate in real time as most IM apps can be used to send business files, video conferencing, etc. 
Online White Boards 
These are a digital version of physical whiteboards where teams can share ideas, write down concepts, explain, learn, etc. 
Document Synchronization Tools 
If you and a team member are working on a document from two remote locations, you can use document synchronization tools where the tool matches both versions, making an edit in one version and applying it to the other one simultaneously.
Calendar-sharing tool 
It is a central calendar where you can schedule meetings without having to confer with another person every time. The schedule of each participant is visible to all the members. This helps the organizing member to know of conflicting schedules. Google Calendar is one such example. 
Here's a look at the best collaboration tools:
Project Management Software Tools:
nTask
If you are looking for good project management software, nTask is said to have good functionality when it comes to remote working project management. You can allocate resources, set milestones, with budgeting and get a financial summary. 
Key Features: 
Project management modules available 
Task assignment
Real-time tracking of projects
Risk analysis and management
Pricing: 
A 7-day free trial is available
Premium subscription is $3 per user/per month 
Business subscription is priced at $8 per user/per month 
Both plans are billed annually.
Trello
Trello is a project management software that can be used in place of whiteboards and Excel sheets. It uses the system of Kanban board, where members of a team can see the status of a project in real-time.

When you use Trello, you can create digital cards that can be used to update projects. You can also send assignments and tasks, and create reminders.

Key Features: 
Easy integration of various existing software, which are being used for HR & Operations, automation, reporting, board utilities, etc.
Multiple templates features are available
Butler, an automation feature, creates rules and organizes and updates status. 
Multiple Kanban boards can be created for projects. 
Pricing
Free trial available
For small teams, $5 per user/ per month
The Premium plan for large teams with multiple features is $10/per month
Enterprise plan for 50 users $17.50 per user/per month
Scoro
Scoro stores all the information in one place. So if you are looking for a tool that provides you with end-to-end solutions, this tool should suit your needs. You can track projects, manage contacts, send quotes, collaborate with remote members, bill clients, and create reports. 
Key Features:
Helps in monitoring billable and non-billable hours
Built-in tracker to manage time efficiently, schedule meetings, timesheets, etc. 
Tracks real-time progress of tasks with a Gantt chart
Automates routine tasks
A customer portal with Ultimate Plan is also available
Pricing: 
Free trial for 14 days available
Essential Plan starts at $14 per user/month, with a minimum of 5 users
The Standard Plan with a minimum of 5 users is $37 per user /per month
Pro Plan also with a minimum of 5 users is for $63 per user/month
Pricing for the Ultimate Plan is not available on the website. 
ProofHub
Proofhub is the right tool if your team needs to collaborate, plan, organize, brainstorm, and deliver projects on time. With its Kanban board, you can assign tasks and get real-time status updates. You can also oversee the activity of every team member, provide feedback and approve them. 
Key Features:
Create custom reports to monitor the progress of the task
The online proofing feature allows you to provide suggestions and edit tasks before the final submission
Make voice announcements for proper flow of communication
Pricing: 
14-day free trial available
Essential Plan available at $45 / month if billed annually, with 40 projects, 15GB storage, and unlimited users
Ultimate Control Plan available at $89 / month if billed annually, with unlimited projects, 100 GB storage, and unlimited users
Asana
This tool is said to be best suited for teams of all sizes but may not be compatible with freelancers. The interface is simple and has a strong task management feature. 
Key Features: 
Create an automated process to coordinate with teams
Track progress on Kanban boards
Set goals and track progress
Check the workload of all team members
Pricing: 
The Basic Plan is available for free
The Premium Plan is $10.99
Business Plan is for $24.99
Best cloud storage tools
Google Drive
Google Drive has reached over 1 billion users and has been installed by over 5 billion people. This shows how popular Google Drive is as a collaboration tool. With Google Drive, you can collaborate on multiple apps including Google Docs, Google Spreadsheet, etc., and make real-time changes and edits. Though it is considered to be an excellent collaboration tool, users have security concerns and zero-knowledge encryption. 
Key Features: 
Integrates multiple apps
Excellent free storage
Large files of up to 10GB can be shared
Control access to files
Pricing: 
Up to 15GB of free storage
Rs 130/month for the Basic Plan with 100 GB storage
Standard Plan costs Rs 210/month with 200 GB of storage
For the Premium Plan with 2TB Storage, the cost is Rs 650/per month
Sync.com
One of the premium features of Sync.com is that it comes with zero-knowledge encryption. If there is a security breach then the intruder will only see scrambled data as you hold the encryption key.
Key Features: 
Advanced sharing controls for passwords and can set an expiration date on links 
Free storage of up to 5 GB
A separate client portal can be integrated
Pricing: 
Teams Standard Plan is for $6 per user / per month
The Teams Unlimited Plan costs $15 per user /per month
The Enterprise Plan can be obtained from the sales team
OneDrive
If your business uses Microsoft apps exclusively, then OneDrive is the remote tool for you. All the apps can be corroborated on OneDrive and multiple users can work together. Any changes made are visible instantly. However, OneDrive does not come with zero-knowledge encryption. 
Key Features: 
Multiple integrated Apps
Personal Vault available for storing secured documents
Access on any device
Pricing:
Plan 1 is for  $5 per user /month
Plan 2 is for  $10 per user /month
Microsoft 365 Basic Plan is for $ 6 per user /month
Microsoft 365 Business Standard is for $ 12.50 per user /month
DropBox
Dropbox business is said to have more than 500 thousand paying teams and more than 9 million business users across the world. It is said to be one of the most popular cloud collaboration tools used. 
Key Features: 
Can be used to collaborate with Microsoft as well as Google apps
SmartSync feature that lets you store files online or locally
An Esign option available for businesses
Pricing:
Free trial available
For a smaller team of 3+ users, the Standard Plan is available for $15 /user/month with 5 TB of data
For complex teams of 3+ users, the Advanced Plan is available for $24 /user/month 
For customization, you will need to contact the sales team.
Best Instant Messaging Tools
Slack
You can send messages, organize your workspace, and share files, and it also has the option to schedule messages to be sent later.
Key Features: 
Integrate with other collaboration tools like Trello, Asana, Microsoft Teams, etc. 
Can be used to send up to 10,000 messages for free
Two-factor authentication available
Pricing
Free version available
Pro Plan available for Rs 218 / month
Business+ Plan costs 375.20/month
For enterprise grid costing, you will need to contact sales.
Webex
Apart from connecting to a remote team member, you can use Webex to connect to an individual who is outside the company but using Webex. You can also get post-meeting transcripts, voice commands, and transfer files during a meeting. 
Key Features:
Custom layout feature available
Webex Suite can be used to conduct webinars, whiteboarding, events, etc. 
Free version available
Pricing:
Starter Plan is for Rs 555/month
Business Plan is priced at Rs 955/month
Customizable plan available
Google Chat
As a part of the Google Workspace, Google Chat works best for businesses that primarily depend on Google apps. You can access Google Chat on your browser as well as your phone. 
Key Features: 
With the Spaces option, you can create a specified workspace to assign tasks, organize meetings, and share files. 
Option to auto-delete messages
Smart Reply feature available
Best Video Conferencing Tools
Zoom
It is one of the most popular tools for video conferencing used. The platform is easy to use and comes with high-quality video and audio conferencing. 
Key Features: 
Provides whiteboard, breakout rooms, recording, and screen sharing
Connected conference rooms
Pricing:
Free version available
Pro Version available for Rs 13200 / year/user
Business Plan available for Rs 18000 / year/user
Enterprise plan available
Microsoft Teams
This tool is perfect for teams using Microsoft apps. It's a unified workspace for chat, video-conferencing, file sharing, etc. 
Key Features: 
Share screens, use a whiteboard, use breakout rooms, etc. 
The free version has up to 5GB of cloud storage
Share, edit and find Microsoft apps with ease
Pricing: 
Microsoft Teams Essential available at $4/user / month
Microsoft 365 Business Basic is priced at $ 6/user/month
Microsoft 365 Business Standard is priced at $ 12.50 / user/month
DialPad Meetings
This is a cloud-based video conferencing tool available to collaborate with remote teams. It comes with a customizable interface, and you can integrate existing apps like Google Calendar, SalesForce, Slack, etc. 
Key Features: 
Start meetings from the browser or the app. No downloads or PINs required
Collaborate files, and share whiteboards through the app
Meeting timer available
Call summary available post meeting
Pricing: 
Standard Plan costs USD 15 / month per user, billed annually
Pro Plan costs USD 25/ month per user, billed annually
Enterprise Plan is available on request
Wrap Up
As businesses are moving to remote workspaces, online collaboration tools are here to stay. Finding the ones that work best for your company and your employees is important to be productive and get work done. The idea is to choose a tool that has multiple features and can integrate various apps not just on the desktop but also on the mobile phone. 
The ideal thing to do is to choose the tool that provides a free trial and test all its features before paying. 
FAQs on Collaboration Tools 
What is a collaboration tool?
A specific tool that can help two or more people in collaborating to meet a common goal or agenda is known as a collaboration tool.
What are the types of collaboration tools?
There are two types of collaboration tools available: technological as well as non-technological tools. Technological tools include cloud-based systems, instant messaging, video-conferencing, file-sharing tools, etc. Non-technological tools include whiteboards, post-it notes, papers, etc. 
Why is a remote collaboration tool important?
Remote collaboration tools can help in increasing productivity, improving communication, saving time and resources, as well as boost employee morale. 
Is Google Drive a collaboration tool?
With Google Drive, you can collaborate on various file formats in real time. You can also allow users to view and edit files and invite individuals who are not a part of the organization.
What are the main features of a remote collaboration tool?
Before you choose a collaboration tool, you will need to look at the following features: 
a) Cloud-based storage 
b) Cross-functional collaboration
c) Internal instant messaging
d) Video calling and conferencing
e) Integration with external apps
f) Security features
g) Mobile-friendly
h) Customizable interface