Enormous forces are drastically changing the nature of labor resulting in the redistribution of opportunity, wealth, power, and competition by global economic changes. Every industry is impacted by disruptive inventions, unconventional thinking, new business models, and resource scarcity. Businesses worldwide are starting to realize that to attract and keep employees, clients, and partners in the upcoming decade, they need a clear and relevant purpose and mandate.
The tension between corporate integration and company fragmentation, as well as between individualism and collectivism, is what unites these processes. The scenario (or "world") struggle between these forces is the future of work:
Large corporations are becoming small ones and playing a significant role in society.
Collaboration networks are growing as a result of specialization.
The social and environmental agenda is forcing fundamental adjustments to business strategy.
These three new worlds' rise will present HR with brand-new difficulties. Organizations are battling a skills gap, handling employee transitions, and building a productive workforce. The drastic shift in business paradigms will cause further problems for businesses by 2022, including:
The necessity to develop ever-sophisticated people measurement methods to track and manage productivity and performance.
Relationships and social capital are becoming increasingly important factors in corporate success.
As businesses take on more responsibility for the social welfare of their employees, the line between work and personal life is blurring.
HR has a window of opportunity between 2023 and 2026. After the pandemic, inflation surge, and economic slowdown, HRs played a significant role. They have guided the organizations through these difficult times. Let us see the best HR trends of 2023 in this blog.
1. Incorporating more flexibility in the workplace
In recent years, the pandemic has forced organizations across the globe to adapt to the new way of operating the working system. One such change has been the shift to remote and hybrid work models. While this is out of necessity, it is clear that this trend is here to stay.
Remote working options provide organizations with many benefits, including increased productivity, lower overhead costs, and improved employee satisfaction.
Remote working options attract seven times more applicants due to this new reality. It demonstrates how employees value their work-life balance. A competitive remote working package is vital to attracting top talent.
2. Adapting to the Gen-Z
HR trends of 2023 will see more involvement of the Gen-Z workforce. Young workers are ready to be part of a new professional structure – one that promotes flexibility. As more and more jobs move over to the internet, Gen-Zs are looking for ways to work according to their feasibility.
They need flexible policies that foster collaboration. Even so, the two generations are still working together in a multigenerational workforce. If you assemble teams for certain projects, mix and match employees with different skill sets and ages. This way, new ideas can be generated, and problems can be solved creatively.
3. Employee Management App
Several choices are available to manage employee time, attendance, and productivity these days. Office management software has been the industry standard for business managers over the last decade.
Features like notifications for scheduled meetings and automated emails when deadlines are missed, and so on make the managing process hassle-free. Some powerful new tools are coming into the market that fulfills most employers' needs that provide significant cost savings over traditional office management software.
People are expected to do more with less time. This can be achieved by aligning the work schedule properly. Additionally, focusing on one task at a time enables easy work management and timely completion. There is a need for better employee management apps that ease them. It helps keep track of their absence and ensures that managers can maintain employee records in an organized manner.
4. Taking care of mental well-being
Mental health troubles are nothing new to the corporate world. HR professionals need to find methods of detecting mental health distress among employees and ensure they have the resources to deal with those issues. At the same time, it encourages employees to engage in fitness and other good health practices.
Smartphones are an essential mental health tool most employees have in their pockets. Several mental health apps are available for employers to provide to their employees, including those that promote habits like meditation, breathing exercises, and tips for sleeping better and increasing creativity and focus.
The most common sign of burnout is not feeling in control at work. Employees sometimes face challenges in being recognized or rewarded for good work, unclear or excessive job expectations, being assigned challenging work, or being in a chaotic or high-pressure environment. Minimizing these situations can prevent employee burnout.
Management that is emotionally aloof is no longer effective. Managers that are sincere and sympathetic are what employees want and need. As companies and organizations look to become more emotionally intelligent, they try to forge a greater connection with their employees.
5. Retaining the talented force
Fewer and fewer people are moving from one job to another, looking for greener pastures. With the economy being what it is, it's hard enough finding a job. Thus, finding an excellent opportunity for advancement within an existing company becomes difficult.
Prior to looking online, HR departments are more proactive in their hiring operations and consider internal mobility between roles, both laterally and vertically. They are beginning to reward staff for long-term employment while also recognizing those who will make ideal candidates for roles in higher levels of the organization.
6. The increasing role of CHRO
The CHRO must have referent authority supported by the expertise and an unblemished track record of delivery. Being regarded and admired, having the ability to influence people, and having good interpersonal relationship skills are all ways to gain referent power. Since it is based more on cooperation and influence than command and control, this power is crucial for a CHRO.
Business sense and a strategic attitude
The CHRO is expected to be future-focused, open-minded, commercially astute, and capable of making judgments supported by evidence that aligns with the company's business plan.
An understanding of executive compensation
To attract and keep essential talent, CHROs must be critical in establishing competitive, equitable compensation and incentive systems. The CHRO's job is to ensure that the internal pay structures are competitive and comparable to the market, while evolving legal requirements, risk mitigation plans to ensure smooth operations on the ground on an ongoing basis.
Having a firm grasp of board governance
By offering knowledge of remuneration, succession, talent, and the effects of mergers and acquisitions on people, the CHRO job can benefit the board.
Management of change and transformation
To handle changes in the external world and the business environment, the CHRO plays a crucial role in developing and modifying company strategies, structures, procedures, and technological solutions. A company must embrace learning agility and innovation as a culture to drive change management and transformation. It is frequently expected of the CHRO to exhibit this adaptability and act as a catalyst for change and development.
A solid understanding of the external industry competitive landscape is essential for today's CHRO. Because talent is moving around more and more, the CHRO must have a global perspective.
The executive leadership team and the CHRO work together to define and co-create the organizational culture. The organizational culture of a corporation has the power to make or break even the most clever strategy; here the quote "culture has a strategy for breakfast" comes to mind. A culture that aligns with the company's goals must be developed and promoted by the executive leadership team and the CHRO.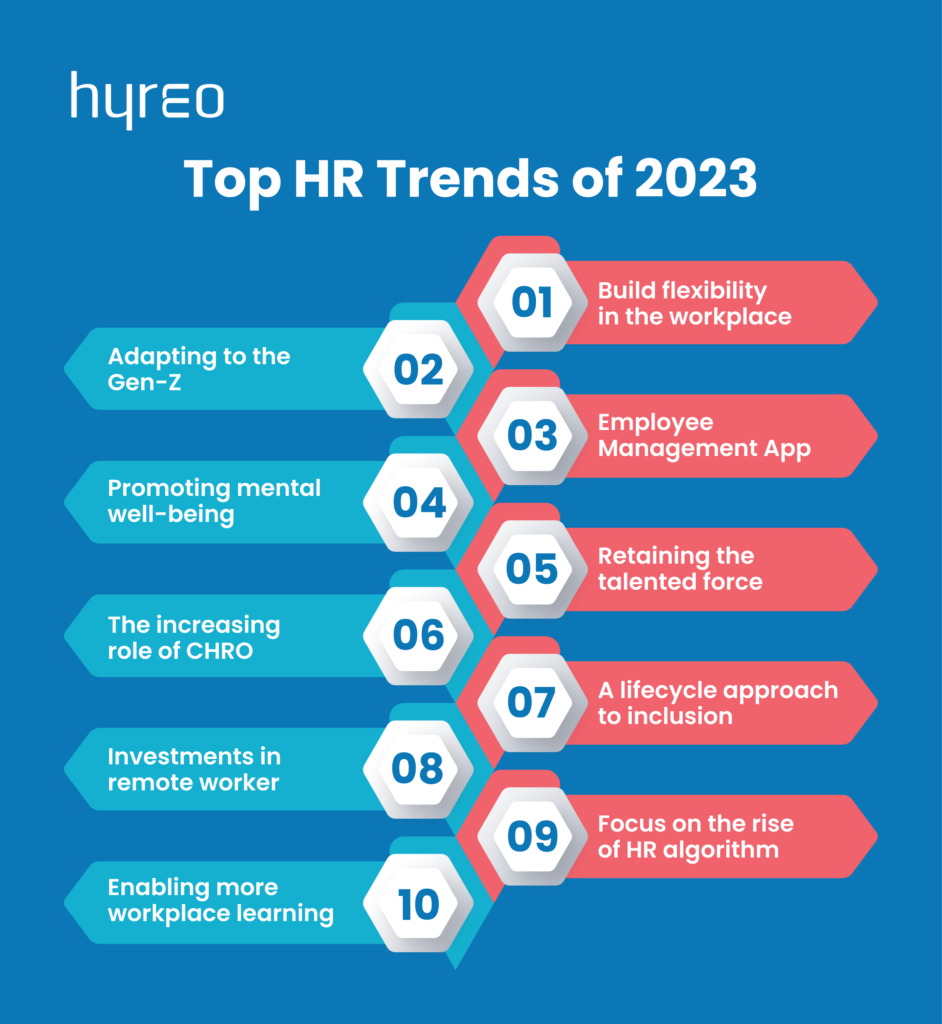 7. A lifecycle approach to inclusion
Having a diverse and inclusive workforce is critical to ensure that companies have all leaders necessary for every niche of their work. Whether they are in other functions like sales or leadership or are working in the same function, people should be able to manage their particular niche in the best way possible.
Diversity, equity, inclusion, and belonging (DEIB) have made their way into the mainstream HR lexicon for several years. All Fortune 100 companies have their DEI initiatives outlined on their websites. And 49% of them have a dedicated DEI initiatives leader.
In 2023, we expect to see many more initiatives like:
Employers play a role in addressing healthcare disparities.
To increase management representation, it is necessary to install long-term diversity programs.
Using DEI metrics to tie executive compensation to performance.
The demand for data-driven executive evaluations has skyrocketed over the past decade. Data-driven evaluations make it possible for organizations to improve the effectiveness of their employee management practices. But this technology needs to be more foolproof.
A well-designed DEI program can provide you with better performance at lower costs. Half of all companies surveyed by Mercer admitted they undervalued employee performance measures on their annual performance review form. The right team approach will ensure that your DEI metrics are being used effectively.
8. Increased investments in remote workers
The entire pandemic emphasized the difference between what was traditionally office work, which is working comfortably from home, and deskless work, showing up every day. That kind of work culture required a new degree from the advancement of worker autonomy, which pushed technology startups to offer solutions for remote jobs.
Deskless workers allow employees to access data, applications, and the internet from any location and at any time. The ability to take away the physical workplace by eliminating desks and other standard fixtures is being used to improve efficiency while reducing costs. This can prove to be beneficial in almost any company or business.
Increased mobility, career opportunities, and promotions for employees, as well as a focus on teamwork, will be central themes in the HR trends of 2023.
Virtualization will increase, allowing the elimination of employees who no longer have any need for conventional office space and access. Considering the impact on workforce management, HR professionals must embrace these trends to remain relevant in today's workforce.
9. Focus on the rise of HR algorithm
HR trends of 2023 will be geared up with more of the algorithm-based working system. HRs will be able to play a more holistic role in business by being proactive and engaging with other departments. They can take ownership of algorithmic management, ensuring a fair, transparent, and efficient process.
There's also an opportunity that HR can leverage: creating systemic equity in both literal and figurative senses of the word. This prevents existing biases embedded in historical HR data from becoming part of the algorithm.
With the proliferation of algorithm-based technologies, data scientists are becoming powerful. More and more high-profile companies are adopting AI for decision-making. This makes the public more aware of the potential for bias in algorithms – HR must adapt its approach to managing hiring and retention decisions.
Besides, HRs must be at the forefront of creating equitable processes across all departments that allow hiring managers to make strategic, data-informed decisions while using best practices to reduce bias when programming or providing feedback on algorithms.
Algorithmic managers will be able to process large quantities of data, communicate clearly, and help HR and managers make better-informed decisions. Moreover, they could add transparency and procedural justice that is much harder for humans to provide.
10. Incorporating more workplace learning
Learning and development is the key to keeping employees engaged and happy. While employers have always been focused on their core competencies and the development of their talent pipeline, the approach to learning needs some big changes.
The knowledge economy requires us to keep our skills up to date and deliver continuous improvements to them. This means that working with learners at every stage of their journey toward learning is a must — from onboarding to performance appraisal. And given the trend of change towards digital transformation in the HR industry, it also means that the 'learning platform' will become a key enabler for digital HR in the near future.
The future of HR is a hybridized approach to employee development that leverages new technologies and innovative thinking and reflects a community of people passionate about achieving positive business outcomes.
Wrapping up
We've looked at various ways that HR can pivot to become more valuable in the next three years. Whether through developing generalists or adopting new technology, HR departments can transition from being relegated to bureaucratic underling. There's much more hope and better strategic development for the new HR trends of 2023 to bring an all-star team that adds value to the organization. We hope this guide has been helpful in some way and helps you work towards what your future may hold in store.
Hyreo delivers a 'customer-like' experience for candidates throughout the recruiting cycle. With their revolutionary approach, we're building a recruiting platform that makes it easy for candidates to find jobs and for employers to hire them while ensuring they're getting the best experience possible.