The extensive reachability of the internet has changed the way people do business. Today, most consumers are on the internet and that has compelled many businesses to get online and come up with their business websites. 
Various businesses are utilizing the power of the internet in their ways to boost productivity and sales and efficiency. Hiring the right talent is critical to the success of any business. Hence, many HR teams today make use of career pages that would allow them to hire the best people in the organization. 
There are many online platforms where HR teams can post information about the job positions they have. However, none can provide them with the customizability and traffic growth potential of an official career page. 
While most HR teams make use of career pages to showcase vacant positions they have in their organization it also provides employer branding. With ample space and options, HR teams can optimize the space they have and provide the right stories and content that job seekers look for when searching for a job. 
However, a lot depends on how you can optimize your business career page. Also, you need to understand how you want to use your career page to provide relevant information to the applicants and make them interested in applying for the positions available. 
What to Include on a Career Page?
Different HR professionals and teams can provide different information on their business career pages. However, you need to be clear about how you can create a stand-out career page that can make a difference and help you create a functional and effective career page design.
Most companies prefer to put job listings on their career page and many studies predict that in the future, a company's career page will become more relevant for those looking for job opportunities. It would eventually end up becoming the first source of information for active and passive candidates. 
With so much information available you need to focus on how you can include the relevant details required to make an informative and attractive career page. 
#1 Introduce Your Company
When an applicant visits your business career page they must know what your company is all about. Hence, an overview of the company right at the start would be the right thing to do. You can provide an outline of your business or organization and that should give some clarity to the applicant about your company. 
#2 Provide Vision, Mission, and Value Statement
Sharing your business mission statement and core company values is important to let candidates know more about where your company is headed. This would provide more clarity to the candidate about your company and if they are interested in working in your company. 
#3 Products and Services Information
Candidates applying for the vacant jobs must also know what your company is about and the products and services of the company. You can also mention your company's partnerships with other firms in the market. 
#4 Business Presence
When you are creating a career page for your company you must also mention the locations and presence of the company to let candidates know about different offices.
#5 Share the Company's Work Culture 
All the applicants applying for the vacant positions must also know a little bit about your company's work culture. You can provide them with an outline of the work culture at your office to let them know more about it. 
#6 Employee Testimonial
Employee testimonials are important for a career page. Hence, you need to share a few employee stories that would allow candidates to apply for job opportunities, as it gives the potential candidates an insight as to what it would be like to work in that company. 
#7 Application Process Overview
Share a few lines outlining the application process. This would let the candidates know how they will be rated and how much time it would take for the selection process.
#8 What to Expect
Here you can share details about learning opportunities candidates have when they join your company. Also, you would want to share more about what they should expect when they are selected for the applied position. 
#9 Job Opportunities
Provide candidates with the current list of job opportunities. You need to mention the job title, job description, benefits, responsibilities, and requirements. Try and keep this information updated to ensure that candidates know what positions are no longer vacant. 
Tips for Creating an Effective Career Page
When you are creating a career page for your company you need to be clear about what you want from it and who you're creating it for in the first place.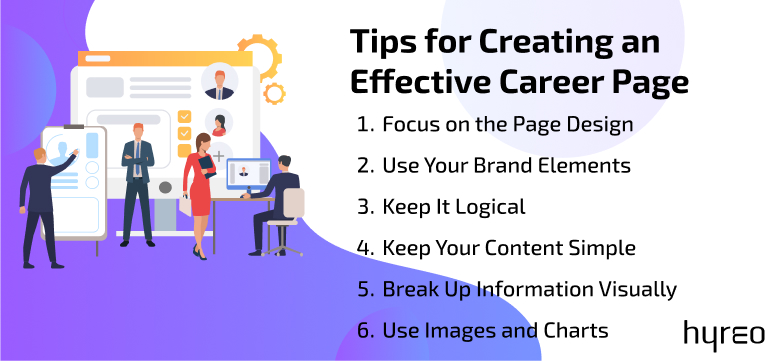 #1 Focus on the Page Design
When you want to create a beautiful career page you must focus on the page design. Hence, the design of the page must be simple, appealing, and intuitive. The design must provide a positive and easy-to-follow experience to applicants, most of them will be first-time visitors.
#2 Use Your Brand Elements
A career page is also an employer branding tool. Hence, you need to include all the branding elements that would instantly connect the potential applicants with your company's brand. Use your brand colors, fonts, and images to keep them connected with your brand. 
#3 Keep It Logical
Focus on the flow of the page and how it can tell a story to the applicants visiting the page for the first time. From the company's overview to what job positions are available, you need to create a seamless flow of content that makes the entire process easier and more interesting for the candidates.
#4 Keep Your Content Simple
While you need to provide valuable information you must also keep the content simple and easy to understand for qualified applicants to know more about the company and apply for the right jobs. 
#5 Break Up Information Visually
Use the white space around your text to make the information look appealing. Use subheadings to split the content to make it more readable. You may also want to keep things clear by using bullet points that would be easy to follow. 
#6 Use Images and Charts
Content isn't just about the words you use but also the company images and charts and infographics that you can use. This would make the page more interesting and appealing to the candidates.
Best Practices for Promoting the Career Page
Once you are done with creating a career page for your company it is time to promote it. This would allow more job seekers and candidates to look out for this page and they can read more about your company and vacant job positions. 
#1 Social Media
Promoting your company career page through social media is the easiest way to promote it. To begin with, you can find suitable groups on Facebook where you can post job openings along with your career page link. This can lead to instant engagements and responses from candidates looking for similar jobs. Similarly, you can use other social media sites like LinkedIn where you can share job openings for your company and that should trigger some response. 
#2 Employee Referral Program
Using your employees to bring in more talent would also be a great way. Similarly, you can use them to promote your company's career page. With fair incentives and clear communication, you can ensure that your employees post your company's career page links on their personal social media accounts and sites or share them with their contacts to help you attract the best talent.
#3 Team Up with Colleges and Universities
The best way to find good talent is to partner up with local colleges and universities. This would allow you to promote your career page and allow students to use that page to apply for internships and other job opportunities at your company. 
#4 Job Listing Sites
Apart from social media sites, you can also find many free job search sites where you can post information about the current job positions available in your company. You can leave your company career page link for the job applicants and candidates to apply. 
Conclusion
In simple words, a career page shares information about all the vacant job positions and opportunities at your company. However, today you can make use of your company's career page to make it more appealing to candidates and provide them with the right candidate experience. You can also make it more engaging and share more details about your company and use it for employer branding. For this, you need to focus on the page UX and content that can help you reduce the cost of hiring as you attract the best talent to your company.
FAQs on Creating a Career Page on the Website 
Can an effective career page add to the candidate experience?
Yes. A nicely done career page can provide all the details and information to the applicant and offer more transparency which would enhance the candidate experience. 
What do most candidates search for on a career page?
Most candidates browse the company's career page to learn more about the company's history, work culture, and open roles. 
How important is your career page design?
A good career page design can instantly boost candidate experience, and offer easy page navigation, content division, and easy-to-follow design elements that help in applying for jobs.
Can you add a video on your company career page?
Yes. However, you need to ensure that it doesn't make your page load slower as that would drive away candidates.