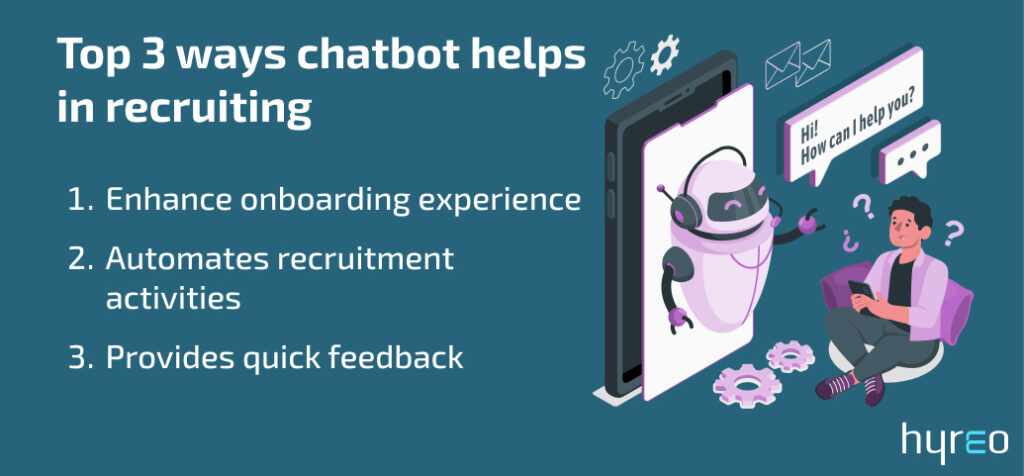 For almost all organizations across the globe, it is essential to have a human resource department that handles a range of responsibilities, from strategic planning and employee welfare to maintaining company image.
The HR department is constantly engaged in many tasks that revolve around creating recruiting strategies, employee training, payroll, employee welfare, and whatnot!
With the increasing employee strength and high focus on maintaining employer branding, it is not easy for HR professionals to keep up with the pace and manage all the responsibilities. Technology is now nothing less than a savior for the HR department.
With the current demand for AI and automation for recruiting and employee engagement activities, there are great possibilities for significantly reducing the HR workload. But how exactly does technology help?
HR chatbots are now redefining the way the human resources department functions. They have taken over the HR industry, creating powerful impacts in cyberspace. HR chatbots solve core people challenges and help improve HR efficiency by optimizing all the manual processes involved.
As per Juniper Research, the HR and recruiting chatbots can potentially minimize business costs by over $8 billion by the year 2022. Now that's huge! Though some companies are already in love with how these chatbots are doing wonders for the HR department, there definitely exists a lot more potential that needs to be unlocked.
In this blog, we will see how HR chatbots can help HR and recruiting leaders to rebuild their strategies and also understand the overall benefits of using HR chatbots.
What is an HR chatbot, and how is it useful?
So, what exactly is an HR chatbot? An HR chatbot is a virtual assistant that can conduct human-like interaction with candidates and company employees at any time for almost anything. But these chatbots are not limited to just creating conversations with the user.
HR chatbots help automate recruiter/HR tasks like interview scheduling, candidate screening, and answering simple candidate queries, such as the application status or basic questions about the company culture, policies, etc.
Two major highlights of using HR chatbots are –
one, there are no time constraints, and all queries and tasks can be completed at any time of the day.
Second, such chatbots allow communication via a conversational interface like SMS, website, or any other messaging application like Whatsapp.
AI-based HR/ recruiting chatbots are now part of the routine organizational functions with their cool advantages that add value to HR responsibilities. Here is a list of some of the advantages for the organization and the HR professionals by using HR chatbots:
 1. Reduce recruitment costs and time to hire
Chatbots now play a vital role in reducing recruiting and employee costs. If companies invest in the right chatbots or recruiting software, there is room for lowering expenses in recruiting activities. With features like candidate screening and video interviews being handled via chatbots, the cost and time to hire a new employee are considerably reduced.
Since chatbots will have access to the company knowledge base for candidate queries or process-related information, they can quickly provide the required information to increase accuracy and lower operational costs.
2. Increases HR efficiency

Based on certain studies at IBM, a chatbot can quickly answer around 80% of customer service questions. This is applicable in the case of potential candidates and existing employees. Powered by AI, HR chatbots can now process numerous questions in parallel at lightning speed.
The chatbots' speed and accuracy save many HR specialists' time and thereby increase overall efficiency. HR chatbots minimize a lot of tasks off the plate for the HR/recruiting department.
3. Enhances Candidate Experience
HR chatbots enable instant, 24/7 human-like candidate interactions without the need for recruiters to take time out of their day. As candidates receive constant support throughout their recruiting journey, it creates a positive experience for the candidates. If the organization ensures that the talent pipeline is treated with value and all the required support is provided for the candidates, then it is sure to enhance the candidate experience.
According to studies by Allegis, 66% of candidates are comfortable interacting with a chatbot for any support needed. This indicates that implementing a chatbot to engage with the talent pipeline creates a better experience for potential candidates.
4. Improve onboarding experience
A strong and well-planned onboarding process is the best way for recruits to know one another and learn how to communicate effectively. If a good onboarding program and induction activities are enabled for new hires, it is the beginning to a great employee experience.
Using HR chatbots makes onboarding easier for recruiters to manage, even if it needs to be done remotely.
5. Builds employer reputation
Organizations that invest in automation and chatbot applications are now viewed as innovative, which enhances the overall brand image. Using a recruiting or HR chatbot to communicate with candidates adds extra stars to the overall brand reputation. Chatbots communicate with candidates on FAQs about job training, available openings, and any other queries, showing how much the company values its potential future employees and builds a better talent market perception.
6. Provides quick feedback
They know what your people think is crucial, whether recruiting or employee activities. Post-recruiting, it is almost impossible to understand what your candidates feel about the recruiting process, and it's even more challenging to know what every employee in your organization has to share.
Chatbots are found to be more comfortable for candidates and employees to share their feedback on any activities in the organization. Also, for HR leaders, collecting feedback becomes way more manageable when compared to sharing forms for your people to fill out. Quick and unbiased feedback can be easily managed via HR chatbots.
7. Automates recruitment activities
Leveraging HR chatbots and the right recruitment software enable HR specialists to engage with the talent pool, match, screen, schedule interviews for matching candidate profiles, manage employee leaves, payroll, etc. Automating administrative tasks saves time and effort and helps HR professionals focus on other areas requiring more attention.
8. Increases career site conversions
If a chatbot is implemented in the career site, it helps people who land on the career page get their key questions answered and even guides them to matching job openings.
Researches indicate that there has been a significant increase from 5% of traffic to the ATS before implementing a chatbot to about 7%. Chatbots can be more effective than job boards and job ads in attracting new talent to your brand.
9. Better quality of applicants
Hiring teams need to ensure that the quality of applicants is always high. With chatbots, it's easier to convince A-level talent to apply for job roles by answering candidates' queries and directing them to the right place in the career portal.
Studies show that application rates generally increase from 1% to 3% in certain companies by using HR/recruiting chatbots capable of conducting candidate assessments.
10. Enables remote work
When the world adapted to a new way of living with COVID-19, remote work became the new workplace normal.
The 24/7 support chatbots provide through stored knowledge can interact with the employees working remotely and help them work in a less stressful environment.
Wrapping up!
This is the time to act for all the HR and recruiting leaders! With remote work in place and more importance given to workplace communication, it is clear that if you are not integrating HR chatbots into the workflow, you will not stay on top of the competition.
From lowering recruitment costs to increasing brand reputation and maintaining employee engagement, HR Chatbots are much-needed personal assistants. HR professionals should capitalize on chatbots and keep the employees and candidates delighted.
Companies should define their business requirements and identify use cases that HR chatbots can support. The chatbot performance should be measured and reviewed, and necessary alterations made promptly to maximize the desired ROI.
With their flexibility and capabilities, HR chatbots have become a valuable resource for HR people and will be an inevitable part of the HR system in the future.